Half a year after the COVID-19 outbreak was classified as a global pandemic, the world has changed in the ways we could not expect. Obviously, the crypto market saw some change, too. In today's crypto guide, ChangeHero will give you an overview of the changes in the crypto and blockchain landscape under these historical circumstances.
Crypto during the Pandemic
The motivation behind writing this crypto guide was the fact that crypto and blockchain have proven themselves as disruptive technologies during these six months. How did it help? How did it evolve? Let's have a look.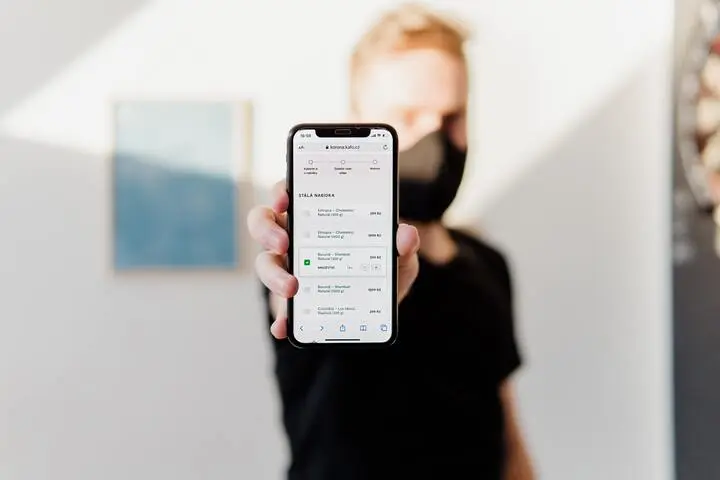 As soon as the lockdowns started to happen in many countries, it became obvious that the means of communication and daily life had to adapt. Several hackathons to tackle the challenges of pandemic (for example) emerged and resulted in real-use applications on blockchain. This technology is necessary for its reliability, security and transparency.
The circumstances that made a lot of people go cashless accelerated adoption of digital means of payment. This is why governments started to be concerned about digitizing the financial instruments and started (or continued) research into central bank issued digital currencies. At the same time, people adopted already existing solutions like stablecoins. The growth in capitalization of Tether and USD Coin with the simultaneous increase in active unique addresses and the number of transactions point to that.
The community ethos behind cryptocurrencies made it easier to launch initiatives which require collective effort to succeed. Those include fundraisers and applications that help different pandemic-related causes.
On the other hand, scammers and hackers also became more active. Remote work proved to be a challenge for the unaccustomed businesses, but even the most conservative of them had to adapt. Not only they had to learn how to manage remote teams, but also the problem of access to security-sensitive resources, leaks and phishing started to be very real. The question of data security and a recent Twitter hack showed how we need to modernize and in what ways blockchain is able to help.
Top-5 Cryptocurrencies Before COVID-19 and Now
WHO announced COVID-19 outbreak as a pandemic on March, 11. For the purposes of our crypto guide, we'll be looking at the start of March. Let's have a look at the five top cryptocurrencies between then and now.
Bitcoin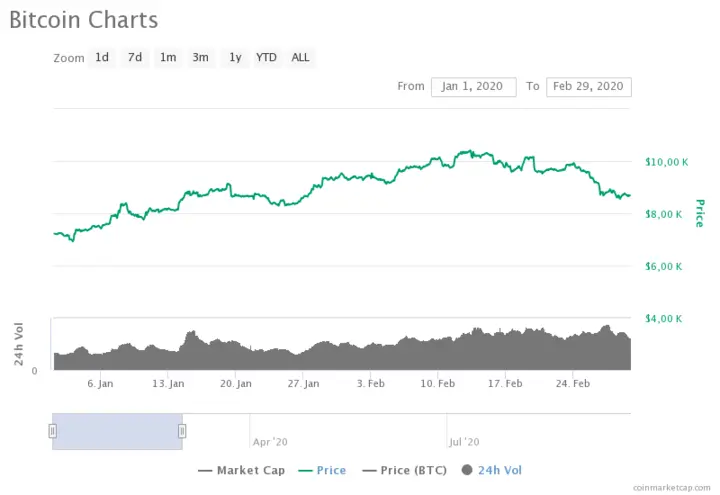 To understand the market movements, we have to understand what the top cryptocurrency was going through during these months. Prior to March, Bitcoin was experiencing a positive trend: its price rose from $7k after a rough 2019 to $10k in a couple of months.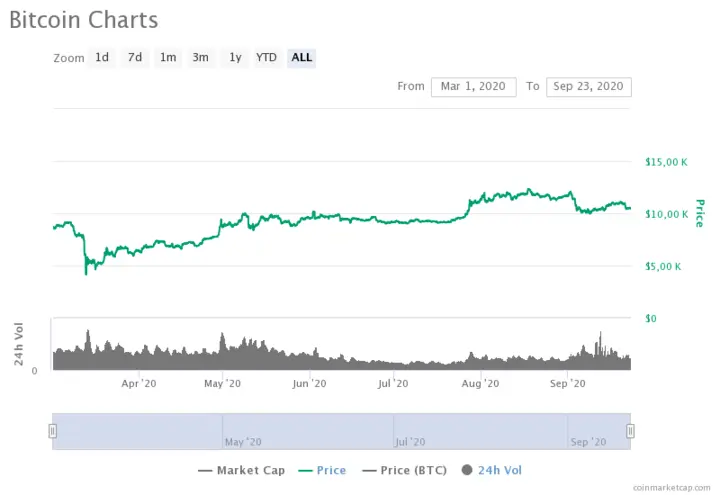 With the news of an impending global outbreak, however, the confidence waned, and on March 13, two days after the WHO announcement, the stock market plummeted, taking Bitcoin and all cryptocurrencies with it. On that day, BTC sank as low as $4k, losing almost half of its value.
From there on, in March and April, Bitcoin price was recovering, and as soon as it reached the pre-crash level, it bounced even higher up to $9k. May was a rough month, when shifts by $1k overnight were not uncommon, but the month ended on a high note, and in June BTC surpassed $10k. June and July saw Bitcoin trading mostly sideways, which resulted in a culmination only by August. August has been the top of the price graph so far, with prices being consistently over $11k and even breaking $12k. But as the month came to a close, the price returned to a $10,300–$11k range. At the time of writing this crypto guide Bitcoin is worth $10,466.60.
Most analysts claim that in the long run, the pandemic is beneficial to Bitcoin, because it has solidified trust to the top cryptocurrency, as Bitcoin saw an influx of investors seeking a safe haven and hedge against inflation. In the short term, however, it is best to practice cautiousness because in quite a few places restrictions are being reintroduced and the number of cases signals a possibility of a second wave of the outbreak.
Ethereum
When it comes to top cryptos, 2020 has to be the year of Ethereum. First, crypto investors were flocking to stablecoins after the market crash and now, the DeFi craze is sweeping the space. This year is also supposed to become the year when the long awaited Serenity update, dubbed Ethereum 2.0, is supposed to go live on the mainnet.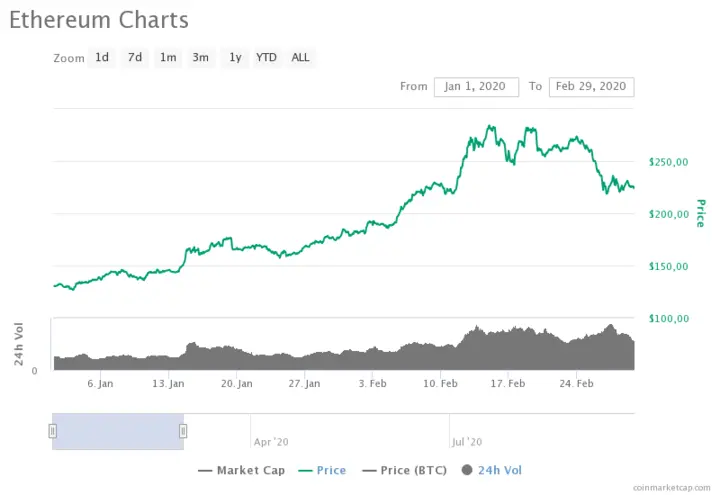 Prior to the pandemic news, things were looking pretty well for Ethereum investors. After a rough 2019, the new year started with a rally, and by February ETH reached $250. A couple of weeks later, the initiative shifted to the bears, but that was only the beginning.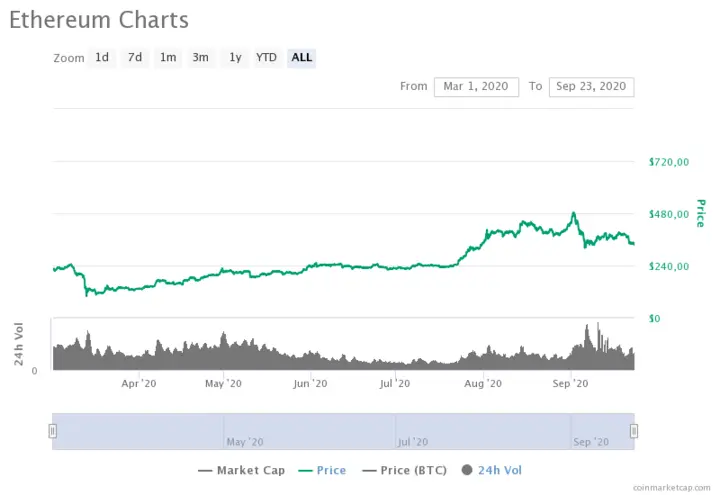 Ethereum also lost about half of its value in the March bloodbath, and recovered to the February levels only slightly faster than Bitcoin. In June and July, its price was close to $240, but when it shot up in late July–early August, it did fly. $400 was reached within days, and a bit later, the price was already circling around $430. Unlike Bitcoin which stepped down as soon as September started, Ethereum finished the month with a bang, renewing its yearly high to $487.21. Unfortunately, the Ethereum network is really busy thanks to all the activity in DeFi, so the transaction fees and congestion accelerated the correction. At the time of writing this crypto guide, the price of 1 Ether is $339.81.
With the news that Ethereum 2.0 is only weeks away and the ongoing activity in DeFi, it is not too far-fetched that this recent record will be broken again quite soon. In case the second wave of outbreak engulfs the world, we can predict that decentralized finance will attract even more users, which is great for Ethereum which essentially houses its current infrastructure.
Tether
USDt (Tether) was a winner in this crisis as well. As investors sought to moor their positions on the market while keeping their investment from devaluing in March, the popularity of stablecoins pegged to USD has grown. By daily volume and capitalization, ERC-20 USD Tether is the top stablecoin, and the absolute top cryptocurrency in daily volume.
Tether Ltd. have attempted to adopt alternative blockchains to Ethereum, most likely, due to demand from the customers. As we have already mentioned, the increase in popularity of financial protocols built on Ethereum made the fees more noticeable and put the whole network under strain. Some of the alternatives Tether have explored are Algorand, OMG Network and Solana.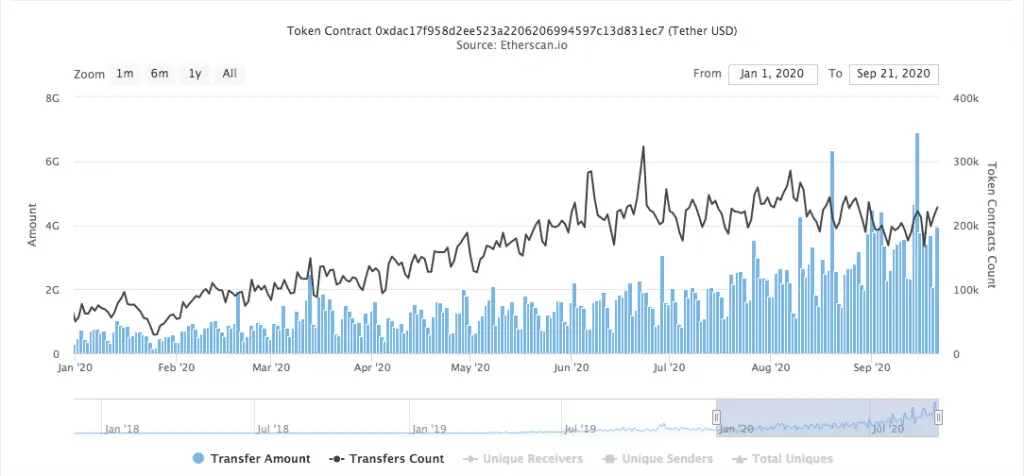 Over the course of 2020, USDt has been consistently growing from the point of view of on-chain metrics, too. The contract calls and transfers grew, signaling organic growth in adoption of USDt. As long as USD remains one of the most global currencies, USDT will have a strong position in the list of most adopted cryptocurrencies.
XRP
Unlike previous entries, XRP has not had a great year. Sure, so far the price is higher than at the beginning of 2020, but it has stepped down from the Top-3 and experienced serious volatility along the way.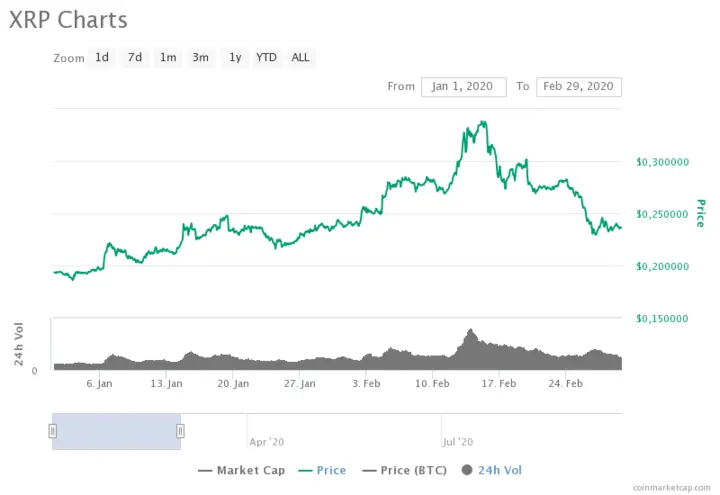 The highest price XRP saw this year was recorded in February. In the light of rumors around the possibility of Ripple doing an IPO, the investors divided into two groups. One considered this a positive opportunity for XRP, and the other deemed it a sign that Ripple had given up on XRP. These rumors made the price spike and fall in February, which was immediately followed by the market crash.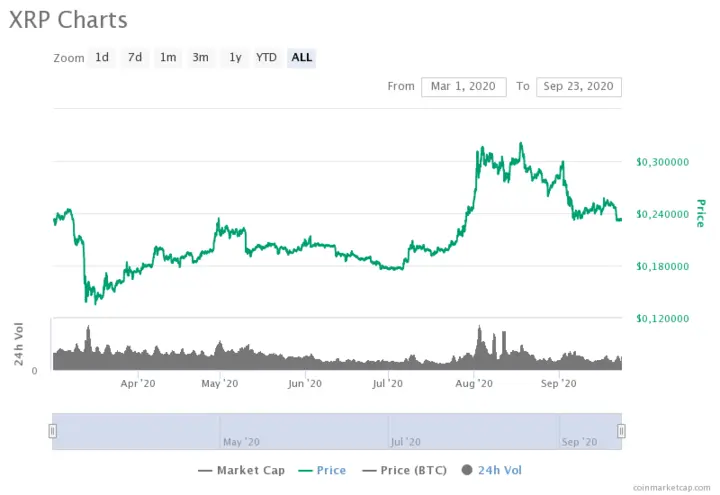 In general, we can see that XRP has more or less followed the trends of Bitcoin. July was a bit more exciting for XRP holders, as it first bounced up and then formed a parabolic curve up to $0.3. However, currently it looks more like a downtrend for XRP, amplified by the price movements of Bitcoin. At the time of writing the crypto guide, 1 XRP costs $0.231932.
Should lockdowns start happening again, money transfers and remittances might see increase in demand, and the companies which use XRP may benefit. However, XRP is more geared towards traditional centralized finance, and while it looks like it is here to stay, the competition from DeFi might be a serious challenge for XRP.
Bitcoin Cash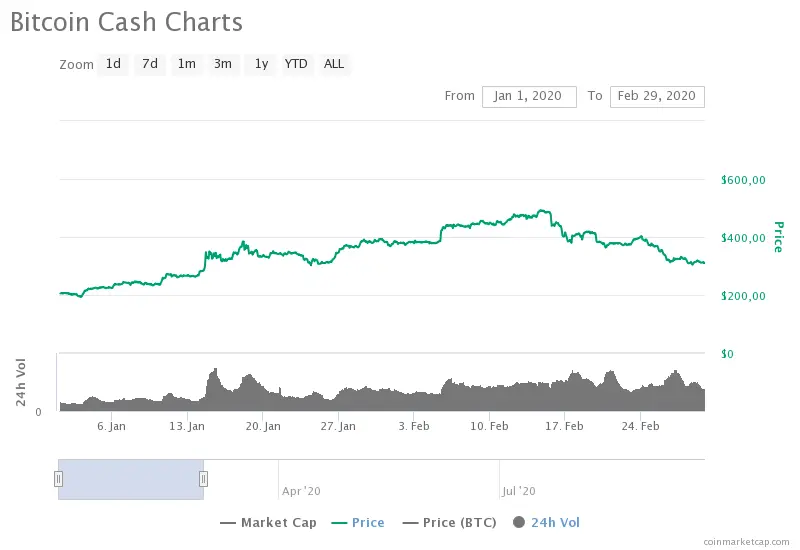 A fork of the top cryptocurrency, Bitcoin Cash was in and out of the Top-5 but now it is back in its old place. It also saw its price more than double in the first two months of 2020.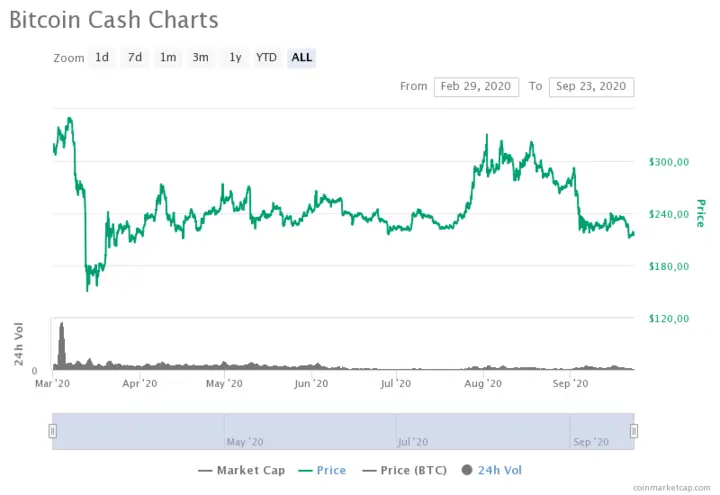 Like XRP, it did not manage to reach the February highs or even the levels right before the March crash. For better or worse, BCH has been trading quite consistently around the $240 mark from April through mid-July. The only exception being August, when BCH was closer to $300, but now it looks like the price is back on its older track. At the time of writing this crypto guide, Bitcoin Cash is evaluated at $214.93.
In November, Bitcoin Cash will go through a scheduled upgrade. This time, there is another community split and fork planned. This might hurt BCH as the hashrate securing the network can drop.
Interested to learn how to buy cryptocurrency from the list? We've got you covered, keep on reading until the end!
The Global Finance After the Breakout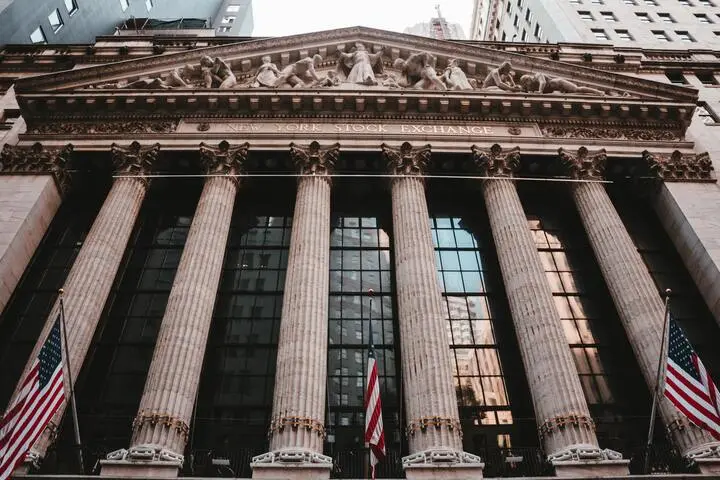 Economies across the world had to suffer shutdowns and to cope with that, inflation was let loose. Injections of capital kept the stock markets from collapsing completely and helped them stay afloat. It's fair to say that the same has happened to the crypto market but in this case, no government was involved.
The pandemic has also coincided with the rise of decentralized finance, novel systems that reclaim financial freedom from banks and institutions. Lending, exchanging and saving can now be done without participation of an authorized third party. Their place is taken by financial protocols, which automate the processes and are exempt from bias and discrimination. However, these protocols are still developed by humans, so it is of utmost importance to make sure the platform is reliable, while the sector is still in its infancy and unregulated. For more information, check out our crypto guide on DeFi!
How to Buy Cryptocurrency
The biggest challenge to this day is the process of onboarding to the crypto ecosystem. Be it owning some assets for the long run or putting them to work in DeFi, the question how to buy cryptocurrency still stands.
Luckily, platforms like ChangeHero make it easier for everyone. You can buy BTC, ETH, USDT and BCH in a matter of minutes. For the instructions on how to buy cryptocurrency, we have a handy crypto guide with step-by-step directions.
These currencies are also available for exchange against other coins and tokens supported by ChangeHero, with no signups and only for a small 0.5% fee. It's easily done in a few steps:
Choose the currencies on the home page, amounts and the type of exchange. In the next step, provide your recipient and refund addresses of corresponding currencies;
Double-check the information, read and accept the Terms of Use and Privacy Policy;
Send in a single transaction the sum of cryptocurrency you will be exchanging. For  Fixed Rate transactions you have 15 minutes before it expires;
From this step forward, you won't have to do anything else. We will be checking the incoming transaction and doing the exchange as soon as it arrives;
As soon as the exchange has been processed, your coins are on the way to your wallet. That's it!
Should any issue arise, our support team will take care of it 24/7. Just reach them in the chat on our website or through the email: [email protected].
Conclusion
As much as we'd like to put this global crisis behind us, the echo of the COVID-19 pandemic will be sounding for a while after everything is over. Cryptocurrencies may have got the chance to shine, but the real challenge would be to keep thriving in the aftermath of the outbreak. For now, it is still necessary to keep working towards a resolution and stay safe.
As a postscriptum, we'll share the pages where you can subscribe to our blog for more updates and news: Twitter, Facebook, Reddit and Telegram.
---
Learn more:
Quick links: