Ripple epitomizes the potential that cryptocurrencies have in transforming finance and economy. It is quite hard to believe that while the society experiences exponential growth in the digital era, finance, one of the most essential stalwarts or daily life, is sorely lagging behind. While some projects ambitiously aim for remaking finance as we know it, Ripple's mission is to assist the existing system with catching up to the times, and for that they're using the power of cryptocurrencies. In this guide, ChangeHero will introduce Ripple and XRP and tell you all about the project in simple terms.
What is Ripple and XRP?
Ripple is a San-Francisco based financial enterprise that includes Ripple Labs, the developers of the technology behind the Ripple Network. Ripple is also used as an umbrella term for this network that encompasses all solutions developed by the company.
XRP is the network's native currency, used as a currency-agnostic intermediary for on-demand liquidity (ODL) transactions. ODL's main use case is cross-border payments and remittances, which otherwise take a few business days to be processed and have high fees associated with them.
How did Ripple start?
The development of what would become Ripple started in 2004, even before Bitcoin. Ryan Fugger developed RipplePay, a predecessor to XRP Ledger. The idea behind this technology was a peer-to-peer financial network that would replace banks, based on tracking debt through independent network participants who would confirm the validity of a transaction.
In 2011 and 2012, the initial team of OpenCoin, which would later be renamed to Ripple Labs, came together. Among them were Jed McCaleb, Arthur Britto, David Schwartz, Chris Larsen and Jessie Powell. McCaleb would later move on to MtGox and Stellar, Powell would go on to found Kraken, but at the time all of them started to build on what Fugger had developed.
XRP's release happened in 2012. The currency was pre-mined and would never see addition to its 100 billion supply. 20 billion XRP were retained by the creator team, the rest was gifted to OpenCoin. By contemporary standards, OpenCoin scored a relatively small ventures budget, so to sustain long-term support of XRP Ledger and the company, this decision was made. Later, Ripple Labs would employ an escrow account, regulated by a smart contract which controls the circulation of XRP, to prevent any artificial manipulations on the market.
What is RippleNet?
For institutions, Ripple offers a network which gives them access to the features developed by the company, called RippleNet. RippleNet consists of network users, such as SMEs or small banks, that only send the funds across the network, and network participants that provide liquidity and sustain validators. RippleNet provides real-time settlement, instant messaging, on-demand liquidity, and secure and transparent value transfers.
For banks, being a part of RippleNet means the opportunity to provide real-time cross-border payments and remittances. Other partners on the finance transfer market include American Express and MoneyGram. Online platforms like goLance get improved international payments for their global talent marketplace.
What is XRP Ledger?
XRP Ledger, or XRPL, is the decentralized network on which the Ripple solutions are supposed to be implemented, though it is mostly required for On-Demand Liquidity.
There are no incentives to run a node, even a trusted one. Participating in the network as a trusted validator from Unique Node List, or UNL, comes with the participation in RippleNet, which is supposed to be a reward on its own. Ripple controls some of the nodes that participate in the consensus process, though they claim to deactivate some of them with inclusion of new independent trusted nodes as a part of their decentralization strategy.
Ripple uses XRPL mainly as an enterprise-focused solution but XRP Ledger can be put to use in other industries. Ripple developed the Xpring initiative to provide developers with the tools to build applications for XRPL that can be put to use in online shopping, gaming and media monetization.
How does Ripple and XRP work?
Ripple is geared toward use by financial institutions, such as banks, therefore instead of a trustless approach they build their entire network on trust. The list of trusted validator nodes which can participate in consensus voting is maintained by the community: contributors to XRP Ledger and Ripple Labs.
A standard remittance takes 3 to 5 business days and needs pre-funded accounts on both sides. In case a transfer involves currency conversion, banks and transfer providers can apply retail conversion rates, which are designed to yield profit to the bank at the expense of a customer. Even worse, when the receiving bank or provider does not own liquidity in the destination currency, they might involve an intermediary to convert it, which also applies their own fees, making the transfer even more costly.

How does XRP help process transactions faster and cheaper? By transferring value through a decentralized network that is available 24/7, the need for operating within business hours or time zone difference is alleviated. A transaction is cleared within seconds thanks to the unique consensus protocol — XRP Ledger Consensus Protocol, which sends the information about a transaction to trusted operators to confirm, which then additionally refers to other validators – hence the name of the technology. It can be done with a negligible fee that exists solely to prevent spam in the network. XRP is supposed to be the currency-agnostic liquidity source for the receiving side, so it wouldn't need a prepaid account in the destination currency.
What makes XRP stand out?
As it was already mentioned, XRP is the native currency on XRP Ledger. To sum it up briefly, XRP is:
Pre-mined and released by a smart contract — cannot be mined or staked;
Deflationary — transaction fees are burned away. The actual current supply is already at 99,990,932,726 XRP.
Instant — the ledger close interval (the closest analogy to a block time) on average is 3 to 4 seconds, and a transaction is irrevocably broadcast to the rest of the network.
To be able to submit transactions to the network, a reserve is required. The base reserve at the moment is 20 XRP, and in some cases, for instance, to use additional services, an owner reserve of 5 XRP is required on top of that.
What are the downsides to Ripple and XRP?
Ripple and XRP receive a lot of criticism to this day, mainly for the dubious approach to distinguishing the relationship between the enterprise and technology. For instance, back in 2017 journalist and XRP apologist Cory Johnson comparing the relationship between Ripple and XRP with Chevron and oil, referring to them never making it but rather finding an application to it, had left the users scratching their heads, to put it lightly.
Ripple's business model and XRPL's network architecture also received criticism in the past. The fact that this project still goes strong for eight years already casts a shadow over the allegations of unsustainability of both structures.
What is XRP's worth?
To be a means of value transfer, XRP would need to have value itself. Considering the investments into the ecosystem and the large circulating supply, a single XRP's value comes up to fractions of a dollar.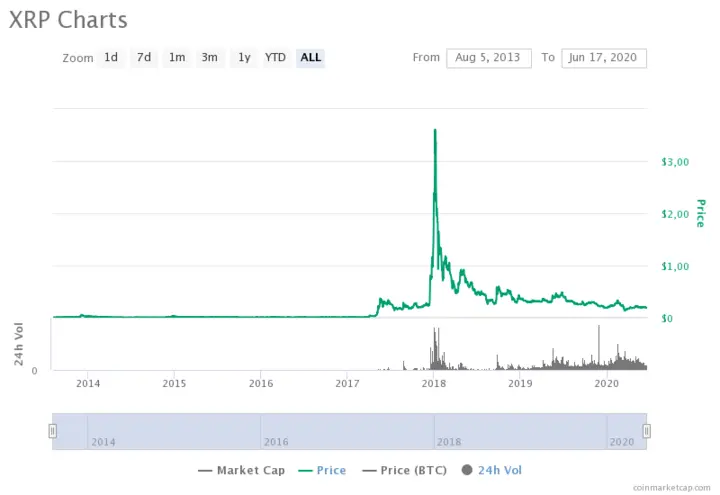 For the most part of its lifetime, XRP cost much less than a single dollar. Before 2017, it rarely reached the levels of 3 or 4 pennies.  Most of the time after 2017 it changed hands at prices ranging from $0.10 to $0.50. On January 4, 2018, however it soared up to $3.87.
Today (at the time of writing) 1 XRP is worth $0.191437. There are 44,257,803,618 XRP in circulation and it ranks fourth by market capitalization ($8,472,601,345).
How to use XRP?
Where to store XRP
Just like any other cryptocurrency, XRP is supposed to be stored in a cryptocurrency wallet. Being a top-5 cryptocurrency, XRP is supported by most of the multi-currency wallets.
There are a few types of wallets, available on different platforms:
Cold storage wallets. Trezor is accessible by connecting the device to a desktop computer and CoolWallet S is a mobile hardware wallet;
Hot cross-platform wallets. These include Exodus and Magnum, for example. You can install Exodus applications for your desktop computer and on your mobile device. Magnum is available in browser and as an Android app, and can serve as an interface for interacting with hardware wallets.
In all of these you can use an in-app exchange function provided by ChangeHero integration.
Where to spend XRP
Technically, XRP was never designed to be a means for purchasing goods and services. Anyway, it is integrated into some crypto payment gateways like Coinpayments, Bidali and CoinGate, and some merchants accept it without any intermediaries. In the shops that accept XRP you can buy a custom graffiti merch, original paintings, hot sauce and crafted scented candles, to name a few options.
If you would like to put some XRP to use and only need to get it, ChangeHero is here to help to provide you with the best rates and user experience for your exchange to XRP. Give it a try now — you won't even need an account.
What are the future prospects of Ripple and XRP?
In a recently announced CNBC's Disruptors 50, Ripple ranks 28th. According to the entry, the company got there thanks to the potential of Ripple Network, as well as RippleNet's extensiveness. With 300 partners on board with large names like American Express, Santander and MoneyGram, Ripple is acknowledged for its potential to innovate the financial sector, CNBC says.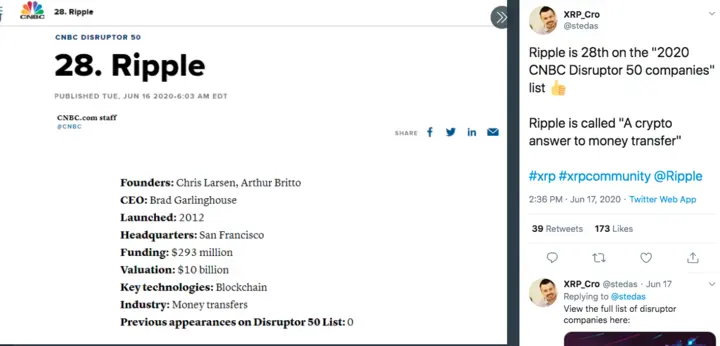 Earlier this year, there was news that Ripple might conduct an IPO of their own. After all, Ripple is a separate entity from XRP Ledger. Still there were concerns that it would mean loss of support for XRP from Ripple, but since February there were hardly any updates, if at all, so the anxiety was not so justified.
As for Ripple, they plan to continue their business expansion to deliver the global money transfers. And for the XRP to make it possible, some legal concerns, like its status as an asset, would have to be settled first.
XRP and Ripple on Social Networks
XRP has a supportive community on crypto Twitter who call themselves #XRPArmy. Recently, at least according to information from bitinfocharts.com, XRP hit a new ATH — this time, in Tweets with #XRP per day. Congratulations!

The last week was pretty good for XRP Army in terms of news: in addition to getting support from ex-Commodity Futures Trading Commission in its ongoing battle for the legal status of XRP, Ripple kept announcing new partnerships.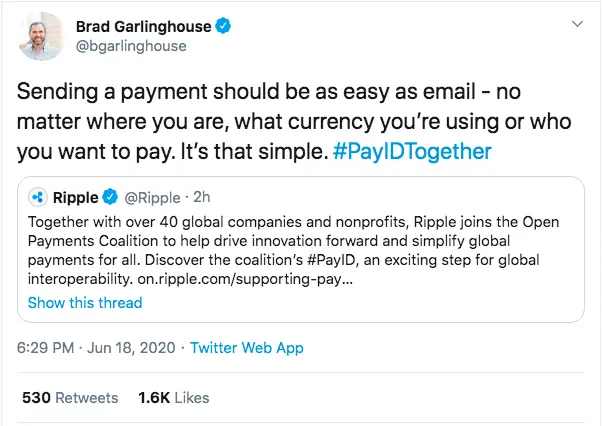 PayID is supposed to unite global companies for the finance interoperability efforts. Ripple is joined by Wyre, Coil, BitGO, Crypto.com and Blockchain.com, and certainly has something to contribute to such a cause.
In the light of such developments, the bullish voices are as loud as ever.
In Conclusion
XRP is definitely a cryptocurrency worth keeping an eye on. 2020 might as well be the year when XRP gets back on its feet after a less than desirable performance in 2019, with the recent hopeful news and renewed vigor from the community. As for Ripple's promise to innovate finance — as always, we will have to wait and see. Love it or hate it, XRP and Ripple are one of the most prominent figures in the crypto landscape.
Bookmark ChangeHero Blog, we publish interesting content on crypto and blockchain. Follow us on Twitter, Facebook, Reddit, Telegram and be the first to get notified.
---
Learn more:
Quick links: