Algorand claims to be the "perfect" blockchain and is the cure to the hurdles its predecessors had. How exactly do they back their bold claims? Is ALGO a good investment? What is the difference between Algorand and other PoS currencies? ChangeHero tries to answer these and other questions you might have about Algorand in this ALGO tutorial!
What is Algorand?
Most blockchains have to seek balance between three major elements: security, scalability and decentralization but technically can choose only two. Proof-of-Work (consensus algorithm in which miners build the chain block by block by solving cryptographic hashes) blockchains are supported by networks of miners, but generally have known scalability issues. Existing Proof-of-Stake (consensus algorithm when the blocks are confirmed to be included in the chain by the members that put their balances at stake) blockchains are prone to centralization, because the largest shares of voting power that comes with a native token concentrates in the hands of the richest or the founders. Generally, centralized approaches are easier to implement, but they require trust in the founder and are not too different from the exclusive and secretive financial system that we have today.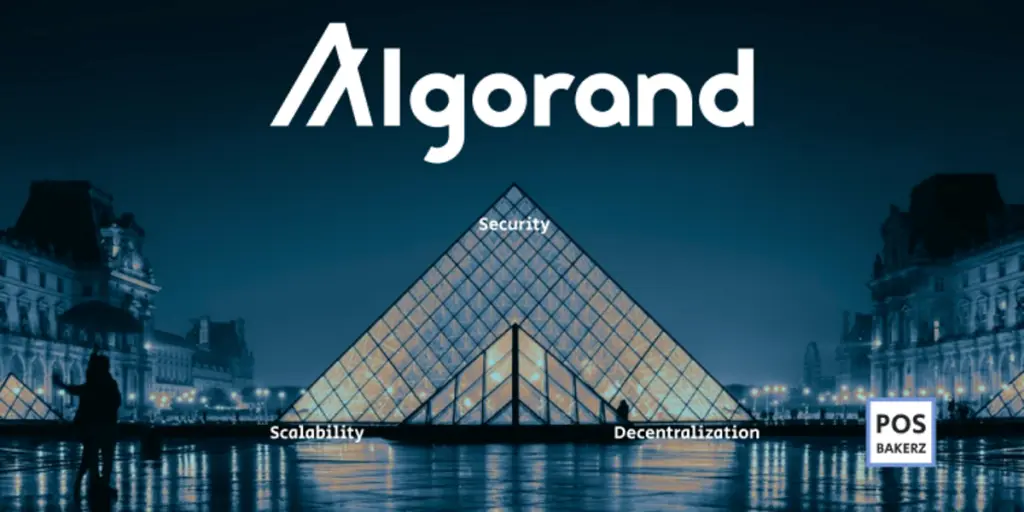 Algorand is a blockchain project with the mission to end the need to compromise in this blockchain trilemma. Its developers claim it is secure, since it uses latest cryptography technologies, scalable, since it is memory-efficient, and decentralized, since all network participants propagate it. Before we take a deep dive into the specifics in this ALGO tutorial, let's have a look at how it all came to be.
How did Algorand begin?
The vision of the Algorand blockchain was laid out by a Turing Award laureate, Silvio Micali. His area of expertise in computer science is cryptography, and he is known as a co-author of works on zero-knowledge proofs, digital signatures and public-key cryptosystems, among other things.
Micali is also the founder of Algorand Inc., a Boston-based company responsible for the development of the network and the business relations. The CEO of Algorand is Steven Kokinos, serial entrepreneur and co-founder of several fintech projects.
Between the announcement of the project on February 1, 2018 and the launch of mainnet (the release candidate open to every user) only a year and a half passed. A closed access testnet was ready by June of the same year, in April 2019, the testnet was opened to public testing, and by June, the mainnet was ready to launch. At the same time, the first auction for Algos was announced, to mark the official launch.
How does Algorand work?
And now, back to our 2020 ALGO guide. So how does Algorand solve the blockchain trilemma? A few technologies unique to Algorand  like the Pure Proof of Stake (a consensus algorithm developed by the Algorand team in which every owner of ALGO can participate in block creation) or binary Byzanthine Agreement consensus protocol let it achieve this.
Decentralization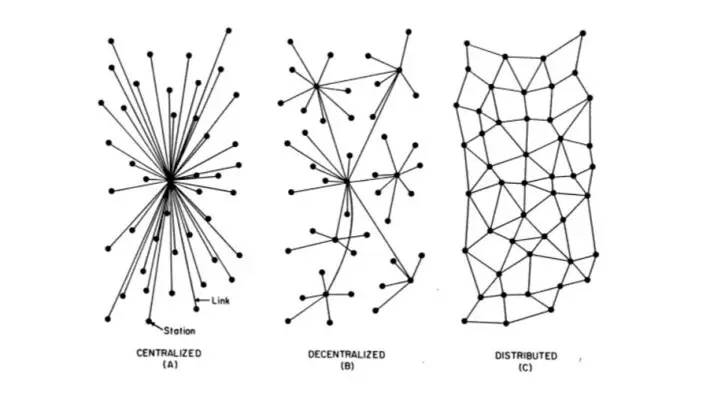 In the Algorand network, all the ALGO token holders are eligible to be picked for block creation. The committee of validators is chosen through a cryptographic lottery (Verified Random Function): if a coin you own wins it, you are now in that committee until the next round. There is no way for a bad actor to know who will validate the next block, and by the time they know, the validation right has already changed hands.
More on the differences and purposes of the ALGO token ‒ in the next sections of this ALGO tutorial.
Security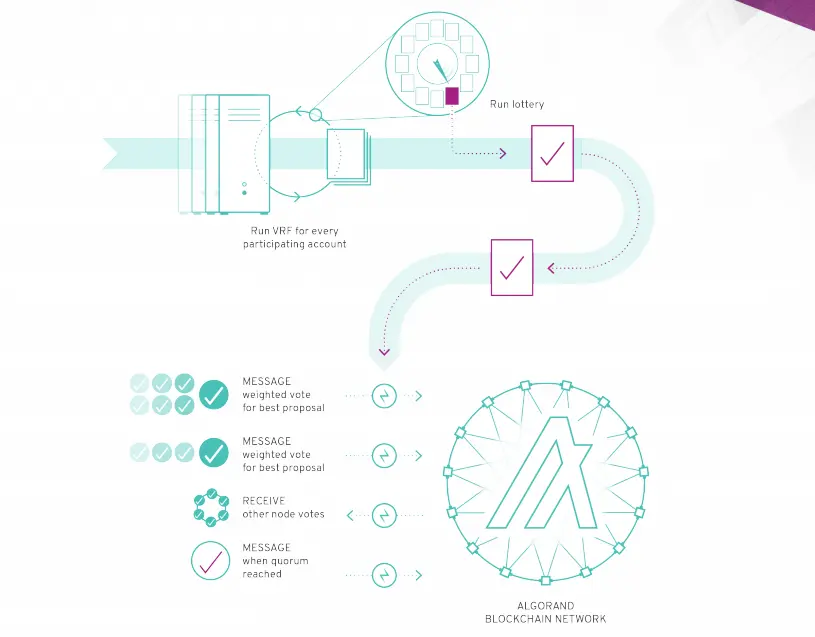 In addition to being resistant to a single point of failure attacks, Algorand's blockchain cannot be forked because all transactions are final. This is achieved by the consensus protocol, binary Byzanthine Agreement (BA*) that relies on relaying messages from one network participant to the committee to the rest of the network, which happens in the matter of seconds.
Scalability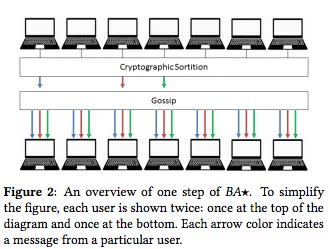 Since the consensus protocol relies on messaging, the contents of these messages are not too memory consuming and can easily be scaled. Moreover, the network can discard old data, if needed, and make it easier for a new node to download the network history. The next section of this ALGO tutorial is all about this.
What is special about Algorand blockchain?
There are a few technologies that were developed by the Algorand team and implemented in it:
Vault protocol. It lets the old account state be deleted by decoupling state and history of transactions, and the state information be sharded across other nodes. This design will help the newcomer nodes bootstrap the synchronizing costs;
Pixel multi-signatures. This type of multi-signature (cryptographic signature that is used to verify transactions on the condition all or the majority of mentioned members approve it) helps reduce the memory requirement for the transaction records and has forward (expiration) security features.
What is ALGO?
ALGO is the native token that empowers governance and participation in the Algorand blockchain. 10 billion existing ALGOs, which is the total supply of the token, have been minted on Genesis and 500 million of those are now distributed by the Algorand Foundation. They run staking programs and participation rewards. 2.5 billion ALGO are reserved for auctions, 3.1 billion was given to early adopters, 2 billion belong to Algorand Inc. and 1.9 billion ALGO will be give to partners of Algorand Inc. who provide support to the ecosystem.
The value of ALGO is supposed to be represented by the value of the entire network. This is why there are regular Dutch auctions (a kind of auction when the buyers submit bids and the seller distributes the tokens upon the closing of the submission period according to the price the buyers are paying) held by the Foundation to sell ALGO to the community. However, there are no announced auctions as of now, so the question of how to buy ALGO is still standing. Anyone willing to buy ALGO from the Foundation has to watch the Algorand news. Luckily, there is a solution to this, which we will cover later in the article.
What is ALGO worth?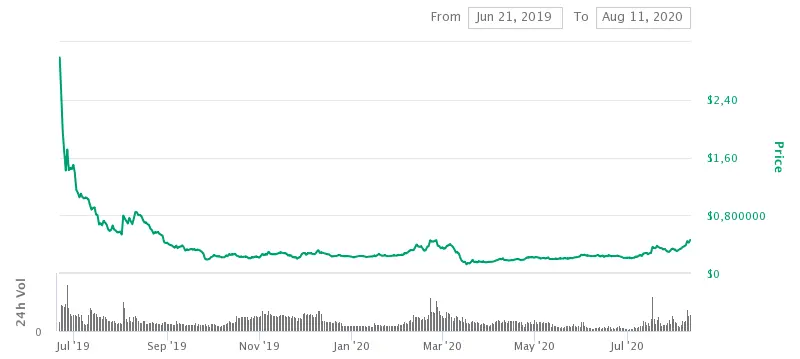 After the first (and as of writing this 2020 ALGO guide, only) auction, ALGOs rushed in on the market, but as seen from the graph, were quite quickly sold out at a high price. The ALGO ATH price was observed on the very first day, June 21, 2019 ($3.28) and has dropped to only $0.20–0.30 by late 2019.
The currency entered the market when the bearish sentiments were prevailing, but recently has been on the rise again. The current (at the time of writing) price of ALGO is $0.449410, it ranks 38th according to CoinMarketCap with a market capitalization of $346,862,421.
Is Algorand or ALGO controversial?
Lack of penalizing unfair behavior
Algorand is so bad XD no asynchronous safety, a more than half honest assumption, no incentive mechanism design...

— Vlad Zamfir (@VladZamfir) September 10, 2017
Even though Algorand claims to solve the design problems its predecessors were struggling with, it is by no means perfect. As Vlad Zamfir, Ethereum Foundation researcher, points out, the project does not have enough penalties for malicious behaviour. BA* works on the assumption that at least ⅔ of the network participants act honestly and synchronously at all times, and the only disincentive they have for an adversary is that their actions undermine the value of the entire network, including their ALGOs.
Auctions
Algorand now offers a 85% refund in 3 weeks for the first auction if you give up the 90% strike 1 yr, and canceled the planned following auctions

If distribution itself can be so dramatic and dubious, i have little confidence in all other aspects, not even mention code is law — Dovey 以德服人 Wan 🪐🦖 (@DoveyWan) August 2, 2019
The distribution of ALGO tokens in a form of an auction has also raised eyebrows from the community. The refund policy might be a nice gesture from the Algorand Foundation, but as Dovey Wan says, it is not as transparent as they might make it seem. Oh, and there was no auction since the first one in 2019, even though there are reserves of ALGO secured specifically to be sold on those. To this date, it is yet not clear whether there will even be more auctions. Luckily, it's not the only way how to buy Algorand ‒ more on that closer to the end of the article.
What is the future of Algorand?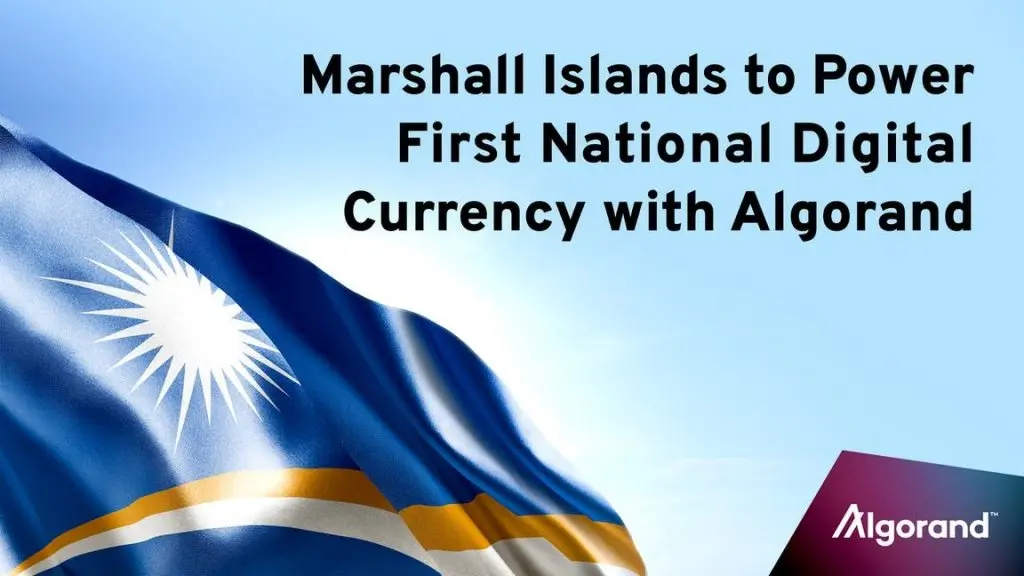 Algorand Inc. was building an ecosystem that would be dependent on having strong partnerships from the very start. Be it an institution that would adopt blockchain technology or a startup that would build a business from the ground up, the more partners they have on board, the more value is there in the system. In the previous few months, they have welcomed the Circle Consortium, Pocket, Verady and the Blockchain Game Alliance in the ranks of their partners, covering the grounds of DeFi, blockchain app development, crypto taxing and accounting, and blockchain gaming with their use cases. Obviously, this is not the limit. Another use case for Algorand blockchain is the CBDG (central bank-issued digital currency, a digital equivalent to a national currency) of Marshall Islands, which is the first of its kind.
Algorand is also setting for a large update, Algorand 2.0, to include smart contracts, atomic transfers and asset tokenization as a Layer-1 solution.
Algorand Standard Assets (ASA) is a tokenization feature that will help issue and manage tokens, representing anything from loyalty points to real estate, on the Algorand blockchain with low transfer and operational costs;
Algorand Smart Contracts on Layer-1 is basically the conventional smart contract implementation that will enable more DeFi and development options, but without incurring additional costs;
Finally, with both of the above, Atomic Transfers on Algorand will enable decentralized trading, as well as complex transactions and debt settlement.
How is Algorand different from its competitors?
We have already compared Algorand with Bitcoin and Ethereum in this ALGO tutorial. But how is it different from, say, EOS, which is also a platform for development with the currency working on PoS? The fact that there are 21 active block producers in EOS raises some concerns about centralization: what if a few of them do get compromised? The Algorand's consensus protocol makes sure blocks are always soundly added to the chain.
Another competitor from the top, Cardano, was also created to become the Ethereum without scalability issues, and also relies on Proof-of-Stake. Cardano utilizes side-chains, while Algorand strives to keep most of its usability on the network level. Algorand is also more welcoming to developers, since it has SDKs written in Java, Go and JavaScript, while Cardano dApps need to be written in Haskell or Plutus, specialized complex languages.
Algorand news from Twitter
Transactions on @Algorand are almost over 1.5 million for today! 1.5 million transactions in a single day and not even scratching the surface of what the network can handle.... pic.twitter.com/KYX0DZlQM6

— Keli Callaghan (@KeliCallaghan) August 7, 2020
VP of Marketing at Algorand Foundation, Keli Callaghan, tweeted this piece of Algorand news the other day. The Algorand network has surpassed 1.5 million transactions in one day. Those included 0 ALGO transactions that are needed to interact with the dApps, though, but still, this is a healthy metric that shows that the network is seeing use regardless.
There are several application scenerios of the @Algorand's pure proof-of-stake blockchain.Algorand, since it's inception, has become an authority on it's own, with high versatility with industries adopting and integrating into it's blockchain. Some industries shown in this below: pic.twitter.com/CkIGjcSsOj

— Ritabell Anders (@Ritabell_anders) August 10, 2020
Blockchain influencer Ritabell Anders drew up an infographic with the current partners of Algorand to show how it can be used. Here we see Tether that issues USDT on Algorand blockchain, Meld Gold that chose Algorand for gold tokenization, Monerium's e-money solution and PlanetWatch air quality monitoring. And this is not an exhaustive list.
Liquidity gainers

Top 7 are @Cosmos, @Algorand, @Chiliz, @MySiacoin, @Ankr, @Hashgraph and @NervosNetwork $ATOM $ALGO $CHZ $SC $ANKR $HBAR $CKB $OXT $OGN $HIVE $LTO $SOL $IRIS $COS $KSM pic.twitter.com/4ONi6hPAiP — CryptoDiffer (@CryptoDiffer) August 7, 2020
Data aggregation service CryptoDiffer announced that this week, ALGO became one of the top liquidity gainers. Another bullish piece of Algorand news!
How to buy ALGO and sell it?
Looking for a way to buy ALGO? You are in the right place, because you actually can buy and sell ALGO on ChangeHero with USD, EUR and Russian Ruble. If you are a first-time buyer, you would have to pass an identity verification, but it will not take longer than a few minutes. Purchasing with a credit or debit card, all in all, takes only about 15 minutes, and the rates are guaranteed to be the best on the market.
If you already own crypto, an even better solution on how to buy ALGO would be exchanging your crypto for ALGO on ChangeHero. It will not require a registration or account creation, and the transaction will be processed even faster and for a lower fee.
What is the best ALGO wallet?
When you are ready to join the ranks of ALGO holders, make sure you have a cryptocurrency wallet to store it. There is an official wallet that supports all the features of Algorand available for smartphones. However, as of this 2020 ALGO guide it supports ALGO only and is not available on desktop computers. In that case we can recommend Exodus wallet, where you can swap the assets without leaving the app with ChangeHero. Other options to store your ALGOs include Coinomi, Atomic wallet, Bitpie and Cobo Wallet.
How to exchange ALGO?
No ALGO tutorial will be complete without an instruction on how to get it. If you want to exchange your crypto to ALGO and need a refresher on how exchanging with ChangeHero works, we're here to help:
Choose the currencies on the home page, amounts and the type of exchange. Provide your ALGO wallet address in the next step and check the amounts;
Double-check the provided information, read and accept the Terms of Use and Privacy Policy;
Send in a single transaction the sum of crypto currency you will be exchanging. For a Fixed Rate transactions you have 10 minutes before it expires;
Sit back and relax. At this step we are doing all the work: checking the incoming transaction and doing the exchange as soon as it arrives;
As soon as the exchange has been processed, your ALGO are on the way to your wallet. And so, the transaction is finished!
If you ever run into any issues during your swap, our support specialists are always available to help you out in the chat or through the email: [email protected].
How to use ALGO?
Now that you are a proud participant of the Algorand network, how exactly can you put your ALGO to use? You can use it for staking, sure, and gain some passive income on it. 
Right now, concurrent to this ALGO guide 2020, there are not a lot of vendors or payment gateways accepting ALGO. It was not explicitly designed to be a means of payment, per se. However, as the network develops and more coins enter circulation, there will be more need for the emergence of use cases for ALGO, too.
Conclusion
With roughly a year of actual history, Algorand has all the future ahead of it. We in ChangeHero will be keeping our eye on the developments, and if Algorand ever rises to prominence, you heard about it here first!
We hope this guide on ALGO in 2020 covered everything you wanted to know. If you want to discuss the article or have some questions to ask to other members of the community, feel free to do so in the comments or in our blog and social media: Twitter, Facebook, Reddit and Telegram. Stay tuned!
---
Learn more:
Quick links: