After an initial airdrop and liquidity mining program, 1inch Network gradually faded out of the public eye. Where it is now, three years later? If you slept on it, you may have seen it among the gainers this week. In this article, we delve into the 1INCH price prediction in 2023 and explore the potential growth and outlook for the years to come.
1INCH price prediction 2023–2033 Summary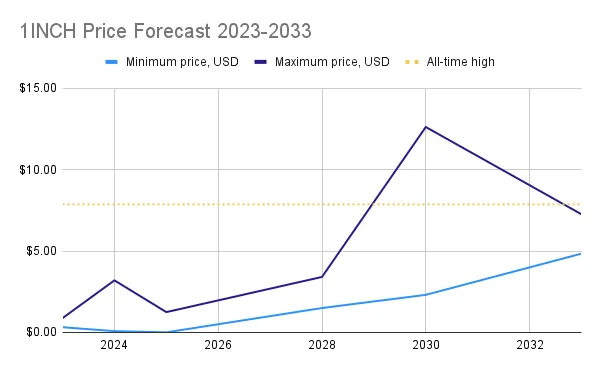 In different sources, the outlook on 1INCH's future and the range between minimum and maximum prices varies significantly. Therefore, the 1inch Network price prediction various outlets and methods give are not very consistent with each other;
Optimistic 1INCH predictions see it beating the current ATH by 2030. By that year, it can also exceed the $10 level;
Conservative 1INCH forecasts see it grow but barely reach $5 in ten years. The worst case scenario for the token is the loss of most of its value.
What is 1INCH token?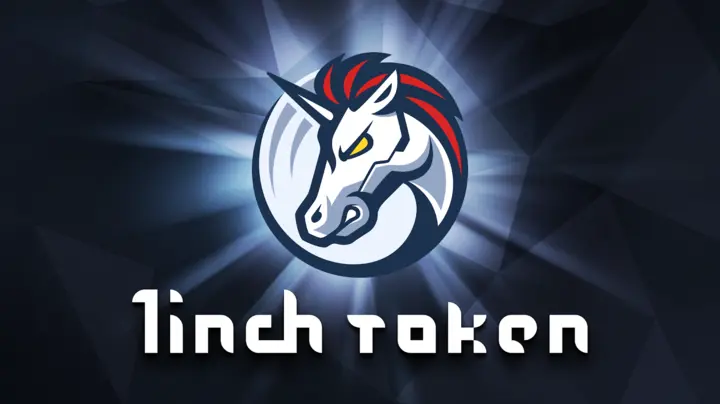 The 1INCH token is the governance and utility token of 1inch Exchange, a decentralized exchange (DEX) aggregator.
1inch Exchange is a platform that allows users to swap ETH and its tokens using various liquidity pools and protocols to find the best deals. By aggregating liquidity from multiple DEXs, it aims to provide users with the most optimal trading experience.
The 1INCH token plays a crucial role within the ecosystem. Firstly, it serves as a governance token, allowing holders to propose and vote on protocol changes. This gives users a say in the future development and direction of the platform. Additionally, holding 1INCH can provide certain benefits and privileges within the ecosystem.
Furthermore, 1INCH tokens can be earned through liquidity mining programs. By providing liquidity to the platform, users can earn rewards in the form of 1INCH tokens. These rewards incentivize users to contribute to the liquidity of the platform and help ensure its proper functioning.
Staking is another important feature of the 1INCH token. By staking their tokens, users can earn additional rewards. Staking provides benefits such as increased voting power and access to exclusive features and opportunities within the ecosystem.
Through governance rights, liquidity mining rewards, and staking with tangible benefits, the 1INCH token incentivizes user participation and helps maintain the efficiency and integrity of the platform. For even more information, read the Beginner's Guide to 1INCH by ChangeHero.
1INCH Token Price History
1INCH Price in 2020–2021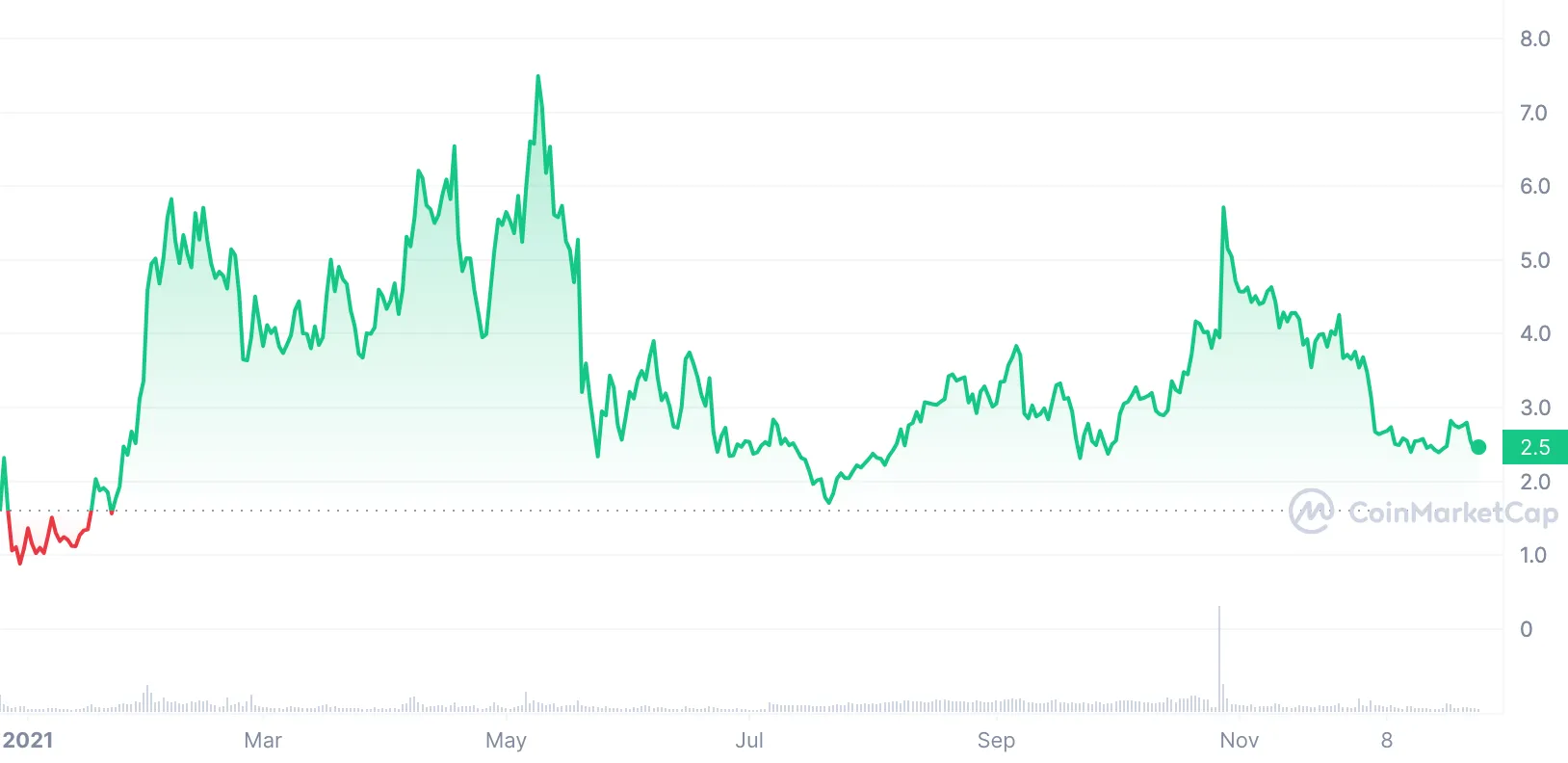 The first 1INCH token distribution in the form of an airdrop happened on Christmas of 2020. The tokens were retroactively given out to the users that met certain criteria:
One or more trades before September 15 OR;
Four trades before the start of the distribution OR;
Trades for at least $20 in total.
After that, the price quickly decreased from $2.63 to $0.7 by December, 29. Most likely, this is because some users sought immediate value from the airdrop by cashing out.
Around the time of launch, the first liquidity mining program for 1INCH tokens was launched. In it, another 0.5% of the total supply (1.5 billion) was distributed. The circulating supply was growing, but the price wasn't.
However, 1INCH soon gradually started to accumulate value for holders who staked it. With that, it entered an uptrend, as buying interest rose. By the time the next liquidity mining and distribution program started on January 9, the demand outweighed the supply. The growth in popularity of the 1Inch Exchange certainly helped, too.
But a more apparent factor that solidified 2021 to be so bullish for 1inch Network was the Bitcoin bull run. The crypto space and decentralized finance were heating up, which eventually took 1INCH to its historic maximum value: $7.87 (May 8, 2021). After a summer respite, the second leg up managed to take it to $5.7. It coincided with the news about the DAO launch and the rollout of Router v4.
1INCH Price in 2022–2023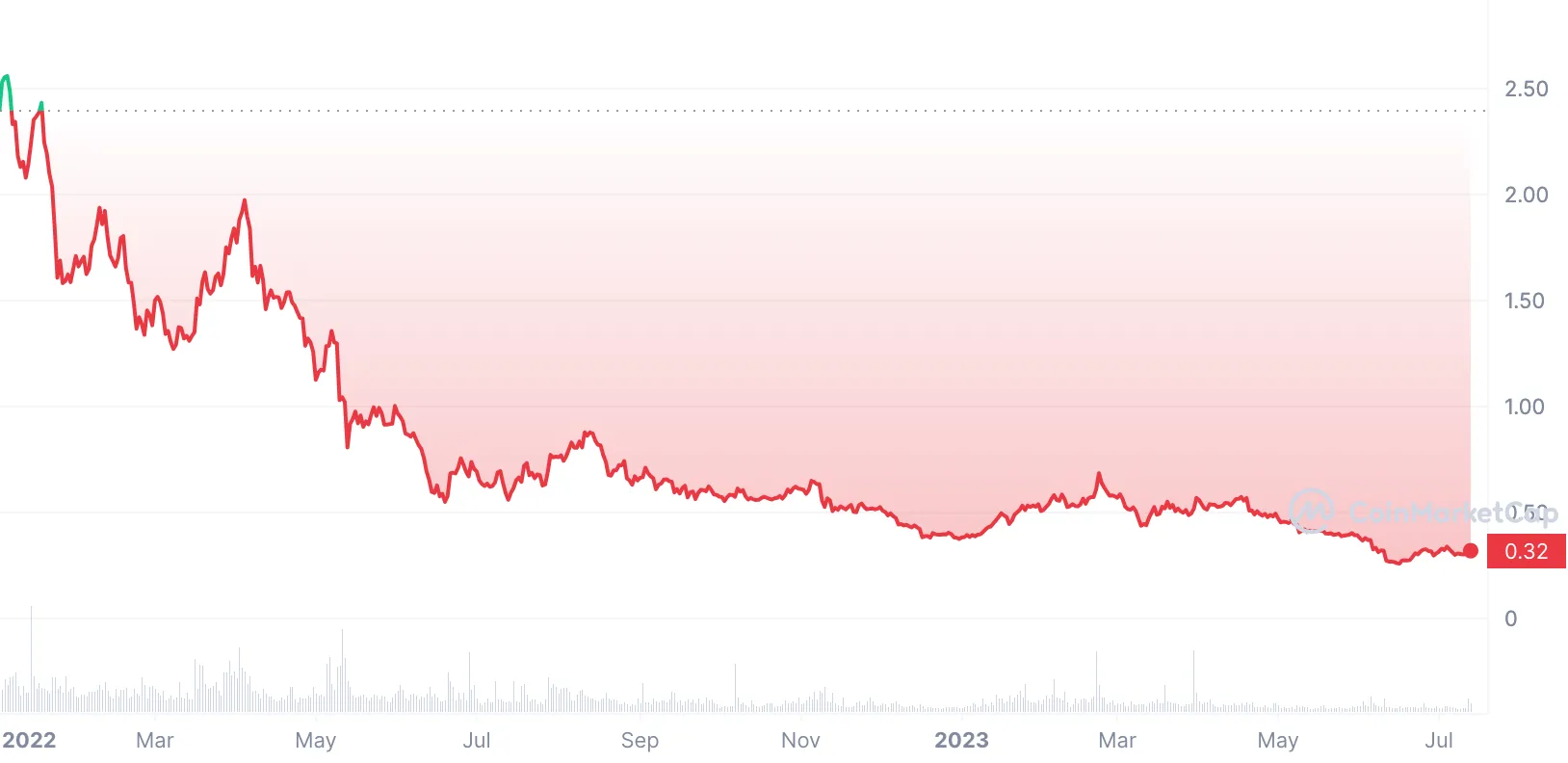 If 2021 has been a bullish part of the market cycle, 2022 was the year that brought it all back down. As the Bitcoin price started its pullback, more domino pieces like Terra or Celsius started to fall. As a testament to the value of 1inch Network, it made it through all crises but the token price inevitably fell with the market. Compare the opening and closing prices of 1INCH in 2022: $2.39 vs. $0.38.
Despite 2023 being overall a better year for the crypto market than the previous one, 1INCH did not quite recover. The yearly high of $0.687 was seen around the time when the reports of positive 1inch Network growth became public. Other than that, the market sentiment toward the project remains lukewarm, and the token price has just started to move to the upside.
At the time of writing, the current price of 1inch Network Token is $0.32. It ranks 100th by market capitalization according to CoinMarketCap.
What influences the price of 1INCH?
Protocol Updates
1INCH token always has been first and foremost a utility token that powers 1Inch Exchange. Its use cases include modifying the protocol settings and staking with voting power.
Since the last time we highlighted this token, it received even more significance as a cornerstone of DAO governance. And as briefly touched upon in the previous section, the introduction of Router v4 helped the price jump from $3.95 to $5.71. This is the key protocol of 1inch Network that helps secure the best deals by routing a transaction through liquidity sources.
One of the most recent key updates to the platform took place in December 2022: the Fusion mode. This mode lets users customize their orders and makes them gasless. It introduced the role of resolvers, who are basically third parties that fill the limit orders.
Growth of 1Inch Exchange
In 2021, we could only apply the generalized network effect to the future growth of 1inch Network: it was still new but growing. And while the relationship between network activity and token price did not turn out to be direct and linear, the fact is: 1inch Network has reached a lot of milestones in two years.
Most notably, the number of users and the volumes are on a steady rise. However, an even more evident sign of growth is the expansion to other networks. As of 2023, 1inch Network spans across Ethereum, Arbitrum, Optimism, Polygon, zkSync Era, Avalanche, BNB Chain, Gnosis, Fantom, Klaytn, and Aurora.
The Future of Ethereum
1inch Network iteration on Ethereum was the initial one and is still seeing the highest trading volumes. It did not take long before the aggregator introduced versions on its Layer-2s (Polygon, Arbitrum, and Optimism). The reason for it is simple: on layer one, the throughput and network fees are something that left much to be desired.
Even now, in the post-Merge Ethereum ecosystem, the alternatives and L2s still seem viable. The events surrounding the Shanghai upgrade even helped boost trading volume on 1inch, all thanks to stETH (synthetic asset representing staked ETH on Lido) support.
Today, 1inch is not bound to Ethereum, and its dominance for this protocol is shrinking. However, it is reasonable to expect that for a year or two it will remain a factor influencing 1INCH price.
1INCH Price Analysis and Forecast
The daily chart of 1INCH–USD can tell us a few things about the short-term price action going forward. The +17% recovery on a monthly time frame is not an anomaly, considering at the time it was entering an oversold area according to the relative strength index (RSI). The RSI and its simple moving average are about to cross over, which could bring about a trend change and stop the recovery in its tracks.
With that in mind, it looks like for now, the local low is the bottom. From here on, if the gains persist, 1INCH can rise stopping around the levels of $0.3587 and $0.4216.
1INCH Price Prediction 2023
Projections based on historical analysis by CryptoPredictions draw out a path the 1INCH price can follow in 2023. It is expected to peak in August and September, pulling back by December once again. In particular, the maximum price expected in 2023 is $0.6044 and the minimum price to be reached going forward is $0.398. Still an increase in comparison to the current price!
Another scenario is proposed by Finance Shots who are noticeably more optimistic. By the end of 2023, 1inch Token should be trading for $0.75 on average. Their forecast maximum price is $0.88.
1INCH Network Price Prediction in 2024, 2025
YouTuber Crypto4light Market gives a level-headed price analysis for 1INCH, and what does it tell us? Of course, there is always a possibility of the price going down, and the lowest reasonable price for 1INCH is around 13 cents. Nevertheless, he is looking to the upside and claims the coin can go up to a psychological level of $1 in a year, and even pump to $3.20 within that time.
WalletInvestor is bearish on the 1INCH token. A year from now, it will be down to $0.08, and in 2025, further lose 95% of its value. On the contrary, CoinArbitrageBot gives a more bullish prediction for 1INCH. In a year, the token price will grow to $0.39528. In 2025, its average trading price will exceed $1.25.
1INCH Price Prediction for 2028
What 1INCH's price is going to be in five years from now, in 2028?
According to Digital Coin, around $1.53. More precisely, they forecast that the 1INCH price in 2028 will fluctuate between $1.50 and $1.73.
Authors of Coinpedia are a bit more hopeful about it: in their 1INCH price forecast, they see it rising to $2.56–3.41.
1INCH Price Prediction for 2030 & 2033
Even though there is significantly more information to go off than at the beginning, the price history of 1INCH is still short for traditional historical and technical analysis methods to be reliable. So, take the long-term predictions with an even bigger grain of salt.
A prediction that cites the 2020 success of the UNI airdrop claims that in 2030 1INCH can grow in value up to ten dollars. The opening price is close to $9.63 and if the growth rate persists, that year it can close above $12.62.
AMB Crypto is more conservative: the maximum price 1INCH can reach in 2030 is $3.46. At least, the minimum price they forecast for that year is $2.31. As for 2033, the range will move noticeably higher, to $4.84–7.26.
How to get 1INCH on ChangeHero?
If you missed out on airdrops or liquidity mining, don't fret. There is a way to get your hands on 1INCH quickly and with no hassle. Try swapping your crypto for 1INCH on ChangeHero in five steps:
Choose the currencies on the home page, amounts, and the type of exchange. Provide your 1INCH wallet address and memo in the next step and check the amounts;
Double-check the provided information, read and accept the Terms of Use and Privacy Policy;
Send the cryptocurrency for exchange in a single transaction. Fixed Rate transactions have a 15-minute limit;
And now, relax! We are doing all the work: checking the incoming transaction and doing the exchange as soon as it arrives;
As soon as it has been processed, your 1INCH is on the way to your wallet. We'll be happy to hear your feedback if you enjoyed using ChangeHero.
Our support Heroes are available anytime in the chat on our website or through the email: [email protected].
Conclusion
Over the course of its brief history, 1inch Network provided value not only to airdrop hunters. It is the leading DEX aggregator in the DeFi sector for a reason: the team is successfully building a sophisticated and beneficial product.
Find more crypto news and deep dives in our blog. Stay tuned to the updates on our Twitter, Facebook, Reddit, and Telegram!
---
Frequently Asked Questions
What is the price prediction for 1INCH in 2025?
Based on various market analyses, the potential price range for 1INCH in 2025 spans from 8 cents to $3.20.
Can 1INCH hit $100?
Taking the total supply of 1,500,000,000 1INCH into account, for 1INCH to reach $100, it will need to amass a market cap of $1.5 trillion. This is more than the total market cap of the entire crypto market today, which makes it not impossible but quite improbable. Another thing to consider is that there is no hard limit on the max supply of 1INCH, and the community can decide to increase or decrease the total supply.
What is the 1INCH prediction for 2030?
The projected price range for 1INCH in 2030 is between minimum and maximum prices of $2.31 to $12.62.
Learn more:
Quick links:
Disclaimer
This article is not a piece of financial advice. No price prediction is guaranteed to provide exact information on the future price.
When dealing with cryptocurrencies, remember that they are extremely volatile and thus, a high-risk investment. Always make sure to stay informed and be aware of those risks. Consider investitions in cryptocurrencies only after careful consideration and analysis and at your own risk.