Polygon has been exploding even when the whole market was down, what is up with that? Could it be their rebranding and scope expansion, going public on Google BigQuery or endorsement from Mark Cuban? Either way, let's take a deep dive to see what is the appeal of Polygon crypto!
Key Takeaways
Polygon (previously Matic Network) is an Ethereum interoperability protocol, which allows scaling solutions and applications to work with each other;
Polygon (MATIC) is a cryptocurrency that shrugged off the recent pullbacks like it's nothing, with a +7,747% performance in 2021 alone;
The rebranding in early 2021 and receiving investment from celebrity investor Mark Cuban all seem to contribute to its performance.
What is Polygon Сrypto?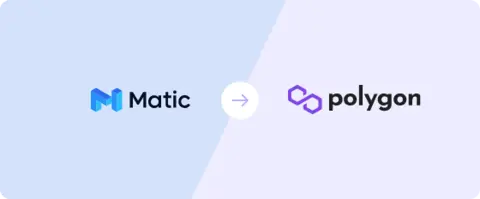 Polygon Network is an Ethereum-based interoperability solution for Ethereum-compatible chains. Ethereum is the most utilized and, arguably, secure blockchain with virtual machine compatibility, and most blockchain developers choose it. However, being well aware of its scalability issues, they have the option to pick one of the many layer-two protocols. The problem is, even though these scaling solutions are on Ethereum, they cannot communicate with each other properly. This is the challenge Polygon sets out to solve. To enable faster transactions and lower gas costs, Polygon leverages the Proof-of-Stake consensus algorithm. Ethereum is only used for finality and communication between Polygon chains, and the main bulk of operations happens on Polygon. The chains on Polygon come in two variations: stand-alone and secured chains. Stand-alone chains have their own pool of validators, while secured chains sacrifice some sovereignty to be supported by Ethereum validators. How did Polygon come to be and who developed it? Keep reading to find out this and more.
History and Team
Polygon started out as Matic Network, a L2 scaling solution for Ethereum. However, along the way developers realized that there needs not be one single scaling solution. Instead, they set out to incorporate all of them into a single system and make it more approachable for use and development. This is why in 2021 they rebranded to Polygon. The Polygon team is decentralized but there are four founding members who comprise the core team. They are Jaynti Kanani, Sandeep Nailwal, Anurag Arjun and Mihailo Bjelic. The project's advisors are known Ethereum devs, Hudson Jameson, Anthony Sassano and John Lilic. Non-developer advisors are Ryan Sean Adams of Bankless and Pete Kim of Coinbase. And now, more on why Polygon is considered a crypto project and how exactly it works.
What is MATIC?
To secure the network and to transact between nodes and actors, a native currency is needed. In the Polygon crypto network, this part is played by the MATIC token. First of all, it is necessary for securing the network in the Proof-of-Stake model, in which tokens act as incentive for block production. Network participants lock, or stake, some of their tokens and in return receive passive income from contributing a little computing power for transaction validations. Secondly, in the Polygon ecosystem of apps, the transactions are made with the MATIC tokens. Be it a cross-blockchain bridge or two Polygon chains, interoperability is made possible with a common denominator, which is MATIC.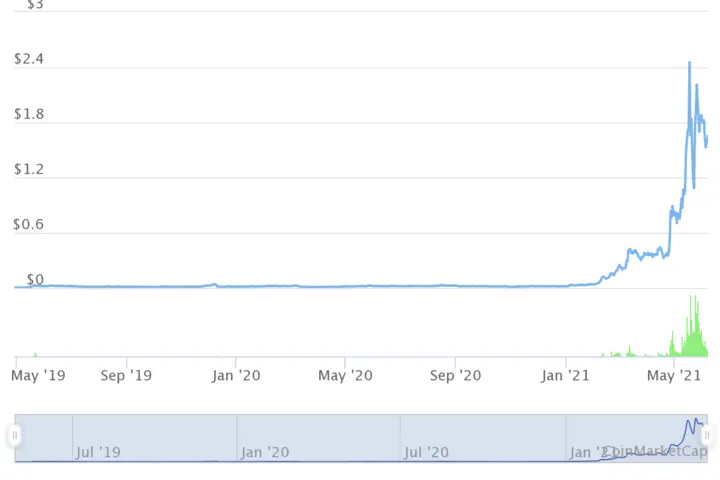 Matic Network launched in April 2019, and back then it was worth $0.003. During 2019 and 2020, it has hit highs of $0.04 and lows of $0.01. However, it was not until 2021 when MATIC price really took off. Rebranding and the expansion of the scope of their mission must have helped with that. At the moment of writing, MATIC price is $1.64 and it ranks 16th by market cap according to CoinMarketCap.
Polygon and MATIC Use Cases
Ease of implementation on Polygon and the DeFi boom led to an abundance of protocols. Right now, there are hundreds of apps built with the Polygon SDK. Swapping, earning passive income, lending, betting, gaming and NFTs — there is an app for anything, readily available! What is Polygon crypto as a utility token used for? MATIC is mostly supposed to be used for its primary purpose — securing the network and transacting value.
Comparison with Similar Tokens
Polygon is sometimes compared to other interoperability protocols: Polkadot and Cosmos, even by the devs. What is Polygon crypto's difference from them? They both are EVM-compatible, too, but stand at the centre of their own respective blockchains. Polkadot and Cosmos native currencies are coins, not tokens. Hence, Polygon not only allows Ethereum-based protocols to communicate but also serves as a scaling solution. It allows scaling solutions like Plasma and Optimistic rollups to connect to each other. Polygon as Matic started out as a Plasma-based scaling solution. In this way, it could be compared to OMG Network, a layer-two protocol founded in a MoreVP Plasma implementation. In OMG Network, both parties have to have access to the network. In Matic, any Ethereum address is valid, users only need the Matic wallet to transact.
Is Polygon Controversial?
The ease of development on Polygon with the SDK inevitably leads to popularity with developers, and not all of them have the best intentions in mind. Cases of scam exits and unsecure protocols occur on Polygon, too, as it gains more attention. The protocol itself or the developers of it are not to blame for it but for now diligence is recommended.
Partnerships and future plans
Most recently, Polygon partnered with Badger DAO to support wrapped BTC and 0x decentralized exchange. Another wrapping protocol, Ren, is also supported on Polygon and includes BTC, ZEC, BCH, and DOGE bridges. Another large announcement made by the team broke the news that the Polygon crypto network became public on Google BigQuery. What it means is that now all data can be easily compiled and tracked, making development on Polygon even more attractive. As for the future of Polygon itself, in the words of Sandeep Nailwal, "Polygon will never actually go live". The network will keep expanding and evolving along with its components and multiple testnets.
Polygon in Social Media
We are thrilled to announce our collaboration w/ @0xPolygon!

Now you can use https://t.co/koSaaYbfQB on Polygon! The synergy with Polygon will enable us to scale up our implementation of providing more holistic DeFi protocols to every user!🚀 Read More: https://t.co/7e57h7WuA7 pic.twitter.com/tBKijcliIC — FURUCOMBO (@furucombo) June 7, 2021
Polygon ecosystem grows with literally each passing day! Announcements like this one from the transaction batching solution Furucombo come in at an incredible speed.
It's great to see that @mcuban has invested in Indian blockchain startup @0xPolygon (formerly Matic)

Polygon aims to solve pain points associated with blockchains such as high gas fees and slow speeds, without sacrificing on security — Sumit Gupta (CoinDCX) (@smtgpt) May 27, 2021
CoinDCX CEO Sumit Gupta congratulated his colleagues on receiving an investment from a millionaire investor Mark Cuban. The whole community of Polygon, as well as India blockchain developers have been discussing the news for days!
He's right. There's been a huge shift in support for @0xPolygon from all kinds of parties, influ, groups & powerful players. There's no question that the ETH-#DeFi crowd are keen for the upcoming deals on $MATIC. Many of 'em are busy reading pitch-decks in prep for the hustle. https://t.co/51PuDdM6gd

— Brad Laurie (@Brad_Laurie) May 28, 2021
In trader and educator Brad Laurie's opinion, great things await the Polygon project. As if it has not been bullish already!
Where to Store MATIC?
Polygon crypto can be stored in most popular multi-coin wallets. Matic Wallet is a browser application that is readily available at the project's website. It can be linked to a MetaMask or Coinbase wallet but that would require having one. If you want to store and stake MATIC, pick the Exodus wallet! It has the option to swap coins and tokens right in the application.
How to exchange MATIC Instantly?
MATIC can be traded on some crypto exchanges but it comes with a lot of unnecessary hassles. You have to create an account and deposit funds into the exchange's custody.  ChangeHero is an alternative way to trade MATIC against any currency supported by the service. It's a non-custodial instant cryptocurrency exchange, so you won't have to worry about losing access to your funds or setting up an account. For your convenience, MATIC can be bought on ChangeHero in five easy steps:
Choose the currencies on the home page, amounts and the type of exchange. Provide your wallet address in the next step and check the amounts;
Double-check the provided information, read and accept the Terms of Use and Privacy Policy;
Send in a single transaction the sum of cryptocurrency you will be exchanging. Fixed Rate transactions have a 15-minute limit;
And now, relax! We are doing all the work: checking the incoming transaction and doing the exchange as soon as it arrives;
As soon as the exchange has been processed, your MATIC are on the way to your wallet. We'll be happy to hear your feedback if you enjoyed using ChangeHero.
Customer support is available 24/7 in chat on our website or through the email: [email protected].
Conclusion
It's easy to see why MATIC has been outperforming other major assets. The team and the community restlessly work to provide value and build on Polygon. If you enjoyed this guide and would like to see what else crypto has to offer, you would definitely like our blog! For the on-the-go info and content, we can't recommend enough to follow us on social media: Twitter, Facebook, Reddit and Telegram.
Frequently Asked Questions about Polygon (MATIC)
What is Polygon crypto used for?
Polygon crypto, MATIC, is needed for securing the network through staking or transferring value between its chains.
What is Polygon coin?
The Polygon MATIC is an ERC-20 token. It has stayed the same through the rebranding, so old and new holders alike are using the same utility token.
What network is Polygon on?
Polygon is a Ethereum-based interoperability protocol, so it works with the help of Ethereum blockchain.
What is Polygon worth?
At the moment of writing, MATIC price is $1.64 and it ranks 16th by market cap.
---
Learn more:
Quick links: