The decentralized global computing network of Ethereum proved to be such a great idea but lacking in execution that it spawned plenty of competitors. These alternatives each provided their own answer to a blockchain trilemma between decentralization, scalability, and security, but currently, Avalanche is coming out on top. What is Avalanche (AVAX), how does it work and what reputation it has earned, explained in our new guide.
Key Takeaways
Avalanche is a blockchain platform that can be used to create virtual assets and decentralized applications. At its core, it uses the Ethereum Virtual Machine (EVM) but its unique architecture makes it more scalable and efficient;
The Avalanche ecosystem is using a utility token AVAX. It provides incentives to network maintainers as a part of the Avalanche consensus protocol and introduces a common unit of value;
Avalanche was launched in 2020 and is now focusing on ecosystem expansion. A few of the initiatives to help with it are Avalanche bridge to Ethereum and BTC, and Avalanche Multiverse.
How Does Avalanche Work?
​​Avalanche is an open-source blockchain platform for decentralized finance applications. To meet the high standards of the financial industry, Avalanche offers scalability and versatility. It lets users and enterprises create their own networks in the form of private and public subnets.
The Avalanche crypto platform is suitable for building:
Application-specific permissioned and permissionless blockchain deployments;
Highly scalable decentralized applications (dApps);
Digital assets with custom rules – smart assets.
To support these use cases, Avalanche uses a unique multi-chain architecture: some of these perform core functions, others are more application-specific. A core chain called Primary Network supports consensus, all other subnets are optional.
Primary Network Chains
The Primary Network itself separates operations into three chains:
Contract Chain (C-Chain) is an instance of Ethereum Virtual Machine that executes Solidity-based applications;
Exchange Chain (X-Chain) supports all digital assets and the transfers between the core network and subnets;
Platform Chain (P-Chain) is where the consensus and validation take place. Participating in P-Chain is mandatory for validators.
History and Team Behind Avalanche
The first draft of Avalanche traces back to May 2018, to ideas conceptualized by a group known as "Team Rocket". Cornell University and Emin Gün Sirer in particular took it from there and developed the draft into a fully-fledged protocol.
The team of researchers formed Ava Labs, which in time published the AVA codebase and held an ICO. The codebase went open-source in March 2020, and the ICO, during which AVA tokens went for $0.33–0.52, ended on July 15.
Rather soon, in September 2020, Avalanche with its native token AVAX was launched on the mainnet.
What is AVAX?
Therefore, AVAX is the ticker of the native cryptocurrency of the Avalanche network.
| | |
| --- | --- |
| Total Supply | 720 million AVAX |
| Transactions per Second | 4,500+ |
| Emission Type | Burn & Mint Equilibrium, Programmatic Burn |
| Inflation Rate | 23.38% |
| All-time high | $146.11 (Nov 21, 2021) |
Avalanche has a fixed supply but it is to be reached within the next 10 years. At launch, 360 million were minted, and the remaining 360 million will be distributed as staking rewards.
Moreover, out of 360 million sold before the launch, at least 35% are locked behind a vesting schedule. These AVAX went to the team, founders, and investors.
Each of the three chains that comprise the Primary Network uses its own version of AVAX:
Contract Chain (C-Chain) AVAX is needed to pay for the EVM call fees;
Exchange Chain (X-Chain) AVAX serves as a common denominator when exchanging assets from different subnets;
Platform Chain (P-Chain) AVAX is used in staking.
What is Avalanche (AVAX) Used For?
Like in many blockchains, Avalanche uses a native token to reward or punish consensus maintainers, as well as in governance.
The Avalanche consensus mechanism uses a unique specification that combines Proof-of-Stake with direct acyclic graphs. As a result, to verify transactions nodes communicate with each other at random until a consensus is reliably reached. The randomness in the protocol is not pure, and the chance to be sampled is directly proportional to an AVAX stake.
Other validators constantly keep checking on each other, and if they respond reliably for at least 80% and stake at least 2,000 AVAX, they are eligible for rewards.
The governance is performed on-chain on matters that directly affect burn and minting. AVAX stake represents voting power.
How Does Avalanche Compare to Competitors?
It might sound surprising but there is quite a lot in common between Avalanche and Bitcoin. Avalanche uses UTXOs to keep a transaction history and has a hard cap on the supply. There are also a couple of other technical similarities, like address format and Segwit-like transaction structure. The differences are more obvious: Avalanche consensus mechanism, throughput, and requirements for validators. Avalanche proves to be more efficient in all these regards.
Of course, there is the Avalanche vs Ethereum debate. Avalanche (AVAX) is better at the same things, really: higher throughput, more eco-friendly and faster consensus protocol, layer-one scaling.
What is Avalanche (AVAX) Criticized For?
Of course, there is no perfect blockchain, otherwise, there would be no point in competing. Avalanche faces some criticism from users for several reasons.
Like many blockchain-based distributed computing networks, Avalanche intends to attract as many projects as possible to its ecosystem. As a result, some subnets and applications are not prevented from behaving maliciously.
On February 20, 2022, it became known that Atom Protocol, a DeFi protocol that was initially positively received by the Avalanche community, turned out to be a rug pull. Should there be too many illegitimate projects, it will damage the reputation of the platform as a whole.
Many "Ethereum killers" pose low transaction fees as their main advantage. The transaction fees on the Avalanche network are indeed generally lower than on Ethereum (~$4.46 USD at the time of writing), but higher than on competing platforms: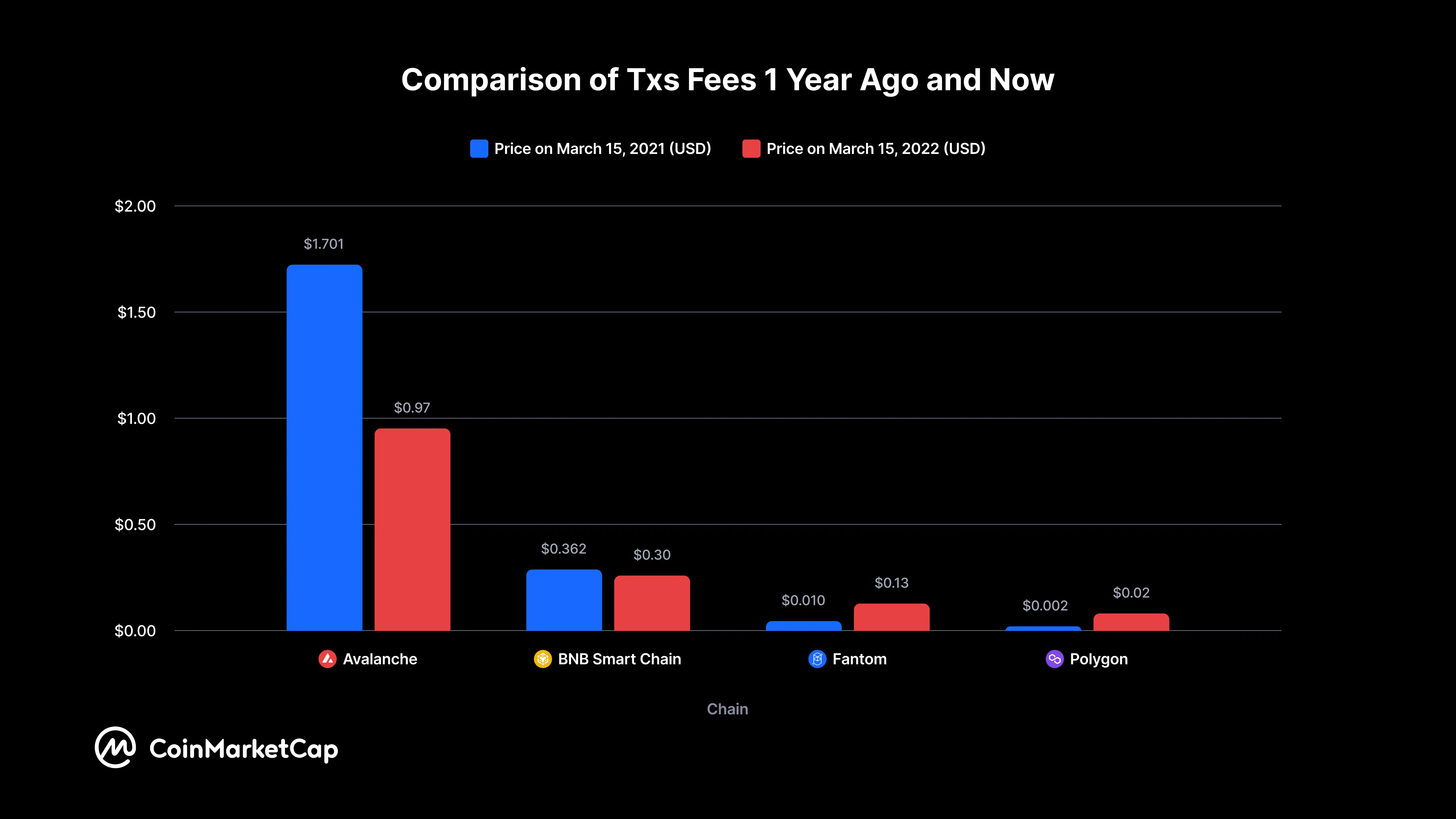 What is Avalanche (AVAX)'s Future?
Now that the Avalanche platform is well-funded and tested, they are planning to focus on expanding their ecosystem. At the moment, there are 182 subnets supporting different projects, according to an official ecosystem guide.
Some of the projects there exist on Ethereum and other networks: 1inch, Aave, Binance, Chainlink, Paribu, and Tether. Others exist exclusively in this ecosystem: Deloitte's Close As You Go, Mastercard's DeFi-CeFi bridge, and crowdfunding launchpad Avalaunch are a few of those.
Avalanche Bridge, a project that connects the Avalanche ecosystem with other networks, such as Ethereum, presented a Bitcoin bridge. Its launch happened in Q2 2022 and gave users access to DeFi on Avalanche with their bitcoins.
To further incentivize building in subnets, Avalanche Foundation started a 4 million AVAX initiative called Avalanche Multiverse. Particular focus is given to blockchain gaming and NFTs.
Avalanche on Twitter
Current Top 🔟 @CertiK NFT Projects on #Avalanche

🥇 @decentraland

🥈 $DYP

🥉 #LUCHOW
and more! 🏆🏆🏆

Have you added any projects to your watchlist? If so, which ones?! 📝

➡️ https://t.co/9992VhqO5e #CertiK #Crypto #Web3 #NFT #AVAX pic.twitter.com/Lrv0kdt0OA

— CertiK Security Leaderboard (@CertiKCommunity) February 20, 2023
Security service Certik shared a top list of NFT projects on Avalanche. Considering where it's coming from, the highlights are probably worth checking out!
Domi Online Alpha Gameplay Footage
"It isn't that life ashore is distasteful to me. But life at sea is better. With the winds and the waves always by my side" @DomiOnline #Domionline #MMORPG @GamingOnAvax @avalancheavax #AVAX $DOMI $AVAX pic.twitter.com/NjM8jRLJxS

— Koator (@PFoxNL) February 19, 2023
Blockchain games on Avalanche? It's not just possible, it's already here.
🚀Exciting news!

Amazon Web Services (#AWS) and #AvaLabs have joined forces to simplify the process for developers looking to enter the blockchain space.💻💥#Avalanche $Avax #Blockchain #innovation https://t.co/x7EmyWxLux pic.twitter.com/a983BZ1unn

— Daredevil.near 🔺 (@Akash93892149) February 12, 2023
A piece of Avalanche news you could have missed: Ava Labs collaborated with Amazon Web Services. AWS will provide their clients with node services. The organizations held a series of educational webinars, too.
AVAX Crypto Wallet to Choose
Many multi-coin wallets support Avalanche, as it is a fairly popular altcoin. The newest official wallet Core is focused on all things AVAX.
Right now, though, Avalanche is supported by a multi-currency hardware wallet Trezor, in which you can seamlessly exchange it to other altcoins with ChangeHero.
How to Exchange Avalanche on ChangeHero?
If you have cryptocurrency, you can easily swap it for AVAX on ChangeHero. Please note that we support X-Chain and C-Chain AVAX.
It only takes five steps:
Choose the currencies on the home page, amounts, and the type of exchange. Provide your wallet address in the next step and check the amounts;
Double-check the provided information, read and accept the Terms of Use and Privacy Policy;
Send in a single transaction the sum of the cryptocurrency you will be exchanging. Fixed Rate transactions have a 15-minute limit;
And now, relax! We are doing all the work: checking the incoming transaction and doing the exchange as soon as it arrives;
As soon as the exchange has been processed, your AVAX is on its way to your wallet. We'll be happy to hear your feedback if you enjoyed using ChangeHero.
Our support team is always available in the chat widget on the website, the official Telegram group, or through the email: [email protected].
Conclusion
Avalanche network stormed the Top-10 cryptocurrencies and quickly made a name for themselves in 2022. It lost some of its value in the bear market but the Avalanche network is here to stay.
This guide is only a part of the series of beginner-friendly guides: find the rest in our blog! For daily updates, subscribe to ChangeHero on Twitter, Facebook, Reddit, and Telegram.
---
FAQ
What is Avalanche crypto and how does it work?
Avalanche is a blockchain-based smart contract platform, which means all sorts of financial applications and assets can be built with its toolset. The Avalanche blockchain supports private and public subnets with a core chain that consists of three layers and handles different types of transactions: exchanges, application execution, and consensus.
What is AVAX?
AVAX is a native cryptocurrency of the Avalanche platform. There are three types of AVAX tokens for the three core chains, each performing its own function.
Is Avalanche better than Ethereum?
Avalanche is better than Ethereum in transaction speed and fees. Ethereum is still unbeaten in the variety of applications supported and total value locked in DeFi.
What is Avalanche used for?
The Avalanche platform is used for building financial applications: lending protocols, AMMs and DEXs, NFT protocols, and blockchain games. Its cryptocurrency AVAX can be seen as the fuel that powers the functions of the network.
Learn more:
Quick links: