TRON is one of the examples of modern blockchain projects, adapted for building on it. Their mission is to enable new monetization models for content creators and entertainment providers, but the areas TRON technologies and TRX are finding use in are incredibly diverse. TRON is laden with both praise and doubt, and like it or hate it, it's definitely one of the most talked-about projects in the crypto sphere. This time, the ChangeHero team is going to answer the beginners' questions about all things TRON/TRX.
What is TRON?
TRON is a decentralized network and a platform for decentralized applications. The transactions and operations in it are carried out using the native token, TRX, which can be used for staking, voting or simply transferring value in this network. It is not dissimilar to other networks of contemporary standard, which in addition to supporting financial services can be used to build applications on.
The TRON network is promoted as a platform for content creators, and their mission is to become a bridge between them and consumers, eliminating the need for intermediaries such as publishers or labels. The main use case for TRX is to be a currency with which network users can gain access to content and the creators get rewarded in full. For that purpose, TRON Network pushes for dApp development in gaming, content distribution and media.
How did Tron begin?
The core ideas behind TRON were formulated in 2014 but the development mainly took place in 2017. In December 2017, the first version of its protocol was launched on Ethereum. The next year, in May, mainnet was launched and the genesis block was mined on July, 25, now known in the community as TRON Independence day. By August, TRON Virtual Machine and Super Representative systems were in production.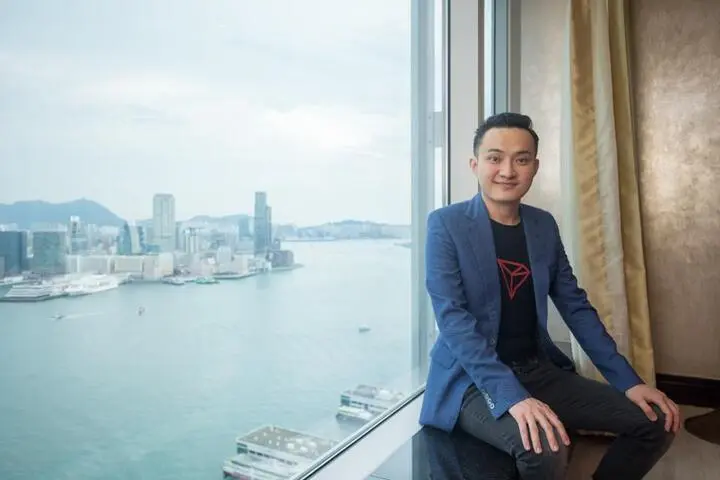 TRON Foundation's CEO, Justin Sun is pretty much the man behind the project. Prior to launching the project he was a chief representative of Ripple in China. Sun is also known to be a graduate of Hupang University program started by Jack Ma, founder of commercial giant Alibaba. His graduate thesis would become the basis for the TRON Network.
How does Tron work?
TRON has a three-layer architecture: there are storage, core and application layers. Storage layer keeps the information about blocks and the state of the system. Core layer is home to smart contracts, consensus mechanism and account management. Application layer is the level of the system which houses interfaces for developers to build apps on. Besides, there is Sun Network, a network of side chains built specifically to introduce more applications to the system.
TRON's consensus mechanism uses the Delegated Proof-of-Stake algorithm: participants are categorized as Super Representatives (SR), SR partners and SR candidates. SRs are chosen by voting: top 27 become SRs, who can produce blocks, pack transactions and receive rewards. Blocks are produced every 3 seconds and yield 160 TRX. Validators ranking 28–127 become SR partners who are eligible for voting rewards and essentially perform the role of witnesses. The cost of applying to become a SR candidate is 9,999 TRX, which are burned away.
Any participant can make proposals to improve the network and vote. To vote, a TRX holder has to stake some of the token and receive Tron Power (TP) proportional to the size of the funds they freeze in 1:1 ratio. By attributing votes to a SR candidate, a user can receive a share of their vote reward, provided the SR candidate is eligible for one. Since the list of SRs is updated every 6 hours, the rewards are also accumulated over this period of time and shared accordingly as the list reshuffles according to the ranking.
The network also uses smart contracts, and has two token standards: TRC20 uses smart contracts and is compatible with ERC20, while TRC10 is issued by system contract. Some of the TRON tokens include BitTorrent (BTT), WINk and Tether (USDT).
What is TRX?
Native currency on the blockchain – Tronix or more commonly TRX. In addition to staking by voting, the network has two additional ways to make TRX fuel the network: bandwidth and energy systems.
TRON Network uses bandwidth points to perform transactions, making them virtually free. They are rewarded to users every 24 hours, and are freed up 10 seconds. Should you need to transact more often, though, you would need to freeze some TRX in your account or pay a transaction fee (calculated by a formula: number of bytes in a tx*0.00001TRX).
Energy is needed to perform calculations with smart contracts. It can only be obtained by freezing TRX in an account, and no, the TRX you freeze to get bandwidth and energy are counted separately. The more TRX you lock in to get energy, more times you can trigger a smart contract. The total CPU resource in the network is 1 billion Energy.
So, even though there is a constant flow of new TRX into circulation, there are even more ways to keep it locked working for the network and a few deflationary mechanisms (like the aforementioned SR application burn, token creation fees and transaction fees). As a result, the total supply of TRX at the moment of writing is 99,281,283,754 TRX, but the circulating supply is only 66,682,072,191 TRX.
Why is TRON special?
TRON aims to become the go-to blockchain development platform with the main focal point in entertainment. TRON blockchain is supposed to be a platform to build dApps on. TRON supports applications written in Java, its designated smart contract language, as well as Go, C++, Scala and Python.
There is also the aforementioned DAppChain, or Sun, network, which includes side chains fully compatible with the main network but allows customized operational rules and takes off some computational load off it, meaning more free energy and more transactional throughput.
Why does TRON receive criticism?
Since its inception, TRON has seen a slew of controversies, which do not seem to ever end. For a start, there have been multiple cases of accusations of whitepaper plagiarization. Some segments of TRON whitepaper have been said to be copied from various other projects, including but not limited to Ethereum.
The network's decentralization is also questioned time and time again: a lot of validators are run by TRON or its affiliates. Currently, among 27 SRs, 12 are controlled by TRON Foundation or its subsidiaries.
There are also some occasional security concerns: last year, a critical bug was discovered (and fixed) which, if exploited, could have brought the entire network to a halt. The severity of this bug was that the attack could have been performed using a single machine.
What is TRX worth?
Like any currency of this generation, TRX's worth is supposed to come from its utility in the ecosystem. The more robust it is, the more worth is attributed to the native coin.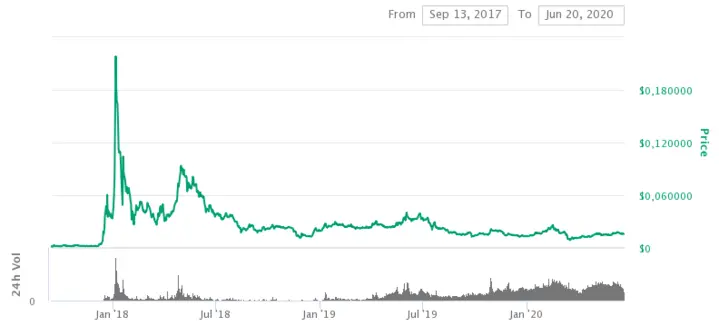 In the 2017 ICO, $70 million USD was raised and 100 billion TRX entered circulation, making the initial price of a single TRX $0.0007. At the moment, TRX is traded for $0.015854, which makes the ROI (in comparison with ICO) close to 2,000%.
The highest known TRX price coincided with the peak of Bitcoin's bull run in late 2017 and early 2018, and reached $0.300363 on January 5, 2018. The second highest price to date, $0.093645, was seen on April 20, 2018, probably in anticipation of the mainnet launch. In general, the most common price range for a single TRX has been $0.01–0.03 since then.
TRON Partnerships and Acquisitions
Just some of the partners of the network include the largest decentralized streaming service DLive and Samsung. DLive migrated to TRON in late 2019, and Samsung features TRON dApps in the Blockchain Keystore and Galaxy Store.
BitTorrent
In July, 2018 Justin Sun completed acquisition of BitTorrent, a peer-to-peer file sharing network, and integrated it within the TRON ecosystem. The significance of this deal is in the extensive, 100 million user base. Besides, integrating the largest peer-to-peer network focused on content sharing seemed like a no-brainer.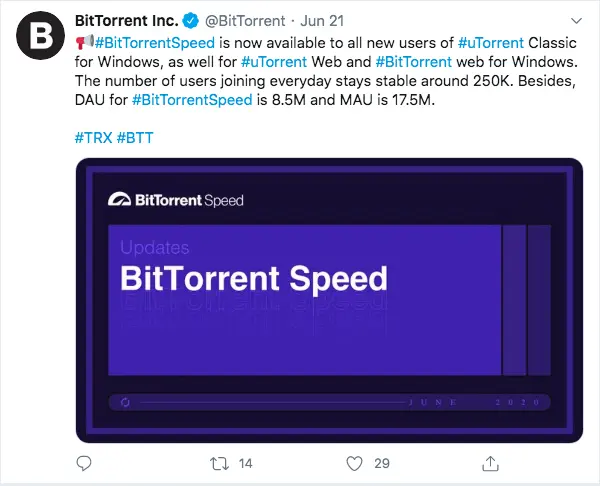 The integration into TRON network let BitTorrent become optionally monetized. The original service is still free-to-use but with BitTorrent Speed, by paying with tokens, users can increase the download speed limit. Seeders are also incentivized by staying online. The initial plan to use TRX evolved to the birth of the designated TRC-token, BitTorrent (BTT). BitTorrent Speed comes with the Classic Windows µTorrent client with a wallet to store the tokens in.
Steemit
A much more recent and impactful acquisition happened this year. In February, it was announced that TRON Foundation bought Steemit, a decentralized network much like TRON, with a large community mainly consolidated in one of its most used apps, Steemit.com. Steemit uses DPoS, and by the time of acquisition, a huge pool of tokens was owned by Steemit Inc, but never participated in voting. With a new owner, all this voting power could have led to drastic changes in the blockchain, and the community initiated a series of forks. First, a soft fork limited some of the voting power of select witnesses, and then, on March 20, a hard fork split from the main chain, giving way to Hive.io.
At the moment of writing, STEEM ranks 80th and HIVE – 85th in market capitalization.
How to use TRX?
Buy Tron on ChangeHero
To use TRX, you would need to get it first. Probably, the easiest way to do this is to buy it on ChangeHero. You would only need to go through a simple verification process and provide some information, and the purchase will only take about 15 minutes. We make sure to provide the most competitive prices.
Where to spend TRX?
The main area of application for TRX is, obviously, in dApps. A lot of those are used for various forms of gambling: RocketGame, WINk, COSMOS GAMES and Xdapp have hundreds of active users at the moment of writing (according to DappRadar). Some popular blockchain games like Blockchain Cuties and MegaCryptoPolis support TRON blockchain.
TRX is not limited to dApps, though. The TRON Foundation is exploring different areas of purpose for the coin, promoting it towards different integrations. For instance, TRX is supported in Spend App and Spend's debit cards, meaning you can buy it and spend as if it was a conventional currency. Being a rather popular cryptocurrency, it is also supported by most cryptocurrency payment gateways.
Store it in a wallet
There is no official wallet developed by the TRON Foundation. However, many independent developers have either made the interface to interact with the blockchain or integrated it along with other supported currencies.
The official website recommends TronWallet (available on desktop and mobile devices), Trust Wallet, imToken (mobile only) and Ledger (manageable with Ledger Live and TronWallet interfaces on desktop) wallets. In addition, we can recommend Exodus wallet, available for both desktop and mobile devices. There you can exchange TRX right in the app with ChangeHero.
Future prospects of TRX
TRON 4.0 launch
In the nearest future, more precisely, on July 7, a new iteration of TRON, the phase called Great Journey, more commonly referred to as TRON 4.0, is supposed to roll out on the mainnet. It will introduce zk-SNARKs to the network, enabling additional opt-in privacy features. zkSNARKs are a core feature of "privacy coins" like Zcash that lets the users hide select information about a transaction, for example, the amount of money sent or the addresses, from anyone other than the transaction participants. The TRON implementation of zk-SNARKs, however, will work more like a transaction shield rather than an innate feature, to address compliance concerns.
Other features that are going to be included in the upgrade are faster block confirmation, customization for enterprises and cross-chain confirmation.
The news is already having the influence on the TRX price, making it go up by 6%.
TRON in Social Networks
TRON is arguably the most well-presented cryptocurrency across different language groups and regions. TRON community runs Telegram groups for English, Chinese, Japanese, Korean, Russian, Spanish, Arabic and Farsi speakers and Twitter accounts with news and updates in English, Chinese, Korean, Spanish, Russian, Japanese and Arabic languages. They have accounts on internationally used social media platforms like Instagram, Facebook and LinkedIn and the social networks with strong regional communities: LINE, Kakao, VK.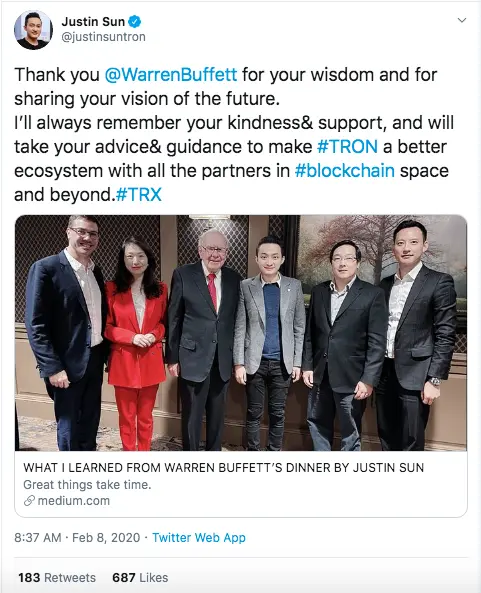 Obviously, the first follow you should make if you are interested in TRON is Justin Sun. No new implementation to TRON or a milestone goes without being mentioned in his account. Earlier this year, Sun finally was able to meet with Warren Buffet for the lunch that he won in a charity auction. Sun described the event in great detail in the TRON blog post linked in the tweet.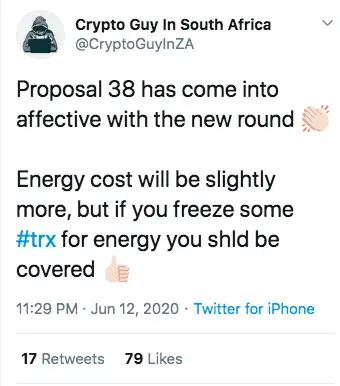 One of the SRs, @CryptoGuyInZA, reported a successful vote on proposal 38 in favor of reducing the total energy limit in the TRON network. Slashing the free energy limit available to the network will increase the TRX burn rate and the amount of TRX locked in the system and staked for voting.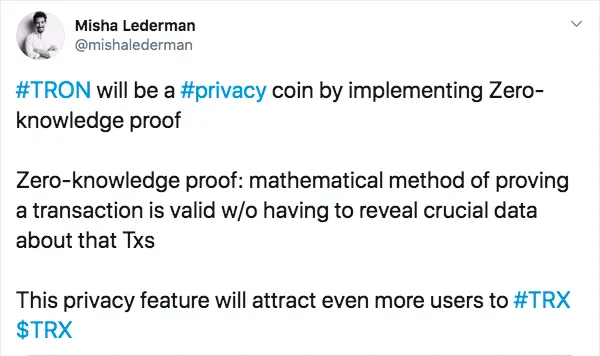 With TRON 4.0 just around the corner, this tweet looks like some casual information. However, it was actually made in late 2018. A year and a half later, we will finally see how this will affect the user adoption and price of the TRON's native coin with our own eyes.
To Wrap Things Up
TRON sceptics might scorn it for the audacity to market itself but the truth is, without it it wouldn't be as successful and popular as it is now. TRON and its community are sure active on social media, and the development is moving on to the next large upgrade in a few weeks. It might be the price surge (or the lack of it), the new iteration of the network or some developments in the community — but TRON will definitely make the news soon, and we all better watch out for them.
A friendly reminder: you can exchange TRON with other cryptocurrencies on ChangeHero. Top up your TRX supply with fiat or crypto at the best rates on the market without any hassles!
Subscribe to ChangeHero Blog for more of such interesting content. Follow us on Twitter, Facebook, Reddit, Telegram and be the first to get notified.
Feel free to let us know if you like the article and share it with your friends! All comments are welcome.
---
Learn more:
Quick links: