Blockchain has not been just about distributed ledger technology for a long while. The platforms for developing applications on top of blockchain started to emerge as early as in 2013. Ardor is what stems from these pioneering currencies. And now, they are getting ready to take on Ethereum. What is Ardor, anyway, and why is it competing with ETH all of a sudden? We look at the ARDR news and answer in this Beginner's Guide.
What is Ardor?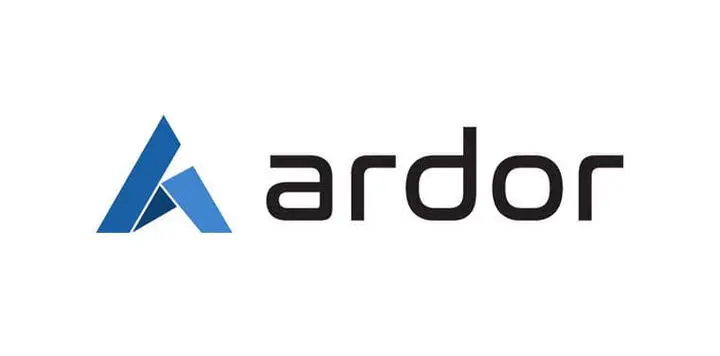 Ever since Bitcoin gained popularity, the community understood that the blockchain technology can be applied to more than only transacting value. Thus, blockchains like Nxt started to emerge. However, even those early blockchain platforms have had some hurdles like blockchain bloat (the growing size of the ledger, which would make onboarding new nodes more problematic as the time passes) and dependency on a single token. Moreover, more recent projects that became popular as platforms for development of blockchain applications, especially Ethereum, did not even seek to solve these problems.
Ardor is a blockchain platform that is characterized by the parent-child chain architecture. This approach to the chain structure was made to solve the issues of scalability and flexibility: the parent Ardor chain secures the network and confirms the transactions made on individual child chains in bulk. It makes the platform suitable for enterprises and applicable to a variety of use cases.
How are they doing it? A bit later we answer this but first, what is Ardor's history? And why is there so much Ardor news?
How did Ardor start?
Ardor was an offspring of another open-source blockchain project, Nxt, which started in 2013. A few years into its development, the group of Nxt developers with Lior Yaffe decided it is necessary to protect their intellectual property and secure funding. They established Jelurida Swiss SA, which Yaffe is still Director of. Today, Jelurida manages the development of Ardor, its first child chain, Ignis, and maintains Nxt.
In 2016, developers spilled the beans on news Ardor will become the Nxt 2.0. About a year and a half later, on the first day of 2018, the mainnet of Ardor with Ignis and some of its child chains was launched.
Now that we know what is Ardor's beginnings, it is time for a closer look, why it was developed.
Under the Hood
Ardor was not built from scratch, but it used some code from Nxt that had been tested for three years by the time Ardor's development started. The new iteration was deemed necessary to introduce a fundamental solution to blockchain bloat, as well as give the platform more flexibility.
So How Does Ardor Work?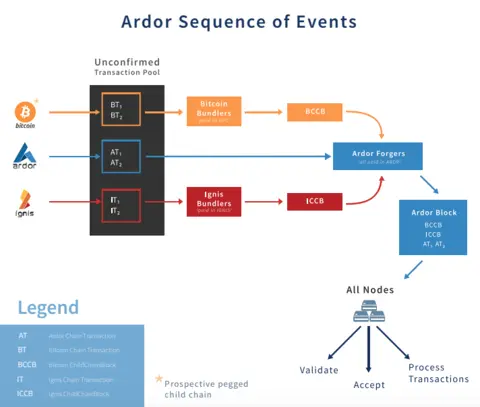 Simply put, the child chains process the main share of transactions on them. From a functional perspective, child chains are fully fledged blockchains on their own. Nodes confirm the transactions and bundle them into bulks. For that, a node gets rewarded in the child chain's prospective token (Ignis, AEUR (Euro-pegged stablecoin) etc.). Then the bundle, which is essentially a child chain block, is broadcast to the parent chain forger. Forgers create blocks on the Ardor blockchain and get rewarded in ARDR crypto. From there on, a newly forged block, which includes all the transactions from the child chains, gets broadcast to nodes across the network.The entire process takes only a minute. 
What is Ardor's Feature Choice?
Account based system lets a user have, for example, accounts (addresses) that can only be used for incoming transactions and do not authorise spending;
Since Ardor is a proof-of-stake blockchain, it has staking rewards, and users can lease their forging power to create forging pools akin to mining pools in PoW networks;
Ardor has an alias system, thanks to which not only addresses can be transformed into human-readable ones, but also the network can be used as a DNS or a cloud to store user-defined data;
Automated matchmaking engine and a native DEX;
Additional privacy through coin shuffling feature;
Lightweight smart contracts that do not require all the nodes on the network to process a smart contract call, only the ones that are involved in the transaction.
What is Ardor as Blockchain-as-a-Service?
Jelurida developed Ardor to become their Blockchain-as-a-Service (BaaS) flagship project. BaaS works pretty much like Software-as-a-Service: the company acts as a service provider to a renter or a partner which wishes to utilize the blockchain in their business but would rather outsource it. In this scenario, Jelurida acts like a web host and runs the backend side of an application they develop for their customers.
Other blockchains used in the BaaS solutions include Ethereum, Hyperledger and custom-made solutions.
Ethereum Blockchain as a Service, for example, is used on Microsoft Azure. It was developed by Microsoft in collaboration with ConsenSys. Ethereum blockchain was picked as it is a versatile platform that also has a reputation for it being a major player.
Amazon Web Services (AWS), in addition to Ethereum, offers Hyperledger Fabric. It's a permissioned modular custom blockchain solution that is very similar to Ethereum: it has chaincodes, which serve the same purpose as smart contracts. Unlike Ethereum, Hyperledger has SDKs in Java, Go and Node.js.
Unlike Ethereum, Hyperledger and custom blockchains, Ardor supports hybrid permissionless/permissioned modes, as seen in Ignis. This allows for more accessibility for user-created child chains but also can make the structure more attractive to businesses or institutional partners who would like to have control over their child chain.
Another difference from Hyperledger and Corda is that Ardor has its own currency. What is Ardor as a currency? How to use it? Read in the following section.
What is ARDR Crypto?
Ardor (ARDR) took another step forward from Nxt and separated forging token and transactional token(s). ARDR determines forging stake (the right of an account to forge a new block). In the process of forging, no new ARDR are minted, so the rewards include only transaction fees. To be eligible, an account should have at least 1,000 ARDR on balance and stay online for no less than 24 hours.
ARDR Crypto Price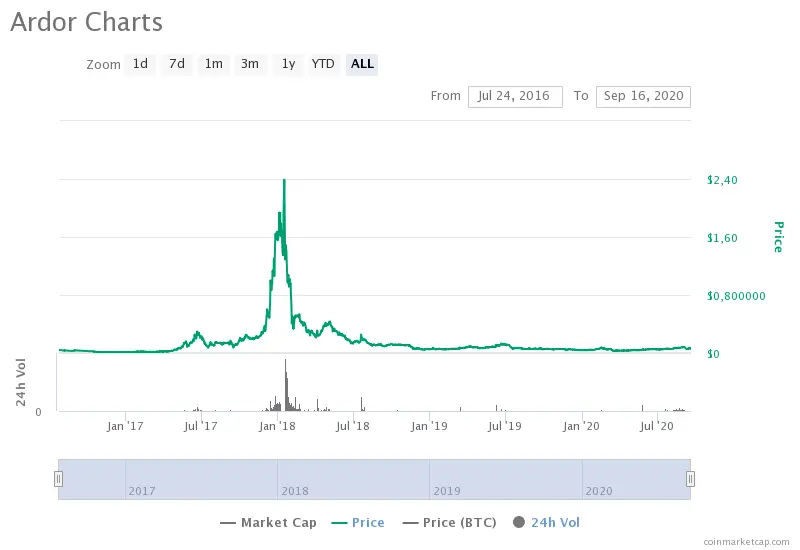 Prior to 1/1/2018, Ardor was in testing as a part of the Nxt blockchain. It still gathered some interest from investors and was traded on several exchanges. By the time ARDR crypto launched in full, the market was experiencing a peak of the bullish rally, and only two weeks after the official start of ARDR it cost the highest price to date — $2.55. From the sharpness of the spike on the graph above, we can certainly see that it was boosted by the ARDR news of the launch. Since 2018, it was rarely worth more than $0.12. At the moment of writing, a single ARDR is worth $0.061882. Its market capitalization is $61,819,960 (rank 130) and the supply is slightly below 1 billion coins (998,999,495 ARDR, to be exact).
What is Ardor's Use Case?
As a BaaS project, Ardor relies on a variety of use cases and partners to flourish. At the Media and Arts Blockchain Conference in May, Jelurida showcased several use cases of Ardor, a couple of which was picked up by the Austrian government. HotCity initiative, for example, is an application that gamifies the process of waste heat mapping. It does so in a manner similar to other applications developed on Ardor, Triffic and Cycle4Value. These are AR-games that reward players with tokens for their mobility: players can collect tokens by simply moving around their area. In addition to these, there are trading card games like Tarasca, and social networks like ArdorRocks. These applications also get extensive coverage on Ardor news.
Another example of the collaboration between Jelurida and the Austrian government would be the QualiSig project. It came to be as a necessity in the COVID-19 pandemic, and the purpose of QualiSig is to establish communication between Austrian authorities, institutions and citizens in a secure and trustless manner.
Any Controversies Around It?
In ARDR news of May, 2019, it became known that it would be one of the currencies that get delisted from Poloniex in the US in May, 2019, due to its uncertain regulatory status. The exchange team deemed that under the SEC (Securities and Exchange Commission) guidelines ARDR crypto can be viewed as a security, and offering sales of a security not registered with SEC to the US citizens is an offense punishable by law.
According to the Howey Test, widely used to determine if an asset is a security or not, Ardor cannot be strictly defined as a security, because for an asset to be deemed a security, its value should only come from speculation or third party work. ARDR has utility in the ecosystem as a token to reward forgers in, and anyone can contribute to the network. The Howey Test that the US authorities still use to this day, even though it is almost a century-old case, comes from the times when cryptocurrencies were unheard of, so in this case it is a flawed metric.
What is Ardor's future?
Partners
In addition to the already mentioned companies and institutions, Jelurida has several strategic partnerships. One of the examples of this would be the collaboration with Henkel, a German household goods giant. The Jelurida team shared their insights into blockchain technology with their IT specialists in a series of workshop meetings.
Hardfork to Ardor 2.3.2
For those who do not follow ARDR news, a scheduled network upgrade which is expected to happen at the end of September will activate a set of new features on the mainnet. What is Ardor 2.3.2? Namely, among the new features are zero fee child chain transactions, account modification to set the max fee to zero and discontinuation of the AEUR child chain. Pruning will get improved and the archive nodes that back up the pruned data will get bootstrapped. Also, the automated matchmaking engine for coin/token exchange will become active in this update.
Roadmap
For the future, the Ardor team of Jelurida has both short- and long-term goals. According to their roadmap, in the next updates users can expect advanced pruning of child chains and sharing of snapshots between nodes. At the same time, they are researching such things as IoT (Internet of Things) use cases, subnets, more privacy features, secure voting and more advanced cryptographic tools.
What Does Twitter Say?
#Ardor hardfork within 7 days from now.

The hardfork will activate #Triffic's childchain 💪 — Triffic.app (@POSfan_78) September 15, 2020
The user @POSfan_78 who runs the Twitter account of Triffic app announced the news that with Ardor 2.3.2, Triffic will finally get a child chain of their own. For app users, it means the transactions will not require ARDR to pay for the forging fees. With this update, another ecosystem user gets closer to the vision of the developers of the network.
2/ Since if anyone can validate blocks with multiple accounts, who cares how many accounts are validating? All can be controlled by the same entity and you wouldn't even tell. Worse, the whole idea of this protocol was to protect against nothing at stake attack using slashing.

— Lior Yaffe (@lioryaffe) September 11, 2020
Lior Yaffe, the Director of Jelurida, naturally closely follows the news about the crypto space, and pays close attention to the development of Ethereum 2.0. His stance is, it will enter the competition without the first mover advantage it had in 2015. By now, there are many networks that fulfill the premise of blockchain development platform running on proof-of-stake better than Ethereum 2.0 at this point seems to do.
Today @albefero speaks at the Virtual @worldfincouncil Money Summit 2020. He presents how the #Ardor #blockchain is contributing to the new wave of #decentralized financial products ⏰ 1:30 - 2:15 PM GMT Join FinTech experts' discussions & register here 👉 https://t.co/PDZTSa82qE pic.twitter.com/QVHeheIXGD

— Jelurida (@Jelurida) September 16, 2020
Of course, Ardor would not stay out of the loop and ignore the recent surge in the popularity of decentralized finance. The vector Jelurida seems to be taking is to promote the Ardor platform as an alternative to Ethereum, which for now dominates the DeFi sector but also severely suffers from periods of network congestion and high fees as a result.
One of the #Ardor community #hackathon winning submissions🚀 How to create $IGNIS gift cards that anyone with an $ARDR #blockchain account can redeem, thanks to our Lightweight #Smartcontracts! watch the video to know more 👉 https://t.co/22wtiOzDrP pic.twitter.com/VMdtdE6F6f

— Ardor Platform (@ArdorPlatform) September 9, 2020
The official account reported the Ardor news about a hackathon-winning project: IGNIS gift cards redeemable by any ARDR user. This is possible thanks to the smart contract functionality and the interoperability the Ardor parent chain provides.
How to Buy and Sell ARDR?
Ardor is traded on a variety of exchanges like Binance, Huobi and OKEx. However, this option would suit more advanced users who are familiar with the process of trading. If you do not want the hassle of registering, depositing funds, matching orders and all this headache, why not purchase some ARDR with other cryptocurrencies supported by ChangeHero? It is fast, easy (more on that a bit later in the article!), reliable and secure. We do the searching of the best rates and order matching ourselves, so you don't have to worry about anything.
Where to Store ARDR?
There are a few options of software wallets that support Ardor, for example, Freewallet, Jaxx and Mycelium. However, it is advisable to use the official Ardor wallet developed by Jelurida. With it, you can fund your ARDR account with any cryptocurrency supported by ChangeHero and swap it — because the official Ardor wallet supports ChangeHero's API to help onboard the new users.
How to Exchange ARDR?
As promised, here's the quick process of buying Ardor on ChangeHero — it's so easy!
Choose the currencies on the home page, amounts and the type of exchange. Provide your ARDR wallet address in the next step and check the amounts;
Double-check the provided information, read and accept the Terms of Use and Privacy Policy;
Send in a single transaction the sum of cryptocurrency you will be exchanging. For  Fixed Rate transactions you have 15 minutes before it expires;
From here on, you won't need to do anything. At this step we are doing all the work: checking the incoming transaction and doing the exchange as soon as it arrives;
As soon as the exchange has been processed, your ARDR is on the way to your wallet. And so, the transaction is finished!
Our support team is available 24/7 in the chat on our website or through the email: [email protected].
Conclusion
Ardor might as well be the dark horse on the market: it can do everything Ethereum does, but has even more features that the latter lacks. Blockchain-as-a-Service? Decentralized finance? All the relevant use cases seem to be covered. Before long, the crypto community will know what Ardor is.
If you enjoyed this article, make sure to check out our blog and social networks for content and news: find us on Twitter, Facebook, Reddit and Telegram.
---
Learn more:
Quick links: