It is widely admitted that blockchain technology has a great disruption potential. It also has an extremely high threshold of entry, because it uses specific programming languages. Lisk answers the question: what if a blockchain network used one of the most popular and accessible programming languages instead. We have prepared a deep dive into the specifics of Lisk and everything from the most recent LSK news to how to buy Lisk and how to exchange Lisk - in this Lisk tutorial.
What is Lisk?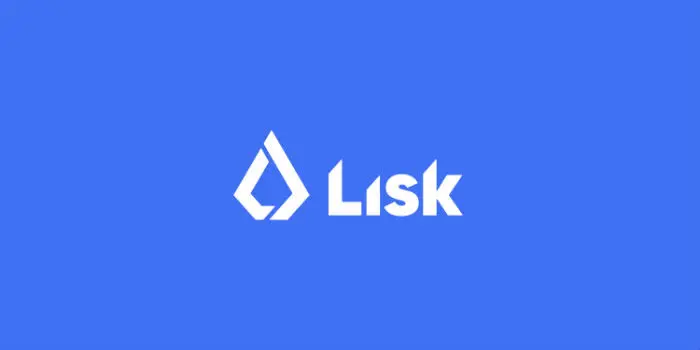 Lisk is an open-sourced blockchain platform. Its main purpose is to be accessible for developers, since it is created specifically for building decentralized blockchain-based applications in JavaScript, a very popular and widely used programming language. They aim to empower developers with a software development kit for blockchain applications (Lisk SDK). Further down the line, the apps that are created with Lisk SDK will operate with each other seamlessly.
Each blockchain application built on Lisk is actually using a sidechain of their own, and the platform provides security and interoperability between them. Thanks to the sidechains, the network will not be congested, is scalable and flexible.
How did the Lisk project begin?
Lisk is a non-profit organization, founded in 2016 by Max Kordek and Oliver Beddows.
Later they were joined by Guido Schmitz-Krummacher (Legal, Financials) and the three would form the backbone of Lisk Foundation.
Before starting their own enterprise, Kordek and Beddows were working on another cryptocurrency project, Crypti (CRX). After a year and a half, they left because they decided it is not moving in the right direction. They created Lisk as a fork of Crypti and went fully open-source. How else are the two different, we cover later in this Lisk tutorial.
Max Kordek founded Lisk while still at university, and by that time he had already had the experience with cryptocurrencies by contributing to Litecoin and Nxt projects. By the time of joining Kordek, Oliver Beddows had 15 years of full-stack development experience from various e-commerce projects. 
The mainnet launch happened on May 24, 2016.
How does Lisk work?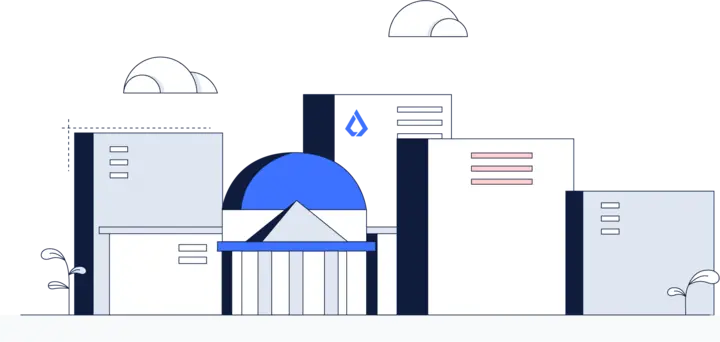 Lisk developers use a vibrant metaphor to describe the ecosystem: Lisk City. In it, the main chain is the main road, the houses and buildings are apps and sidechains are side roads that connect buildings with the main road. The Lisk SDK (Sidechain Development Kit) in this metaphor would be the blueprint with which houses-apps are built.
The problem of network scalability in Lisk is solved by sidechains. Though each sidechain is unique, they all are equally dependent on the main blockchain. The transactions related to any app are processed by its sidechain, so there is not much load on the main chain.
Lisk blockchain uses the Delegated Proof-of-Stake consensus and voting algorithm. Abbreviated as DPoS, it is an algorithm in which new blocks on the chain are produced by nodes that have the largest stake which guarantees their fair behavior, and the participants can contribute to that stake for a reward. There are 101 delegates which forge the new units of LSK in random order in rounds. To secure the work of a blockchain application on a sidechain, the developer is free to choose their own set of 101 validators.
What are the special features of Lisk?
Lisk SDK comes with a variety of tools:
Lisk Core: a tool for advanced technical users looking to build on top of the Lisk Platform, securing the network infrastructure or attain delegate forging access.
Lisk Nano is a light version of the Core tool, which can mostly be used instead of a wallet: send and receive transactions with LSK or delegate a vote (and receive a reward for it). We'll cover more options for LSK wallets near the end of this guide;
Lisk JS is a JavaScript library for developing with the SDK. It does not require a Lisk node and can rely on peers;
Lisky is a back-end command tool which allows the user to communicate with a remote or local node and carry out Lisk-related functionality.
What is LSK?
Lisk (LSK) is the name of the network's native utility token. It is used to pay for transaction fees on the Lisk blockchain, which prevents spam in the network.
It is minted by the delegates through a process called forging. With a new block, roughly every 10 seconds, 1 LSK is created. Forging is different from other minting processes because the delegates are producing new blocks in turns in a random order that is renewed every round. A round ends when every of 101 delegates has approved a block. 
LSK was launched in March 2016 by an ICO (Initial Coin Offering, pre-sale to early investors at a special price). In the ICO 100 million, LSK were distributed. 85 million were distributed to participants and 7.8 million went to the team. The remainder went to advisors and for pre-ICO participants.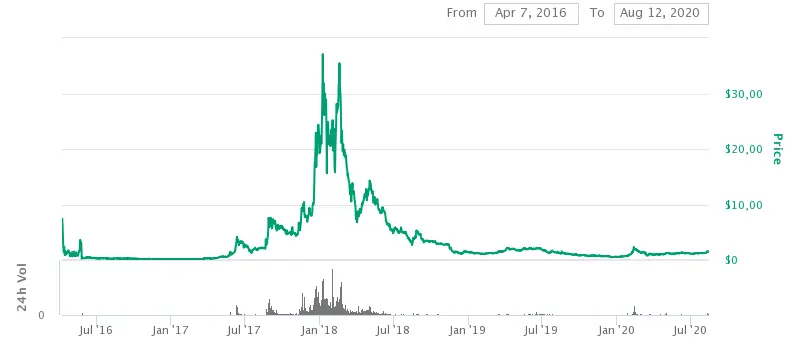 LSK had a successful ICO launch for the time, raising 14 thousand BTC and about 80% of all the supply of CRX (which was also the option, since LSK forked from it). At the time, it was a second-best ICO launch, though WAVES and the DAO would surpass it a few months later.
At the start, LSK was quite popular but eventually lost its value at the market. By the start of 2017, it was scraping against its all-time low ($0.095652). In little less than a year, though, the rally took it up to its all-time high ($39.31 on January 7, 2018). Market-wide correction brought the price levels back, and while LSK generally followed the trends in Bitcoin, the price has not exceeded $2 since 2019.
At the moment of writing this Lisk tutorial, LSK is traded at $1.80, its circulating supply is at 125,202,310 LSK and the market capitalization is $225,321,615 (rank #60 on CoinMarketCap).
If you want to know how to buy LSK or how to exchange LSK, read on - we covered this closer to the end of the Lisk tutorial.
Is Lisk controversial?
Lisk has been criticized for its rough start. Even before the launch, Kordek and Beddows left the Crypti team without any warning, which caused the CRX price to drop. Lisk's ICO was also, reportedly, far from smooth sailing for some users. The mainnet launch was delayed for almost two months.
From there on, however, things have stabilized, and the project kept on developing, having overcome the initial rough patch.
What is the future of Lisk?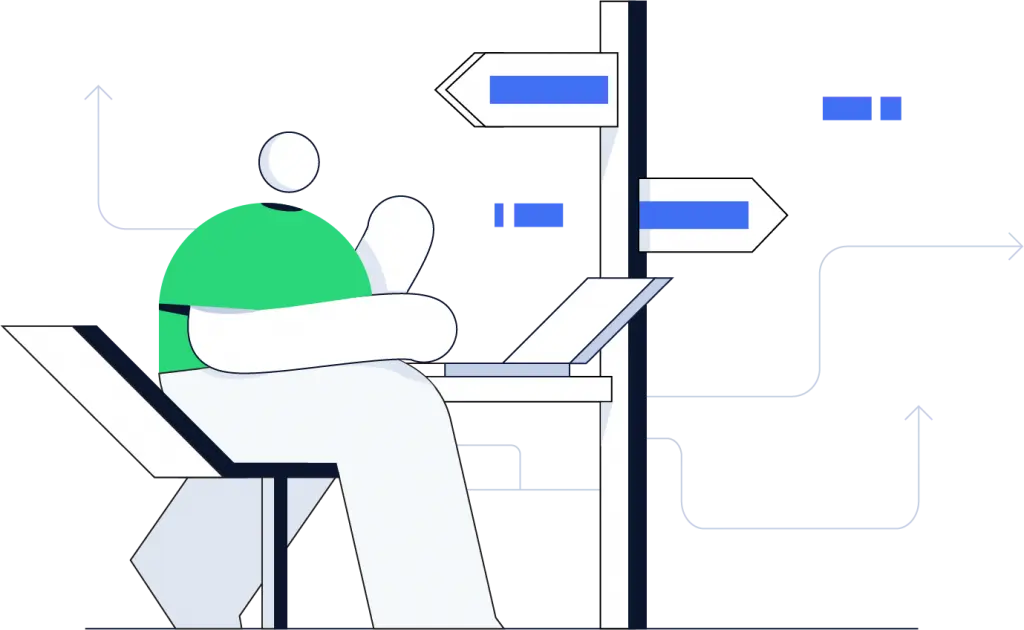 Tech updates
Lisk even in 2020 has a robust roadmap. In the future, they are planning to make the network more scalable and introduce block finality (a mechanism that guarantees that the transactions cannot be altered or reversed after they are completed. Also, it prevents hard forks and chain splits by approving only one block candidate at all times, like in Algorand). Static 0.1 LSK fees will be replaced with a dynamic fee system. For the sake of security of the network, the renewed voting system will encourage more network participants to delegate votes and create competition for the delegate role. Finally, one of the main and largest developments will introduce interoperability between sidechains and the main chain for LSK token. With these changes, Lisk will gain more competitive advantage and become more attractive for developers who want to monetize their apps.
More developers and apps
Lisk is already used in a variety of blockchain apps, like Bdonor for fundraising, Lisk DEX (decentralized exchange) or Lisk Supply Chain (an Internet-of-Things app for controlling supply chains). The company has a Builders Program, which gives grants to developers who build with Lisk SDK, and the apps of participants of the program include Chronicler (a decentralized archive) and Lisk Bike (decentralized marketplace for bike sharing). As more apps are being developed on the chain, its value will certainly grow.
For that reason, it is a good idea to equip yourself with the knowledge on how to buy Lisk and how to exchange Lisk - keep reading to find out!
How is Lisk different from other DPoS currencies?
How is Lisk different from EOS?
EOS is another popular DPoS chain that can be used for the development of blockchain applications. However, the two systems operate on very different premises:
EOS does not have any transaction fees;
EOS uses smart contracts, and smart contracts are written in specific languages. Lisk relies on less complex structures - modules written in JS;
There are only 21 validators in EOS, which have to be approved by block.one (the company governing EOS).
How is Lisk different from Crypti?
There are a lot of similarities between LSK and CRX, but the differences are more than enough to justify the fork. There are some more technical changes, for example, the transition from SQLite (code-embedded database management system) to PostgreSQL (open-source advanced alternative). More importantly, Lisk is completely open-source, unlike Crypti. This was actually the reason the developers decided to fork the project, and despite the opposition from the majority of the Crypti community, Lisk managed to convince some part of it to change sides. The latter is still active and is being developed, while the former seems to be abandoned at this point.
LSK News from Twitter
We are happy to announce that @aldhosutra is the participant of the #Lisk Builders program for July. He will receive a grant worth of CHF 2,500 in #LSK tokens.

His project "Collabolancer" aims to provide a decentralized freelancer marketplace that incentivizes collaboration. pic.twitter.com/4NUYT7L84w — Lisk (@LiskHQ) August 10, 2020
The official account of Lisk is the go-to follow to regularly receive updates on Lisk ecosystem and LSK news. Their most recent addition to the variety of dApps built with Lisk SDK is a decentralized marketplace for freelancers called Collabolancer. The developers received a grant from Lisk as a participant of their Builders Program. Best of luck to the developers!
$LSK #lisk breakout, price target $2 pic.twitter.com/iIA5TG9KrL

— Crypto Chartist (@thecryptocharts) August 8, 2020
Trader account Crypto Chartist seems to have predicted the breakout that happened recently. Lisk seems to be moving rather confidently to the $2 support level they point to.
⚡️ We just released a new update for #lisk Observer. 🔍

We are happy to announce the new features: - ☂️Track the exchanges, official @LiskHQ and scam wallets. - 👀See account votes - 🕵️‍♀️Spy the data fields of TXs. - 🐛Fixed Bugs & created new ones. 👉https://t.co/wj5xlQQfM7 — Crypto Carbonara (@CarbonaraCrypto) August 10, 2020
CryptoCarbonara, a Lisk-focused development team, has updated the Lisk explorer just the other day. The tracking of scam wallets is a valuable feature that might help a lot of newcomers!
How to buy LSK?
So, having read this Lisk tutorial, you decided to get some Lisk. You can get it on ChangeHero at the most competitive rates with any other cryptocurrency from our long list. We made sure that the experience will be easy and secure, and if anything goes wrong you can get help from our support specialists at any time of the day.
How to store Lisk?
In addition to the Lisk Nano already mentioned in this Lisk tutorial, there are also a few Lisk-specific wallets like Lisk Hub and Freewallet, and, of course, Lisk Core for advanced users.
For hardware storage of Lisk, users can choose Ledger devices or a paper wallet.
Many multi-currency wallets like Atomic, Guarda and Exodus also have support of Lisk currency. In Exodus, you can use the exchange option provided by ChangeHero right in the app to swap crypto with Lisk.
How to exchange LSK?
A Lisk tutorial will be incomplete without an instruction on how to get it. If you want to exchange your crypto to LSK and need a refresher on how exchanging with ChangeHero works, we're here to help:
Choose the currencies on the home page, amounts and the type of exchange. Provide your LSK wallet address in the next step and check the amounts;
Double-check the provided information, read and accept the Terms of Use and Privacy Policy;
Send in a single transaction the sum of cryptocurrency you will be exchanging. For Fixed Rate transactions you have 10 minutes before it expires;
From here on, you won't need to do anything. At this step we are doing all the work: checking the incoming transaction and doing the exchange as soon as it arrives;
As soon as the exchange has been processed, your LSK is on the way to your wallet. And so, the transaction is finished!
Remember that you can reach our support in the chat or through the email: [email protected].
Conclusion
Lisk proves by the example that blockchain does not have to be complicated. The community does well in keeping their hand on the pulse of the news Lisk roll out, and the whole project looks healthy. A recent surge in LSK price will surely attract more eyes to it!
We hope this Lisk tutorial helped you understand it, where its value comes from, what the most recent Lisk news are, how to buy LSK and how to exchange LSK. If there is anything else you wanted to know, ask your fellow crypto community members in the comments of our blog or in the social media pages curated by ChangeHero: Twitter, Facebook, Reddit and Telegram.
---
Learn more:
Quick links: