What will you find in this our weekly crypto digest by ChangeHero? As always, our updates, top coins and Bitcoin digest and the most important crypto news. Sit back and enjoy the read!
Key Takeaways
Bitcoin has failed to approach $60,000 but traders are pointing at closing consolidation which signals a breakout;
XRP holders look forward to rumored relistings in the light of new developments in the SEC v. Garlinghouse case;
The market has reached a couple of historical milestones this week: $2 trillion market cap and 100 currencies reaching $1 billion or more capitalizations.
ChangeHero Updates
New Currencies: LOOM
This week, we have enabled native support of the LOOM Network token, both the new and old contracts. Now users of ChangeHero can exchange it anywhere, on the website or in the partners' applications. Whenever you do it, you can enjoy top-notch service, low fees and the most competitive rates.
Latest Cryptocurrency News
Bitcoin Digest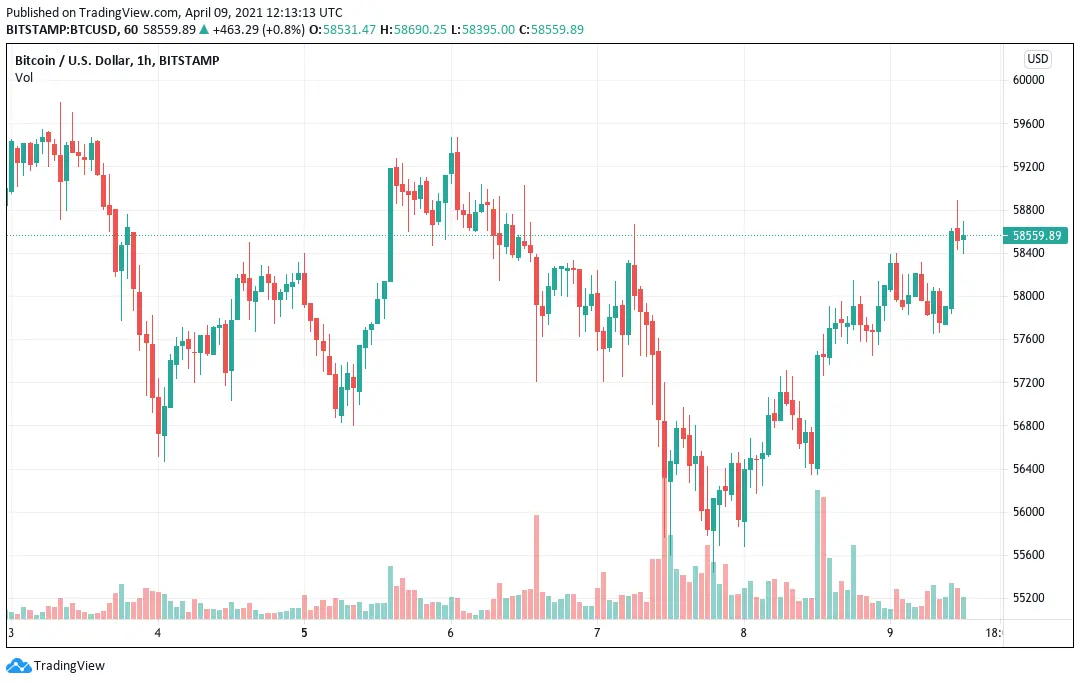 The range at which Bitcoin was trading this week has been tighter than previously, pointing at consolidation. On the weekend, BTCUSD got rejected from $59,800 and found support at $56,500. Failing to reclaim $58,500, it descended to 56,800 bouncing from there straight to $59,100.
The next unconquered resistance level lied at $59,400, from where BTC descended to the weekly low, $55,444.93. By now, it has changed the trajectory and is moving up again.
Bitcoin News
This week has also seen the highest "kimchi premium" in three years, 22%. The so called indicator draws from the difference between BTC price on South Korean and international markets. Peaks of this indicator used to point at retail frenzy in South Korea and preceded the end of bull runs.
This time around, the premium decreased from 22% to 6% when South Korea-based exchange Upbit suspended KRW withdrawal and deposit.
Tech and Altcoin News
For the first time, this week the total market capitalization exceeded $2 trillion USD. Another milestone is at the same time more than 100 currencies had a market cap higher than $1 billion.
Finally, some good XRP news for holders! The judge approved the defendants' appeal to disclose the SEC's statements on BTC and ETH. Ripple representatives and lawyers consider this an important step which could turn the tide of the legal battle.
Business Cryptocurrency News
Cryptocurrency businesses have reached a new record of inflow, reported by Reuters. In Q1 2021, the total of funding invested in the industry amounted to $4.5 billion.
Chinese mining equipment manufacturer Ebang shares dipped 15% upon a publication by Hindenburg Capital recommending to go short. The rationale included a lagging mining equipment market, which hasn't produced new products and company's spendings unrelated to developing the business. Ebang rebuked the arguments with a press release with the SEC.
Crypto News on Adoption
The Sacramento Kings will become the first sports franchise to offer salaries in BTC to their athletes and staff. The team is a member of the California National Basketball Association, and has been offering game tickets for crypto since 2014.
Signal messaging app has launched in-app cryptocurrency payments in MobileCoin. The currency is created specifically for this purpose and has privacy features, which aligns with the privacy-preserving design of Signal.
Cryptocurrency News on Regulation & Politics
Grayscale has come forward with the plans to convert BTC and next ETH trusts into ETFs. This would make their offer fully SEC compliant and accessible to even more investors.
Fidelity Digital Assets and several other companies united to create the Crypto Council for Innovation. Founding members also include Paradigm, Coinbase and Square, Inc. The goal of the coalition is to promote positive change that cryptocurrencies can bring to finance, national security and economy.
Social Media Crypto Digest
Video of the Week
Some more BTC-related politics for you to enjoy, now from YouTube! PayPal co-founder Peter Thiel went on record to state his concern that the major part of BTC hash rate comes from China-based miners. His opinion is not new, because pro-crypto American politicians and researchers have been voicing the same concern for a while now.
Crypto Twitter
Most people get married in a place of religious worship, on a beach, or in the mountains. Peter (@_iphelix) and I are NOT most people. We got married on the #blockchain. 1/7 pic.twitter.com/2ExexrlLbZ

— Rebecca Rose (@rgoldilox) April 2, 2021
Who would have thought to use the blockchain and NFTs to represent the marital bond? Apparently, Coinbase employees Rebecca Rose and Peter Kacherginsky did. Instead of rings, the couple exchanged NFT tokens with symbolic artwork named Tabaat after rings in Hebrew.
These are the top 8 #Bitcoin holding public companies.

Which other #cryptocurrency might become a part of company holdings? 🤔$MSTR $TSLA $GLXY $SQ $MARA $HUT $VYGR $RIOT pic.twitter.com/wqRD9qdRmb — Delta Investment Tracker (@get_delta) March 6, 2021
Delta Management social media shared some insights into the companies holding Bitcoin and cryptocurrencies. The top corporate holder, MicroStrategy, has disclosed yet another BTC purchase this Monday of ~253 Bitcoins at an average price of ~$59,339. The business intelligence company holds around 91,579 Bitcoins.
If the #Stellar network didn't halt, can you please explain why you stopped #XLM withdrawals and deposits? Are you running any of your own infrastructure or are you relying on Stellar? Do you also rely solely on Ripple for #XRP infrastructure? https://t.co/Vs8yTK0gZ7

— 𝚃𝚒𝚏𝚏𝚊𝚗𝚢 𝙷𝚊𝚢𝚍𝚎𝚗 (@haydentiff) April 8, 2021
In Stellar network, this time around it was not just another Tuesday. A few validators went offline, halting the network to a grind for several hours. Bitfinex, Bitstamp and Binance halted XLM trading, which caused some confusion, as the network did not stop completely.
Influencer of the Week
Think $btc Giga sends next week. Lines up with this alt majors rally and btc d

Add in Coinbase IPO and supply dropping — Pentoshi 🐧 (@Pentosh1) April 7, 2021
Pentoshi is an experienced and sociable trader popular on Twitter. Not only do they provide insights into Bitcoin markets but also find and follow DeFi gems.
Is Bitcoin a good investment right now? In Pentoshi's opinion, this consolidation will resolve in an upward move. According to their expectations, in the short term BTC is a very solid way to earn.
Top Crypto Digest
Crypto in general seems to be diverging from the Bitcoin digest. The reason for that is growing capitalization of the market with decreasing BTC dominance.
At the moment of writing the crypto digest, the general market stats are:
Total Market Cap: $1,986,818,480,879 (+2.61%); 
BTC Dominance: 55.1%.
7d Change in Top Coins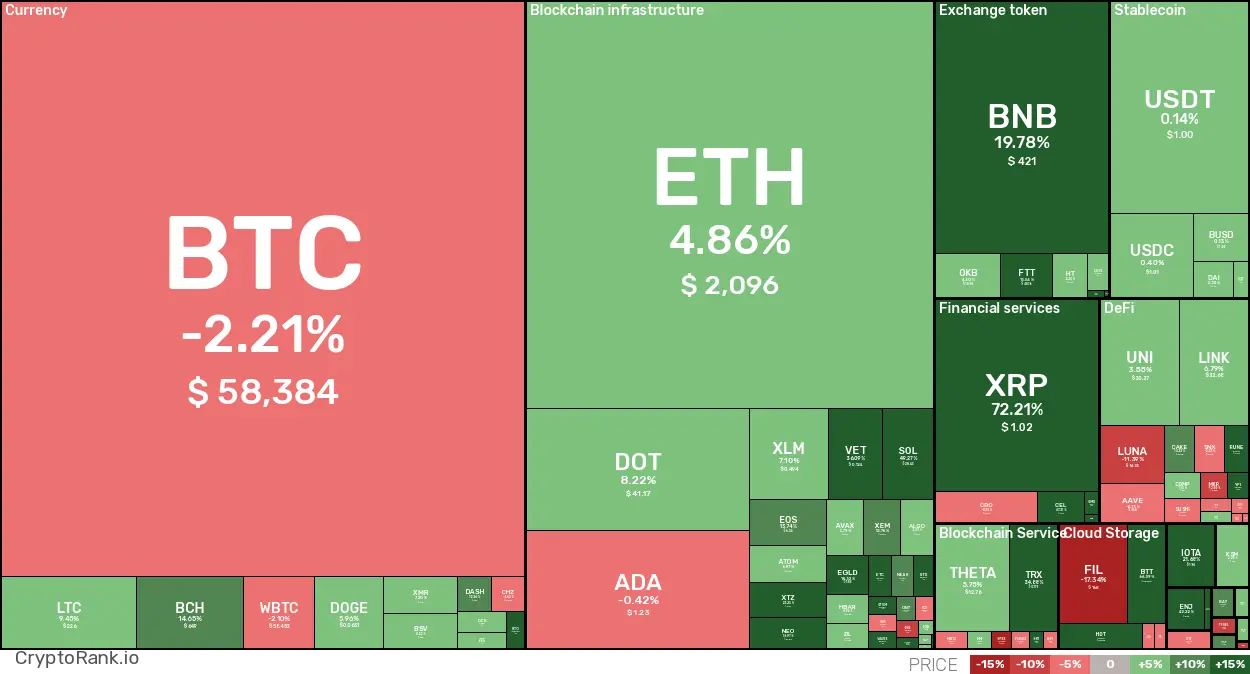 At the moment of writing this crypto digest, the weekly change of the top currencies is:
Gainers of the Week
The altcoins that are rallying at the time of writing the crypto digest are:
What is the best altcoin to buy right now? These alts can keep rallying further, but more likely a pullback is coming quite soon. It is better to look for the alts which have just started to grow.
Conclusion
That is about it for the news from this week. Bitcoin is one of the few losers on the weekly, while alts are growing and blowing up. The most obvious example of this is XRP, which broke $1 for the first time in three years. And for the first time in a while, the Bitcoin digest was quite different from the rest of the market. Which means, see you in the alt season!
Don't forget to drop by our blog next week for more news in crypto digest! Live updates and news can be found on our Twitter, Facebook, Reddit and Telegram.