Welcome to the weekly crypto digest by ChangeHero! As usual, we will give a rundown of the crypto market and cover the most significant news. What is the best Altcoin to buy right now?  Tesla, Uniswap, Ripple's CBDC design, BitClout — everything about these topics and more, right to the point.
Key Takeaways
The summary for Bitcoin digest and news is: this week BTC was letting off some steam despite the news. It is likely that the dip will be quickly sold out and the Microsoft and Tesla news reinvigorate the buyers.
The other day Elon Musk announced that the option to purchase Tesla cars with BTC was finally made available. As these purchases won't get converted into cash, evidently, Tesla attempts to increase their BTC holdings by this means.
Crypto Twitter is fiercely debating the blockchain platform BitClout. On the one hand, it raises a plenty of red flags with their whole mode of operations. On the other hand, it is backed by prominent investors.
Latest Cryptocurrency News
Bitcoin Digest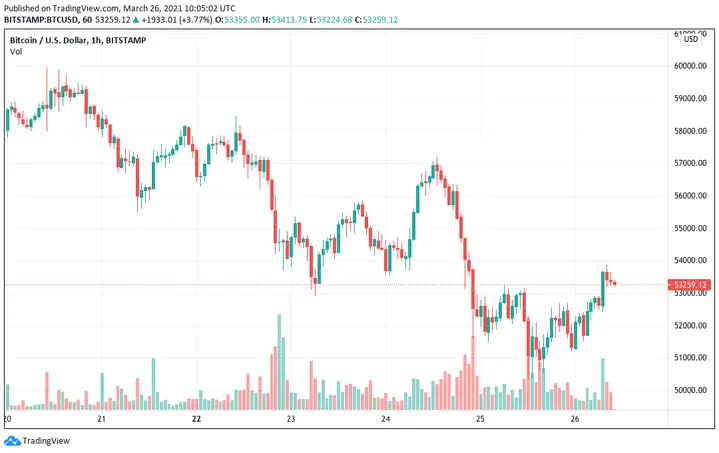 BTC movements this week were on the downside. On the weekend, it got rejected from $60,000 and touched the first support area at $55,500. Then it bounced to $58,150 and dipped to the next support, $52,900.
The Elon Musk tweet with the news about Tesla accepting Bitcoin stirred some action on Wednesday. BTC shot up to $57,000 and bottomed at $50,360 24 hours later. Now it's on the way to recovery, currently trading for $53,259.12.
Is now a good time to buy Bitcoin? This week it dipped to $50,000 but the long-term predictions still stand. If anything, it looks like a buying opportunity, if there is one!
Bitcoin News
Microsoft launched a digital identity second-layer solution for the Bitcoin blockchain. The ION Decentralized Identifier (DID) is an open-source blockchain-based technology for identity authentication.
And that is it for the Bitcoin digest, now let's see what was happening with the market in general in the crypto digest!
Tech and Altcoin News
Uniswap v3 is now official! The new features it introduces are concentrated liquidity and risk-weighted fee tiers. Existing features will also undergo significant improvements. The new version will hit Ethereum mainnet and Optimism L2 in early May.

Ripple has published a CBDC whitepaper targeted at regulators and researchers. Obviously, since it is Ripple, the publication made it into XRP news. The company proposes a use case for XRP as a neutral intermediary between national CBDCs.
Business Cryptocurrency News
Tesla now accepts Bitcoin as a means of payment for Tesla automobiles, Elon Musk announced on Wednesday. Worth mentioning, the BTC acquired in exchange for the cars will not be converted to cash, according to him. While the community welcomed the news, many have pointed out that not all Bitcoin holders will gladly spend their coins.
Crypto News on Adoption
The Hermitage in St. Petersburg has announced Russia's first exhibition of NFT-art. The contemporary art department of the second largest museum in the world is planning the event. The exhibition is set to happen later in 2021 as a part of the "Hermitage 20/21" project.
Meanwhile, in Santa Maria, California a Bravo Pizza store was sold for an undisclosed amount of Bitcoin. The previous and current owners believe this to be the first brick-and-mortar store to be sold in exchange for BTC.
Cryptocurrency News on Regulation & Politics
In an interview with Yahoo Finance, Ray Dalio voiced an assumption that a government ban on Bitcoin is probable in the future. The Bridgewater Associates founder drew parallels with gold, ownership of which is heavily regulated. Bitcoin proponents argued with him that Bitcoin is an unstoppable network and cannot be banned.
President Biden's administration is considering another $3T economy stimulus package. Unlike the previous one, this package won't be put directly into circulation but instead will go into building sustainable infrastructure. Given this fact, it is not likely that the Republican portion of the Senate will support this one.
China's CBDC is finding new use cases in the economy even before official widespread launch. The digital yuan will be integrated into Alipay and Wechat, which account for 98% mobile payments in the nation. With this move, the government will also gain access to monitor and possibly control this massive money circulation.
Twitter Crypto Digest
Tesla is using only internal & open source software & operates Bitcoin nodes directly.

Bitcoin paid to Tesla will be retained as Bitcoin, not converted to fiat currency. — Elon Musk (@elonmusk) March 24, 2021
The source of the Tesla news, unsurprisingly, would be the Twitter account of Elon Musk. The move to not convert BTC to cash could be the plans of Tesla to increase their Bitcoin holdings.
#CarbonDrop ended!

🌎🌏 $6,662,054 🌎🌏 Donation to @Open__Earth. Huge thank you! @safoundation17 @niftygateway @reisingerandres @fvckrender @gmunk @beeple @refikanadol @kylegordonart @MiekeMarple @sara_ludyhttps://t.co/7cpMqC3vTc#NFT #cryptoart #RNDR #ClimateAction pic.twitter.com/TbUGIksLb0 — Render Token (@RenderToken) March 23, 2021
The NFT boom is often rightfully criticized for exacerbating the Ethereum carbon emissions. To offset the impact, Open Earth foundation has kicked off a month-long awareness and fundraising campaign. 
The first auction on which eight NFTs of different artists, including Beeple, raised $6,662,054. The $6 million was brought in by Justin Sun, who managed to place a winning bet on Beeple this time.
I'm going to be upset if I'm listed on bitclout without my consent.

But I'm going to be furious if I'm not. — Ryan Selkis (@twobitidiot) March 22, 2021
A scorching hot and controversial topic of the week is the new platform BitClout. BitClout monetizes likenesses of celebrities and allows anyone to trade them. Each "coin" is tied to a Twitter profile of the personality.
The controversy stems from the several facts about how the platform works. The only way to get gas token BTCLT is to deposit BTC but you can't trade BTCLT for BTC back. Signing up to the platform requires a seed phrase and a phone number, and the list goes on.
The only argument in favor if the legitimacy of the platform is prominent investors backing it. The list includes Sequoia, Andreessen Horowitz, Winklevoss Capital, Arrington Capital, Polychain, Pantera, Digital Currency Group, Huobi and others.
Influencer of the Week
My predictions for the week:

Mars aligned with Aldebaran - the Bull's Eye, orange star in constellation of Taurus. Wild energy. Bad days for shitcoiners and the morally corrupt who do not HODL. Violently bullish for #bitcoin pic.twitter.com/8x2X5BhmXG — Alena Satoshi V. (@AlenaSatoshi) March 22, 2021
To conclude the Women's History month, we want to highlight Trezor co-founder Alena Vránová. Her charisma and dedication which accounted for Trezor's business development achievements in their early days seeps through everything she writes. Obviously, since it's Twitter, posts come in various shapes and forms, some less serious in tone than others.
Top Crypto Digest
The total market stats change this week reflect what was described in the Bitcoin digest. Decreasing BTC dominance hints at capital moving into altcoins.
At the moment of writing the crypto digest, the general market stats are:
Total Market Cap: $1,682,374,645,033 (-6.31%);
BTC Dominance: 59.6%.
7d Change in Top Coins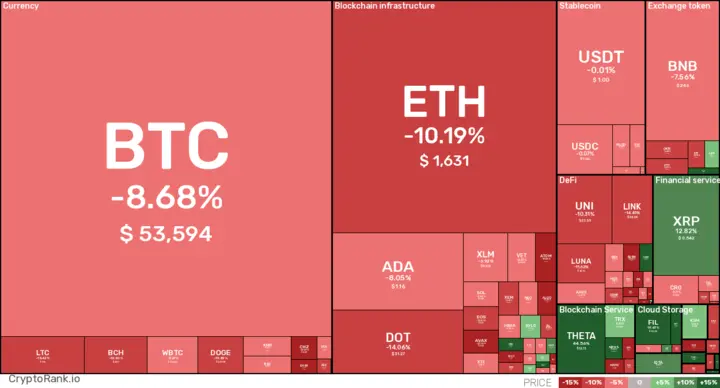 At the moment of writing this crypto digest, the 7-day change of the top currencies is:
Gainers of the Week
Which crypto will explode in 2021? There are a ton of coins that have not had their chance to shine yet. The ones growing at the time of writing the crypto digest are:
Conclusion
This week had some news that will be certainly interesting to watch unfold. Will Republicans repeal the new stimulus package? Is BitClout legitimate or will they face legal consequences? Will Ripple's CBDC design get adopted?
These events are certain to end up in one of the next crypto digests in our blog! Live updates and news can be found on our Twitter, Facebook, Reddit and Telegram.
---
Learn more:
Quick links: