BlackRock, world's largest asset management company invests in Bitcoin, and payment giants Visa and PayPal keep expanding crypto options for their customers. Bitcoin critic Peter Schiff accepted BTC and Elon Musk is going to send Dogecoin to the Moon. Which of those news is real and which are April Fools jokes? Find out in our weekly crypto digest by ChangeHero.
Key Takeaways
Bitcoin is confidently moving to $60,000 and further. Local high of $59,812 caused a flash crash but without the sell order wall it can move above the threshold more freely;
Two payment giants, PayPal and Visa have made announcements regarding their crypto strategies in practice. PayPal enabled in-app purchases with cryptocurrencies, and Visa is testing crypto settlements on USDC;
The cryptocurrency market has reached a $1.9T capitalization, while other top coins are trying to break their respective all-time highs. Ethereum reached a new ATH of $2,087.08 at the time of writing.
ChangeHero Updates
New Currency: Solana
Did you know that starting this week you can exchange Solana on ChangeHero? This DeFi-first project is a competitor to Ethereum, but more scalable, and is already partnered with Tether and Chainlink. Research this altcoin and swap it anytime with our service with no effort.
Latest Cryptocurrency News
Bitcoin Digest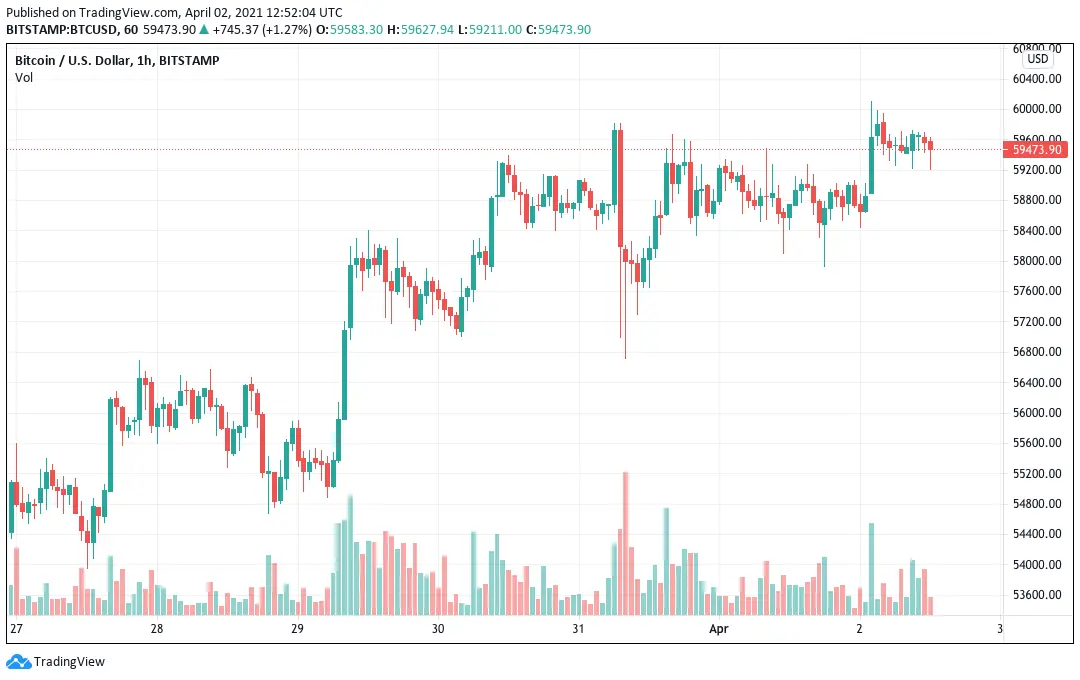 For the past week, we were seeing Bitcoin marching towards the psychological barrier of $60,000. On Monday, Visa made an announcement (more — further in the crypto digest) to which BTC reacted by adding $3,300. Resistances were further destroyed by PayPal adding payments in crypto.
Bitcoin attempted to approach $60,000 on Wednesday but failed and got sent below $57,000. The next, successful attempt was made earlier today, though it has not stayed above the $60k mark yet.
Is Bitcoin a good investment at the moment? Bear in mind that it is coming close to its ATH again, in other words, buying high entails risks. That being said, most moving averages suggest the momentum will be kept, and the sentiment is favorable.
Bitcoin News

Bitcoin has closed the best Q1 since 2013, which is all the more impressive considering historically it was not great. The only quarter that showed more returns than Q1 2021 is Q4 2017.
Tech and Altcoin News
Today, on April 2, Ethereum broke its previous ATH, and the current one stands at $2,087.08. At block 12244000 , which is estimated to be mined on April 14, Berlin upgrade will go live. Another reason for that could be billionaire Marc Cuban disclosing his Ethereum holdings.
The cryptocurrency market has reached a new milestone: $1.9T market cap.
Business Cryptocurrency News
Coinbase Class A stock (NASDAQ: COIN) will start trading on NASDAQ on April 14. For some time, Coinbase will be the only cryptocurrency exchange with its stock traded by Wall Street.
CME Bitcoin futures were noticed on the BlackRock portfolio investment report to the SEC. BlackRock is the largest asset management company in the world, and now it is safe to say they have at least some degree of exposure to BTC.
Crypto News on Adoption
PayPal enabled payments in cryptocurrencies in the app. While this seems like a huge step in the direction of adopting cryptocurrencies, it is not that simple. PayPal keeps an omnibus of the users' crypto holdings, so a user owns only a non-specific share from that pool. Purchases are only possible with conversion to USD, which is stated in the Terms of Use.
A bit earlier, Visa moved to support USDC settlements. This is a more progressive step in comparison with PayPal's. Now neither buyer nor seller will need to convert the tokens through a third-party service if they choose USDC.
In an interview with Vanity Fair, Bitcoin received another celebrity endorsement, now by the rapper Snoop Dogg. He is a long-time supporter and does not care too much about its value but appreciates the technology. The rapper is getting ready to drop an original collection of NFTs with unreleased tracks.
Cryptocurrency News on Regulation & Politics
Marathon Digital Holdings has disclosed the launch of the Bitcoin mining pool in a press-release. That the pool will operate in a way that is compliant with the US AML regulations. In practice, this will mean that the miners will reserve the right not to process transactions from blocklisted addresses. Essentially, this sets a precedent for censoring the Bitcoin blockchain.
The Washington Post reported a story of a user who lost 17 BTC after using a fake Trezor app from Apple App Store. This could have been averted if the user had known Trezor does not have an official app for mobile platforms. If anything, this case shows that even the review and approval standards of the App Store can be circumvented.
Twitter Crypto Digest
The TubbyCoin BigHugs! Token, an official Teletubbies cryptocurrency made with special HugTech from WildBrain Labs is here. For every like, share, comment of #TubbyCoin, the TubbyCoin becomes more valuable! Let's take it to the moon. 🚀: https://t.co/CZJn5R7NI9 pic.twitter.com/B1Nt8OjFXe

— Teletubbies (@TeletubbiesHQ) April 1, 2021
Elon Musk promising to literally send Dogecoin to the Moon. Peter Schiff pretending to change his mind about Bitcoin. Million Bitcoins on the move.
Not much to anyone's surprise, April Fool's wrought absolute chaos on Twitter. Probably the least expected crypto-themed prank came from kids show Teletubbies. Social media account posted an announcement of a joke cryptocurrency, promoting which in reality benefits the Kids Help Phone charity.
Beautiful stop loss hunting .. again. Now that all leveraged longs are liquidated, we finally have room for breaking $60K in April. pic.twitter.com/PgSVXUSAuA

— PlanB (@100trillionUSD) March 31, 2021
Remember the flash crash we mentioned in the Bitcoin digest? PlanB commented on it as it was happening, and turned out to be right. $60,000 was reached a couple of days without such shock from liquidations.
Assurance Opinion Confirms @Tether_to's Reserves Fully Backed; Company Shares as Part of Ongoing Transparency Commitment

Our statement: https://t.co/uWHQWBxIYg Assurance opinion: https://t.co/MqJCsSk8uD — Tether (@Tether_to) March 30, 2021
In other news, Tether produced an assurance opinion to prove the USDT assets are backed. This document also contained an interesting fact: the reserves include digital assets bought at a lower price. The community was split, since assurance opinion is not an audit, and digital assets could have been bought by USDT.
Influencer of the Week
A lot of new money/clout in the space, love to see it.

But it easily goes to people's heads. Acknowledge our luck, crypto was the right place at the right time. Self awareness, kindness, humility and generosity are a lot more impressive than a big bank account and ego. — Koroush AK (@KoroushAK) March 29, 2021
Anyone is familiar with the importance of not trading impulsively, and Koroush AK has a newsletter fittingly named "Market Meditations". Apart from being active as a trader, he also goes lengths to educate fellow market players. Give him a follow to see how to be chill and learn in the process!
Top Crypto Digest
Unsurprisingly, general market stats change this week reflect what was described in the Bitcoin digest. BTC dominance keeps decreasing, while the market cap grows, which is a good sign for alts. At the moment of writing the crypto digest, the general market stats are:
Total Market Cap: $1,936,213,226,607 (+15.09%);
BTC Dominance: 57.8%.
7d Change in Top Coins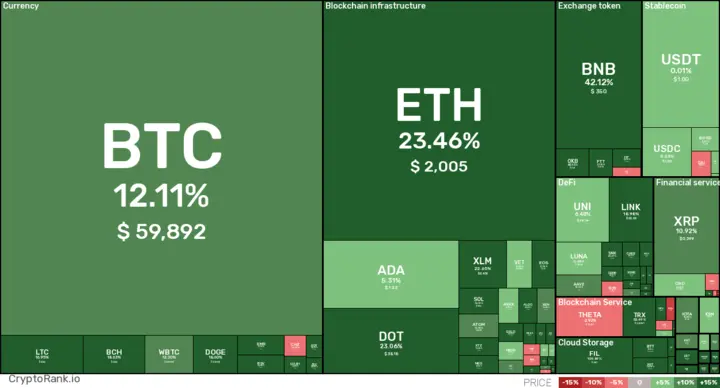 At the moment of writing this crypto digest, the 7-day change of the top currencies is:
Gainers of the Week
Most of the Top-100 assets follow Bitcoin and this week ended up in green. Here are some altcoins that gained the most at the time of writing the crypto digest:
What is the best altcoin to buy right now? The market is on the rise, so some pullbacks can be expected in pretty much any asset. These days, any altcoin that has only started growing can shoot up further.
Conclusion
April Fools was fun but the rest of the news was mostly positive and definitely promising. Visa and PayPal will keep helping crypto find adoption, and Bitcoin was relieved of some of the pressure. The news helped to achieve the returns we covered in altcoin and Bitcoin digest.
Don't forget to drop by our blog next week for more news in crypto digest! Live updates and news can be found on our Twitter, Facebook, Reddit and Telegram.