While the topic of metaverse is becoming a more common sight in the crypto community, the play-to-earn trend is red hot. Gala Games is a platform poised to take advantage of this situation with their P2E games. Learn all about this up and coming participant in the crypto revolution in gaming industry! We explain what is Gala Games doing and all about their prospects in our guide.
Key Takeaways
Gala Games is a creator of blockchain games, established in 2019. Its founders Eric Schiermeyer and Michael McCarthy worked together in mobile games company Zynga;
Instead of having separate game projects and disjointed communities, Gala Games builds a network to support all their games in an economy tied with the GALA token;
The future of Gala Games looks promising, as they are preparing to launch a game in Epic Games Store for 190 million active users, and are working on their own proprietary blockchain.
What is Gala Games?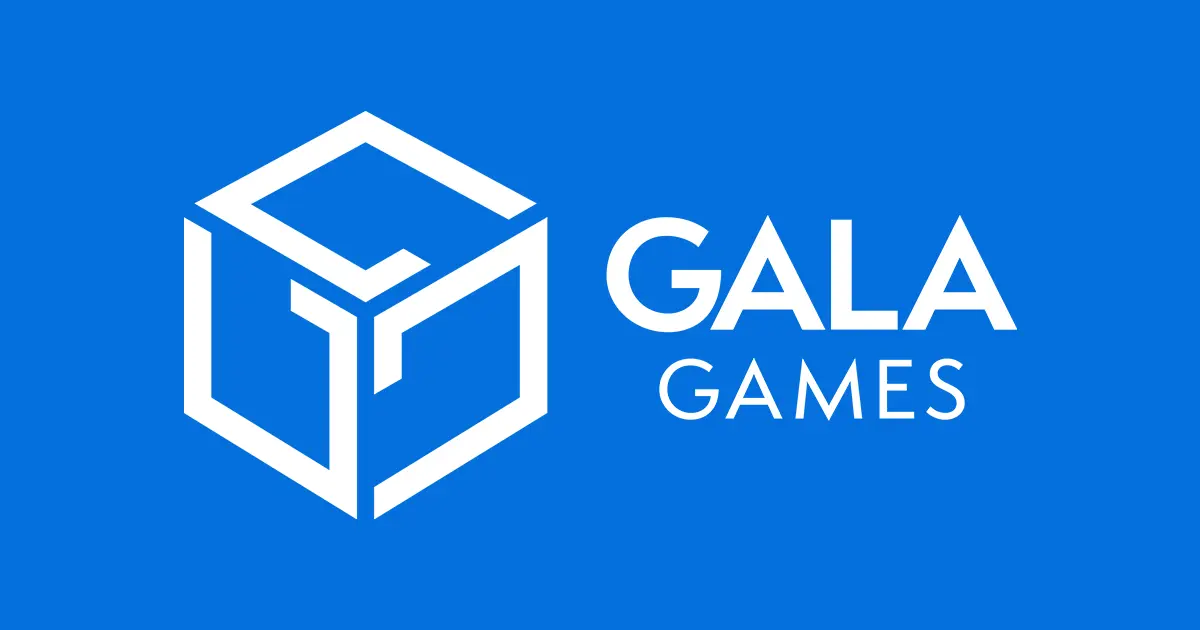 Galaverse: the Gala Games Ecosystem
Gala Games is not your ordinary game developer and publisher: they work exclusively on blockchain games. The team calls their blockchain-based game network Galaverse because instead of being connected by pure association, the games GALA develop actually run on the Gala blockchain.
The value proposition of the games by GALA is owning what you earn. The developers believe using the blockchain technology solves the problem of centralized ownership and instead grants more power to the gamers.
Like many blockchain game developers before them, Gala Games chose to have non-fungible tokens (NFTs) represent ownership rights. Once issued in a specified amount, only this amount of NFTs will exist at a contract address, so it is possible to have unique assets represented with them.
Of course, to have an economy built around Galaverse, NFTs are not enough and there should be a means of exchange. This is why the GALA token exists, which is a regular token on the blockchain.
GALA Games Platform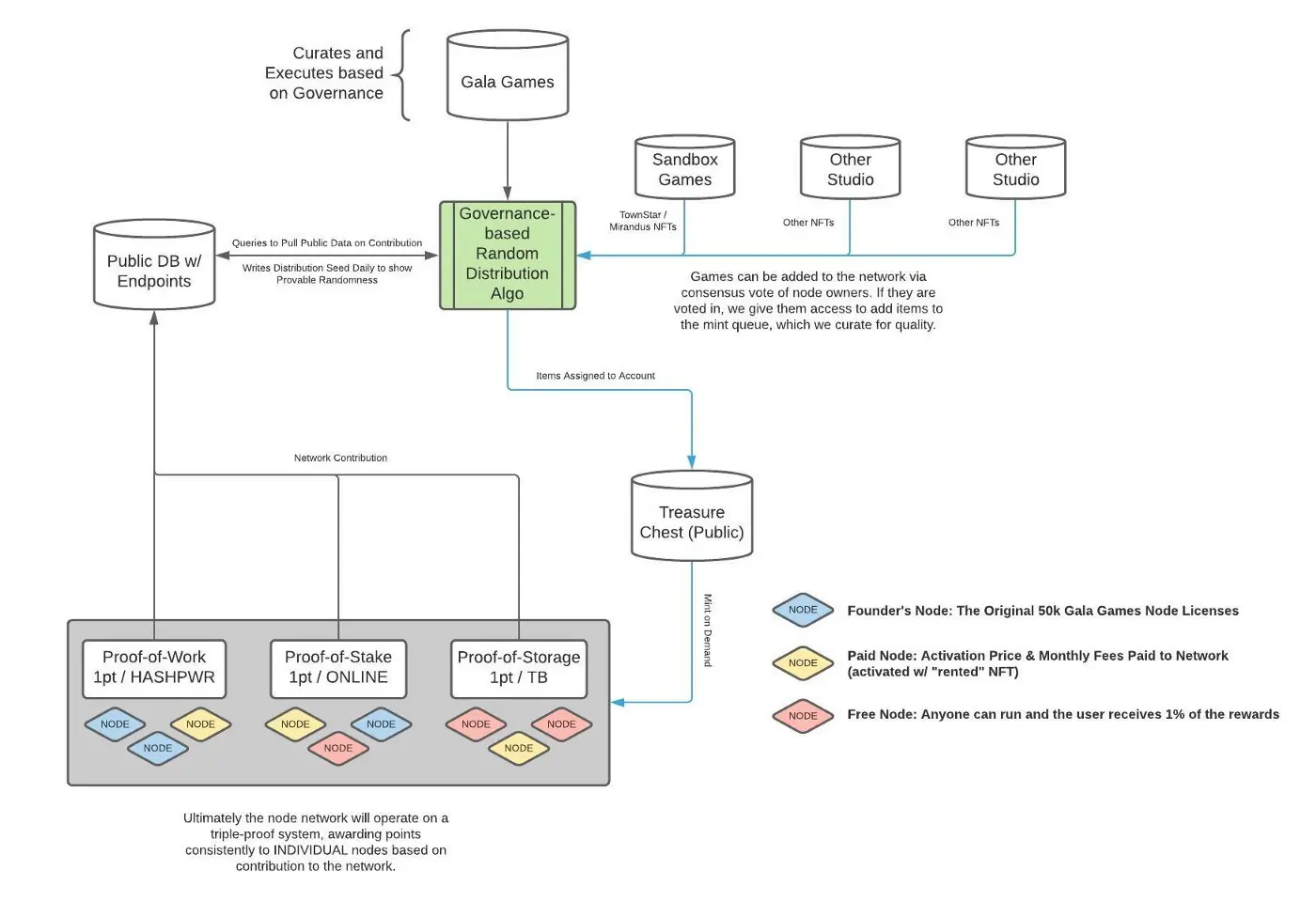 The GALA tokens are distributed as rewards for helping maintain the Gala blockchain. With the GALA Game Node, users commit some of their computing power to validate and confirm transactions. The official website claims there are 16 thousand nodes maintaining the ledger.
In total, there are going to be 50 thousand of so called Founder Nodes, which comprise a Proof-of-Work layer of the blockchain. Rented game-specific nodes that also provide rewards run on Proof-of-Stake and are necessary as the amount of games will grow. Finally, free Proof-of-Storage nodes have users commit hosting power to remove reliance on centralized servers.
The GALA App doubles as a wallet for digital assets on the Gala blockchain. However, to stay true to the promise of giving ownership to players, Gala lets users store the assets in a wallet of their choice.
Town Star
At the moment, the only game available for playtesting is a browser-based town sim Town Star. The access to the game is free, and users can earn rewards as long as they have a Gala Games account, but some additional purchases in-game that can boost a town's productivity.
Town Star NFT marketplace and play-to-earn mechanics uses its own native token TOWN in addition to GALA. With TOWN you can buy skins, skin packs and buildings, available in limited quantities as NFTs, as well as earn the rewards for scoring top positions on the leaderboard.
Gala Games Team and History
The founders of Gala Games are Eric Schiermeyer and Michael McCarthy. Schiermeyer previously founded Zynga, a developer behind massively popular casual games, and served as CRO in Intermix Media, the company behind MySpace.
McCarthy and Schiermeyer worked in Zynga together at the time when Farmville was at its peak popularity. The co-founder duet recognized an opportunity in play-to-earn games early on, and went on to found Gala Games in 2019.
Years later, the Gala Games team has gathered a team a few members shy of one hundred, according to the website. There are roughly a dozen development teams working on separate projects, and three games developed in-house: match-three Town Crush, fantasy RPG Mirandus and the aforementioned Town Star.
What is GALA token?
Like we said before, the Galaverse attempts to build a unified economy for the games and players. One of the cornerstones of this economy is the GALA crypto, so let's have a closer look at it.
| | |
| --- | --- |
| Total Supply | 50 billion |
| Supported Blockchains | Ethereum, Binance Smart Chain |
| Launch Type | Fair launch |
| Release schedule | Disinflationary (reward halving) |
 One of the main ways of earning GALA is running a node. This includes licensed Founder Nodes, rented Paid Nodes and free nodes that yield 1% of the rewards.
Of course, since it's a token, traders can find GALA on cryptocurrency exchanges. At the time of writing, the GALA price today is roughly $0.056 a piece.
Gala Games opted for a fair launch of the token, without a premine or a presale. However, early supporters with an NFT license for a Founder Node obviously get an advantage in mining.
What is GALA Coin Used for?
Earning GALA is one thing, but how do you spend it and on what? For that, the official Store is your one-stop shop.
Depending on the purpose of an NFT, it represents in-game items and assets in specified games. For example, you can buy hero packs for Walking Dead Empires or virtual lands in Eternal Paradox (both games are still in development).
It is not only games, though: Gala Music is an entirely separate music streaming platform which also uses GALA. Like in the Gala Games network, users can set up nodes to earn it and spend it on drops from their favorite artists.
Comparison with similar projects: Sky Mavis
Probably the most similar project right now on the market is Sky Mavis, best known for Axie Infinity. While this is not their sole game on the platform, it is the most popular.
Pet battler (like Pokemon) Axie Infinity is powered by the Ronin blockchain. Virtual pet Axies are represented by NFTs, and the game's economy relies on two currencies: Smooth Love Potion (SLP) and Axie Infinity Shards (AXS).
SLP is an in-game currency and an ERC20 token which is used in breeding Axies: minting a new NFT with properties from the source tokens. AXS are a governance token (also ERC20) which can be staked, locked in to vote and spent in-game.
Axie Infinity has already migrated to a blockchain platform of its own, and its economy is slightly different from the Gala games' one. Sky Mavis also intends to gradually transfer governance to a DAO of AXS holders, while Gala Games has made no such plans public yet.
What is Gala Games Criticized For?
There are a couple warning signs about the whole Gala ecosystem that are worth directing attention to. The first one is the mission statement, or more exactly, how it translates into reality, and the second is a sustainability problem.
Gala Games maintains that they operate on the premise of decentralization but the devil is in the details. It is true that owning an NFT linked to an in-game asset proves you own it — the token, that is. The asset it is linked to or any rights associated with it are exercised solely by Gala Games, and can be amended or revoked without a notice.
Without focusing too much on the games and their in-game economies, Gerhard brought to attention the fact that the players are more likely to engage with the games for the "earn" part, not "play". From his own experience, he even claims that people will soon enough find a way to game the system, threatening the sustainability of the cash flow.
Partnerships and Future of Gala Games
Currently, the Gala network exists on the Ethereum and Binance Smart Chain blockchains. But not forever: a proprietary blockchain is in the works. Previously known as GalaChain, its newer working title is Project GYRI.
Nonetheless, Gala World is games first, blockchain second, and players have a lot to look forward, too. Recently Gala Games announced one of their upcoming titles, a battle royale in the Wild West setting GRIT will be available in Epic Games Store, the platform with 190 million active monthly users.
Less flashy but nonetheless significant partnerships of the company include crypto-friendly browser Brave, Mazer Gaming, Bitrue and Polygon.
Gala Games on Social Media 
I am even more bullish on $GALA after experiencing the #GALAVERSE in Malta.

Here is a montage of Galaverse 2022👇🏼🔥 go check it outhttps://t.co/DOFPdVzgyY https://t.co/UFE2kYfeaI

— MASON VERSLUIS 🏆🔮 (@MasonVersluis) June 13, 2022
Last week, Galaverse convention was held in Malta. Blogger Maison Versluis shared a highlight reel for anyone curious about the event.
Ready for NY

FLY ticket to NY ✅#Vox in wallet ✅
Ticket from @tokenproof ✅

Been with my #Galaverse $gala friends .... loading...... pic.twitter.com/qzi8BfEfhs

— CryptoView (@cryptoview_1) June 16, 2022
And obviously, Gala is going to be represented on the NFT NYC 2022 conference! Their VOX tokens might be of interest to the attendees, for sure.
Will @MirandusGame move closer to open beta? Playtest coming June 21 $GALA $TOWN https://t.co/YfIJ5SkWsr

— play2moon (@play2moon) June 20, 2022
News hub play2moon reviewed one of the upcoming projects Mirandus. The MMORPG will host a playtest on June 21, accompanied by a NFT avatar snapshot.
How to store GALA?
Now that you are more familiar with the fundamentals, only a few things left to learn if you want to dive right in. For example, what is the best wallet for GALA coins?
Pay attention to the chain of the GALA token. For ERC20 tokens, Metamask is a great choice. For BEP20, your options are Binance Chain Wallet or Trust Wallet — the latter supports both versions.
How to buy GALA on ChangeHero?
 Getting GALA with crypto without sign-ups is possible on ChangeHero, and it's very easy:
Choose the currencies on the home page, amounts and the type of exchange. Provide your GALA wallet address in the next step and check the amounts;
Double-check the provided information, read and accept the Terms of Use and Privacy Policy;
Send in a single transaction the sum of cryptocurrency you will be exchanging. Fixed Rate transactions have a 15-minute limit;
All done? Now we are doing all the work: checking the incoming transaction and doing the exchange as soon as it arrives. 

The Best Rate transactions will use the rate current to the time when your funds arrive.
The Fixed Rate will use the rate at the time of step 1;

As soon as the exchange has been processed, your GALA are on the way to your wallet. 
In any case, the ChangeHero's customer support is available 24/7 in the chat on our website or through the email: [email protected].
Conclusion
The Gala platform has impressive backing and talent behind their projects, even though it is only now starting to unwind. Are the gamers going to be sold on the promise of owning what is theirs? It is an open question.
Check out our blog for more tips and beginner-friendly guides. Give ChangeHero a follow on Twitter, Facebook and Telegram for live updates and even more content.
Frequently Asked Questions
What is Gala Games?

Gala Games is a game development and publishing studio with a particular focus on play-to-earn games. Eric Schiermeyer and Michael McCarthy founded the company in 2019 after having worked on MySpace and Zynga.

What is GALA crypto?

The GALA crypto token is a universal currency for all games in the its ecosystem and the marketplace. Users earn it for helping maintain a distributed network that powers the ecosystem.

What is Gala token used for?

You can spend the GALA token on in-game items and assets, or on music on the Gala Music platform.

What is the future of Gala Games?

The company is working on the proprietary blockchain with a codename Project GYRI. But more importantly, they have 12 games in development, including a battle royale to be launched later in 2022 in the Epic Games Store.