In terms of news and market action the past seven days shaped up to be tough. Bitcoin dips again, but is still holding above $10,000 for weeks. America is following the political news: first, the debate of presidential candidates, and today, the news about Donald Trump being diagnosed with COVID-19. Since the whole market is relying on USD, any news regarding the November election would stir the community up. In this weekly crypto digest, ChangeHero team will round up the most important crypto news from this week.
ChangeHero Updates
NEM Listing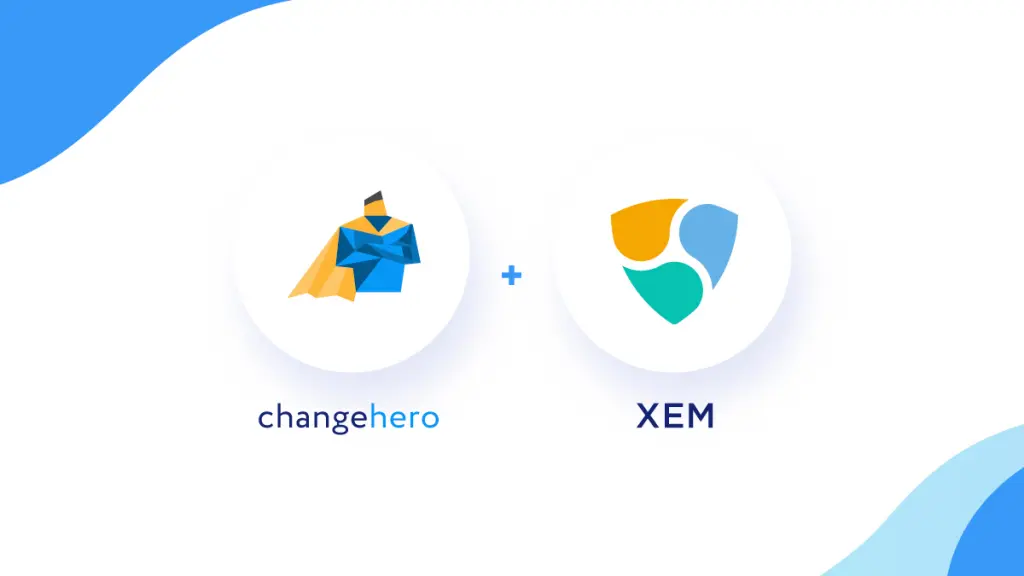 Earlier this week we announced that we returned the support NEM (XEM) to our website. Whether you are new to it or a long-time supporter, you can exchange any pair with NEM with the quality service ChangeHero provides.
With that out of the way, let's look at other crypto news and next, coin digest on weekly change.
Latest Crypto News
It was quite an intense week in both crypto-influencing and crypto-related news. The major events that swayed the markets and sentiments at the time of writing our weekly crypto digest are the following.
Bitcoin News
This week, Bitcoin reached a very significant milestone: there are now 18,5M BTC in existence. This accounts for 88% of its total supply, and with the next halvings, it will take more than a hundred years to mine the rest of BTC. This points at increasingly growing scarcity of the asset, and raises the interest from investors.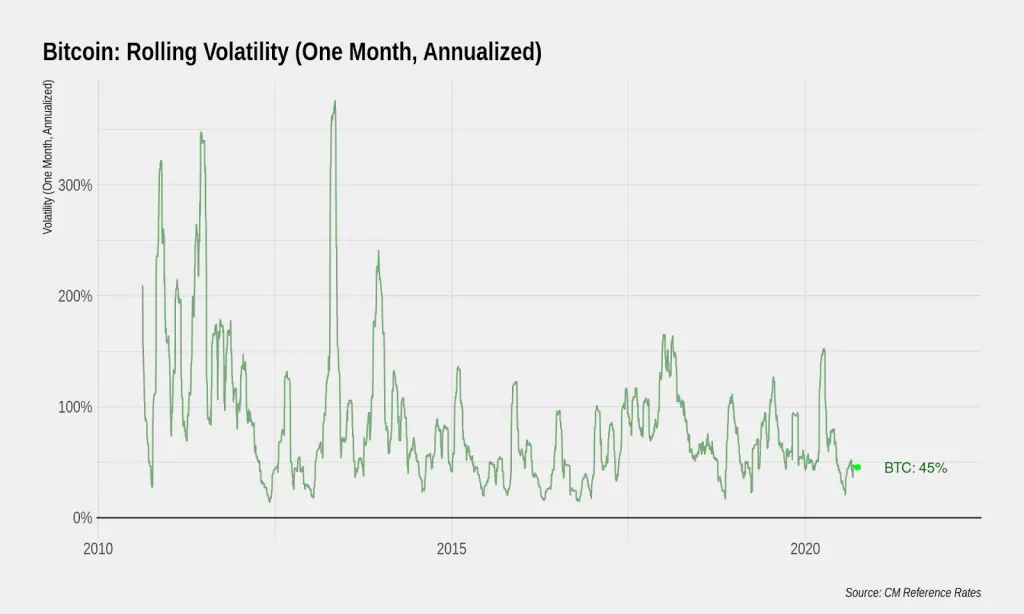 Among the top 250 assets, the number of ones that decreased in price following Bitcoin rose from 73% to 92%, CoinMetrics reports. This could be connected to the fact that a growing number of assets start to follow the bearish trend in Bitcoin. Nevertheless, the volatility is at a relatively low level of 45%, according to the same source.
Adoption News
Ethereum development company ConsenSys was chosen to participate in the second phase of cross-border monetary transfer system by the Hong Kong Monetary Authority. The goal of the project they will be working on is a central bank-issued digital currency.
Australian Prime Minister announced new measures to restore the national economy after the pandemic. Among them are investitions in financial technology, and out of $800 million AUD, $6.9 million will be directed to "two blockchain pilots directed at reducing business compliance costs".
Tech News
Last weekend, the KuCoin exchange was hacked. Currently to this crypto digest, the estimation of lost funds is at $200 million. ChangeHero compliance and support teams have been monitoring the situation to block the addresses associated with the hack;
Ethereum 2.0 saw not one, but two testnets go live this week. The first one, Spadina, went down due to a critical error, and the second one, Zinken, is set to fix any issues that could arise prior to ETH 2.0 genesis. Ethereum developer, Danny Ryan, in another tweet hinted that a week and a half would be the time to expect more news.
Regulation News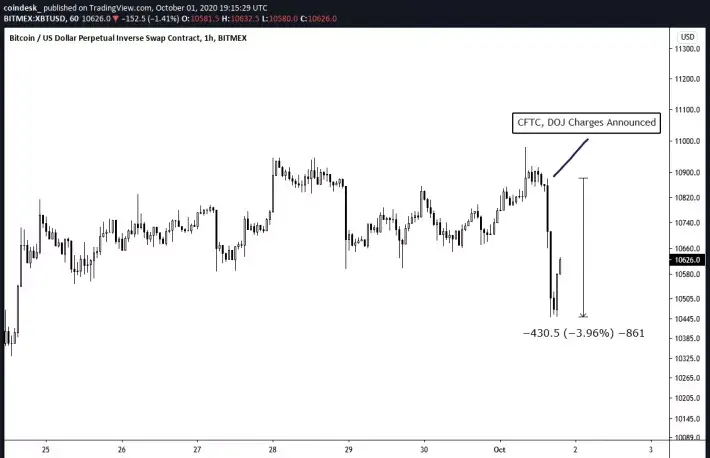 The US Commodities Futures Trading Commission (CFTC) and the Department of Justice charged BitMEX with violations such as unregistered trading and bank secrecy disclosure. On that day, Bitcoin lost about 4% of its value. (Source)
DeFi News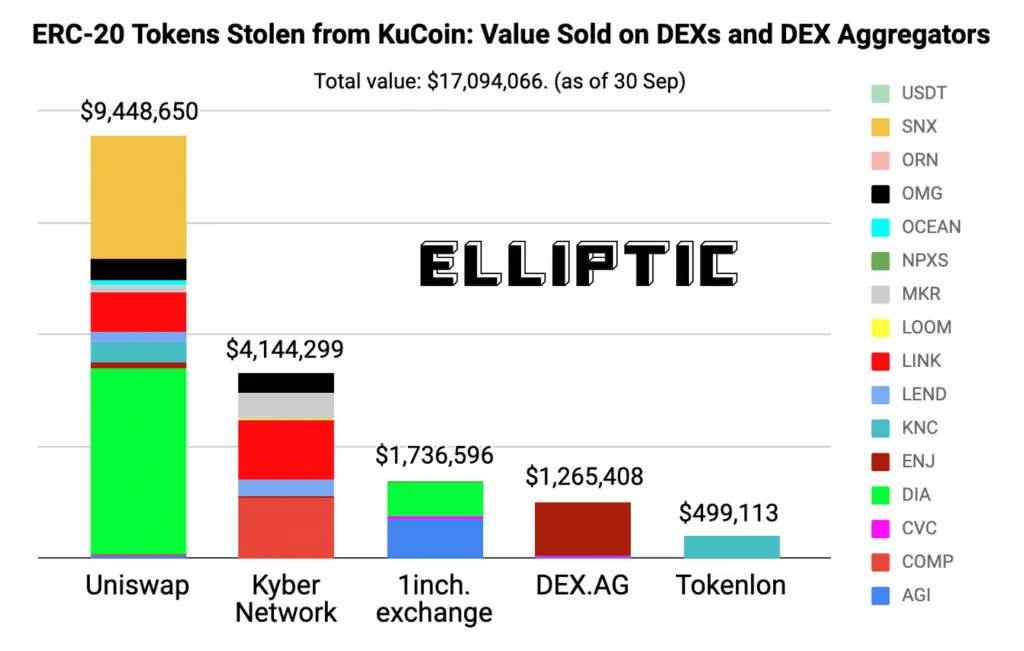 In the light of the KuCoin hack, large sums of tainted ETH were moving into decentralized exchanges, mostly Uniswap, as Elliptic reports. This can accelerate the onset of regulatory scrutiny over the growing sector. You can read more about it further down in the crypto digest.
Crypto News on Politics
This Tuesday, prediction markets like Polymarket and Augur were having a field day: the first debate between Donald Trump and Joe Biden, candidates for the President of the US post, was held. Prediction market Polymarket saw a surge in volume of $100,000 overnight due to the interest in the presidential debate. Over the course of the event, the shares supporting current President of the US, Donald Trump, spiked and then decreased to 45%.
Brian Armstrong came forward with a blog post that was supposed to help clarify the policies and mission of Coinbase. Instead, it created some controversy on Crypto Twitter. The main point of contention was the statement that in Coinbase's corporate culture, political discussions are not welcome. Many influential voices, including Twitter CEO Jack Dorsey, took an issue in such a position (more on that in the following section).
Crypto News from Twitter
Not unexpectedly, Crypto Twitter was discussing the news connected with Donald Trump and the first presidential debate. However, we found some insightful discussions we would like to share in this crypto digest. Enjoy!
#Bitcoin (aka "crypto") is direct activism against an unverifiable and exclusionary financial system which negatively affects so much of our society. Important to at *least* acknowledge and connect the related societal issues your customers face daily. This leaves people behind: https://t.co/0LMlF1qcmG

— jack (@jack) September 30, 2020
Jack Dorsey argued with the apolitical stance of Coinbase. In his words, Bitcoin is inherently politically charged, given that this is the money that operates outside of any existing financial system, so the stance one of the largest crypto businesses is taking is absurd. However, not everyone appreciated him equating Bitcoin with crypto.
thinking about buying a bitcoin today. thoughts? @APompliano @tylerwinklevoss @brian_armstrong https://t.co/if8GoRu2yI

— Bryce Hall (@BryceHall) September 29, 2020
TikTok influencer Bryce Hall became known in the crypto space this week, as he got invited to Anthony Pompliano's podcast after expressing interest in purchasing crypto. Hall has 12 million subscribers on TikTok and almost 3 million YouTube subscribers.
1/25

So a lot of Crypto Twitter doesn't understand why today's news isn't just bad for CeFi but is also bad for DeFi. It has a something to do with legal nuance and a little something called the "Bank Secrecy Act" (BSA) Here's a run down for you 👇 — Adam Cochran (@AdamScochran) October 1, 2020
Professor Adam Cochran composed a beast of a thread why the BitMEX allegations pose a threat to DeFi as well. While it is harder to imagine how an authority can charge a contract, the contracts are still developed and maintained by people, who by the legal guidelines are directly responsible for any unlawful activity on their chain.
Gold soaring, bitcoin crashing on news that President Trump tested positive for COVID-19. $BTC pic.twitter.com/eg6Svlends

— Zack Voell (@zackvoell) October 2, 2020
CoinDesk writer Zack Voell shared an insight into today's news about Trump's diagnosis: the stock markets reacted immediately, and crypto followed suit. However, movements in crypto were nothing alike the general markets. Voell's wording could have been better, though: a 1% change is hardly a crash or a soar.
These were not all, but the most important events and discussions in crypto this week. Next, let's move on to the coin digest to see how these stories influenced the numbers.
Top Crypto Digest: Price Change
September, historically the month when Bitcoin is showing the worst performance, is over. October is just starting with bulls and bears in a clutch. Let's overview in which situation the market enters a new month.
At the moment of writing this crypto digest, the market's dynamics for the last 7 days are the following:
Total Market Cap: $318,046,467,969 (-5.35%);
BTC Dominance: 60.83% (was 61.14%).
7d Top Coin Digest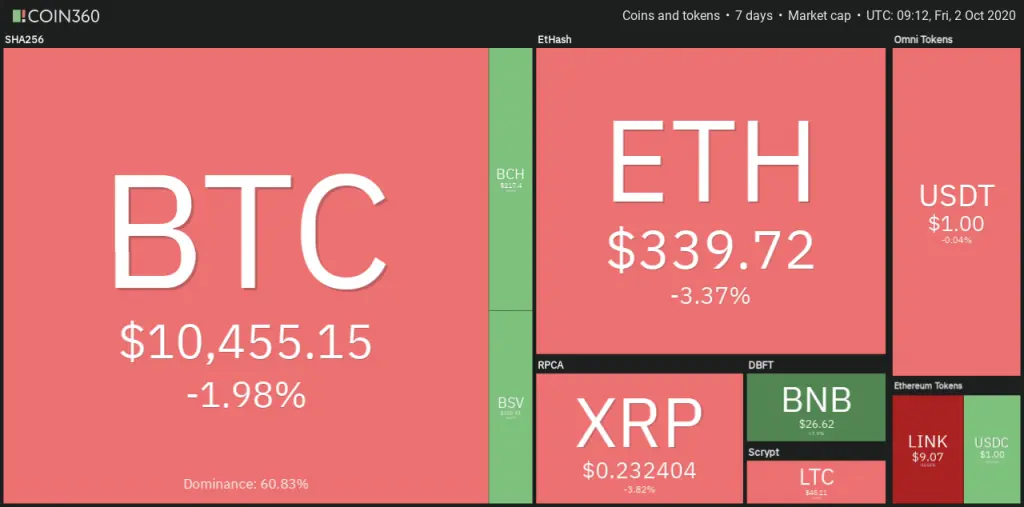 At the moment of writing the crypto digest, the 7-day change of the top currencies is the following:
Gainers of the Week on ChangeHero
At the time of writing this crypto digest, the top three are:
The coin digest includes the coins that can be traded and exchanged on ChangeHero. You can buy and sell some of them (BTC, ETH, BCH, BSV, TRX) with your credit card on our website, too. Either way, it will not take more than 15 minutes, and we will find the best rate on the market for your purchase.
Summary
Did you find our crypto digest useful? Let us know in the comments section of our blog! We're on Twitter, Facebook, Reddit or Telegram. We will be looking forward to the changes October brings and helping you keep up with them.
---
Learn more:
Quick links: