A few days ago Tezos was back in top-10 currencies and scored a new all-time high for the price. What is Tezos and its native currency XTZ? What XTZ news could have made it shoot up? How to buy XTZ? How to exchange Tezos? ChangeHero team will explain it in this Tezos guide.
What is Tezos?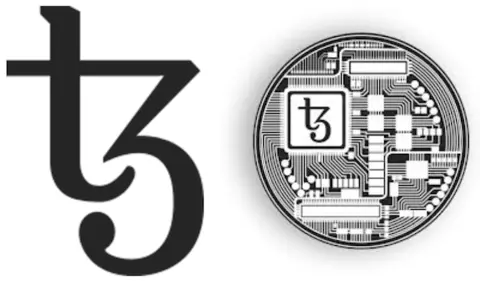 By definition, Tezos is a self-amending protocol with modular architecture built from the ground-up. It has the support of smart contracts (self-executing programs, like in Ethereum) written in a special coding language, Michelson.
The main motivation to build a new network for the founders was the governance issues that were present in contemporary crypto communities. By the time Tezos came to be, the Bitcoin community had split, and they forked the network. The Ethereum community seemed really dependent on the Ethereum foundation and the core team of developers, who also amended the network after the DAO (Decentralized Autonomous Organization) incident (it was supposed to be a venture fund for startups that build on Ethereum, but lost all investments because of an exploit; Ethereum foundation essentially rewrote the ETH history to return the lost funds). Smaller communities were no strangers to these kinds of hindrances, too. A possible solution was to create a network that would never have to fork and be governed by its community in a democratic way.
How did the developers try to build a network which can achieve this goal? Let's have a look at the beginnings of the project!
How was Tezos started?
With this vision in mind, Arthur Breitman began working on the first drafts of the Tezos memorandum and whitepaper in 2014. Since the very start, his wife Kaithleen also contributed and provided support to the project. As the whitepaper had it, Tezos was envisioned as the cryptocurrency that would hopefully end the seemingly never-ending process of splitting and forking the existing cryptocurrencies.
In 2015, Breitman tried to receive funding for the project from institutions, but to no avail. An alternative springed to the founders' minds a year later - they would settle on raising funds through an ICO (Initial Coin Offering, a pre-sale of tokens to early investors at a price lower than is expected after the launch). It was conducted in the famous Switzerland's "Crypto Valley", Zug by the newly formed Tezos Foundation with Johann Gevers as the head of it.
The ICO raised $232 million in USD at that time, becoming one of the most successful ones to date. However, after that, legal and corporate troubles have arised. The internal power struggle between the Breitmans and Gevers threatened to make the startup fall apart, and the delay in token distribution to investors resulted in several lawsuits. This also brought the attention of the U.S. Securities and Exchange Commission, which deemed the tokens a security under the U.S. law. As a result, the Foundation had to implement a KYC procedure for the investors that wished to claim their tez a year after the ICO had finished.
At last, the beta net was launched in June, 2018, and the mainnet launch happened on September 17, 2018.
Now that you know more about how the project came to be, it's time to pass on to the specifics: what was all this for and why did investors believe in Tezos so much?
What is special about Tezos?
As it was previously mentioned in this Tezos guide, the main feature of its protocol is the ability to be amended without having to fork or split the chain. This is possible thanks to the modular nature of its code, built from scratch.
Since it is amendable, scalability should not ever be an issue for the network. Even now, with block time of 1 minute on average and a cap on every transaction of 512 kB (instead of a cap on every block), it has the throughput of about 40 transactions per second (which is 5-6 times more than in Bitcoin and almost three times more than in Ethereum).
Baking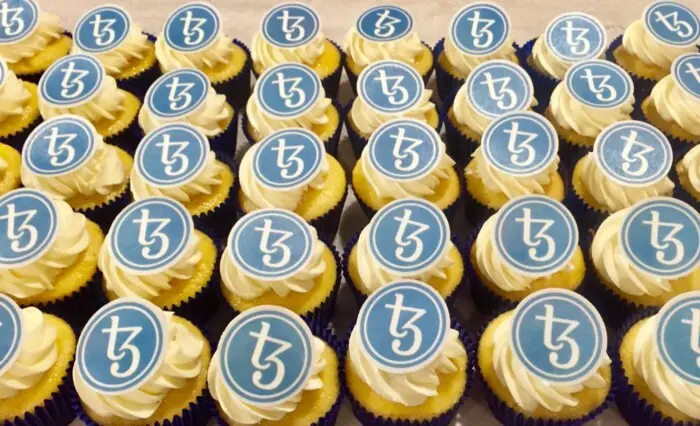 To secure and propagate the blockchain, instead of the Proof-of-Work (in which "work" refers to the computations miners perform to solve cryptographic hashes of each new block) it uses a more efficient Proof-of-Stake consensus algorithm. In Proof-of-Stake networks, new blocks are added or confirmed by the participants that have frozen a part of their funds in the network. The larger their stake is, the more chance they get to be picked as a new block creator, which yields block rewards and transfer fees. In case a node misbehaves, the stake gets slashed (in Tezos' case, half of it is burned and the other half is given to the next block creator). In Tezos it is referred to as "baking" because it is a sort of cross between Proof-of-Work (transactions are included in a new block by a delegate) and Proof-of-Stake (newly baked blocks also get endorsed by a randomly selected committee of other delegates). The term "baker" refers to the delegate who is making the next block. Baking is also unique because the delegated stake is non-custodial and those who delegate a share of their XTZ to a baker can have a share of the block reward.
As a result of baking, new tez (XTZ) are minted. Let's see what those are all about!
What is XTZ?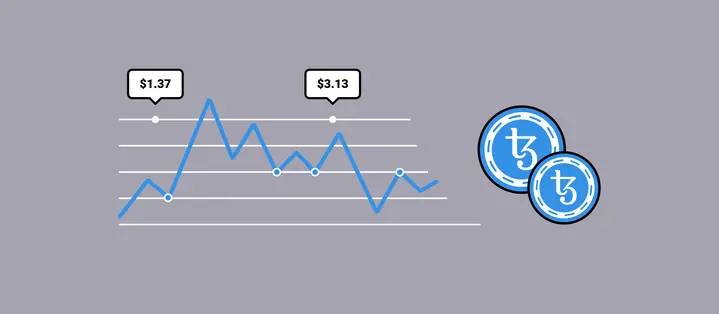 Tez (XTZ) is the coin native to Tezos network. Conventionally, though, it is also referred to as "Tezos", and in this Tezos guide we might use the terms interchangeably. As in other Proof-of-Stake systems, XTZ has an important part in securing and governing the network: as we covered already, to bake new blocks, a certain amount of XTZ must be staked to ensure consistently fair behavior. Since not all XTZ owners are interested in participating in consensus, they can delegate some of their XTZ to an active baker of their choice. Worry not - they cannot use or spend the delegated coins.
Another function of XTZ is to help keep track of accounts in the system. All active accounts must have 0.275 XTZ in balance. This is a security measure to weed out empty addresses and not track them.
Native tokens' worth is generally defined by the worth as a network as a whole. So how did investors throughout the history of Tezos deem the worth of its coin?
How much is an XTZ?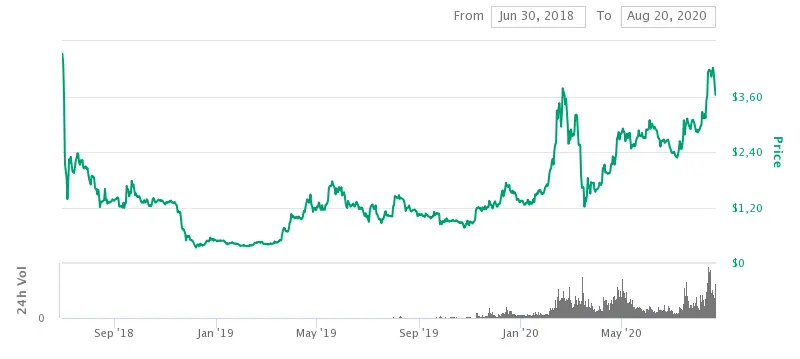 Tezos ran a highly successful ICO by 2017 standards, raising $232 million in funding. However, legal trouble and corporate dispute led to significant delays in delivering, and the beta version of Tezos saw the light of the day almost a year later, in July, 2018. It was the midst of the 2018-2019 bear market, and at that time, XTZ went as low as $0.30-0.40 dollars. In the spring of 2019, it briefly rebounded, and ultimately, 2019 ended on a higher note for XTZ than for many other currencies - about $1.30.
In 2020, the currency has been scoring new records. First, in February, when it jumped to $3.75 but soon collapsed with the rest of the market. The second peak and the current ATH were recorded on August, 13, when the XTZ price climbed up to $4.48.
At the moment of writing this Tezos guide, the market capitalization ($2,692,850,129) divided by the circulating supply of tez (740,443,908 XTZ) gives a definite $3.63 for a unit. According to CoinMarketCap, XTZ ranks 13th.
Now that you probably know what the worth of XTZ is, you may ask how to buy XTZ or how to exchange Tezos. Keep reading till the end of this Tezos guide for instructions!
How to use XTZ?
The primary uses for Tezos native tokens is the governance and gas fees in the Tezos network. In the future, they will be targeting private companies that want to utilize blockchain technology, since the network is resistant to forks and is quite transparently governed. As more applications get developed on this platform, the higher the demand for XTZ might become. 
As we hint further in this Tezos guide, the developers are getting ready to enter the market of DeFi, so there is a great chance that the demand for XTZ will skyrocket as soon as it happens.
Is Tezos controversial?
Tezos did not make the most positive first impression for many investors due to its complicated launch history. It was bitterly ironic that the project that was supposed to end forking in cryptocurrencies at some point was under a threat of community split in the wake of its launch. A nTezos instantiation of the network that almost came to be after the Tezos Foundation announced the KYC/AML requirements.
There is also the aftermath of the ICO campaign in the form of class-action lawsuit from the U.S. investors. XTZ has almost been ruled out as a security by the SEC, which would make its sale illegal under U.S. law. In the latest XTZ news, though, the Tezos Foundation is very likely to dodge the legal trouble by settling the lawsuits.
How is Tezos different from Ethereum?
Tezos is often compared to Ethereum, since both of these networks can act like decentralized computing systems and have smart contract capabilities. The few key differences between them are:
Ethereum still relies on mining, Tezos, as a PoS network, on the whole is more energy efficient;
Ethereum smart contracts are a layer-two solution, while Tezos incorporates them into the original layer;
Ethereum's governance and development mostly is carried out by Ethereum Foundation, a group of core developers. Tezos was created with the goal to include all network participants into a self-governing commonwealth in mind.
Since the community has such a significant role in the life of the project, let's see for ourselves what they are saying and what are the sentiments in it in the next section of this Tezos guide.
XTZ News from Social Media
Development activity on Tezos is growing nicely on Carthagenet. Expect to see a lot of activity on Mainnet soon.

Lots of work going on with DeFi building blocks like token standards, multiple DEXs, oracles, stablecoins, STO exchanges, real-estate tokens and governance tokens. pic.twitter.com/mSQOLyxKgP — Brad Griffin (@bradgriffin_) August 17, 2020
The next implementation of Tezos that the contributors are working on is called Carthage. Unlike a hard fork in other networks, this is an upgrade that will expand on the network without affecting it entirely. As Brad Griffin points out, in the upcoming releases the possible applications of Tezos in the growing sector of DeFi will be expanded significantly.
.$XTZ is winding up and building up lots of energy for the next big move!@tezos till we Bezos guys! pic.twitter.com/hjxzuI62J2

— Tai Zen (@HeyTaiZen) August 16, 2020
Another trader who is as bullish on Tezos as Griffin, Tai Zen, based on the forming diamond pattern on the XTZUSD chart, predicts a new bounce up for the price.
I truly believe @Tezos is one of the most fascinating cryptocurrencies on the planet. They have been making thoughtful design decisions since launch that have flown completely under the radar, silently compounding. Feels like they're on the brink of broad awareness though...

— Spencer Noon (@spencernoon) September 2, 2019
Tezos has the support of many influential voices of the crypto community, like Spencer Noon. He's been a supporter of the project for quite a while, and quite a believer, too!
Just loaded my super heavy $XTZ bag. Oversold momentum on 4h, 12h with buy signals across the timeframes with perfect S/R flip reversal. Remember when I said $XTZ could pull $LINK? It's time to launch the ATH mission and send it back to the moon where it belongs. Who's with me? pic.twitter.com/V7Zuhca8ah

— CRYPTO₿IRB (@crypto_birb) August 20, 2020
Finally, trader Cryptobirb has a short-term prediction for XTZ that echoes the previous statements: the recently seen ATH is soon to be revisited, and from there on? Probably, the moon.
What are the future plans of the Tezos community?
As a project governed by the community, there can be no official roadmap or a pipeline, only a set of initiatives put forward by the members. The discussions happen on the Tezos Agora forum, then they are submitted for the on-chain voting.
There are a few communities working on the Tezos ecosystem at the moment of writing this Tezos guide, like Tezos Commons Foundation, TQ Tezos and, of course, Tezos Foundation. The latter has a grant system, and the concepts that they are willing to incentivize are:
Thematic educational resources;
Tools for smart contract development;
Research of core protocol components;
Decentralized apps with a special interest in DeFi (decentralized finance).
It is fair to assume that these are the directions we will see Tezos developing forward to.
How to buy XTZ?
If you already own crypto, the best way to get XTZ would be to exchange it for Tezos on ChangeHero! Unlike a conventional crypto exchange, ChangeHero does not require you to sign up or to make a deposit. Therefore, you don't give away your assets or your personal data. The whole process will take just a few minutes and is easy, and in case of any trouble the support has got your back 24/7. In the following sections we'll walk you through it, so keep reading this Tezos guide!
Where to store XTZ?
As one of the top assets on the crypto market, Tezos is widely supported by the cryptocurrency wallets. You have plenty of options for the platforms and forms of storage:
Mobile: Tezos.blue, Wetez, Magnum (staking and delegating supported);
Desktop: TezBox, Kukai (Web), Exodus;
Cold storage: Ledger and Trezor.
Owners of Magnum, Trezor and Exodus wallets can exchange XTZ right in the app with the help of ChangeHero integration. We make sure that right in the app you get the same level of customer service as on our website.
How to exchange Tezos?
To make this Tezos guide more practical, let us tell you how to get XTZ with ChangeHero. You can do it easily in five steps:
Choose the currencies on the home page, amounts and the type of exchange. Provide your XTZ wallet address in the next step and check the amounts;
Double-check the provided information, read and accept the Terms of Use and Privacy Policy;
Send in a single transaction the sum of cryptocurrency you will be exchanging. For  Fixed Rate transactions you have 10 minutes before it expires;
From here on, you won't need to do anything. At this step we are doing all the work: checking the incoming transaction and doing the exchange as soon as it arrives;
As soon as the exchange has been processed, your XTZ is on the way to your wallet.
Need the help of our support specialist? Reach them in the chat or through the email: [email protected].
Conclusion
All things considered, our team thinks Tezos is a solid contender among the blockchains of the second generation for the crown of a world's decentralized computer. It is virtually only a killer dApp away from massive success, so we'll have to watch the XTZ news to see if it really happens. Until then, stay tuned to the latest crypto news and informative content from ChangeHero by subscribing to our blog, Twitter, Facebook, Reddit or Telegram.
---
Learn more:
Quick links: