Despite the new price maximum for Bitcoin on the weekend, other topics got the spotlight, too! Morgan Stanley now offers exposure to BTC, and Visa jumps in on the crypto trend. All other interesting stories are recapped below in the crypto digest by ChangeHero.
Latest Cryptocurrency News
Bitcoin Digest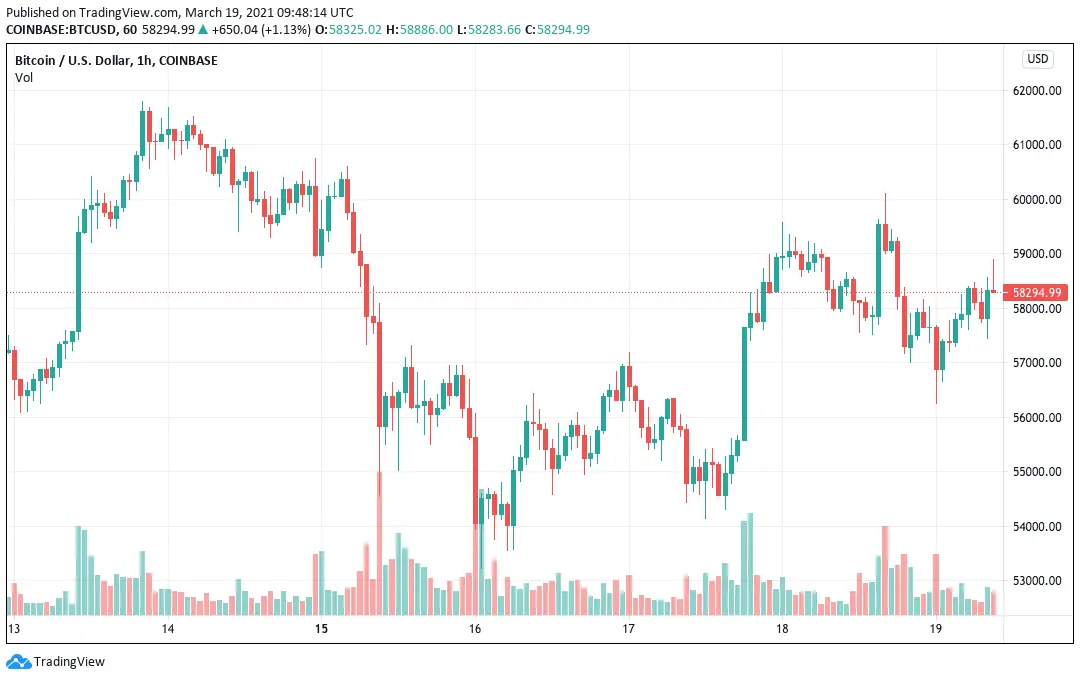 BTCUSD has been a real test of fortitude for holders and traders alike. On Monday, Bitcoin claimed a new ATH of $61,788.45, which caused selling pressure for the next few days. The lowest support level that was reached lies at $53,221. By now, it has recovered and is up by 3.76% (at $58,294.99) in comparison to a week ago.

Is now a good time to buy Bitcoin? Bear in mind that in that case you will be buying high, which is quite risky. On the other hand, analysts expect the growth to continue up to $100,000.
Bitcoin News
Bottlepay tipping service based on Lightning Network is officially out of beta. At the moment, it is available to Twitter users. According to the plan, soon BTC tips will be enabled on Reddit, Discord, Twitch, Telegram and Mastodon.
Enough for the Bitcoin digest, let's see what was happening with the market in general!
Altcoin News
Grayscale has opened new trusts for more altcoins: Basic Attention Token, Chainlink, Filecoin, Decentraland and Livepeer. All these assets reacted with booming growth.
Binance Smart Chain DEX protocols PancakeSwap and Cream Finance were attacked this week. The attackers used phishing to replace their websites with a copy which was used to steal private keys from users. The access was restored but it is unknown if any users had lost access to their wallets.
Business Cryptocurrency News
The next in line to become a publicly traded cryptocurrency exchange is reported to be Kraken. The same intentions were expressed by Gemini, eToro and Bakkt. However, investors will have to wait at least until 2022 to own Kraken stock.
Meanwhile, Hong-Kong based tech company Meitu is taking some notes from MicroStrategy. Meitu has purchased 16,000 ETH and 386 BTC in addition to their existing investments in these currencies.
Cryptocurrency News on Adoption
American bank Morgan Stanley started offering access to Bitcoin trusts to some of their clients. The trusts the bank works with are run by Galaxy Digital, NYDIG and FS Investments. Morgan Stanley restricted access to the option for its clients with a balance below $2 million because of BTC's volatility.
Visa CEO Al Kelly shared some ideas about the company's crypto strategy on the "Leadership Next" podcast. Not only does he see adoption of cryptocurrencies in the future but also confirmed the company plans to actively participate in it. The payment company intends to make on- and off-ramping easier and let clients buy Bitcoin on Visa credentials.
Cryptocurrency News on Regulation & Politics
In meeting with the attorney's general office, Russia's President Putin underscored the importance of preventing cross-border transfers of illegally acquired cryptocurrencies. In his words, the borderless nature of cryptocurrencies attracts "criminal elements". Meanwhile, Chainalysis reports show the opposite: according to their data, the criminal use of cryptocurrencies is on decline.
Bitcoin Suisse AG was denied Swiss banking license. This will not have an impact on their current services, such as crypto taxes. However, the company will not have regulatory certainty yet nor will be able to offer services related to banking.
Twitter Crypto Digest
I'll bet you an ounce of gold that one bitcoin will be worth more than $100,000 within the next year. I will, of course, convert all my winnings to sats.

— Spencer Schiff (@SpencerKSchiff) March 17, 2021
Gold bug Peter Schiff's son, Spencer, unlike his father, is a Bitcoin proponent. Not the first time they argue about it on Twitter, but this time, it ended on a bold bet. It really would be interesting to see how this bet plays out.
Blue Checkmark and Scams in the Cryptocurrency Space https://t.co/3HxqsuVi6B

— Charles Hoskinson (@IOHK_Charles) March 16, 2021
Charles Hoskinson recorded a lengthy video, in which he talks about crypto scams on YouTube. This is a well-known scheme when the criminals impersonate official representatives of projects and claim to hold (fake) giveaways. Ripple's Brad Garlinghouse was involved in a legal dispute over this issue for years but both sides settled only recently.
Actually, doesn't feel quite right selling this. Will pass.

— Elon Musk (@elonmusk) March 16, 2021
Everyone and their mother is trying to get into NFTs, it seems. It was obvious that CEO… sorry, Technoking of Tesla Elon Musk would do that, too. In the end, though, he decided not to sell it, probably just because he would not need the proceeds.
Influencer of the Week
People are spending lots of money buying #NFTs of things that are free to see online. Why?

This is @jamie247's theory — what's yours? pic.twitter.com/o88YJNZqVb — Laura Shin (@laurashin) March 16, 2021
Laura Shin is the host of Unchained Podcast and a celebrated crypto journalist. This week, she hosted Jamie Burke of Outlier Ventures and Mason Nystrom of Messari to discuss the NFT trend.  In her upcoming podcast, her world-famous guests Willy Woo and Peter Brandt will be discussing technical analysis in trading cryptocurrencies. This one would be sour to miss out on!
Top Crypto Digest
The total market stats change this week reflect what we described in the Bitcoin digest. The capitalization is up, and the decreasing BTC dominance hints at capital flowing into altcoins. At the moment of writing the crypto digest, the general market stats are:
Total Market Cap: $1,795,691,106,750 (+6.48%);
BTC Dominance: 60.7%.
7d Top Coins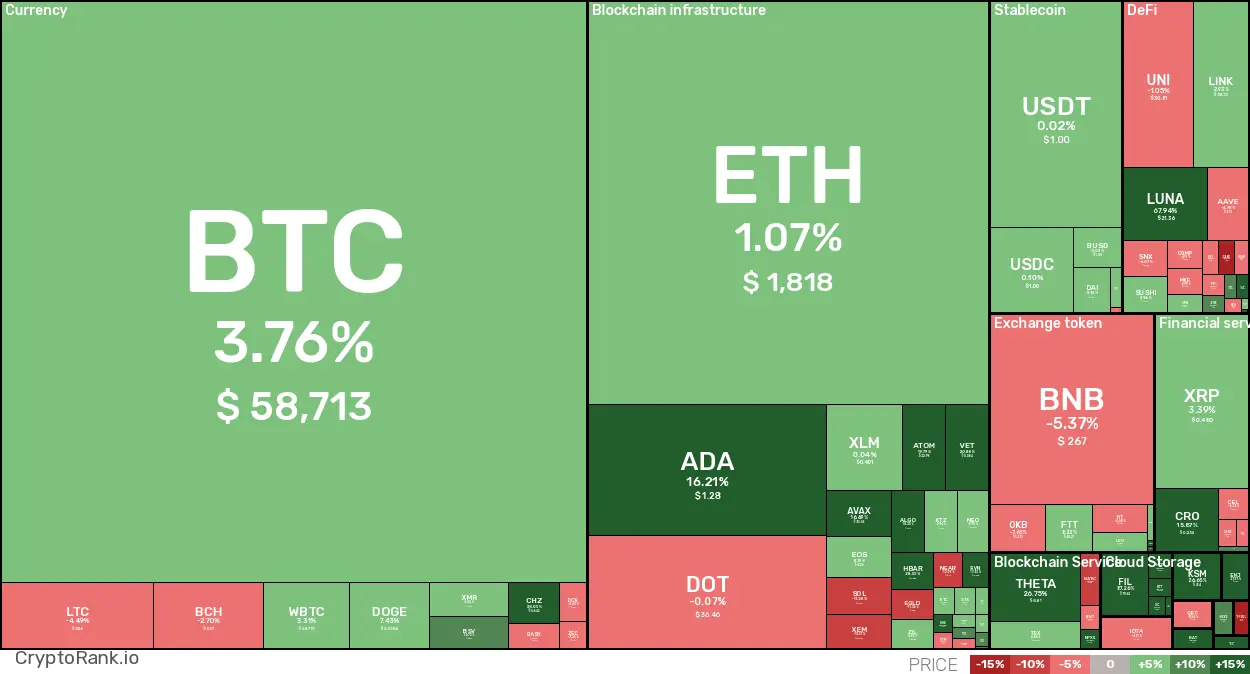 Ultimately, this week did not see any dramatic action on the crypto market. At the moment of writing this crypto digest, the 7-day change of the top currencies is as follows:
Gainers of the Week
Which altcoin has the most potential? Keep an eye on the news! The top-three blowing up at the time of writing the crypto digest are:
Key Takeaways
The summary for Bitcoin digest and news is: the price reaches new records ($61,788.45), it gets more attention. News about large investors, banks and more widespread adoption dominated the headlines this week as well.
Altcoins got to see some positive action. Grayscale listed five new altcoins for institutional investors' exposure: LINK, BAT, FIL, MANA, LPT.
Attacks on DeFi protocols continue even on Binance Smart Chain. This time, the targets were Cream Finance and CakeSwap, the TVL of which is on par with Uniswap's. Probably related fact is that BNB is in the red this week, too.
Russia could be getting ready to crack down on cryptocurrencies. In 2020, it was rated to have one of the highest degrees of crypto adoption in the world.
In contrast, Visa is planning to open up doors for cryptocurrencies. The CEO Al Kelly shared plans to let users buy cryptocurrencies even more reliably with Visa. Similarly, MasterCard has been on record uncovering their crypto expansion strategy.
Conclusion
At the end of the day, most of the news was pointing in a positive direction. Bitcoin and by proxy all cryptocurrency markets are gaining steam in the mainstream. Drop by our blog next week for the next crypto digest! Live updates and news can be found on our Twitter, Facebook, Reddit and Telegram.