One of the most noteworthy Ethereum alternatives that has solidly carved its niche in the crypto market is Cosmos. Like it or not, it also helped create a lot of popular altcoins. Its native token ATOM has just gained a massive boost to its value due to recent updates. Read our Cosmos price prediction to learn more about it and see how the price is expected to react in 2023 and the next years.
All Cosmos Price Predictions: 2023-2033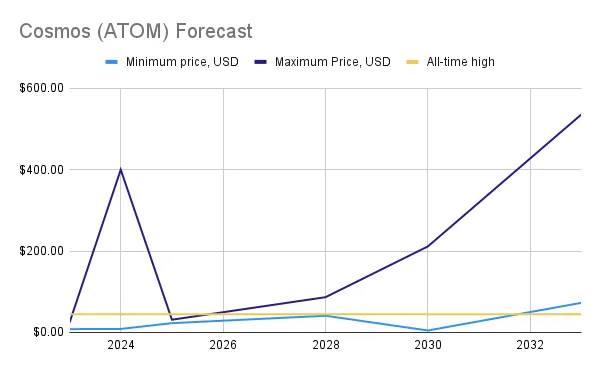 The degree of confidence that ATOM can beat its ATH is overall high. Some experts believe it can happen as soon as in a year and a half;
Even forecasts on the bearish side predict a bright future for ATOM. The probability of Cosmos making it to double-digit figures is high but it still can dip even in the long term;
Bullish Cosmos price predictions are very confident. By 2030, it should be able to enter a triple-digit figure zone, according to optimistic forecasts.
What is Cosmos Crypto?

The idea behind Cosmos is to provide an open-source platform for the multitudes of blockchain applications (from simple monetary systems to virtual machines) that will be uniformly secured by a common algorithm. The Cosmos blockchains are called zones, and the central zone, called the Cosmos Hub, is secured with the Tendermint BFT algorithm. The Tendermint consensus uses voting to propagate blocks and appoints a round leader or proposer from a list. Then it puts out a set of transactions for inclusion in the next block, and the rest of the validators vote on it.
However, voting on block inclusion is not the only option for validator nodes: they can determine block gas limits, and coordinate updates or changes to the constitution of the Cosmos Hub. As a result, each zone allows for a separate governance mechanism and constitution.
The hub and zones communicate with the help of inter-blockchain communication protocol (IBCP or IBC protocol). The Hub keeps track of all tokens in the hubs, and transfers between zones go through it, which eliminates the need to track liquidity in the zones. Each zone can operate on its own rules or emulate an existing blockchain network, but existing blockchains use different programming languages. To make sure applications connect with the blockchain, Tendermint makes use of the application blockchain interface (ABCI).
With ABCI, it is possible to set a boundary between the replication and the state machine (the code that dictates behavior in defined scenarios). For example, if we put Bitcoin on Cosmos, the blockchain would set the canonical order and share data between nodes and ABCI would maintain UTXOs and prevent double-spending.
What is more, the so-called bridge zones connect the Cosmos network to the existing blockchains and appropriate contracts on another blockchain. The governing contract would keep track of all tokens deposited and withdrawn from the bridge. Therefore, whether the bridge zone is working as intended and is accountable for it is up to the validators of that zone.
This article assumes you are familiar with Cosmos (ATOM) already. If not, feel free to catch up on the topic in more depth and learn more about the history or tokenomics of ATOM with our Guide to Cosmos before seeing our Cosmos price prediction.
Cosmos Historical Price Performance
ATOM Price in 2019–2021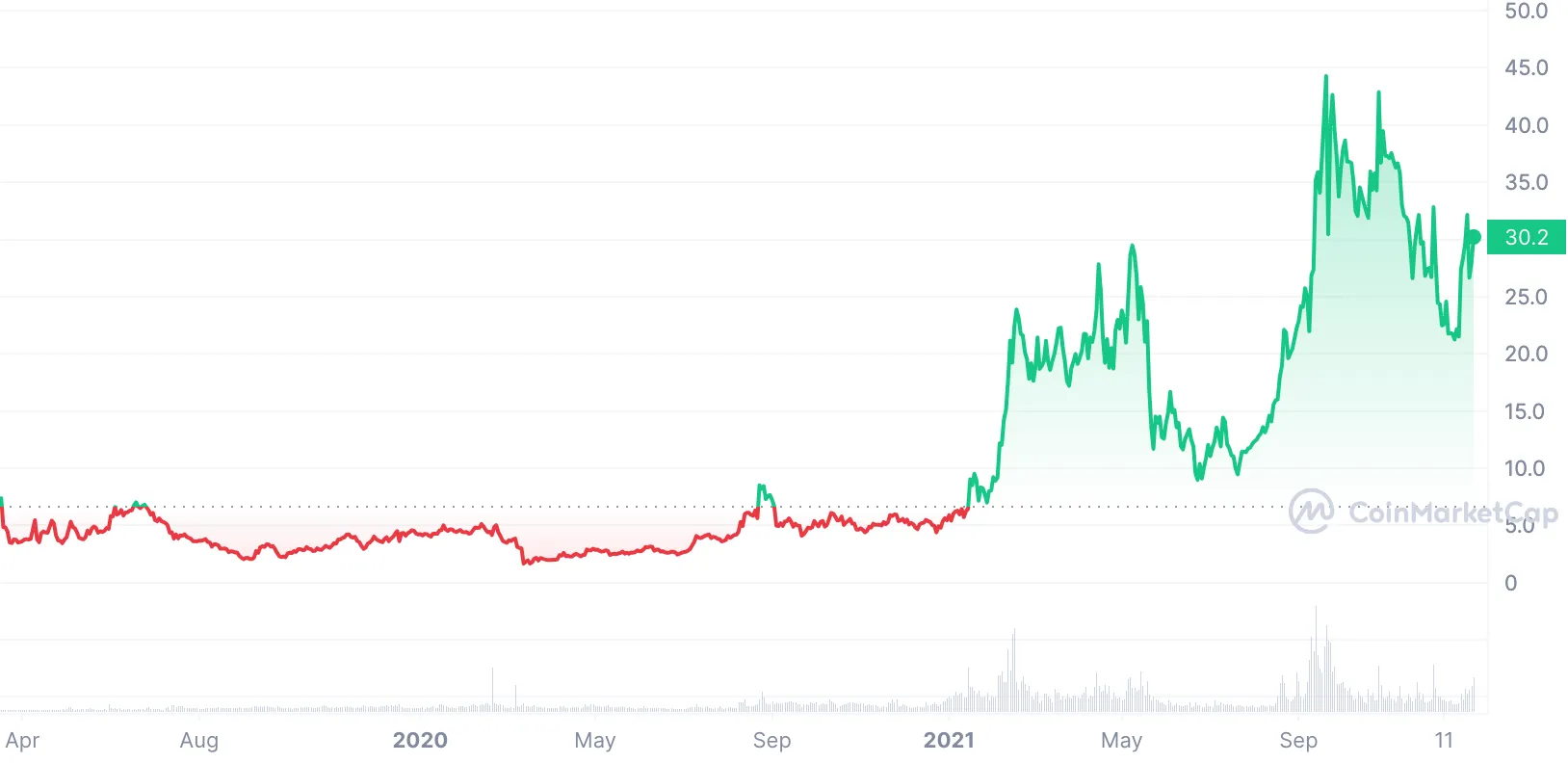 Cosmos is a project that traces back to 2014, if we start with Tendermint Inc. ATOM coin presale was held the following year after the Cosmos whitepaper was published, in 2017. In the ICO, ATOM was worth about $0.1 apiece. It took until 2019 for Cosmos Hub and ATOM to become publicly available.
Cosmos had a very specific initial supply: 260,906,513 ATOM. Of this amount, 80% went to investors and 20% was set aside for Interchain Foundation (ICF) and All in Bits. There is no hard limit on the total supply of ATOM, and it is released into circulation through staking rewards.
The ATOM price dropped under the selling pressure on launch in 2019. It started changing hands for $6.6 and quickly dipped to $3.5. The crypto market was going through a consolidation phase in 2019 and 2020. At that time, ATOM's price oscillated between $6.8 and $1.9, which is a wide range but was overshadowed by what was coming.
In late 2020 and most of 2021, the crypto market was on a bull run. In September 2021, during the second leg up, ATOM managed to break out and reach its historic all-time high price. On September 20, 2021, ATOM cost $44.70. Alas, what goes up must come down, so the market euphoria soon started to fade.
ATOM Price in 2022–2023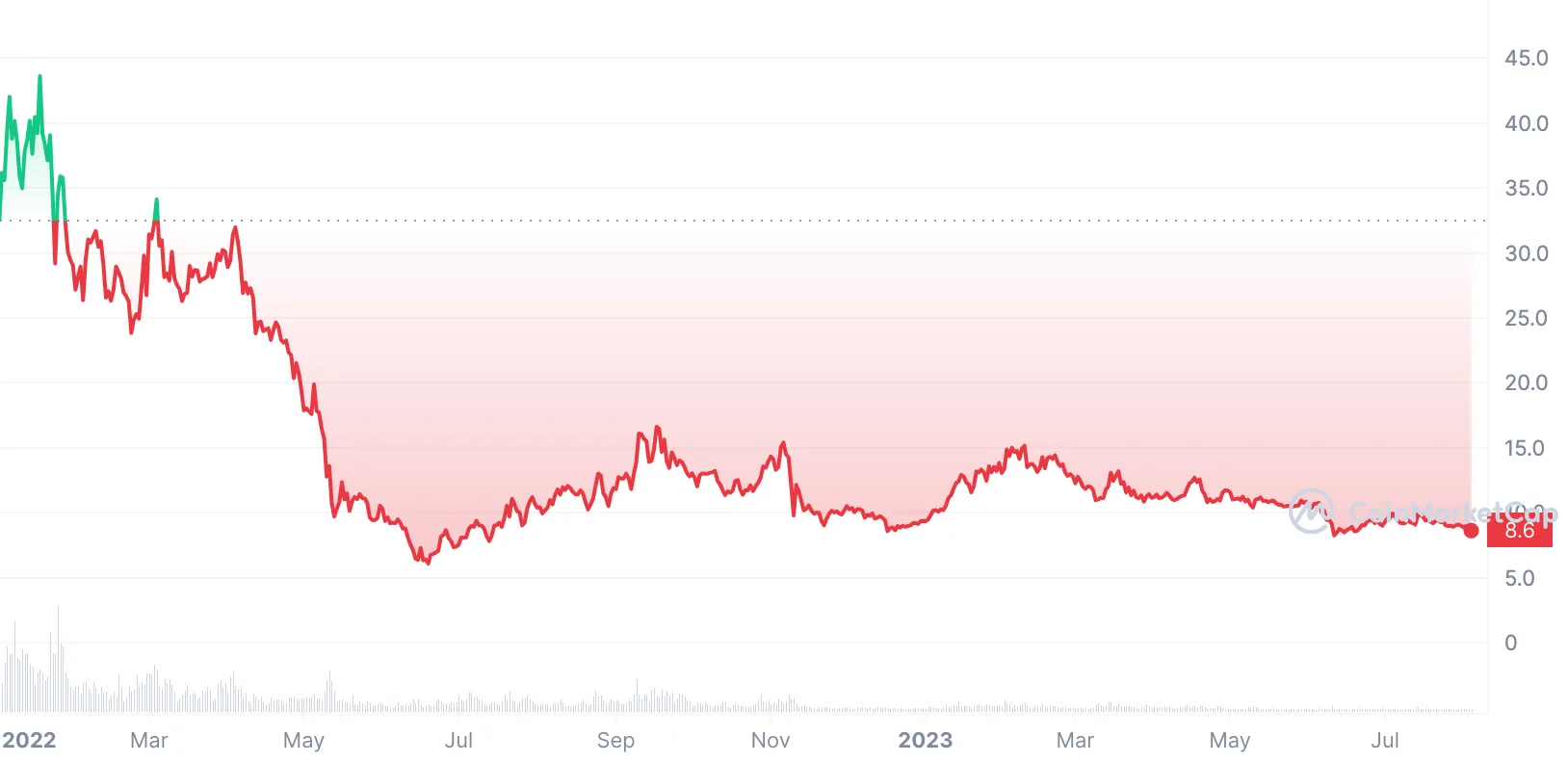 In the cryptocurrency market cycle, 2022 became what is known as the "crypto winter". For the first half of it, ATOM was locked in a downtrend which became a full avalanche in May 2022. The culprit was the now-infamous Cosmos-based Terra platform with LUNA and UST. In that month, ATOM lost a significant amount of its value: from $32 in April, by June it was worth $6.46. Due to this crash being by pure association, Cosmos entered recovery almost immediately but it was stopped again by another crypto crash in November.
2023 does not seem to be as bullish for Cosmos as it is for some other altcoins. It oscillates between $15.15 and $8.25, and despite this range being quite wide, once again it looks like an accumulation phase.
The current price of ATOM at the time of writing is $8.66 and the token ranks 25th by market capitalization (according to CoinMarketCap).
What affects the Cosmos price?
Network Updates
Cosmos and ICF have the reputation of being persistent builders. Be it a bull or bear market, you can expect updates and new features to be shipped to Cosmos Hub and its ecosystem.
This March, the community greenlit the v9-Lambda update and upgraded the blockchain network. Among the new features is interchain security, a mechanism that will let side chains use Cosmos Hub validators for a fee. With ICS, side chains will no longer need to bootstrap their own validator set prior to launch. Most recently, ICS was adopted by Cosmos-based liquid staking operator Stride.
Updates like these are welcome by the community, who are very eager for the "pent-up innovation" to help Cosmos find its way into the spotlight.
Ecosystem Updates
The aforementioned reputation of builders is upheld not just by the Cosmos Hub contributors. By now, Cosmos has established a robust ecosystem that includes some of the popular blockchain platforms and projects: Cronos, Injective Protocol, and once-popular Terra, too. They achieved this by offering tools and means for blockchain developers, such as the Cosmos SDK.
More players join the Cosmos ecosystem on a regular basis. Most recent arrivals include Gateway by Wormhole, dYdX, and Circle's USDC.
Updates to Cosmos-based projects improve confidence in the network, too. Kava, an L1 on Cosmos, became the latest new blockchain to host USDT. In other news, Osmosis, which is the largest DEX in this ecosystem, recently updated to introduce concentrated liquidity. These are just a couple of examples of things happening in the Cosmos's "Internet of Blockchains".
Crypto Market Climate
Another factor to consider when analyzing the price action in Cosmos is the big picture. By that, we mean not just the price trends of major cryptocurrencies, as mentioned earlier.
Cosmos is facing dire competition from Ethereum and other smart contract platforms. It's true that due to lower transaction fees and easier deployment, Cosmos attracted plenty of developers. Nevertheless, it remains far behind Ethereum in terms of adoption, and even the staunchest Cosmos proponents admit it.
Another factor to consider is the legal status of ATOM, as more and more cryptocurrencies are probed on the grounds of being unregistered securities. ATOM was even mentioned in the U.S. SEC's lawsuit against Binance, and the team apparently mulls over the need to have a legal representative to combat these claims.
Cosmos Price Analysis and Forecast by ChangeHero
So, on the one hand, we have a coin with strong fundamentals but on the other hand, the price action in ATOM has been underwhelming lately. It has repeatedly failed to overcome the resistance of $9.858. The relative strength index (RSI) suggests that the trend is not yet poised to get reversed, as the trading volumes are relatively low and the RSI stays below its SMA.
However, as we have seen in the previous section, the news about positive developments on Cosmos comes in rather often. If it does attract trading volumes and stir the price action up, aside from the already mentioned resistance level, the next one at $10.869 is worth keeping an eye on, as it has been previously a well-established support level.
Cosmos (ATOM) Price Prediction 2023
What will ATOM be worth in the near future? Let's hear what analysts think.
In the Cosmos price prediction for 2023 by Traders Union, they provide a maximum price target of $16.634 and a minimum price target of $11.743. That makes the average price $14.188.
Michael William G., writing for Watcher Guru, provides a measured scenario for Cosmos (ATOM) in the short term. He believes the price will fluctuate between the minimum value of $8.45 and the maximum price of $9.08.
Lastly, their colleague David Cox at CryptoNewsZ gives the biggest range that ATOM can possibly trade within. Does a minimum price of $8.25 and a maximum price of $24.38 make sense to you? We would believe it!
ATOM Price Prediction 2024
The host of the Cryptocito YouTube channel does a thorough review of the tokenomics and fundamentals of ATOM. He especially highlights ICS as a factor that will help increase ATOM's value. With this in mind, he suggests that in the next cycle, ATOM should be able to reach $350–400.
Coin Republic's expert Nancy J. Allen claims that before reaching the $15 mark, ATOM would have to regain $10 first. Despite the closeness of these levels to the current ATOM price, she sees this happening by 2024.
An algorithmic forecast by CoinCodex is more bullish on OP in the longer term than short-term. In a year, its expected price is $8.65. Other ATOM predictions for 2024 include a minimum price of $7.06 and a maximum price of $10.54.
Cosmos Price Forecast 2025, 2028
Expert opinions and estimates are good for the near future. The further we try to look into the future, the more reliable it is to turn to algorithms that use historical analysis.
PricePrediction.net keeps expectations reasonably high. According to their ATOM price prediction, in 2025 its price range will grow to be between $22.86 and $27.61. In five years, ATOM will be trading for $73.64–86.65.
Another algorithm employed by Bitnation is similarly bullish on Cosmos. They see the average price of ATOM rise to $30.26 in 2025 and further to $56.19 in 2028.
Digital Coin is not bearish on Cosmos forecast either but is the most moderate out of the three. According to their estimations, on average, ATOM in 2025 will be worth $30.84. Five years from now, it can cost anywhere from $41.04 to $46.80.
Cosmos Crypto Price Prediction 2030, 2033
For the Cosmos price forecast at the end of the decade and even ten years in advance, let's refer to historical and algorithmic analysis.
AMBCrypto is bullish on the price of ATOM, predicting decent gains. In 2030, its price range will move up to $63.18–94.78, and by 2033, a whole decade from now, they see Cosmos trading above $140.55 and even rising up to $210.83. While it may seem modest for so long in advance, it is worth remembering that ATOM is an inflationary token, so these figures are in line with the supply dilution.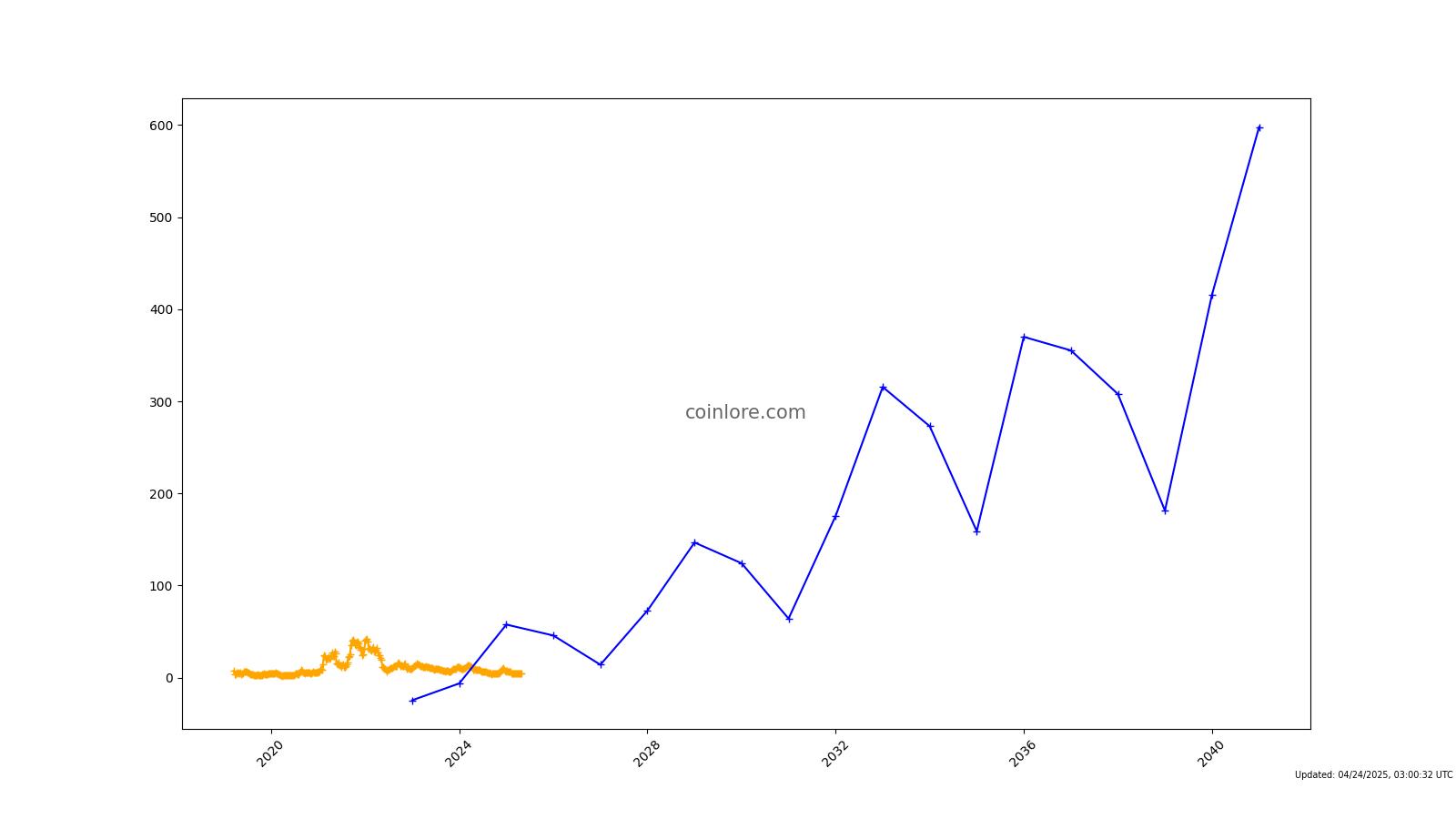 CoinLore's forecast goes the farthest in time, all the way up to 2050. It's balanced out by the relative imprecision of their price ranges. For instance, in 2030 they see ATOM being worth up to $100.19 but dipping to $4.82 at the minimum. A similar picture is painted for 2033: the maximum value of ATOM will reach $225.50 or at the very least, rise to $72.81.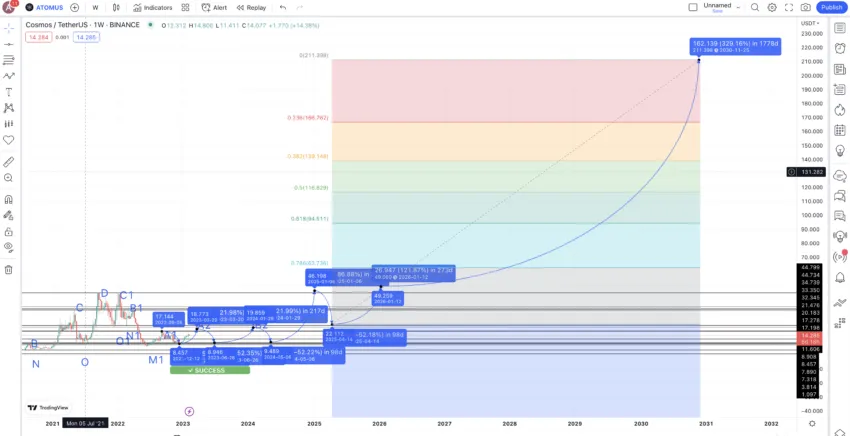 A trend charted by CoinLore may seem random at first but the analyst of BeInCrypto plots a similar trajectory for Cosmos (ATOM). As a result, by 2030 it should arrive at $211.40 and go further to $418–535.90 in 2033.
How to Buy Cosmos (ATOM)?
Neither the cosmos nor atoms can belong to anyone in the material sense but you can swap any crypto for Cosmos (ATOM) on ChangeHero! Get ATOM at the best rates, in a few steps without obligatory KYC or registration.
Choose the currencies on the home page, amounts, and the type of exchange. Provide your wallet address in the next step and check the amounts;
Double-check the provided information, read and accept the Terms of Use and Privacy Policy;
Send in a single transaction the cryptocurrency you will be exchanging. Fixed Rate transactions have a 15-minute limit;
Done? Now we are doing all the work: checking the incoming transaction and doing the exchange as soon as it arrives. The Best Rate transactions will use the rate current to the time when your funds arrive. The Fixed Rate will use the rate at the time of step 1;
As soon as the exchange has been processed, your ATOM is on its way to your wallet.
The support team is here to help you 24/7, and in any case, reach them in the chat on the website or through the email: [email protected].
Conclusion
Cosmos is long due for a breakthrough, at least, according to its users. Will it blow up to its fair value anytime soon, though? This remains to be seen.
Share what you think about these predictions on our Telegram, X (Twitter), Reddit, and Facebook, and subscribe so as not to miss out on any news! For more content to explore the crypto world, take a tour of our blog.
---
Frequently Asked Questions
What will Cosmos be worth in 2030?
ATOM's projected price in 2030 varies between sources, with targets ranging from $4.82 to $211.40.
Will Cosmos ATOM reach $100?
Some of the reviewed Cosmos price predictions see it rising above the $100 mark by 2030. Most bullish estimations predict it will happen even sooner, in a 2024–2025 bull run.
How much will Cosmos be worth in 2025?
The projected price range for ATOM in 2030 varies depending on the source, with targets ranging from $22.86 to $31.29.
Disclaimer
This article is not a piece of financial or investment advice. No price prediction is guaranteed to provide exact information on the future price.
When dealing with cryptocurrencies, remember that they are extremely volatile and thus, a high-risk investment. Always make sure to stay informed and be aware of those risks. Consider investing in cryptocurrencies only after careful consideration and analysis of your own research and at your own risk.
Learn more:
Quick links: