There's only a couple of months left in 2021, and the crypto market is going crazy again. It is high time to ask yourself, "What is the next big cryptocurrency to invest in 2022?" Our new list of top cryptocurrencies to hold in 2022 is here to help you in your research!
Key Takeaways
There is no single best crypto to buy or hold in 2022, as you could expect. It's unlikely Bitcoin will give up its leadership yet so holding it goes without saying;
Nonetheless, Ethereum as well as its alternatives: Binance Smart Chain, Solana, Avalanche — will see a lot of use next year as well;
Other categories you could be looking at are Ethereum scaling solutions (Polygon), enterprise solutions (Stellar), privacy coins (Monero) and content platforms (Audius, Verasity).
Best Cryptocurrencies to Hold in 2022
Bitcoin (BTC)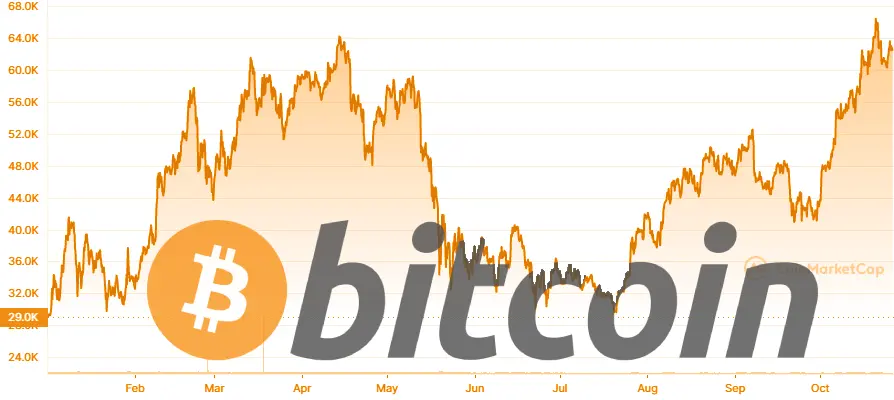 Bitcoin needs no introduction: this is the first cryptocurrency protocol for decentralized peer-to-peer value transfers. Even if you are not deep into crypto, holding BTC is the most reliable call. 2021 started on a high note, at $29 thousand, and over the course of the year it more than doubled up to 115% at the moment of writing. On October 20, it reached a new ATH of $66,930.39, and many believe it is only the start to the second leg up of the bull run. Holding Bitcoin goes without saying — but what about maximizing profits and diversifying portfolio? Check out our ideas on what altcoins could become the next cryptocurrency to explode in 2022!
Ethereum (ETH)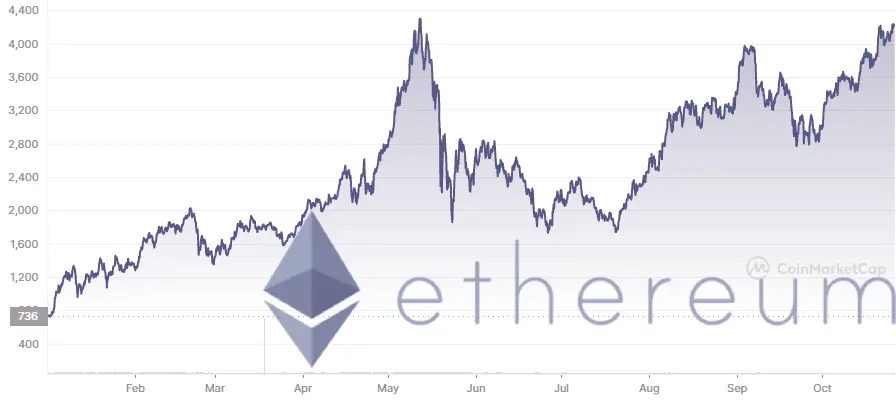 Ethereum at this point barely needs an introduction: it is a cryptocurrency platform second only to Bitcoin. Smart contracts, which make it programmable, enable a massive network of use cases: tokens, stablecoins, DeFi, non-fungible tokens. In 2021 so far Ethereum has beaten its all-time highs several times, most recently on October, 21, reaching $4,366.09. Its valuation increased by 470.71% in comparison to the opening prices on January 1, 2021. What makes Ethereum one of the best cryptocurrencies to buy in 2022? Aside from the organic growth that can fuel the long-term appreciation, there is the merger with Ethereum 2.0 coming that year. The merger will, most importantly, switch the network from Proof-of-Work to Proof-of-Stake algorithm. This will change the economics of the network, transferring governance from miners to stakers, as well as help make Ethereum more scalable and sustainable.
Binance Coin (BNB)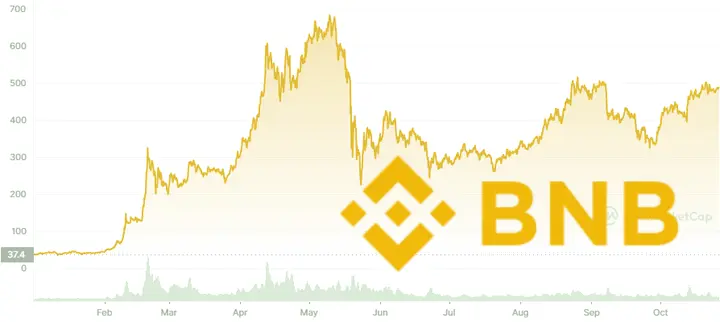 Prior to 2021, it was hard to imagine Binance Coin will become one of the main competitors to Ethereum. Binance Smart Chain (BSC) changed everything, providing an alternative to Ethereum which did not have exorbitant network fees. The success of DeFi on BSC was reflected in the BNB's price: in comparison to the opening of 2021, BNB is 1200% up. It even broke its previous ATH on May 10 at $690.93. But if Binance is now in a shaky regulatory position, why is BNB in the top cryptocurrencies to hold in 2022? The developments in Binance's team make it clear that BNB is in for the long haul: they are hiring top-class specialists in AML and compliance. We will have to wait at least until December and yearly address to learn more about what to expect from the Binance ecosystem in 2022. But even now it is clear that it will keep growing, giving BNB more use cases.
Solana (SOL)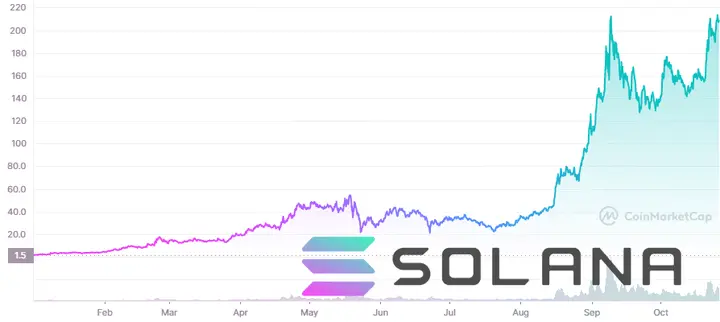 Another hit from 2021, Solana****, has all chances to keep rolling and be one of the best cryptocurrencies to buy in 2022. Solana, like Ethereum and Binance Smart Chain, hosts decentralized applications and smart contracts, but has even lower fees and greater speeds. If you were impressed with the gains of previous coins, wait until you see how much Solana grew in 2021: 13,662%! It would take a miracle for such a pump in 2022 to be repeated but expecting a continuation of the uptrend is reasonable. Like Ethereum, Solana renewed its record price on October 25: $218.73. The trends in these cryptocurrencies are similar but not always, so to multiply gains it's advised to diversify. There have been no announcements for major upgrades to Solana yet. The team now seems to be focusing on onboarding users and products and with the breakneck speed at which it is happening right now, the next stage may come as soon as in 2022.
Shiba Inu Coin (SHIB)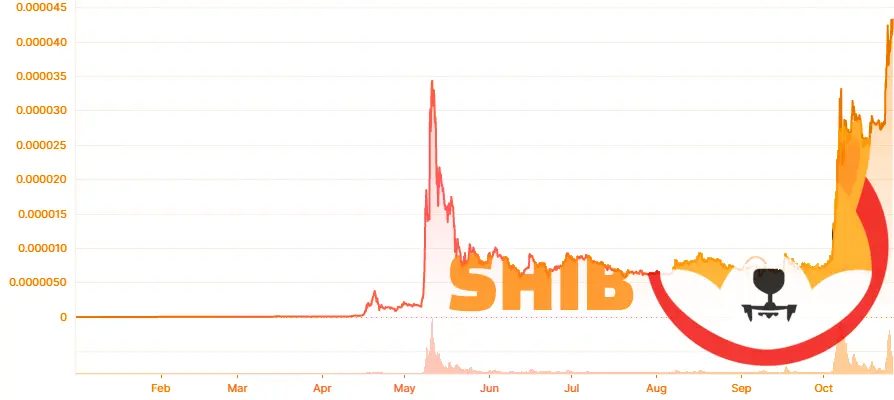 Okay, hear us out: meme coins showed their potential in 2021, so why not hold some for 2022? But then you might ask, why did the Shiba Inu coin make it into our top cryptocurrencies to hold in 2022? The Shiba Inu community is even more populous than most crypto communities, and it is the main driving force of SHIB. In 2021 SHIB gained an impossible 481,000%. Will Shiba Inu reach 1 cent if it keeps growing like this? Not to bring your hopes down but it would require an amount 2,7 times greater than the entire world economy in 2021. The latest version of the project's WOOFpaper teases more updates to the NFT incubator and DEX. If all goes well, 2022 might as well be the year these major updates ship.
Avalanche (AVAX)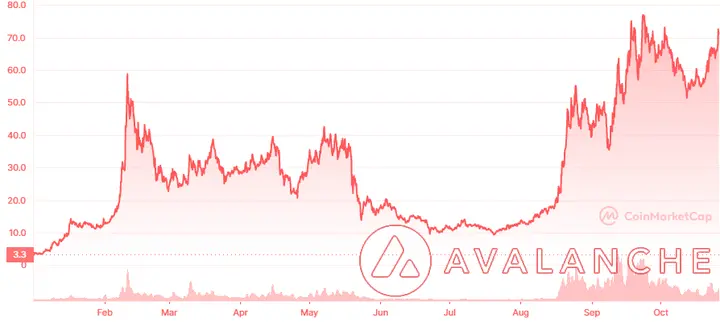 Avalanche is another programmable network which stands out thanks to its one-layer, three-chain architecture. Separating exchange, contracts and subnets to dedicated chains makes Avalanche fast and scalable. In 2021, Avalanche integrated SushiSwap and TrueUSD but the true breakthrough was not thanks to DeFi. In August, NFTs on Avalanche became even more popular, bringing in Jason M Peterson and Major Baseball League. Throughout the year, AVAX grew by 2,005% from $3.3 at the start to $69.43 at the time of writing. The concrete plans for 2022 are under wraps but at the same rate, AVAX will continue to be one of the top cryptocurrencies to hold in 2022.
Polygon (MATIC)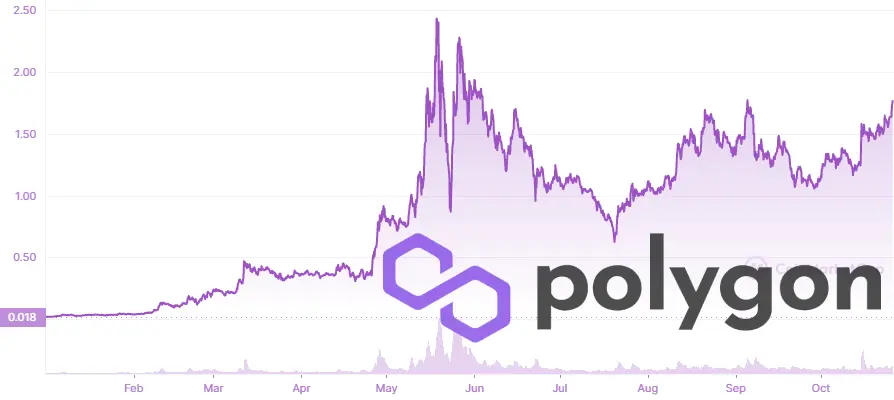 In 2021, Matic Network, a Plasma Ethereum scaling solution, expanded its scope and became Polygon. Polygon SDK lets developers use Optimistic rollups and ZK chains, which are various types of scaling solutions for different applications. With the help of rebranding, Polygon token which kept the MATIC ticker, grew by 10,011% in 2021 so far. What about next year and why Polygon is one of the best cryptocurrencies to buy in 2022? Until the Proof-of-Stake shift, scaling solutions such as Polygon are the only way to use Ethereum at better transaction speeds and fees. The shift is a major undertaking and may not even arrive in 2022. But what if it does? Then either Polygon will present an opportunity for bear traders to make money or adapt and continue providing value for holders. Either way, a win-win.
Stellar Lumens (XLM)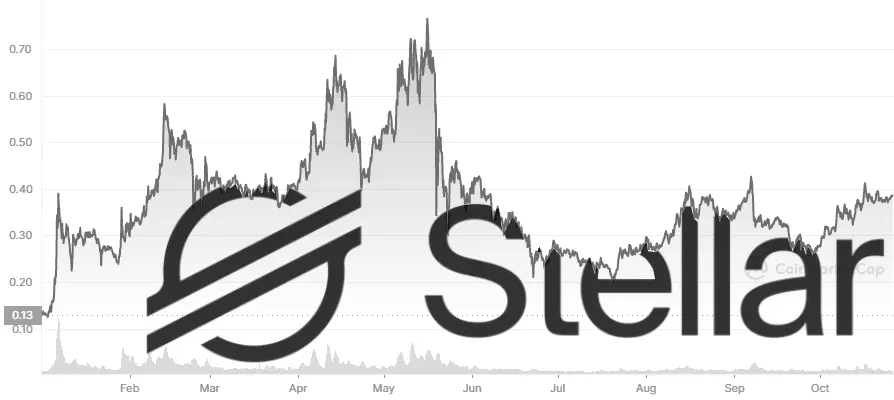 Stellar Lumens is a fork which further improved and decentralized XRP's model, and like the original it can be used in financial applications. Unlike with XRP, serving as a currency-agnostic intermediary between different fiat currencies is only one of possible uses of XLM. Lumens did not have absurd gains as some previous picks of the best cryptocurrencies to hold in 2022: it rose by 190% from the start of the year to date. However, there is a solid reason to keep an eye on this coin in 2022. Stellar Development Foundation (SDF), which is helping with the development and adoption of the Stellar protocol, is helping the Ukrainian government with the CBDC. The SDF also struck a few important partnerships, with Moneygram and Flutterwave, to offer instant money transfers and onboarding thousands of clients to Stellar. Securing a large user base will ensure longevity of the project, and news like this will surely keep influencing the XLM price in 2022.
Monero (XMR)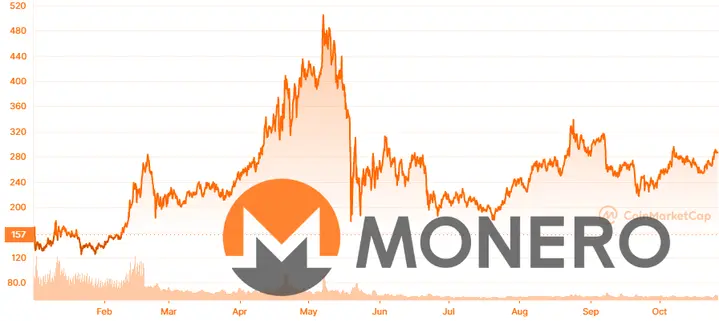 Do not overlook privacy coins when picking cryptocurrencies to buy in 2022. With CBDCs rolling out everywhere and governments demanding regulation, privacy is more important than ever. Monero is one of the oldest and most reputable privacy coins on the market. This is because it is not backed by any corporation and has all privacy features enabled by default. Monero's price in 2021 has not multiplied by thousands, either, gaining 81% so far. Its privacy features make it difficult to list it on exchanges, so speculation affects its price less. Monero does not have a defined roadmap for 2022 but its privacy-preserving properties make it a valuable asset for the world in which surveillance is encroaching on more and more facets of life.
Audius (AUDIO)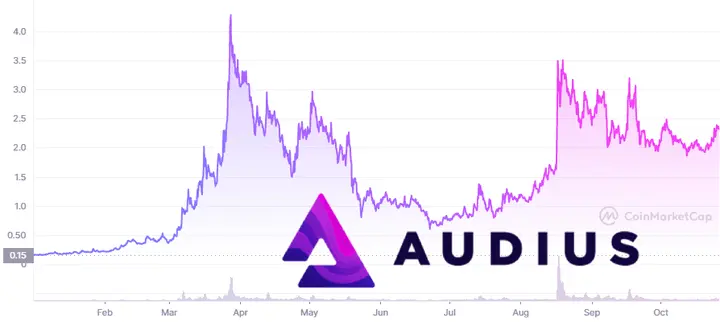 You might have heard about Audius from the news about integration in social and entertainment platform TikTok. Audius is a blockchain-based music streaming service that really blew up in 2021. Blew up how much exactly? By a whopping 1,406%! Having started the year at $0.15 it is now trading for $2.27. NFTs and blockchain are changing the music distribution industry. It is never a bad idea to join in on the paradigm shift early, so AUDIO can as well be in our top cryptocurrencies to hold in 2022.
Verasity (VRA)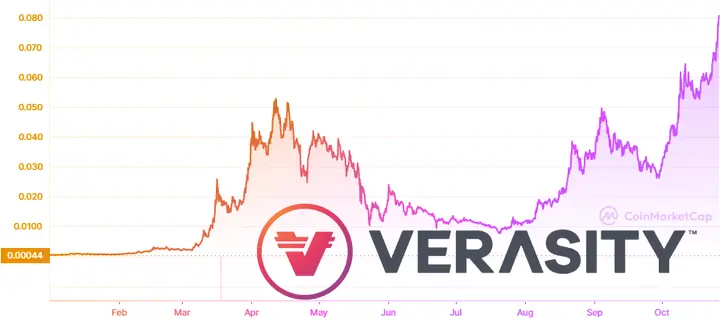 What Audius and other blockchain platforms are doing to the music industry, Verasity is doing to video streaming. As you could already guess, Verasity is a blockchain-based video streaming platform with particular focus on esports. The development of Verasity in 2021 accelerated the growth of the VRA token by 18,134%. In that time, Verasity delivered viewing rewards, CS:GO and Riot Games partnerships and, of course, NFTs. The reasoning behind VRA being in this top list of cryptocurrencies to hold in 2022 is the same as with Audius. Verasity rewards work with YouTube and Twitch but the main platform offering more and more with each update can cause its popularity to skyrocket.
How to Buy Them on ChangeHero?
You do not need to seek out the top cryptocurrencies to hold in 2022 all over the crypto exchanges and go through KYC on each of them. If you already have crypto, use it to buy them on ChangeHero, it's a walk in the park:
Choose the currencies on the home page, amounts and the type of exchange. Provide your wallet address in the next step and check the amounts;
Double-check the provided information, read and accept the Terms of Use and Privacy Policy;
Send in a single transaction the sum of cryptocurrency you will be exchanging. Fixed Rate transactions have a 15-minute limit;
All done? Now we are doing all the work: checking the incoming transaction and doing the exchange as soon as it arrives. 

The Best Rate transactions will use the rate current to the time when your funds arrive.
The Fixed Rate will use the rate at the time of step 1;

As soon as the exchange has been processed, your coins are on the way to your wallet. 
ChangeHero's customer support is available 24/7 in the chat on our website or through the email: [email protected].
Conclusion
There is no definitive answer to what is the best cryptocurrency to invest in 2022, because diversity is key. Anyway, we hope our list helped you understand what currencies you want to hold in 2022; we'd love to hear your ideas, too! Even more crypto projects are covered in detail in our blog. Feel free to follow our pages on social media: Twitter, Facebook, Reddit and in Telegram.
Disclaimer
This article does not constitute financial or investing advice. No price prediction or forecast is guaranteed to provide exact information on the future price. Past performance is not indicative of future results. When dealing with cryptocurrencies, remember that they are extremely volatile and thus, a high-risk investment. Always make sure to stay informed and be aware of those risks. Consider investitions in cryptocurrencies only after careful consideration and analysis and at your own risk.
Quick Links