A lot of us are going to need a summary of what is even happening on the market and why exactly Bitcoin is down. Is it Elon Musk again? Could it be China banning cryptocurrency (spoiler: not really)? We find the answers in the weekly crypto news digest by ChangeHero!
Key Takeaways
Bitcoin and the whole market are in the red: in the 7-day frame, market capitalization and Bitcoin are down about 20%. Bitcoin is being traded at approximately $40,000;
Possible reason that Bitcoin price went down to $30,000 is the news that China banned institutions and payment providers from offering cryptocurrency services;
A lot of buzz was generated from the announcement of a blockchain-based show from the Rick and Morty creator and Instagram NFT marketplace rumors.
Latest Crypto News Digest
Bitcoin Digest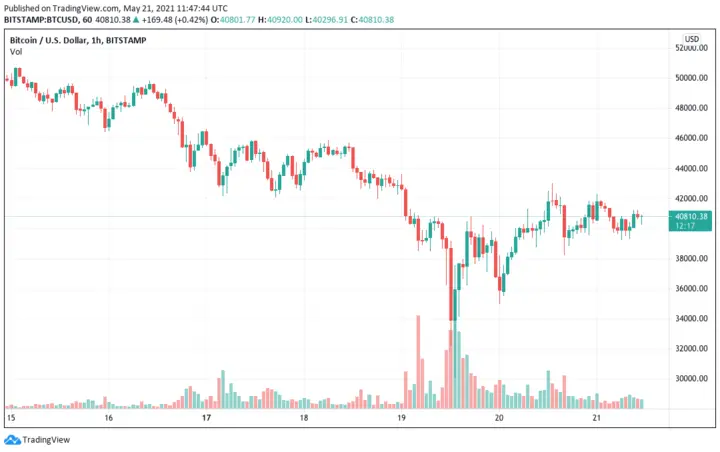 Bitcoin drew a second red weekly candle in a row after consolidating in the $48,000 — $60,000 range. The weekend was the last time BTC price attempted to breach the resistance at $50,000. After that, the bears seemed to have the full initiative, and the price even crashed to $30,066, but recovered somewhat now.
Will Bitcoin ever go back up? Bearish pullbacks are not unusual even in a bull market, and the previous rallies had similar dips, too. The price could bounce back up soon, and the long-term models like S2F are positive as well.
Bitcoin News
Meanwhile, miners and developers pay no attention to the market. As of today, 86.04% of miners signal approval of Taproot activation. As previously covered, Taproot will enable more second-layer solutions like SegWit did for Lightning Network.
Meanwhile, Bitcoin price is not the only thing dropping. BTC's hashrate has decreased 20% as Sichuan miners were ordered to stop operations because of a dry rain season. Usually, May and June are a rainy season, and Sichuan miners use excessive hydroelectric power, which is in deficit this year.
Altcoin News
In Ethereum news, the developers disclosed a critical bug that could potentially slow down the whole network. In essence, it was possible to trigger random lookups of the state for any client. It has been present since at least March 2019, but with the Berlin hadfork this bug has been fixed.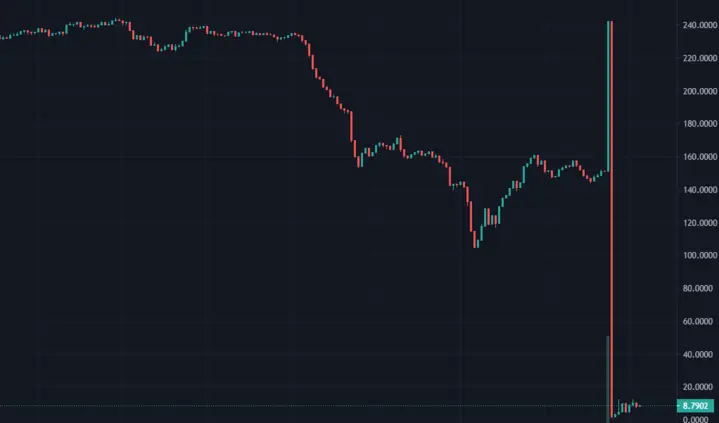 Binance Smart Chain had a less optimistic week, though. PancakeBunny protocol, which accounted for $1B total value locked prior to the incident, became a target of a flash loan attack. With the major losses, it is now possible Binance will consider a rollback.
Business Crypto News
Wells Fargo, a large American bank, is reported to introduce a cryptocurrency fund for qualified investors. The Wells Fargo Investment Institute evaluated digital coins as a viable but risky investment, hence the limitation.
The Bank of America Corporation is another institution that made a crypto-friendly move this week. With Paxos Trust, they are planning to improve settlement times for stock trades.
MicroStrategy buys BTC so regularly that it is hardly news anymore. But this time they bought some extra on the dip in addition to averaging. The $10 million purchase bought them 229 extra BTC to the 92 thousand BTC they already own.
Crypto News on Adoption
Rick and Morty creator Dan Harmon announced a new show which will be a part of FOX's crypto strategy. NFT tech is going to be involved in the distribution and the marketing of the series: Fox is planning to run a curated marketplace for the show. Called "Krapopolis", it will take place in the Ancient Greece-like setting and focus on a family running the city.
Regulation & Politics Crypto News
The major news of the week came from China, which reportedly stopped financial institutions from accepting cryptocurrencies. Payment providers were also banned from processing crypto payments. Quickly labeled as a "Bitcoin ban", it contributed to the fall of Bitcoin's price.
Iran, where the cryptocurrency circulation is not banned but heavily regulated, is cracking down on illegal mining. Only 13% of the country's miners are licensed, and if a miner is caught using household electricity, there will be a heavy fine.
In the USA, President Biden's administration announced new tax regulations. Under those, cryptocurrency transactions are to be regulated like transactions in cash: all transactions in fair value of $10,000 have to be reported. On the one hand, it will put most exchange users in the group but on the other, the government effectively equated digital currencies and cash.
Social Media Crypto News Digest
Video of the Week
This video is a nice summary of the debate between Edward Snowden, Raoul Pal, Eric Lombroso and others on the privacy of Bitcoin. The world-famous whistleblower yet again drew attention to the concerning transparency of the Bitcoin blockchain. What he is even more aggravated about is that there is hardly any way to bypass permissioned practices enforced by centralized exchanges. His opponents were more set off by his lack of confidence in layer-two add-ons to Bitcoin like Lightning and Taproot. We'll just have to wait and see what can be developed with these technologies to fix Bitcoin's privacy problem.
Crypto News Digest from Twitter
Today's dip was NOT caused by:

Elon Musk, China, or any other 'boogymen' the headlines are telling you about Today's dip was caused by: Excessive leverage trading, immense greed, and weakening momentum in the uptrend of crypto — Nicholas Merten (@Nicholas_Merten) May 19, 2021
On the market's downward spiral, Nic Merten here with the sour truth. Put the blame on any FUD, but in the end of the day, the market was overheated, and too many traders were not behaving rationally. This is not a bad thing, just the sign the market is not mature yet.
Interesting. pic.twitter.com/8mTcnwFoLl

— TradingView (@tradingview) May 19, 2021
But it is still so tempting to think that Elon Musk alone can move the market — we even have the data! Correlation does not equal causation… well, maybe a little.
STORY TIME:

INSTAGRAM IS BUILDING AN NFT PLATFORM RIGHT NOW AND THEY'RE REACHING OUT TO UPCOMING ARTISTS IN THE NFT SPACE TO HELP THEM BUILD IT. THE CATCH? They're reaching out to artists IN OUR COMMUNITY to give them insight on what the NFT community needs, and disguising — Sean Williams 🌍 (@iArtSometimes) May 18, 2021
Meanwhile, in the artist community: Sean Williams made a thread about how Instagram approached NFT artists for insights. Reportedly, they seem to be building a platform of their own but would rather have the community call the shots. Williams, though, did not mince any words on why he did not find the idea attractive, to put it lightly.
Influencer of the Week
hi I'd like a refund on my NFTs

can someone direct me to the customer service please? — Crypto Krillin ॐ (@LSDinmycoffee) May 20, 2021
Trader of the week is Crypto Krillin. The crypto news commentary, technical analysis, jokes and memes — they've got the whole nine yards. Another essential follow on the Crypto Twitter!
Top Coin Digest
Let's not sugarcoat this: the market this week is bloody red. Almost each asset lost as much as the total capitalization. At the moment of writing the digest, the general market stats are:
Total Market Cap: $1,767,373,576,515 (-23.60%);
BTC Dominance: 43.4%.
7d Change in Top Coins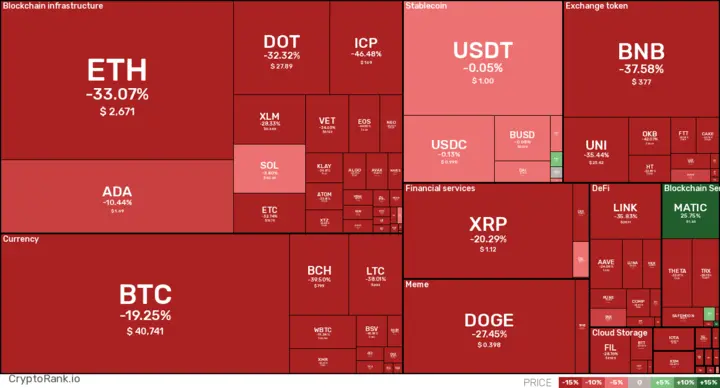 If you are an optimist and ask yourself "Which crypto to buy today?", they all are on a discount! At the moment of writing, the weekly change of the top currencies is:
Gainers of the Week
Why are Altcoins crashing? They follow Bitcoin, but there are others that actually grow! The winner of the week at the time of writing is Polygon (MATIC) $1.69 (↑23.67%).
Conclusion
So, why is the market crashing? As it often is, news from China and ban rumors come at the top of the market. The community is split: some think that the bear market is about to set, others prepare for a bounce. Whoever is right, the truth is that recovery is never out of the question. Hope you found this digest insightful. Check our blog for more! You can follow us on Twitter, Facebook, Reddit and Telegram for live updates.
---
Quick links: