As usual, at the end of this week ChangeHero team sums up some blockchain and crypto news, top coin digest and much more in our weekly crypto digest.
Latest Crypto News
Bitcoin was going crazy and the news stories were exceptionally exciting, no matter the topic. We collected the most interesting stories in a crypto digest below, enjoy!
Bitcoin News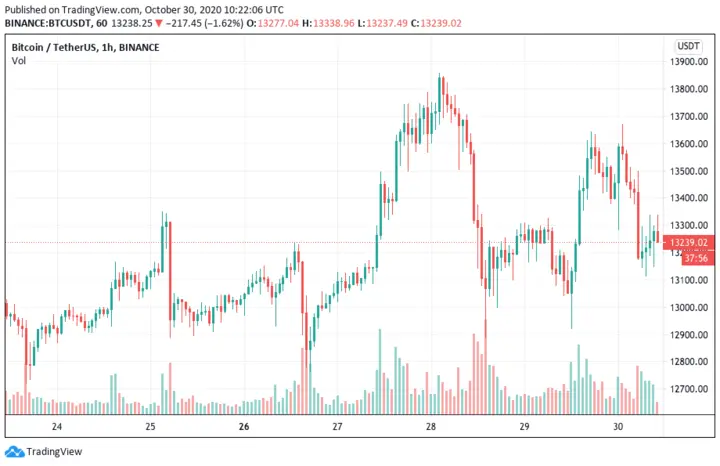 Bitcoin is having a freaky week, and the price reacts accordingly. In our previous crypto digest, we reported that it broke $13 thousand. But instead of a steady rally we got this: almost every day the price would grow slowly and dip unexpectedly. It was especially noticeable on Wednesday, when it almost touched the hurdle of $13.85. Rather soon, though, Bitcoin dipped to $13.1 thousand, a price not seen since… a day ago;
The growing price of Bitcoin during last week has led to increase in transacting, stretching out the mempool this week. On Wednesday, it peaked at almost 150 thousand transactions pending at the same time. The demand drove up the transaction fees, and the average fee came up to $11. The situation was also exacerbated by the end of the rainy season in Sichuan and the subsequent drop in BTC's hash rate by 27%.
This week an abnormally large transaction was also detected by blockchain scouring services. The 88857.24519026 BTC (currently $1,181,844,012.51) were transferred to a custodian's address for only a $3.7 fee.
Adoption News
PayPal continues to fulfil their strategy of expanding into the crypto market: they are reported to be in talks with several companies, including crypto custodian BitGo, about acquisition. However, as Bloomberg reports, at the time of publishing this crypto digest, the talks are not finalized.
Tech Crypto News
Maker community is about to have serious discussions on the protocol's governance model: the other day, the voting process was gamed by a participant. They used a flash loan to borrow MKR, put it as votes into the proposal they themselves created and returned the loan as soon as it passed. The solutions Maker community already put in place are temporary at best, and the prospect of reviewing the entire system is not unlikely.
Regulation & Politics Crypto News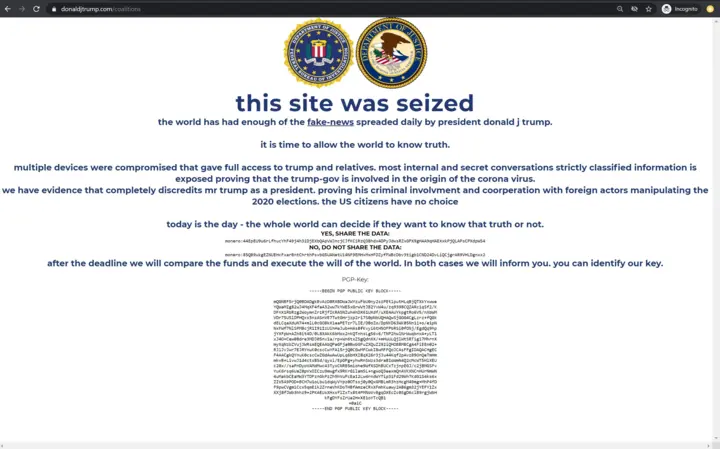 Donald J. Trump campaigning website was hacked and a message allegedly touting a crypto scam was published on it for 30 minutes, after it was taken down and the website got restored. The hackers claimed to have access to confidential information, including involvement of the US in "the origin of the corona virus" (the spelling is unchanged).
It's impossible to round up all the news in one crypto digest, but we chose the most essential stories. Next, we share the best Twitter posts that sparked the most heated discussions.
Top Posts of Crypto Twitter
Half-awake on a Sunday morning... I almost fell for this @Ledger scam email. Scams are getting more convincing. Always check Twitter before you take action on an email like this. A breach like this would be major news. pic.twitter.com/wucK2j9cNc

— Chris Blec (@ChrisBlec) October 25, 2020
Ledger users reported a massive phishing attack on their email addresses. Take Chris Blec's words to heart and always remember to verify any information you may find suspicious — there are still plenty of bad actors in crypto space.
we see you wendy's, and we raise you 10,000 crazy bitcoiners about to flood your notifications

— CryptoFinally 💫 (@CryptoFinally) October 29, 2020
Rachel Siegel, known in the community as CryptoFinally, was right: replying to the person wearing what is probably a costume of Bitcoin resulted in summoning the crypto flock. The community excitedly picked up some hints about Wendy's stance on adoption, as they replied vaguely but favorably. Bitcoin burgers soon?
before after bitcoin bitcoin pic.twitter.com/ZX2i5VmZse

— Lolli 🍭 (@trylolli) October 28, 2020
Another social media account that was on fire this week was Lolli. There were some Twitter users who have also picked up on an especially weary look of Jack Dorsey, but they managed to make a perfect joke about it. If you live in the US — check Lolli out!
Influencer of the Week
Yes, trading can easily be a full-time job. pic.twitter.com/kO4lv2uoRw

— Philakone (@PhilakoneCrypto) October 30, 2020
In our new section of weekly crypto digest, this time we want to introduce Philakone to you. He is a crypto day trader who employs complex knowledge to optimize the process. It is complicated, but he distills it down to easily understandable data. He also shares personal posts about his job and life from time to time, which are as interesting as his primary occupation. Easy recommendation from us at ChangeHero.
Top Coin Digest: Price Change
At the moment of writing this crypto digest, the market's dynamics for the last 7 days are the following:
Total Market Cap: $374,215,443,926 (-5.24%); 
BTC Dominance: 65.39%.
7d Top Coin Digest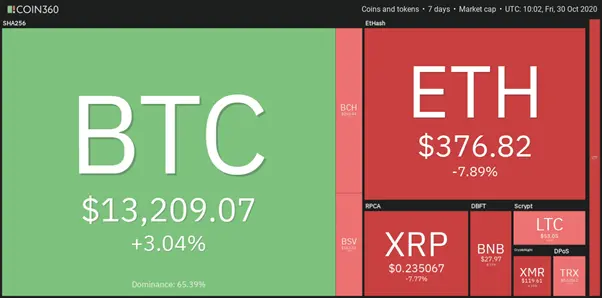 Surprisingly, alts stall while Bitcoin is showing growth. Will they catch up anytime soon? At the moment of writing this crypto digest, the 7-day change of the top currencies is the following:
The coin digest lists include the coins that can be traded and exchanged on ChangeHero. You can buy and sell some of them (BTC, ETH, BCH, BSV, TRX) with your credit card on our website, too. Either way, it will not take more than 15 minutes, and we will find the best rate on the market for your purchase.
Summary
That is it for crypto digest for this week, but more news is bound to come in the future, too. Subscribe to ChangeHero Blog and our Social Networks: Twitter, Facebook, Reddit or Telegram pages not to miss the next crypto digest with updates!
---
Learn more:
Quick links: