Many months have passed since play-to-earn and metaverse have taken the crypto world by storm. Many of the projects built at the height of the hype failed the test of time. RACA is not one of them. In this week's article, the ChangeHero team is going to introduce you to this project and its products, explain what RACA is and how to use this token and highlight its potential.
Key Takeaways
RACA is a crypto ecosystem with multiple directions in mind: NFT, play-to-earn, and metaverse. It is supported by an anonymous core team and 600 thousand-odd community members;
Its native token of the same name exists on three blockchains: BNB Chain, Ethereum, and OKeX Chain. The token is used for buying NFT-based assets for the game Metamon or metaverse USM.World;
In addition to initial funding from OKX Ventures and the Tachyon accelerator program by Consensys Mesh, RACA has dozens of partners and ambassadors and adds to the roster almost daily.
What is RACA?

RACA, which is also known by one of its older names, Radio Caca, is a crypto ecosystem focused on gaming and metaverse. It is built on the Binance Smart Chain (BNB Chain). The ecosystem is governed by the community through a DAO (Decentralized Autonomous Organization).
In its current iteration, V2, RACA supports a few flagship projects: Metamon, USM World, and an NFT marketplace where the assets and items for both projects, as well as other NFT collections, can be traded.
The pride and strength of this project come from its global community, spanning hundreds of thousands of users worldwide ("29 fanbase regions, 665k followers on Twitter, 510k on Telegram, and 68k on Discord", from the official website). The most popular and active local groups of RACAfellers come from South-East Asia, but the rest of the global communities are just as active, even if less numerous.
Due to the nature of the flagship projects, the RACA ecosystem falls into multiple categories of crypto: play-to-earn, metaverse, and NFT.
What is USM World?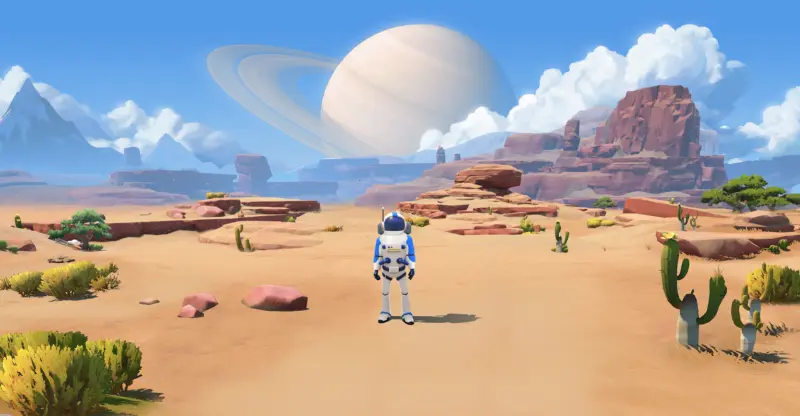 USM stands for "United States of Mars". USM World is a free-access metaverse, where according to the official website, users can "take a trip, make friends, create value, and build a real metaverse."
In the virtual world of USM, the value is supposed to come from the NFT assets that players develop and trade on the RACA NFT marketplace. The NFTs from the other parts of the ecosystem, for instance, the Metamon game, can be used here as well. Another source of value in this metaverse is virtual lands, which gives players even more options for customization.
At the alpha stage, seven regions are available for exploration, with many more potentially to come. They come with their distinctive terrain and economic traits. For example, the description for the New California region states it is a center of business and entertainment rich with landmarks. If you are looking for business or investment opportunities, New Harvard is your destination. For those who seek the thrill of conquering new frontiers, there is a region as well: the Kiss-Up State.
History and Team Behind RACA
Not much is known about the founders or members of the core team of RACA. Despite being anonymous, they secured funding from VCs such as OKX Ventures and the Consensys Mesh Tachyon.
It first arrived on the markets in May 2021. The first large project launched by this burgeoning community is called Maye Musk Mystery Box, an NFT PFP collection. In V1, which was live from May through August, 80% of the total supply of 500B RACA tokens was locked in a liquidity pool. With the arrival of V2 on August 19, 2021, the RACA DAO became active, and more changes to tokenomics, including token burn, were introduced. Since then, almost 70B RACA has been removed from the circulating supply one way or another.
What is RACA Crypto?
It is obvious by now that the whole RACA ecosystem is supported by the native token. Radio Caca (RACA) is a vehicle for value in this ecosystem that ties its projects together.
Here are some facts and figures to add to the picture of the Radio Caca (RACA) coin:
| | |
| --- | --- |
| Maximum supply | 500 billion RACA |
| Total supply | 431,418,233,270.64 RACA |
| Holders | 453,304 addresses |
| ATH Transfer Count | 736,104 (November 20, 2021) |
| All-time High Price (USD) | $0.01189 (November 14, 2021) |
RACA is available not only on BNB Chain. It also works on Ethereum and OKTChain. The tokens are distributed between BNB Chain, Ethereum, and OKTChain in a 62/36/2% ratio respectively.
What is RACA Token Used For?
Trade on the NFT marketplace;
Purchase the currency of USM.World u-RACA, which in turn can be put toward enhancements and in-game items;
Participate in governance as a part of the RACA DAO.
RACA And Its Competitors
These days, there is an abundance of community-governed projects that offer a wide variety of use cases, often dabbling in gaming and the metaverse. Some of the similar projects that RACA is up against are Baby Doge and Floki Inu. Both memecoins are also BNB Chain natives with huge communities.
An obvious distinction is that RACA is less of a memecoin than those two. The team is not averse to admitting that at first they also were a meme-based project but by now, it has embraced a more neutral branding.
Another point of divergence is the tokenomics of these projects. For one, the dog-based competitors of Radio Caca (RACA) have substantially larger token supplies (420 quadrillion BABYDOGE and 20 trillion FLOKI). Even with programmatic burn, the deflationary pressure on the price of these tokens is negligible. RACA employs a buyback and burn approach instead of burning a percent off each transaction, and has already reduced its total supply by ~7 billion tokens.
What is USM Metaverse and RACA's Future?
Currently, Metamon is receiving global updates and USM.World is in alpha. With that in mind, what is next for the games and the ecosystem in general?
According to the official website, the next milestone from the roadmap to be reached is the cross-integration of NFTs from the USM Metaverse and OpenPFP NFT marketplace. In the official Medium, the team announced a new patch for USM.World just five days ago: it adds a new futuristic state of MPB (Matrix Plus Box), and it's reasonable to expect further additions to the metaverse. Metamon is currently in the process of receiving updates for a global expansion Lost Worlds.
In addition to that, the RACA team updates the roster of partners almost daily. Today, the project lists 71 partners that range from brand ambassadors to Web3 infrastructure providers and angel investors.
RACA on Twitter
🎉Most Traded Highlight Projects in #BNBChain Last 24 Hours🚀

🥇 $RACA @RACA_3
🥈 $CEEK @ceek
🥉 $SFP @iSafePal$SDAO @SingularityDao$JOE @traderjoe_xyz$BURGER @burger_cities$DOME @Everdome_io$BSW @Biswap_Dex$MBOX @MOBOX_Official$SFUND @seedifyfund#BNB #BSC #WEB3 #NFTs pic.twitter.com/e30qGpIh3E

— BSCDaily (@bsc_daily) March 14, 2023
RACA keeps scoring record trading activity in its ecosystem. Even with the lull in the NFT market, they recently had $7M in trading volume — the highest in the sample group.
@Mises001 and @RACA_3 have built a partnership, Mises Browser includes Metaverse and recommends it in Web3 Sites #NFT area, allowing users to access it secure and quickly on mobile.#RACA #RACApartner #Web3 pic.twitter.com/L62Gd6gpve

— Mises (@Mises001) March 10, 2023
The RACA news often comes from Twitter along with other numerous official news channels. Updates on collaborations, such as this one with Mises, often get announced there first.
#RACA MONTHLY OVERVIEW
1️⃣ 5 New partners
2️⃣ 2 New Listings $RACA
3️⃣ 3 Live AMAs #TwitterSpaces
4️⃣ @RadioCacaTurkey & @RacaSpanish AMA with @BNBCHAIN
5️⃣ Joined partner's event
6️⃣ Updated the official website
7️⃣ Held a #web3 panel with @justinsuntron @FrencHMonTanA @DrWatney pic.twitter.com/5Vfar2HhYW

— RACA.bab (@RACA_3) March 10, 2023
Speaking of the news and official channels, here is an update from the general community account. In the last month, they held plenty of collaborations and acquired new partnerships and listings.
Which RACA Crypto Wallet to Choose?
Your choice of a crypto wallet for Radio Caca (RACA) will depend on the version of the token you are getting. Pay attention to the network you are creating an address and making a transaction on!
For Ethereum, the most popular choice is Metamask. If you would like to use the BNB Chain version, Binance Chain Extension Wallet is available. To keep RACA in the same app as other coins, you can use Trust Wallet.
How to Buy RACA Crypto?
If you want to get the RACA tokens easily and already own some crypto, consider using ChangeHero! It only takes five steps, no account creation required:
Choose the currencies on the home page, amounts, and the type of exchange. Provide your wallet address in the next step and check the amounts;
Double-check the provided information, read and accept the Terms of Use and Privacy Policy;
Send in a single transaction the sum of the cryptocurrency you will be exchanging. Fixed Rate transactions have a 15-minute limit;
And now, relax while you wait! We are doing all the work: checking the incoming transfer and doing the exchange as soon as it arrives;
As soon as the exchange has been processed, your RACA is on its way to your wallet. We'll be happy to hear your feedback if you enjoyed using ChangeHero.
Our support team is always available in the chat widget on the website, in the official Telegram group, or through the email: [email protected].
Conclusion
In a few months, RACA will turn two years old. In this run, it managed to build a community with hundreds of thousands and deliver popular products. With the team always trying new things, the future of RACA is full of possibilities.
This guide is only a part of the series of beginner-friendly guides: find the rest in our blog! For daily updates, subscribe to ChangeHero on Twitter, Facebook, Reddit, and Telegram.
---
People Ask
Is RACA a metaverse coin?
RACA is the only cryptocurrency that you can exchange for the currency of the USM Metaverse, u-RACA. It is safe to say, RACA is a metaverse coin, as it is a source of value for USM.World.
What is RACA Coin?
Radio Caca (RACA) token is a cryptocurrency in the RACA ecosystem. It finds various uses depending on the app on this platform. Metamon players need RACA to buy NFTs from the marketplace; USM.World users can avail of the metaverse's currency u-RACA only in exchange for this token. RACA DAO membership is also determined by RACA holdings.
What is Radio Caca used for?
RACA, previously known as Radio Caca, is a crypto and gaming ecosystem that encompasses NFT collecting and trading, play-to-earn, and the metaverse. The Radio Caca (RACA) token is needed for any of the ecosystem's projects.
How many Radio Caca coins are there?
RACA has a maximum supply of 500B RACA with 331.047B RACA in circulation.
Learn more:
Quick links: