OMG Network now goes by OMG Foundation, and OMGX became Boba Network. What does it mean for OMG holders? In this article ChangeHero will round up relevant OMG news and give you ideas about OMG price prediction 2021 and beyond.
OMG Price Prediction 2021–2030
[table id=47 /]
This year, realistically the price can rise to $17.42. An optimistic OMG price prediction 2021 would put it above the current ATH;
OMG price prediction 2022 is more realistic, considering that after the airdrop of BOBA tokens OMG can see a sell-off. Projections predict OMG going down to $13.91;
For long term predictions, such as for 2025, experts give very varying targets. OMG can be worth anywhere between $15 and 150;
In 2030, the crypto market will be dramatically different from what it is now. If we are to assume OMG stands the test of time, it can be worth hundred times more than what it is worth now, near $400.
What are OMG Network and OMG?
OMG Network is a payment system built on the complimentary Ethereum layer. It sports the security of Ethereum and the speed and throughput of Plasma (Ethereum layer-two solution that lets transactions be processed off the main chain). Previously known as OmiseGO, the project is an undertaking of a large South-East Asian payment processing company, Omise. However, in 2020, the project was rebranded as OMG Network in time with the long-awaited mainnet launch. In 2021, OMG Network and AI startup Enya struck a strategic partnership. Enya started working on OMGX, an alternative scaling solution for Ethereum on Optimism. Fast forward to late 2021, and OMGX now is known as Boba Network, an easy-to-build L2 which incentivizes users. Boba built on OMG Network's Plasma for faster on- and off-ramping. You can read all the essential info on OMG Network (now OMG Foundation!) in our Beginner's Guide.
OMG Price History
OMG Price in 2017-2018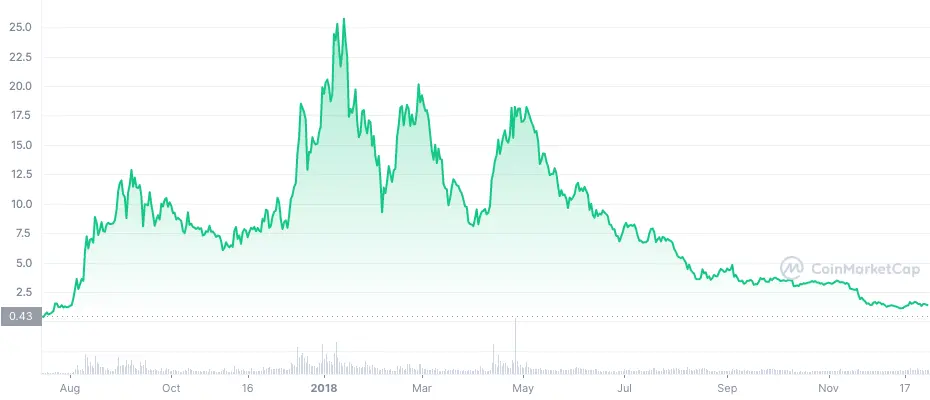 OmiseGO entered the scene in mid-2017, during very turbulent times for the market. It was experiencing an incoming flow of investitions and an avalanche-like growth in the number of projects. On January 8, 2018 OMG reached its ATH of $28.35. Later in 2018, following the market trends, OMG spiked two more times, but did not reach the early 2018 high. The second half of 2018 for OMG was characterized by a downtrend which took the price down 95% from the ATH.
OMG Price in 2019-2020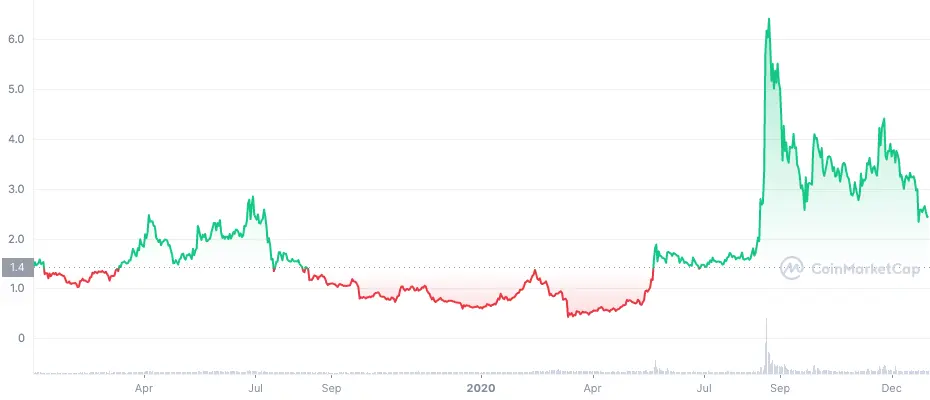 Crypto-winter of 2019 was not too kind to the OMG price, bringing it to a $1 level on average. In summer of 2019, the price rebounded above $2, but the rest of the year was accompanied by a downtrend. In June, 2020 OmiseGO rebranded the project to OMG Network and launched the mainnet. Not long before, the price doubled to $1.88. The local high was reached after the news that Tether moved $3million of USDT from Ethereum to OMG Network. OMG rallied to $6.41 at the time. In December, Genesis Block Ventures announced acquisition of the project, causing OMG to close at $3.66, up from opening at $1.
OMG price in 2021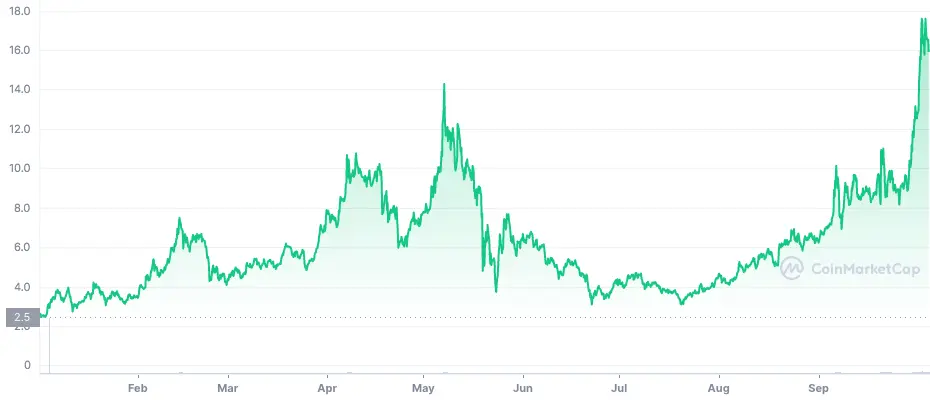 The token started to catch up with the rally of Bitcoin as 2021 began. First, it reached $8 in February, then exceeded $11 in April and kept going. In May, the previous yearly high of $15.32 was reached, at the time when OMGX testnet, an improved version of OMG Network, was announced. However, the market-wide pullback caused OMG to depreciate down to $3.18 in July. It was not until more news about OMGX, now rebranded as Boba Network, and an airdrop announcement that OMG rallied to a YTD high of $17.59. At the moment of writing, a single OMG token is worth $15.93. OMG Network token ranks 58th on CoinMarketCap with a market cap of $2,236,050,267.
What influences the OMG Price?
Adoption
The value of OMG Network in the eyes of investors lies in its applications. Ethereum already proved itself as a trustworthy decentralized platform for apps and smart contract-powered projects. The launch of Tether USD (USDT) on OMG Network caused a significant increase in price of OMG. OMG Network is a fitting solution to make the usage of USDT less expensive and less prone to be influenced by network congestion.
Technical Updates
The core contributor to the OMG Network, Enya, has rebranded the OMGX solution to Boba Network. This is a second-layer scaling protocol based on Optimistic, the main feature of which is fast transfers to the Ethereum mainnet. Boba Network is not a competitor to the OMG Network but the opposite. The teams announced that the BOBA token will be distributed to OMG holders in an airdrop, which accelerated the rally. Since OMG and Boba Network use different solutions, both OMG and BOBA tokens will coexist.
Parent Company Advancements
In December 2020, OMG Network was acquired by Genesis Block Ventures. The new parent company scored a few strategic partnerships, such as with Enya, an AI development startup. The collaboration is already bearing fruit with Boba Network on the horizon. More recently, OMG Network changed its name to OMG Foundation. In the future, OMG will be used for governance as well.
Twitter posts on OMG
pic.twitter.com/7ZrYqiI2Va — Babenski (@Babenski_BM) October 2, 2021
Babenski group remarks on the progress OMG price made from the lows earlier this year. If the cup and handle pattern is confirmed, OMG can even aim for the ATH.
$OMG - I normally start booking profits at the 4.669 level. This time i'm thinking we should see a burst past the 8.77 level.

Boba Network snapshot in 38 days! pic.twitter.com/JbeTNx8q6Q — 𝓨𝓸𝓾𝓷𝓰 𝓢𝓪𝓽𝓸𝓼𝓱𝓲 (@Brit_Ed) October 5, 2021
Twitter user Young Satoshi predicts that this is not the end of the OMG rally. If so, it can get even closer to its current ATH.
🌟 #VNDC Wallet Spotlight: $OMG

With @bobanetwork Public Mainnet's launching and the airdrop of its new $BOBA token, $OMG officially sets a new ATH and is in a solid bullish right now 🚀 The whole #Uptober gonna be totally OMG 😮#CryptoNews #Layer2 #Blockchain #Defi pic.twitter.com/wWj8QdmFJj — VNDC Official (@vndc_official) October 3, 2021
VNDC Wallet reports on the OMG Network performance: BOBA airdrop caused it to gain 88.14% this week alone.
OMG Price Prediction 2021
Previsioni Bitcoin OMG coin Price Prediction 2021: $44.72
A media outlet Previsioni Bitcoin gives a bullish OMG forecast for 2021. They claim that OMG is on a bullish track and will appreciate by the year's close. By December, the price of a single OMG coin is predicted to be $44.72.
Gov.Capital OMG Network Price Prediction 2021: $17.421
Gov.capital's algorithm evaluates OMG Network token as a good but risky short-term investment. By the end of 2021, OMG token might rally further to $17.421.
DigitalCoinPrice OMG Price Prediction 2021: $27.23
In 2021, OMG token will close the year with 65.72% change to the upside to the current price. The DigitalCoinPrice's prediction projects that by December it will reach $27.23.
OMG Price Prediction 2022–2024
TradingBeasts OMG Price Prediction 2022: $13.912
TradingBeasts analytics predict that in a year, the price will see a correction. In 2022, OMG will be worth even less than it is now: the minimal price at the start of the year will amount to $11.468. Maximum expected OMG price in the forecast will happen closer to the end of the year, $17.463. In a year, on average OMG will be trading for around $13.912.
Gov.capital OMG Forecast 2023: $67.056
It is predicted that on average OMG will be trading at about $67.056 in two years. A projected maximum in 2023 is $85.0632 but it can also dip as low as $34.1513.
DigitalCoinPrice OMG Prediction 2024: $43.01
In 2024, DigitalCoinPrice predicts that OMG will hit $48.63 and dip to $35.69 at the lowest. On average, the uptrend will still be prevailing, albeit with periods of volatility.
OMG Price Prediction 2025
Cryptoground: $41.06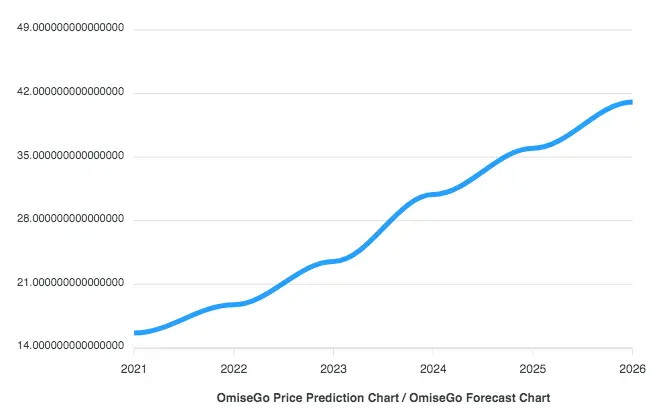 Another algorithmically produced OMG forecast by CryptoGround projects growth for OMG token price over several years. By 2025, according to this prediction, each token will yield profit and will be worth $41.0584.
WalletInvestor: $38.702
Famously bearish on most altcoins, WalletInvestor forecast provider is surprisingly bullish on OMG. In 4 years from now, they predict a 114.3% increase in all OMG holdings. Their forecast for 2025 is $38.702 at maximum.
Captain Altcoin: $15–150 or zero
Crypto analyst Philipp Traugott is sceptical about OMG Network's future: in five years it may not even be relevant anymore. But if that is not the case, its price will be on a par with the whole market and go from $15 to $150.
OMG Price prediction 2030
The web portal cryptocurrencypriceprediction.com suggests the following prediction for the year 2030. The OMG tokens will be traded for $397.81 to $412.24 by the end of the decade. As a reason for this, they cite Vitalik Buterin endorsing the technology behind OMG Network, as well as the growing list of partners and integrations.
How to buy OMG with ChangeHero
If you are convinced that you would like to invest in OMG Network, and are now looking for ways to buy OMG, ChangeHero can help you with that! You can buy OMG with any other cryptocurrency from the list of supported coins:
Choose your currency pair and provide an exchange amount. Pick a Best or Fixed rate;
Next, provide an OMG wallet address and a refund address just in case. Double-check all the details in the transaction and make sure to read and accept the Terms of Use and Privacy Policy;
Finally, send in a single transaction the exact sum you will be exchanging to the address generated by ChangeHero.
From there on, we will be taking care of the swap. A few minutes later the OMG tokens will be on the way to your wallet! And if you need help, you can reach our support 24/7 on the website, by email: [email protected] or in the official Telegram group.
Bottom Line
The collaboration of Boba Network and OMG Foundation is something old and new supporters can look forward to. Both BOBA and OMG can interact for short- and long-term value for both networks. How to stay tuned to regular updates and educational content from our team? Keep an eye on our blog or follow us: we're on Twitter, Facebook, Reddit and Telegram.
---
Frequently Asked Questions
Is OMG a good investment in 2021?
With the current state of Ethereum, layer-two solutions are in a very high demand. With that in mind, most analysts agree that OMG is a solid investment.
What is OMG coin used for?
OMG has a variety of use cases like quicker and cheaper transactions on Ethereum and Reddit community points engine (ERC-20 tokens awarded to users for activity).
What will OMG be worth in 2030?
Estimates given for OMG in 2030 aim for the range of $397.81 to $412.24.
What will the OMG be worth in 2022?
Estimates given for OMG in 2025 aim for $15 to $150.
What will the OMG be worth in 2025?
OMG has a variety of use cases like quicker and cheaper transactions on Ethereum and Reddit community points engine (ERC-20 tokens awarded to users for activity).
Can OMG reach $100?
Most predictions don't see OMG reaching $100 anytime soon. The earliest time it could occur is in 2025.
Disclaimer
This article does not constitute financial or investing advice. No price prediction or forecast is guaranteed to provide exact information on the future price. Past performance is not indicative of future results. When dealing with cryptocurrencies, remember that they are extremely volatile and thus, a high-risk investment. Always make sure to stay informed and be aware of those risks. Consider investitions in cryptocurrencies only after careful consideration and analysis and at your own risk.
Learn more:
Quick links: