Trezor definitely is one of the most trusted hardware wallet brands out there. To make the wallets even more useful, the makers, SatoshiLabs, load it with features, and one of those is the exchange option — provided by yours truly! ChangeHero made a guide to show you how to exchange cryptocurrency with the service in Trezor wallet to prove how easy and secure it is!
About Trezor
Trezor is the flagship project of SatoshiLabs. It is the first hardware wallet to hit the mainstream market in 2014. Trezor devices let users safely store, send, receive and exchange over 1,600 coins and tokens. The main advantage of the hardware wallet is that the private keys for signing transactions are stored on a device from which they cannot be intercepted. SatoshiLabs are also proponents of open-source software, so all their code is transparent and audited.
About ChangeHero
ChangeHero is one of the most reliable non-custodial instant cryptocurrency exchanges. Unlike centralized exchanges, here you can exchange crypto-to-crypto without any sign-ups or logins or obligatory KYC. Also, you can buy and sell crypto with a credit or debit card on our website. We find the best rates available in the market and charge the lowest fees. Our customer support is available 24/7 to assist you in every way possible. ChangeHero follows the customer-first policy and aims to deliver the most convenient, frictionless and easiest exchange experience.
How do users benefit from the collaboration?
The main thing to come from the collaboration with Trezor is the exchange function, powered by ChangeHero. Now you can quickly exchange your favorite cryptocurrencies right in your Trezor wallet in just a few clicks without any hassles of registrations or logins. Just like on our website, you will instantly be provided with an estimated best rate on the market.
Trezor is well-known for its robust security features and now you can swap crypto in a secured environment without leaving the wallet interface.
How to exchange cryptocurrency with Trezor?
The integration makes it really easy to swap crypto right in the Trezor Wallet app. Here is how to exchange cryptocurrency in a few steps: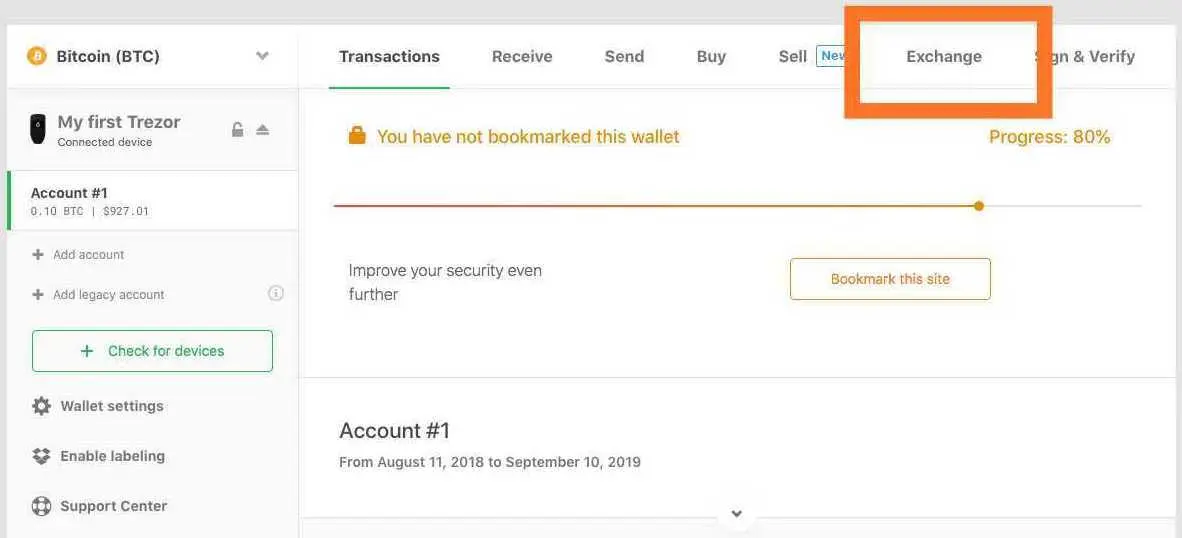 Go to Exchange tab in Trezor Wallet app in your browser;
Choose the pair, fee and provider. In this case, we will exchange Bitcoin to Bitcoin Cash at Fixed rate. When swapping in Trezor, exchange fee is made up of customizable network fees and provider fees;
Verify addresses and amounts, first in app, then on your device;
Exchange in progress: you can leave the tab, the status is updated in real-time. You can sit back and relax;
Done! As soon as the exchange is finished, the assets are instantly sent to your wallet address. You can see the arrival of funds right away in the transaction history tab. 
Conclusion
Now you know how to exchange cryptocurrency on Trezor and why is it so easy and convenient!
Look forward to more guides and instructions like this from us in the future! To keep up to date with our content, we highly recommend subscribing to ChangeHero Blog and follow us on Twitter, Facebook, Reddit and Telegram.
---
Learn more:
Quick links: