The bloodshed of the last week seems to be calming down, and the news reinforces the long-term play that the crypto market is running for. Miners from China and Iran are facing some harsh times, but ultimately, this is good news. How come? Read about this and more in the weekly cryptocurrency news digest by ChangeHero!
Key Takeaways
Bitcoin has touched the lows of $32,000 upon news that China is cracking down on mining. The outlook, though, is positive, as they move out of the country;
PayPal is finally enabling transfers to third-party wallets, while Apple might be looking into expanding into crypto;
Bitcoin and digital assets gained recognition from Goldman Sachs, according to leaks, and Bridgewater Associates co-founder admitted to owning some BTC.
ChangeHero Updates
Bitcoin Pizza Day Giveaway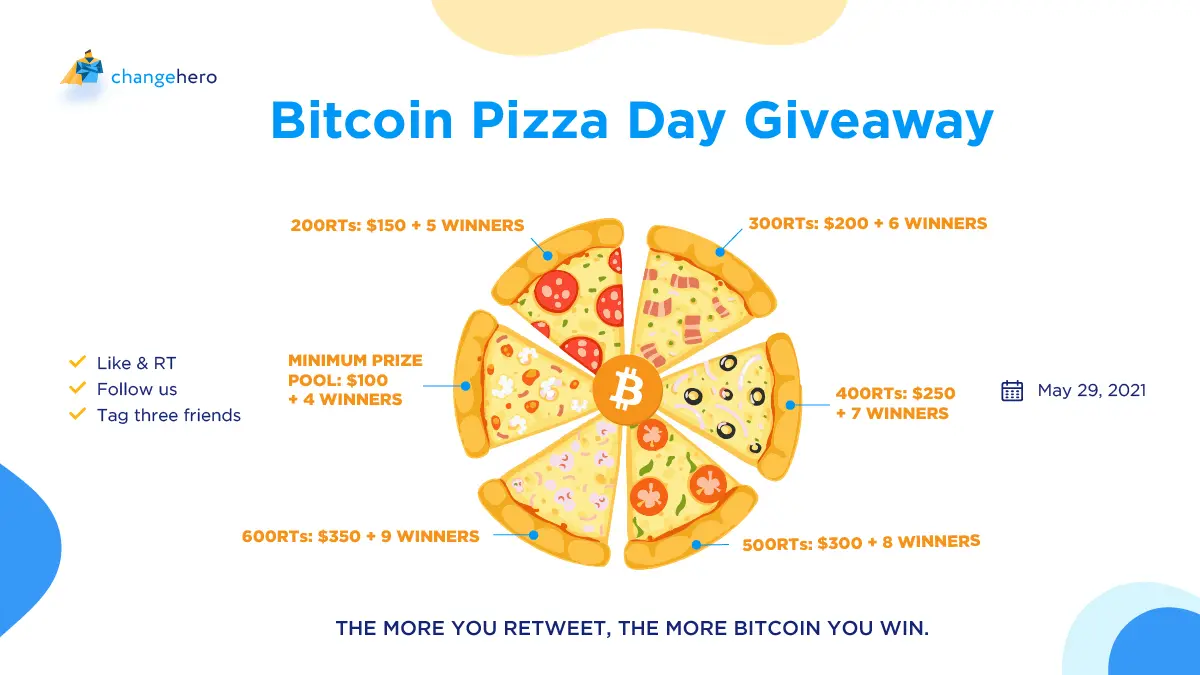 A week ago, to celebrate the 12th Bitcoin Pizza Day, the ChangeHero team launched a giveaway, in which the more interactions the post gets, the higher the reward! Right now, the tweet already sits at a maximum award, but don't lose focus: you only have until May 29th to enter! Enter the sweepstakes while you still have time, and good luck!
Latest Cryptocurrency News Digest
Bitcoin Digest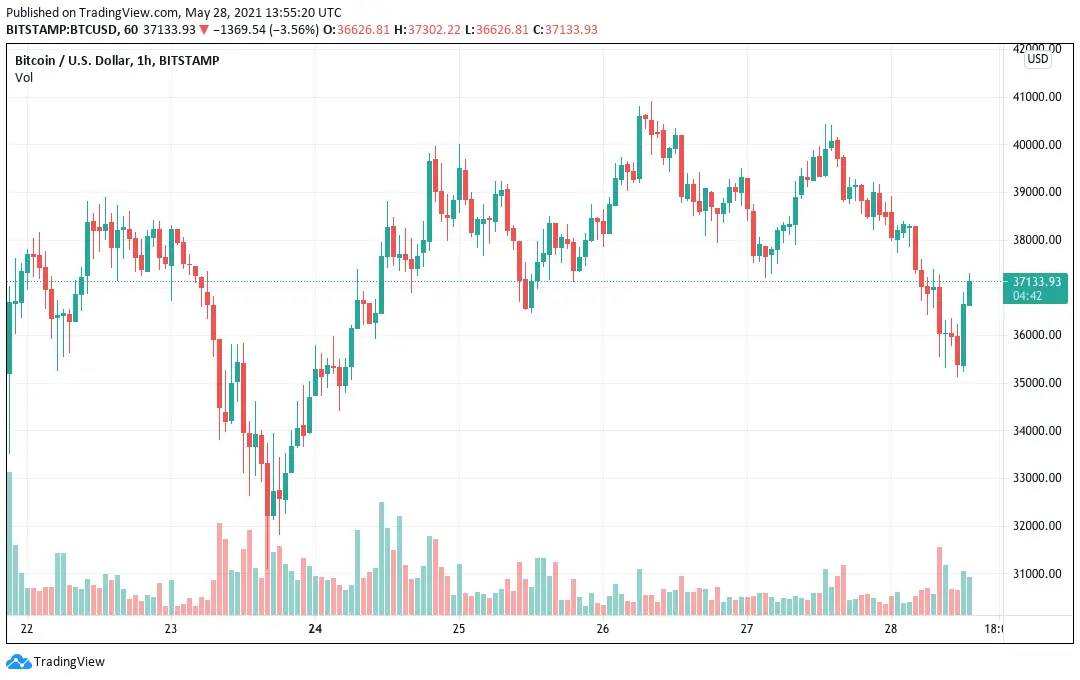 On the weekend, the BTC price managed to climb up to only $38,000. However, after dipping on markets opening to $32,000, perhaps after the news from China, it bounced back up to $40,000. On Wednesday, it even tested the resistance of $40,900.
For the past two days, though, after the rejection, BTC re-tested $40,400 and got strongly rejected down to $35,100. A bounce up is occurring at the time of writing.
Why is crypto market falling? As we'll explain a bit later, China has made a new round of crackdown on cryptocurrency mining and trading.
Will Bitcoin crash further? If we zoom out, on a daily chart BTC seems to have stopped the downtrend and entered consolidation. That being said, the possibility of trend change can never be ruled out.
Bitcoin News
Even in a bearish market Bitcoin keeps gaining powerful allies. Recently, Ray Dalio of Bridgewater Associates came forward stating that he owns some Bitcoin. The billionaire put the cryptocurrency on his balance sheet to reduce the impact of dollar inflation, in his words. Looks like he does not need to ask himself "will Bitcoin ever go back up?".
Elon Musk is ready to act on his environmental concerns about Bitcoin: he and Michael Saylor pledged to start the association of miners in North America. Their goal is to achieve the maximum possible decrease of unsustainable energy sources and make Bitcoin mining environmentally friendly.
Altcoin News
It's been only a week but Uniswap v3 has already flipped v2 in terms of volume. At the time of writing, v2 has $906.4M while v3 stands at $1.19B. Seems that improvements to liquidity and fees have worked.
Have you heard? Dogecoin flipped Ethereum! By a completely unexpected metric, too: a survey of 2,063 Americans showed that more people have heard of DOGE than ETH.
Business Cryptocurrency News
PayPal has got its fair share of criticism for being a custodial service for cryptocurrencies. But that might not be the case anymore: company representatives announced that the function to transfer cryptocurrencies bought in PayPal to third-party wallets will soon become available.
Apple opening up vacancies is anything but news but this time, the crypto community found something curious. The tech giant is looking for a Business Development manager with experience in alternative payments. Speculation is abound that it could mean Apple is looking into going into crypto and onboarding their user base for a real-world use case.
Cryptocurrency News on Adoption
Guggenheim Partners co-founder Todd Morley has presented his vision of a "blockchain tower" in the heart of New York City. The building will connect everyone in the city to the blockchain infrastructure and provide access to services. The tower will also house a museum for NFTs, which encompass everything from digital art to music.
Dutch Domino's celebrated Bitcoin Pizza Day in the most fitting way possible: they offered their employees to start receiving pay in Bitcoin. The franchise plans to let employees choose the percentage of the pay above minimum wage that they want to convert to BTC.
Regulation & Politics Cryptocurrency News
The state of Nebraska has passed a bill that authorized banks to work with digital assets like Bitcoin.
Iran has banned all mining activities until the end of September to ease the load on the national power grid. Iran is the sixth nation contributing to the Bitcoin hashrate and Iranian miners provide 3.86% of the total hashrate.
Social Media Cryptocurrency News Digest
Video of the Week
Vitalik Buterin's interview for CNN was one of the most discussed pieces of media in Ethereum news last week. If it is not a sign of the cryptocurrency industry going mainstream, then what is? In it, he talked about perceived versus actual value of crypto projects and benefits of decentralization.
Cryptocurrency News Digest from Twitter
Growing up in Nigeria, I see #Bitcoin with a different lens than you do if you grew up in the US for example.

Thank God for #Bitcoin — Bernard Parah (@bernard_parah) May 20, 2021
A little change in perspective is useful every now and then. If you live in the US or Europe, it is hard to imagine how much things and real-world uses Bitcoin has. In this great thread, the CEO of Bitnob Bernard Parah highlighted how BTC helps people in Nigeria.
Crypto, a new asset class - quite a comprehensive report by Goldman. pic.twitter.com/FP2sewJCTx

— Alex Krüger (@krugermacro) May 21, 2021
As brought to attention by Alex Krüger, Goldman Sachs has changed their outlook on cryptocurrencies. Only a year ago, the financial giant reported that cryptocurrencies are not an asset class. However, the most recent report showcases a turnaround.
News out of China: https://t.co/8fOJ0YpAlc

Vice Premier Liu He calls for a crackdown on bitcoin mining and trading activities. Anti-bitcoin (mining) news regularly comes up, but this is worth monitoring. Miners in China I've spoken with are unsure of the impact right now. — Thomas Heller (@thomasheller_) May 21, 2021
Situation around China and mining keeps heating up. The official stance is quickly shifting to anti-mining, and the businesses resort to moving abroad.
Influencer of the Week
Had a bad trade recently and don't know how to come over it ?

- Take a break from trading to clear your head and start fresh - Learn from the mistake made .. Where you to greedy ? Did you follow a plan ? Did you forget to put a plan in place Remember mistakes happen 👌 — Crypto Tony (@CryptoTony__) May 28, 2021
28 Crypto Tony's bio says it all: TA, altcoins, little-known gems and memes — all posted about a few times a day. Their analyses especially have a degree of objectivity and no-nonsense. Tony encourages their fellow traders to do the same, so why not check them out?
Top Coin Digest
At the moment of writing the digest, the general market stats are:
Total Market Cap: $1,618,853,278,927 (-8.40%);
BTC Dominance: 42.9%.
7d Change in Top Coins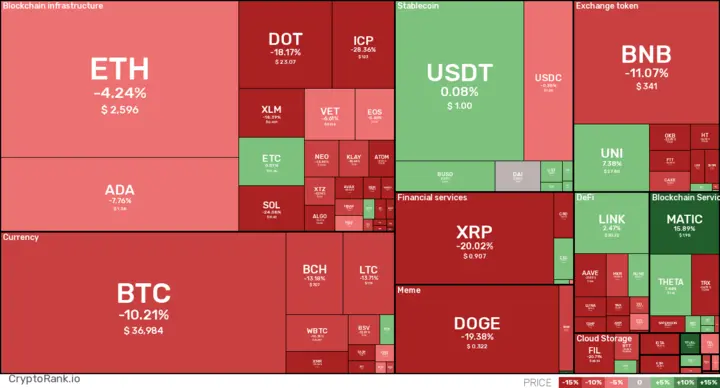 Which crypto to buy today? Anything goes! The weekly dynamics might look discouraging, but in comparison to last week, some altcoins are already bouncing. At the moment of writing, the weekly change of the top currencies is:
Gainers of the Week
Polygon (MATIC) $2.00 (↑17.77%);
Uniswap (UNI) $27.80 (↑7.38%);
Chainlink (LINK) $30.22 (↑2.47%).
Conclusion
Another week in the red does not discourage the community: there is still much positive cryptocurrency news coming in. Giants and billionaires setting their eyes on cryptocurrencies, miners moving out of China, which wants to ban Bitcoin seemingly every year. Long term, things look bullish! We hope you found this weekly crypto digest insightful. Check our blog for more! You can follow us on Twitter, Facebook, Reddit and Telegram for live updates.
---
Quick links: