Yet another week the crypto market is on the rise and over $2 trillion, but this time sent not by Bitcoin alone. In our new weekly cryptocurrency news digest, we go over most relevant events and updates as well as provide a recap of the market.
Key Takeaways
Bitcoin is barely in the green, getting rejected from $48,000 earlier this week. Buyers helped it recover after dipping to $44,000;
Many currencies from the top-100 such as Solana, Terra, Cosmos and Polkadot scored double-digit gains which might have contributed more to the overall growth;
In other news, Dogecoin Foundation was reorganized with Buterin, Marcus and Musk rep as advisors. Chainalysis is publishing first excerpts from the 2021 cryptocurrency adoption report.
ChangeHero Updates
Exchange NANO with Zero Fees on ChangeHero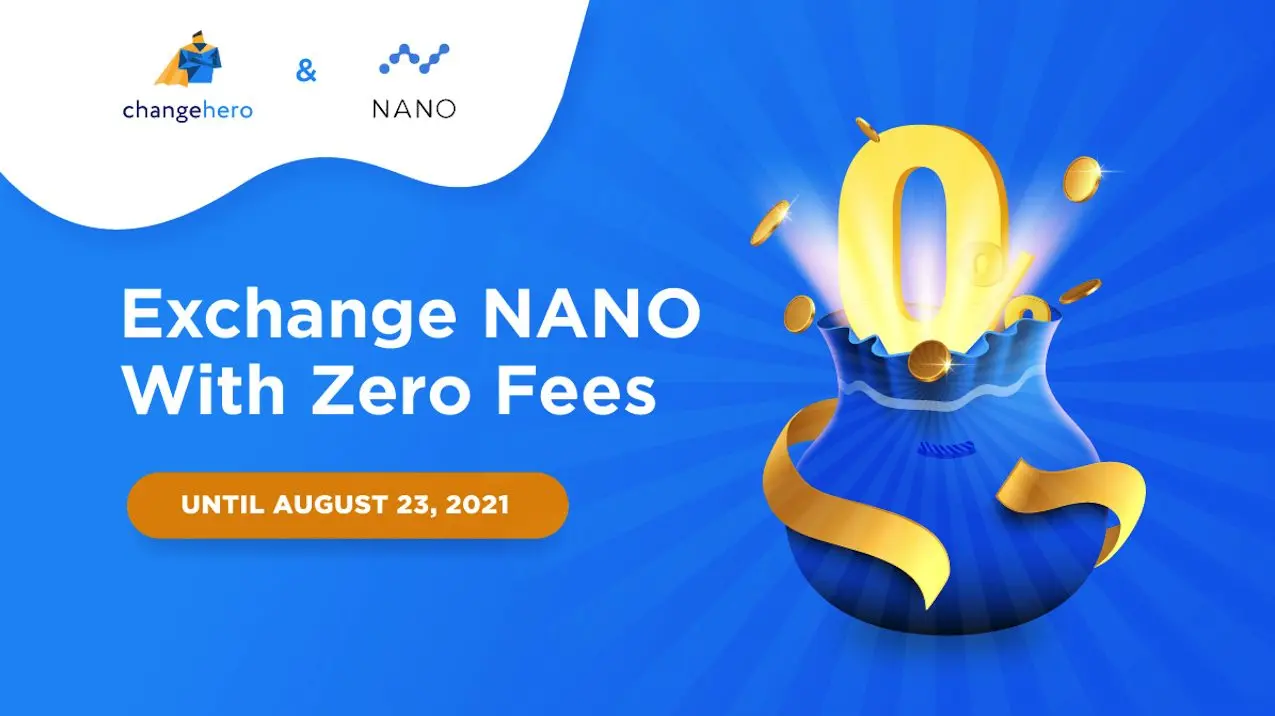 You still have the weekend to make use of our special offer: exchanges with NANO are fee-free until August 23. Don't miss this chance!
Latest Cryptocurrency News Digest
Bitcoin This Week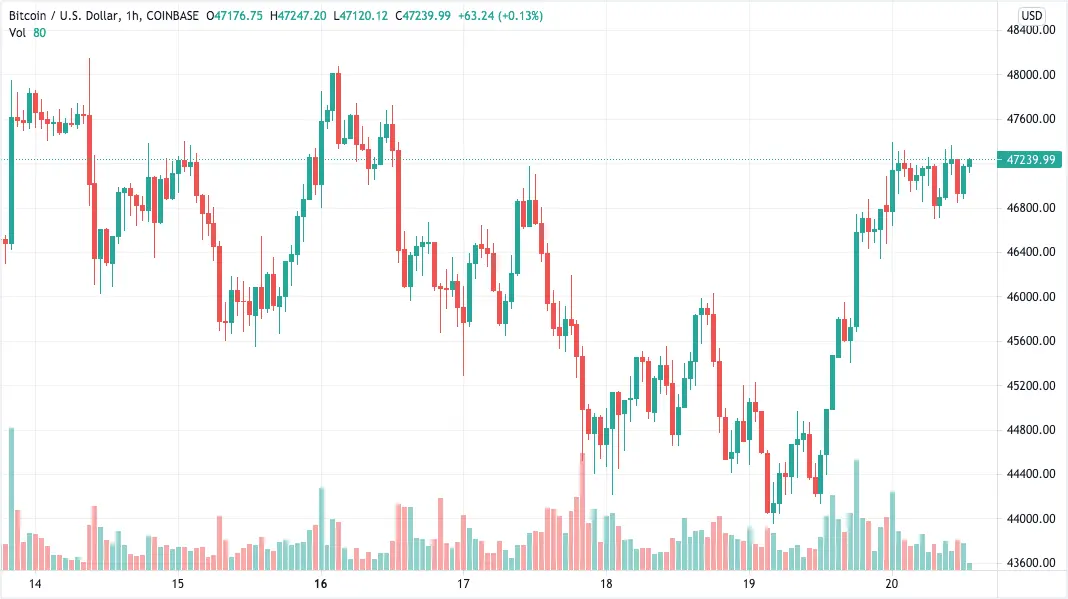 Last weekend, BTC price tried to push through $47,600 but only managed to reclaim this level on Monday. From there on it got rejected again down to $44k, with moderate volatility.
Will Bitcoin crash again like that? Touching this support level reinvigorated buyers who drove the BTC price back up to $47,239.99 at the time of writing.
Latest Bitcoin News
Bitcoin Fear and Greed Index is now consistently in the Greed zone, in comparison to Extreme Fear just a few weeks ago;
Bitcoin is enjoying a high demand that is driving it over new resistances, analysts say. The past 24 hours saw the highest volumes this week.
Altcoin News
In the Ethereum news post-London, the capacity has actually increased, as Vitalik Buterin explained in a Reddit post. Reasons for this are slower blocks pre-London due to the difficulty bomb, fuller blocks and base fee not accounting for block fullness.
The Dogecoin Foundation is back to Do Only Good Everyday in a bit more official capacity. Its advisors are Vitalik Buterin, the founder Billy Marcus, Max Keller and Jared Birchall, on behalf of Elon Musk;
Business Cryptocurrency News
Microsoft Research group in collaboration with Alibaba Group and Carnegie University are laying the foundation for a blockchain-based anti-piracy system. Blockchain was chosen for its ability to operate in a decentralized and transparent manner, as well as proven incentivization.
Mining software developers NebuTech have devised a way to bypass restrictions on RTX 30 NVidia GPUs. The hardware developer has put driver- and hardware-level restrictions on mining software to prevent GPU shortage like the one earlier this year.
Cryptocurrency News on Adoption
Chainalysis is preparing to publish a new report on cryptocurrency adoption in 2021, this time with focus on retail users. The new top-three is significantly different from the last year's (Ukraine, Russia, Venezuela), with Vietnam, India and Pakistan in the lead.
Chinese tech giant Alibaba presented a blockchain auction platform for NFTs representing copyright of various forms of media. Such a platform may finally give legal recognition to usage of NFTs as proof of rights to intellectual property.
Regulation & Politics Cryptocurrency News
ByBit, Huobi and several other crypto exchanges have received a warning from the Spanish National Securities Market Commission.
The Binance exchange introduced new verification rules: starting August 19, existing users who have not completed verification can only withdraw funds. New users will not be able to use the services without verifying their ID altogether.
Social Media Cryptocurrency News Digest
Video of the Week
Crypto trader Rekt Capital posted a video with the update on the stock-to-flow model for Bitcoin. This model is known for forecasting $1 million for BTC as soon as in 2026, as well as being consistent so far — which Rekt Capital proves yet again.
Cryptocurrency News from Twitter
Important Notice: We are sorry to announce that #LiquidGlobal warm wallets were compromised, we are moving assets into the cold wallet.

We are currently investigating and will provide regular updates. In the meantime deposits and withdrawals will be suspended. — Liquid Global Official (@Liquid_Global) August 19, 2021
Japan-based crypto exchange Liquid reported getting hacked on Thursday. 69 different crypto assets amounting to a $91 million USD loss were transferred from the exchange's warm wallets.
Just in: The Chinese community found that Binance resumed the registration of Chinese mobile phone numbers after suspending for two weeks.

— Wu Blockchain (@WuBlockchain) August 18, 2021
Crypto reporter Colin Wu reported a curious fact about Binance: the community noticed that registration with Chinese phone numbers had resumed. It seems especially surprising given the prohibitive stance China has taken towards crypto and Binance's legal troubles of late.
I'm excited to announce that I'll be leading @bluesky, an initiative started by @Twitter to decentralize social media. Follow updates on Twitter and at https://t.co/Sg4MxK1zwl

— Jay Graber (@arcalinea) August 16, 2021
BlueSky's team announced the launch of their decentralized social media platform which is initiated and curated by Twitter. The team includes many crypto natives and is led by ex-Zcash engineer Jay Graber.
Influencer of the Week
pic.twitter.com/npyQb7ev6X — K A L E O (@CryptoKaleo) August 18, 2021
Want to know what is the safest cryptocurrency to invest in? You might want to check out Kaleo, who is known for deep market research and knowledge.
This Week on the Market
How is the market this week? At the moment of writing the digest, the general stats are:
Total Market Cap: $2,043,350,957,545 (+6%);
BTC Dominance: 43.4%.
7d Change in Top Coins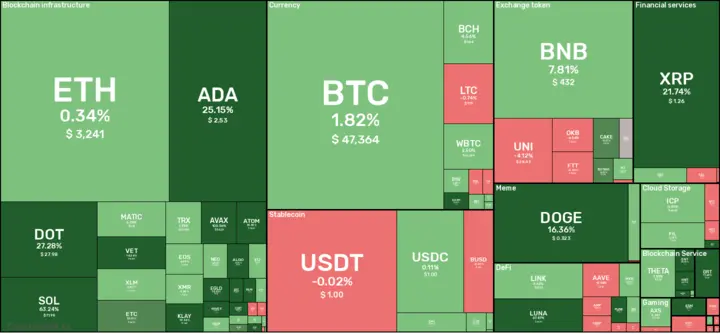 At the moment of writing, the weekly change of the top currencies is:
Gainers of the Week
Here are the altcoins that have scored most gains this week (and you can get them on ChangeHero):
Conclusion
Many altcoins helped the market push through the $2 trillion total capitalization once more. Bitcoin is also on the rise and out of negative sentiment, attracting bulls and buyers. Next week, find a new weekly crypto news digest in our blog. Follow ChangHero on Twitter, Facebook, Reddit and Telegram for daily updates and more content.
---
Quick links: