Bitcoin difficulty readjustment, London hardfork release date, mainland China blocking Binance — these are the breaking crypto news of this week. More on them and other news you might have missed in the latest cryptocurrency news digest from our team, enjoy!
Key Takeaways
This weekend, Bitcoin mining difficulty was readjusted and scored a record drop of 28%. On-chain metrics are recovering to normal levels;
Nevertheless, the market reacted more acutely to China banning Binance;
In Ethereum news, it is on a steady road to the London upgrade; the fee burn and other improvements will hit mainnet on August 4.
ChangeHero Updates: New Design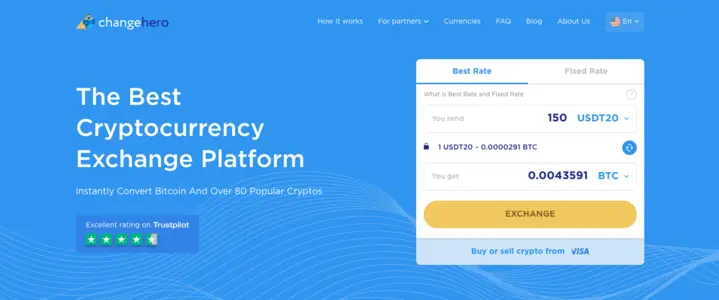 Our website got a facelift this week! We updated the main page and transaction process to a more refined look — check it out and let us know what you think!
Latest Cryptocurrency News Digest
Bitcoin Digest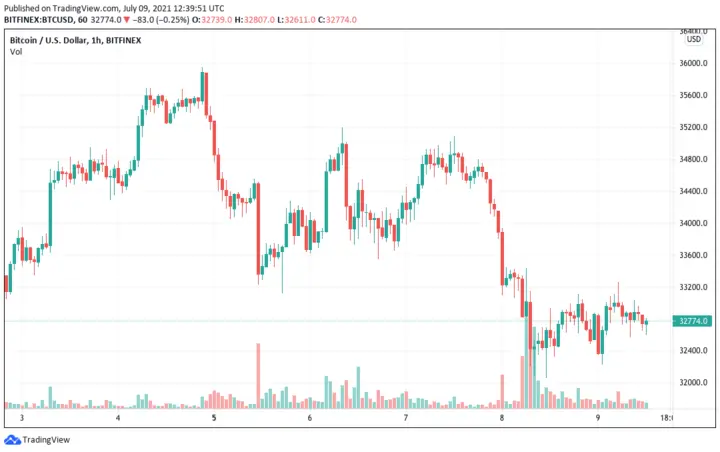 Bitcoin price had a nice weekend and a stormy working week again. Just before Monday, it attempted to break through the $36,000 resistance but dropped a significant percent down to $34,400.
After that, two more attempts to breach $34,800 were made but the news from China curbed the buyers' efforts. Binance getting blocked in China caused another drop to $32,100.
Bitcoin News
Is Bitcoin in danger of crashing again? Definitely not, and there are signs to back this. For the first time in two months, whale BTC holdings hit a local high, which is interpreted as a bullish sign.
That is not all good news: BTC mining difficulty saw a record 28% drop after this week's recalculation. It means that the miners that stayed online will make more profit and on-chain metrics such as block times recovered.
Altcoin News
Ethereum's London upgrade received a release date: August 4. It will introduce a controversial EIP-1559, which will burn extra fees instead of directing them to miners.
Business Cryptocurrency News
USDC issuer Circle is preparing to go public with Concord Acquisition Corp in Q4 2021. The initial valuation puts the company at $4.5 billion.
Cryptocurrency News on Adoption
Visa told CNBC that in the first half of 2021, crypto card usage exceeded $1 billion in volume. The crypto cards supported by the payment provider are issued by Coinbase, Circle and BlockFi.
Luxury hotel chain Pavilion Hotels announced that they will start accepting payments in 37 cryptocurrencies.
Regulation & Politics Cryptocurrency News
The ongoing events about Binance and China's crackdown converged: the crypto exchange is now blocked by the Great Firewall. That was expected: a couple of weeks ago all keywords relevant to crypto exchanges were removed by the Chinese Internet service providers.
Meanwhile, the American CryptoFed DAO became the first legally recognized decentralized organization (in the US). The news comes from the crypto friendly state Wyoming, which is becoming the center of attention in cryptocurrency news.
Cryptocurrency News Digest from Social Media
Video of the Week
It's always the right time to go over crypto safety measures! YouTuber InvestAnswers compiled 20 pieces of advice to secure your holdings.
Cryptocurrency News Digest from Twitter
1/ Here's how @techleadhd is scamming his community, telling them to buy his coin while he dumps on them

This is his address: https://t.co/kMUBjARNwd You know it's him because it's the same wallet that minted the initial 1M $MM — DCF GOD (@dcfgod) July 4, 2021
The drama around blogger and developer known as TechLead does not cool down. Most recently, he launched Million Token, but the community members quickly caught on to it being shady.
Let's have a look inside the office... pic.twitter.com/oTEGiKL0bo

— mrgoxx (@mrgoxx) July 6, 2021
This week, Twitch trading went on another level: crypto trader Mr. Goxx stepped up the game for everyone. The trader, who is also a literal hamster, is choosing a currency with a hamster wheel and places a buy or sell order by going through tunnels. Obviously, the whole thing is meant just for fun, which is clearly disclaimed in all Twitter notifications.
We're doing it #Bitcoin https://t.co/IwbKuBoXGv

— jack (@jack) July 8, 2021
Square will be building a hardware wallet of their own, as announced by Jack Dorsey. In a lengthy thread from June leading to the announcement, he mulls over challenges of balancing security and usability, which the product will tackle.
Influencer of the Week
Here we go again. Shorts rapidly increasing on @bitfinex. pic.twitter.com/SBrlBEfcG9

— WhalePanda (@WhalePanda) July 8, 2021
If you aren't new to Crypto Twitter, you might have heard about WhalePanda, but if you are, he's on plenty of lists for recommended follows for a reason. Comments on the current market, analytics and witty jokes are the most common post types you can find there.
This Week on the Market
At the moment of writing the digest, the general market stats are:
Total Market Cap: $1,360,776,663,724 (-0.49%);
BTC Dominance: 45.1%.
7d Change in Top Coins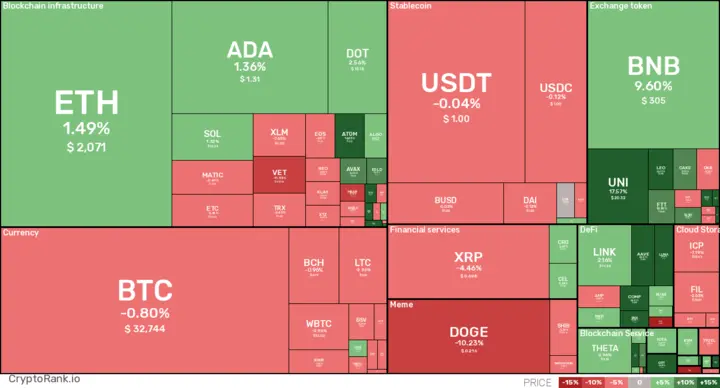 How is the market this week? Looking pretty normal, with some gainers and losers. At the moment of writing, the weekly change of the top currencies is:
Gainers of the Week
What is the best cryptocurrency to invest in right now? Probably the ones that are dropping. But if you have bags of these tokens, this week you're already in profit:
Conclusion
Despite what was happening in mainland China, the news from the crypto world is overwhelmingly bullish. There's a good chance that as soon as in a few weeks we may see their effect. For weekly crypto news, keep an eye on our blog! Follow ChangHero on Twitter, Facebook, Reddit and Telegram for daily updates.
---
Quick links: