What a spectacular week for the crypto market it was! Bitcoin has stepped over a historical number of $50 thousand. More world-famous names joined the ranks of crypto investors. Some other names, like Robinhood and Ripple are not so lucky, as the regulators are out to get them. Most impactful crypto news, market and Bitcoin digest — in our weekly article, get comfy and enjoy!
ChangeHero Updates
Celsius Network (CEL) is Supported on ChangeHero
Celsius Network token CEL has gone online on ChangeHero! You can now get your hands on the asset without the need to create an account at the best rates.
Latest Crypto News
Bitcoin Digest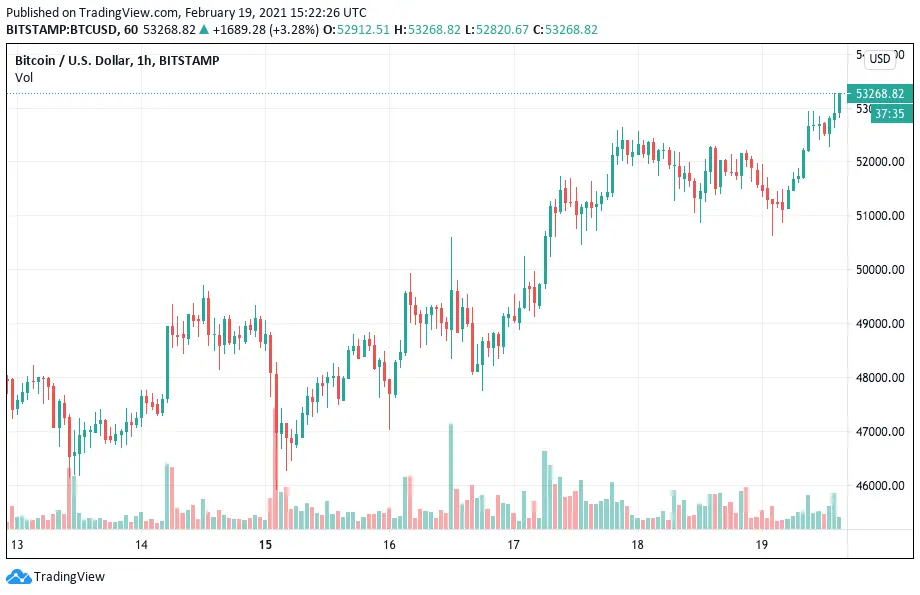 On Valentine's day, Bitcoin price was flirting with the $49,000 level before dipping to $45,900 early Monday. From there on, though, it has been climbing in a clear uptrend higher and higher. The psychological barrier of $50,000 was overcome on Wednesday. 
At the moment of writing, it has reached $53,268.82 in price discovery area. Is Bitcoin going to crash again? The volatility is still high, but it is more likely to resolve in a dip and recovery than a collapse.
Bitcoin News
And shortly prior to the publishing of the article, Bitcoin market capitalization broke above $1 trillion. Most probably, it is due to the massive flow of investments from institutions.
Curiously enough, the global price for Bitcoin is not the same across different countries. The media reported Bitcoin premium reaching 36% premium in Nigeria, where all previously regulated sellers became unable to trade. It makes the Bitcoin price at the time of the report $71,150.
Altcoin Crypto News
The US SEC has filed an amended complaint against Ripple executives. Now, in addition to being charged with offering and selling unregistered securities, the SEC demands Ripple lawyers' opinion letters. These documents may serve as evidence whether the executives were aware of XRP being a security. This piece of Ripple news might be responsible for XRP being in red this week;
Crypto Twitter users accidentally pumped a little known crypto by 3,600%. In a conversation with CZ on Twitter, they came up with the name for a currency to be used on Mars. Little did he know, there was already a MarsCoin, and users rushed in to buy. CoinMarketCap even had to add a disclaimer that this project is unrelated to the entrepreneur.
Tech Crypto News
Hardware company NVidia explained the release of GPU drivers for GeForce which will slash the hash rate. At the same time, the company released CMP — dedicated GPUs, fine-tuned for Ethereum mining. The move was made to solve the GPU shortage which was caused by miners buying out the components. The limitation being purely on the software side can only reduce the demand for the last gen GeForce GPUs, though.
Business Crypto News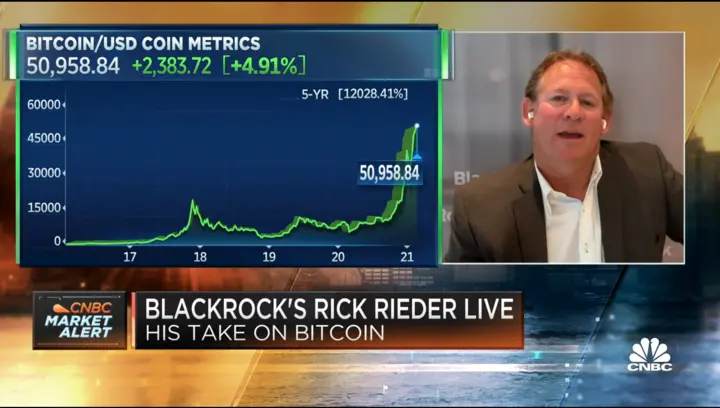 Another week, another institutional investor to add into the Bitcoin holders list. This time, it is the world's largest asset manager BlackRock. Their CIO, when asked about Bitcoin, admitted the company has "dabbled in it". He did not disclose any more details, like the amount of investment or other positions in crypto.
Oh wait, that's not it yet. The Motley Fool also disclosed a purchase of $5 million in Bitcoin. The rationale is that the digital asset serves as a better store of value than gold in their opinion;
Apparently, it is not enough for MicroStrategy to be the company with the most skin in the game. In their latest debt-for-Bitcoin offering, they secured another $1.05 billion.
Crypto News on Adoption
Christie's, top art auction house, will accept payments in Ether for the Beeple exhibit. The artwork in question is a collage of all the works the digital artist has posted since 2007. During his career, Beeple has scored a range of high-profile collaborations and gained over a million Instagram followers.
American company Blockchains LLC pitched the idea of creating a technological city in the state of Nevada. The city's core idea is to use blockchain across all sectors of city life: digital IDs, transacting, social services. If approved, groundbreaking is expected in 2022.
Regulation & Politics Crypto News
On Thursday, the US House of Representatives held a hearing into the alleged manipulation of GameStop stock. Testifying witnesses included Citadel, Robinhood, Melvin Capital and Reddit CEOs, and Keith Gill, also known as Reddit user DeepFuckingValue. Main scrutiny befell Robinhood, as senators called to question the business model of the application.
Crypto Digest on Twitter
A doc detailing a proposal for the first hard fork (tentatively named "HF1", better name pending) of the Ethereum beacon chain. Adds light client support, simplifies the spec, improves efficiency and introduces a less punitive inactivity leak mechanism.https://t.co/lICffChJsG

— vitalik.eth (@VitalikButerin) February 15, 2021
If you have not heard about Ethereum 2.0 in a while, it is doing well! Vitalik Buterin announced the first planned hard fork for the network, immediately sparking a discussion in the community.
To be clear, I am *not* an investor, I am an engineer. I don't even own any publicly traded stock besides Tesla.

However, when fiat currency has negative real interest, only a fool wouldn't look elsewhere. Bitcoin is almost as bs as fiat money. The key word is "almost". — Elon Musk (@elonmusk) February 19, 2021
This tweet from an adjacent conversation by aforementioned Elon Musk was heavily quoted in crypto news. Despite all the buzz around him on the Crypto Twitter, in fact he retains a healthy amount of scepticism. Quoting his another tweet, "Somehow, a hash text file using ancient crypto can be exchanged for real goods & services!? Amazing."
February 16, 2021
A few months ago, Spencer Schiff, son of a notorious Bitcoin critic Peter Schiff, bought Bitcoin. This week, we witnessed him roasting his father's predictions. By the way, in the tweet that started this conversation even Schiff (Senior) admitted that Bitcoin could reach $100 thousand. Twitter, of course, jokingly interpreted this as bullish.
Influencer of the Week
1. Every time the Altcoin market has dipped as of late... People forget that Altcoin Market Cap broke its 2017 highs Let's take a look at the last time Altcoin Market Cap broke its old All Time High just to truly appreciate how significant an event this really is... A thread:

— Rekt Capital (@rektcapital) February 18, 2021
Self-described as "level-headed crypto market analysis", Rekt Capital focuses on technical analysis of Bitcoin and altcoins. Sometimes, they offer threads explaining the market situation, such as in the highlight.
Top Crypto Digest
At the moment of writing the crypto digest, the general market stats are:
Total Market Cap: $1,614,997,487,622;
BTC Dominance: 60.73%.
7d Top Crypto Digest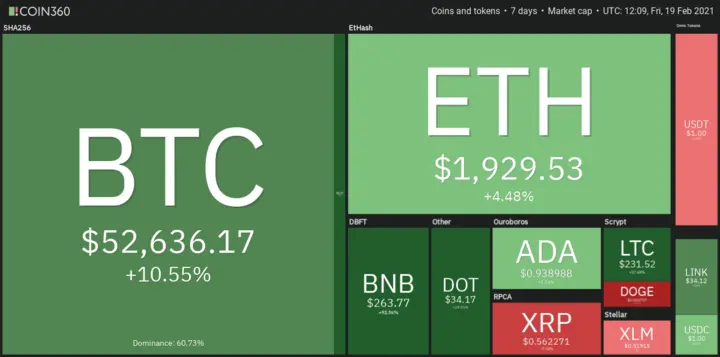 The top currencies had some gainers and losers this week. At the moment of writing, the 7-day change of the top currencies is as follows:
ChangeHero Gainers of the Week
Which Cryptocurrency will rise today? Here are the top-three that are blowing up at the time of writing:
Ravencoin (RVN) $0.1242 (↑156.65%);
Dash (DASH) $323.26 (↑97.74%);
Binance Coin (BNB) $263.77 (↑92.92%).
Key Takeaways
At the time of writing the Bitcoin digest, BTC price is in the price discovery area. So far, it managed to stretch to $53,268.82 per coin, which is the current ATH;
Among the altcoins, Binance Coin made news by breaking into the top three. Which crypto will explode in 2021? The one that takes Ethereum's share in DeFi, and BNB is set to reach this goal. Other achievers of this week are Dash and Ravencoin;
New arrivals among the institutional investors in Bitcoin include the largest asset manager BlackRock and the Motley Fool. MicroStrategy announced another acquisition;
Elon Musk dominated the Twitter-related crypto news again. His conversation with CZ sent the MarsCoin flying, and the tweet about Tesla investment decisions was heavily quoted.
Conclusion
The highlights of this week are none short of historical. Tune in next week for another crypto and Bitcoin digest in case you lose track of all the news. You will find it in our blog, and more announcements will be made on Twitter, Facebook, Reddit and Telegram.
---
Quick links: