Traders and bag holders welcomed bulls back while the entire crypto community was watching in disbelief as the criminal behind the historically large hack was returning compromised assets. If you were too busy watching this, too, we rounded up other essential crypto news from the past seven days.
Key Takeaways
Bitcoin is back into the greed zone again, steadily marching to $46,815 at the time of writing;
Poly Network has become a victim of the largest hack in the history of crypto to date — $600 million, which was reversed;
The US Senate is planning to pass a law that would damage the regulatory framework for crypto, which may have curbed the bullish sentiment. 
ChangeHero Updates
Exchange NEXO with Zero Fees on ChangeHero!
You still have time to take advantage of our limited time offer: exchanges with NEXO token will be fee-free until Aug 15, 2021. Grab them while the offer lasts!
Latest Crypto News Digest
Bitcoin This Week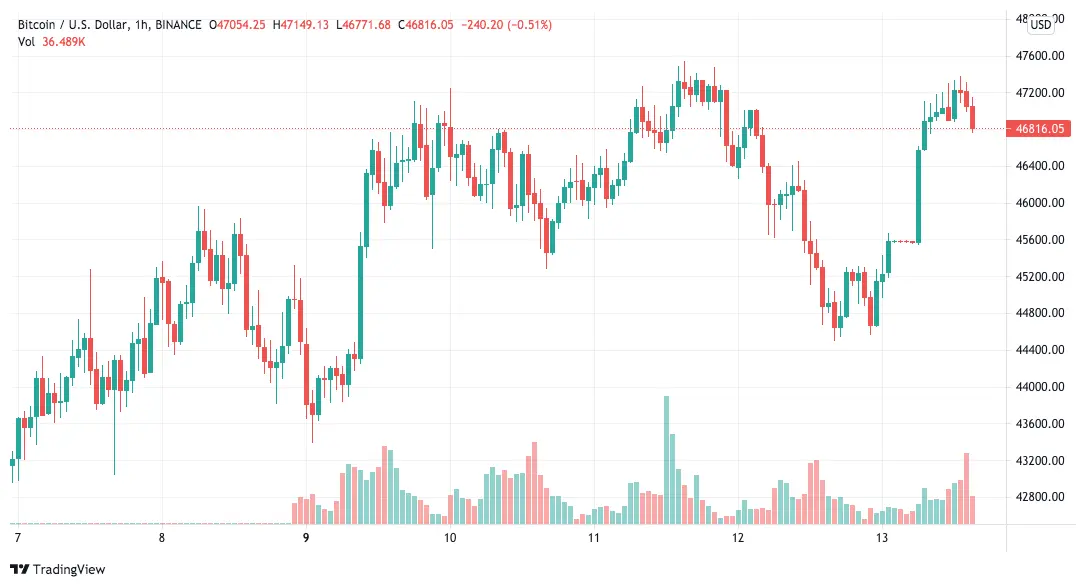 Volatility and greed are back for Bitcoin again. After a great weekend and rough start of the week, it continued its march towards $47,500 resistance.
The rejection caused the price to shed some $4,000 but at the moment BTC is attempting to overcome the $47,200 resistance.
Latest Bitcoin News
A pullback at the start of the week could have been caused by a new round of regulatory uncertainty in the US. The Senate has passed the Infrastructure bill unamended, which would imply taxing all crypto traders, miners and users as brokers, if passed.
American insurer Metromile is now holding $1 million worth of BTC on their balance sheet.
Altcoin News
All DeFi and altcoin news were dominated by the Poly Network hack on Thursday. The cyber criminal compromised $600 million worth of assets on Ethereum, BSC and Polygon using vulnerabilities in cross-chain swaps. It was bewildering not only being the largest hack in crypto history to date, but also because the hacker eventually agreed to return the assets. By now, they have returned almost all stolen funds with the exception of $33 million frozen by Tether.
That was also not the only large hack this week. On Thursday, DAO Maker came forward with a statement that a malicious user drained approximately $7 million from user wallets.
Business Crypto News
USDC emitent Circle is planning to apply for a banking license. Their mission to disrupt the banking with digital currency technology is in full swing.
India-based crypto exchange CoinDCX became the first local "unicorn" in the industry. Coinbase Ventures, Polychain Capital, Block.one and Jump Capital investments put the company at a $1.1 billion USD valuation.
Crypto News on Adoption
Stellar blockchain is going to be used in a remittance corridor that will link Thailand and 27 European countries. Velo Labs, Tempo Payments and Bitazza collaborated to provide a link between 600 million potential users and $17 billion in value.
US cinema chain AMC Theatres will start accepting Bitcoin payments for tickets by the end of 2021. WallStreetBets favorite hopes this step will help make reopening 593 venues after the pandemic more smooth and profitable.
Regulation & Politics Crypto News
Alberto Fernandez, President of Argentina, expressed a non-hostile stance on Bitcoin in the context of digitization. He admitted the need to understand it before opposing it, and even said making it a legal tender can be "a good path to take".
Singapore is planning to license digital payment providers, which include local crypto exchanges. Entities expecting licensing have been notified to comply with the local anti money laundering laws to receive a green light.
Social Media Crypto News Digest
Video of the Week
In an excerpt from the US Senate hearing, Texas representative Ted Cruz is giving a speech on the Infrastructure bill amendments. He insists the law is made prematurely to understanding digital currencies and even declined support of a fellow congressman to vouch for the amendment.
Crypto News from Twitter
Agreed.

Every account on Twitter being able to link to a Lightning wallet however… — jack⚡️ (@jack) August 12, 2021
Twitter CEO Jack Dorsey has made several controversial tweets about cryptocurrencies this week. Bitcoin fans were excited at the prospects of Lightning features for Twitter.  The rest of the community was puzzled why not use other chains. Not to mention, many users found the idea to entrust their finances to Twitter highly questionable.
Introducing Hyphen - Instant cross-chain transfers!

Starting with $USDC & $USDT transfers between @ethereum & @0xpolygon in seconds! 💜🔗https://t.co/ezcJl2a5ph pic.twitter.com/V7CYZ4qHVR — Biconomy (@biconomy) August 10, 2021
While Dorsey was busy promoting Bitcoin and throwing shade on Ethereum, DeFi and Ethereum news announced a launch of EVM-compatible bridge Hyphen. For now, it only connects Polygon and Ethereum, but given the user base of both, this is already huge.
Today I urged Speaker Pelosi to amend the cryptocurrency broker language in the Senate's infrastructure bill.

The legislation imposes new reporting requirements on miners, validators & developers of wallets who would be unable to comply with these requirements. #DontKillCrypto pic.twitter.com/TSmSL21D5z — Rep. Anna G. Eshoo (@RepAnnaEshoo) August 12, 2021
As the US Senate was debating on the text of the Infrastructure bill, users launched a campaign #DontKillCrypto. Influencers and senators joined in on the initiative to push more comprehensive legislation.
Influencer of the Week
Let's take the US Dollar out of the equation #BTCXAU pic.twitter.com/Jcpao65nG2

— PlanB (@100trillionUSD) August 12, 2021
If you are not yet subscribed to PlanB, you are missing out on the most consistent and unbiased analysts! PlanB is known as an author of a stock-to-flow model applied to Bitcoin and faithfully updates it, proving its reliability.
This Week on the Market
How is the market this week? At the moment of writing the digest, the general stats are:
Total Market Cap: $1,927,553,705,634 (+15.35%);
BTC Dominance: 45%.
7d Change in Top Coins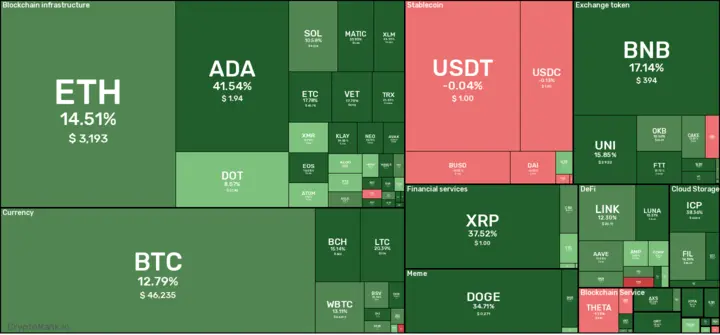 What is the safest cryptocurrency to invest in? If you invested a week ago in almost any crypto from the top-100, you would be in profit! At the moment of writing, the weekly change of the top currencies is:
Gainers of the Week
What is the next big cryptocurrency to invest in? Watch out for these and similar altcoins, you never know when they shoot up:
Conclusion
Even in the regulatory uncertainty, like in the US or China, the crypto industry is flourishing. The markets have been doing well lately, too, despite historically large hacks occurring. In a week, find a new weekly crypto news digest in our blog. Follow ChangHero on Twitter, Facebook, Reddit and Telegram for daily updates and more content.
---
Quick links: