What is the current situation of Bitcoin and the market after closing the biggest and, sadly, red monthly candle? In short, not as bad, as the network eases up and new businesses roll in! In more detail, read all the news from this week in our crypto news digest.
Key Takeaways
This week Bitcoin price was on an upside for the first time in a while. A careless tweet from Elon Musk almost nullified the gains made in the 7-day time frame.
Altcoins seem to be in a higher demand now, seeing that LocalBitcoins added coins from the top-10 and popular stablecoins.
Chinese businesses find new ways of operating within the new framework. India stepped in to clarify that cryptocurrencies will not be banned completely.
Latest Crypto News Digest
Bitcoin Digest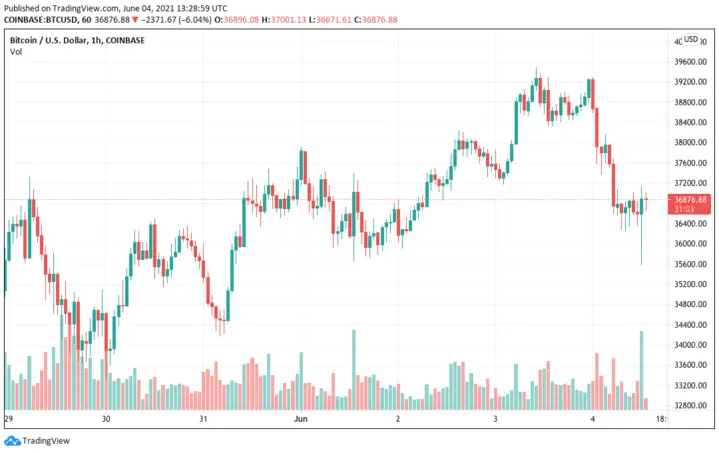 Following a rocky weekend, BTC bounced off the support at $34,200 and started an upward climb. Everything looked very optimistic, and the highest unconquered support lied at $39,400.
Why is BTC dropping? That was until a tweet from Elon Musk earlier today, which we will cover in the social media section. Traders must've taken it as Musk and/or Tesla selling their BTC, hence the panic selling and dip to $36k.
Bitcoin News
Following the market changes, Bitcoin commissions have lowered to the 2021 minimum seen in January. According to BitinfoCharts, the average cost to send a BTC transaction is now $2.96.
The Bitcoin 2021 conference in Miami will begin today. The event will headline Jack Dorsey, Michael Saylor and Tony Hawk, among others, as speakers as well as have networking sections and parties.
Altcoin News
Peer-to-peer marketplace LocalBitcoins introduced new assets for their customers: ADA, DOGE, USDT, USDC, BCH, DOT and LINK.
Potentially bullish Ethereum news? Ex-head of the digital yuan project Yao Qian made a public statement that in the future CBDCs will use Ethereum as a model for smart, programmable money.
Business Crypto News
Reportedly, hardware manufacturer Razer is considering a crypto strategy, as their CEO wrote in Twitter. Their main concern lies in the impact GPU mining has had on the consumer market, making hardware prices skyrocket.
Google is going to introduce a new advertising policy for cryptocurrency products starting this August. This mostly concerns the United States and will allow service providers to launch campaigns if they have appropriate certifications.
Crypto News on Adoption
Move over, Tesla, the real crypto-cars, which will be able to mine cryptocurrency, are in town! Well, will be in town in 2023, when Daymak cars are set to arrive.
Last week we reported that Apple might be looking into working on their own cryptocurrency payment channels in the future. For now, they brought the Coinbase card to Apple Pay, which still is a large overlap of user bases.
Payment gateways that convert crypto payments to fiat are not new but what about a gateway doing the opposite? Paxful has launched a tool that can enable merchants worldwide to receive payments in BTC.
Regulation & Politics Crypto News
China is cracking down on crypto but it doesn't mean the businesses are going to stop operating. News reports that Chinese traders and investors started utilizing OTC desks to bypass the ban on cryptocurrency services within the country.
The cryptocurrency ban in India is not happening, the Reserve Bank of India (RBI) clarified this week. Banks were citing the circular that lost power last March, and the RBI will not be settling with prohibitive measures going forward.
Social Media Crypto News Digest
Video of the Week
Last week, we mentioned a report from Goldman Sachs getting leaked. On May 27th, the report was published. You can watch this video for a summary! The gist is that Goldman Sachs changed their opinion: in 2020 they were sure that cryptocurrencies can't be an asset class. In this report, however, they are covering the ground why they are considering it a new asset class now.
Cryptocurrency News Digest from Twitter
#Bitcoin 💔 pic.twitter.com/lNnEfMdtJf

— Elon Musk (@elonmusk) June 4, 2021
Here we go again: a tweet from Musk vaguely related to cryptocurrencies that drew the ire of the community. At the moment of tweeting this, BTC price went down, failing to break out, and the replies properly demonstrate the disappointment.
Announcing Reimagining the Rabbit: Miami, Playboy's first collection of animated NFTs, featuring @aylaelmoussa @mbsjq @rek0de @JonNoorlander- Debuting 6.3.21 at Bitcoin 2021 on the Raretoshi marketplace. Video credit: Ayla El-Moussa. Learn more at https://t.co/2JkHnyq3J9 pic.twitter.com/fUSCHuvYuS

— Playboy (@Playboy) June 2, 2021
More news from the NFT world: to celebrate the Bitcoin 2021 conference, Playboy launched a limited collection of digital artworks. An intriguing detail is that the blockchain used for the tokens is none other than Bitcoin via Liquid sidechain.
We are delighted to announce Norton Crypto - a new feature designed to enable consumers to safely and easily mine #cryptocurrency. Learn more: https://t.co/TfYMr0Drhv pic.twitter.com/DezzBfV0kC

— NortonLifeLock (@NortonLifelock) June 2, 2021
Much to the surprise and mixed reception from users, Norton antivirus software announced a crypto mining feature. Even crypto-positive users found a bone to pick: it's custodial, all the mined coins are going to the cloud wallet.
Influencer of the Week
tbh even nonsensical caps lock tweets have sent BTC down 5% in recent weeks so the sentiment shift is interesting here

— Nik Patel (@cointradernik) June 3, 2021
Nik Patel needs little introduction, since he is arguably one of the best known traders of Crypto Twitter. He is also a writer, having published a book on altcoin trading and running a newsletter.
Top Coin Digest
Will Bitcoin ever go back up, and market with it? It's high time to ask yourself that, since it is drawing a second green weekly candle in a row. At the moment of writing the digest, the general market stats are:
Total Market Cap: $1,651,578,959,830 (+2.02%);
BTC Dominance: 41.8%.
7d Change in Top Coins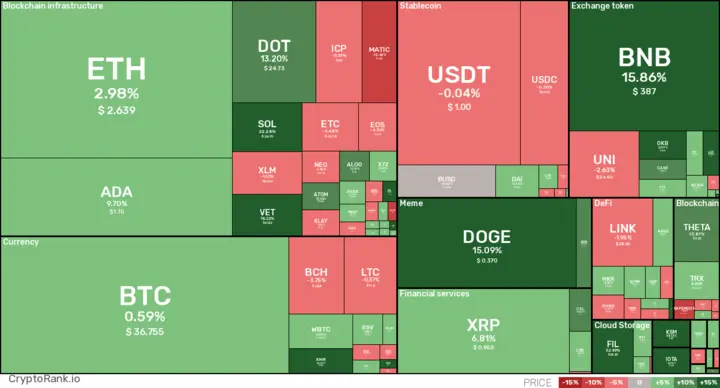 Finally, a normal-looking week! Most cryptocurrencies are slowly but surely regaining losses. At the moment of writing, the weekly change of the top currencies is:
Gainers of the Week
Which crypto to buy today? The trends of this week are DeFi and exchange tokens, and some older privacy altcoins are also looking upside:
Conclusion
After all, the situation on the market seems to grow less hectic. The BTC community seems to learn their lesson and act less on tweets impulsively. All the while all the crypto news about new enterprises joining in seem bullish. We hope you found this weekly crypto news digest insightful. Check our blog for more! You can follow us on Twitter, Facebook, Reddit and Telegram for live updates.