It's finally official — Bitcoin has beaten the ATH on all exchanges this week. But are you sure you did not sleep on all the other events the crypto community was discussing? Don't worry, the ChangeHero team is here to help you catch up with all the cryptocurrency news in our weekly crypto digest!
ChangeHero Updates
Let us start this crypto digest with a quick update from us at ChangeHero!
2020 in Crypto Recap — Part Two in Our Blog!
Just yesterday, we published a continuation of our December series. Part two is the 2020 Altcoins recap — give it a read if you haven't already! Look forward to more entries next week.
New Listings on ChangeHero
Some more assets became available for exchange on ChangeHero. You can now swap Travala token (AVA), DIA, Litex token (LXT), and Utrust token (UTK) hassle-free at the best market rates, without registering an account.
Latest Cryptocurrency News
Bitcoin News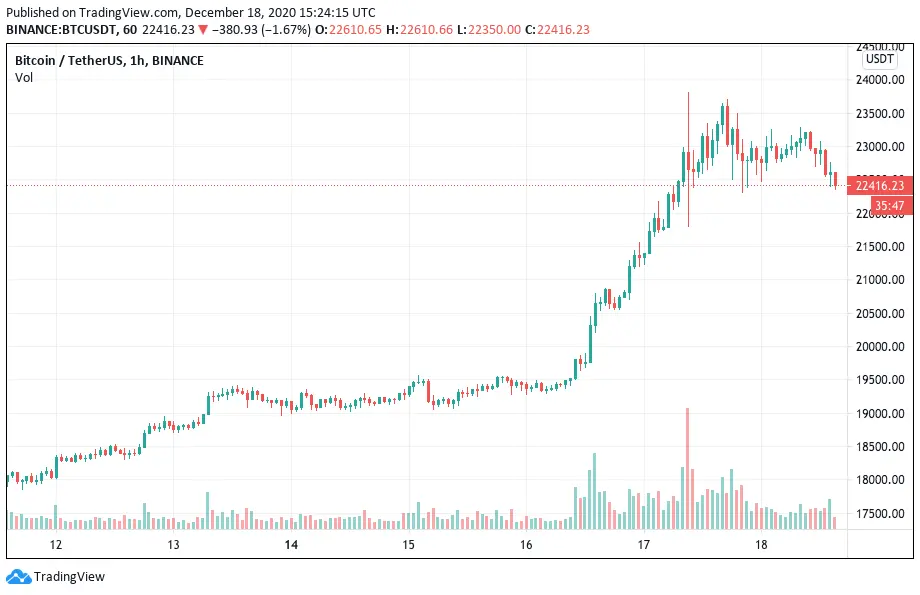 The chart looks unbelievable: on Wednesday Bitcoin has beaten the psychological barrier at $20k, its previous ATH and entered the discovery price range. Yesterday, it renewed the ATH to $23,642. Since then, it has slightly dipped and is now worth $22,416.23. Imagine the selling pressure at the moment? Will the bulls prevail? We'll see soon.

Source: Bitcointalk

And now, to the more important news: "hodl" is seven years old today. If you ever wondered, why is it spelled like that, here is your bit in Bitcoin history. Long story short, Bitcointalk user GameKyuubi got drunk and overshared after a Bitcoin dumped below $650. He may have lost some dollars, but he did not lose faith!
Altcoin News
Compound, one of the largest DeFi protocols, has published a whitepaper of Compound Chain. The move from Ethereum to a native chain is supposed to help overcome the limitations of the current version of Compound. The new version will support not only Ethereum tokens and will have better collateral risk management, the whitepaper claims.
Chicago Mercantile Exchange (CME) has announced the listing of Ethereum futures. Three years ago, under very similar circumstances CME listed Bitcoin futures. Does it mean Ethereum is a good long term investment now? Products like these will help traders gain exposure to assets without owning them, and for Bitcoin it turned out to be beneficial in the long run;
And some XRP news! Last weekend, the XRP network underwent a snapshot for the Flare Network token airdrop. Since then, the asset has slightly declined, as the holders were selling off. Nevertheless, XRP is still in the black this week.
Business & Cryptocurrency News
Coinbase drafted for an Initial Product Offer (IPO). If approved, Coinbase stocks will be able to enter the American stock market. Messari estimates the initial capitalization of Coinbase IPO at $28 billion.
Cryptocurrency News on Adoption
PornHub and payment providers Visa and MasterCard have had a fallout after a scandal regarding the illegal content on the website. MasterCard ceased operations completely and Visa suspended support until further investigation when allegations of child porn being hosted on PornHub surfaced. This means, right now the largest adult content provider has only crypto payment options for premium subscriptions and donations. At the moment, they support Verge, Horizen, TRON, USDT, BTC and Litecoin.
Microsoft will expand their blockchain platform to facilitate royalties processing in Xbox Store. Azure will be used for licensing and verification of procedures.
Regulation & Politics Cryptocurrency News
MtGox reimbursement plan was set in motion. The sentiment around the news is not too optimistic. The exchange's wallets now hold cryptocurrencies worth a few million dollars, and the likely plan is to sell them to convert cryptocurrencies into reimbursements. No further information about the plan is available at the moment.
Twitter Crypto Digest
AND THAT'S ALL SHE WROTE!!! The auction ends on a ridiculous last second bid of $777,777. This brings total PRIMARY MARKET sales from @beeple's collection to over $3,500,000+

CONGRATULATIONS TO THE LEGEND BEEPLE and thank you to the entire community!!! https://t.co/pp4fm0j6iJ — Nifty Gateway (@niftygateway) December 13, 2020
Nifty Gateway, the Gemini-backed blockchain auction house, has seen one of its largest purchases this week. The record $777,777 last-minute bid on a work of digital artist Mike Winkelmann, known as Beeple, has brought the value of his entire collection to over $3.5 million.
I have moved 25% into Bitcoin 🌝

— Shaan Puri (@ShaanVP) December 10, 2020
Every week, we are seeing more news about large institutional investors pouring capital into Bitcoin. But seeing retail famous investors, like Shaan Puri, CEO of Twitch, moving as much as 25% of their net worth into BTC is not less satisfying for all holders.
Thee Hot Girl coach is OFFICIALLY on team @Cashapp ! To celebrate I'm giving $1 MILLION in Bitcoin to as many hotties as I can! Will be giving out this million units until its gone, so drop your $cashapp below w #BITCOINMEG to get a piece pic.twitter.com/Do1Mb5VWKY

— HOT GIRL MEG (@theestallion) December 17, 2020
CashApp and Bitcoin have gained a prominent ambassador in Meghan Thee Stallion, up-and-coming rapper star. The other day, she was giving away one million USD in Bitcoin. The tweet collected about 200 hundred replies. Awareness raised successfully! Even though each lucky user got 50,000 sats, which was around $11 at the time.
#Bitcoin breaking above the resistance zone, which is close to a new all-time high. Bullish!

However, you'd want this red zone at $19,400-19,500 to become support. If that happens, price can continue towards $20,500-21,000. pic.twitter.com/kSoa770SLo — Michaël van de Poppe (@CryptoMichNL) December 16, 2020
Tweets that precede legendary moments. Maybe even Michael could not have guessed that his estimate would be moderate today?
Influencer of the Week
-Continually strive for patience, perseverance, determination, & rational action

-Limit your losses, use stops -Place/Determine the stop at the time you make your trade -Never cancel a stop loss order after you have placed it! -Never get into the market b/c you are anxious — Mr. Anderson (@TrueCrypto28) December 17, 2020
Mr. Anderson's Twitter account is a must-follow for any Bitcoin enthusiast. He often provides trading insights with technical analysis and shares news and opinions from influential voices. There is no post that feels as if it was not made by a sincere enthusiast.
Top Coin Digest: Price Change
At the moment of writing the crypto digest, the market's dynamics for the last 7 days are the following:
Total Market Cap: $646,478,049,334 (+21.10%);
BTC Dominance: 65.69%.
7d Top Coin Digest
Ah, these shades of green look lovely, don't they? At the moment of writing the crypto digest, the 7-day change of the top currencies is the following:
Gainers of the Week on ChangeHero
Which cryptocurrency will explode in 2020? At the time of writing this crypto digest, the winner altcoins are:
All the assets from the top coin digest list can be exchanged on ChangeHero. Some of them (BCH, BTC, BSV, XLM, ETH, LTC) can even be bought and sold with a credit or debit card on our website. No matter if you choose fiat or crypto, it will take only about 15 minutes, and we will find the best offer on the market for your purchase.
Key Takeaways
Bitcoin has beaten the previous ATH on all exchanges. The current highest known price is at $23.6 thousand dollars;
CME is expanding the range of crypto products and introduces ETH futures. This can help attract institutional investors not only to Bitcoin, but altcoins, too;
Bearish sentiments are reinforced by the news about Mt.Gox reimbursement plan. However, judging by the price action, this is not enough to stop the rally in its tracks;
PornHub at the moment accepts only cryptocurrencies: XVG, ZEN, TRON, USDT, BTC and LTC. It is yet unclear whether they will return to working with their card processing partners at all;
The market dynamics are extremely bullish, almost all of the top assets show double-digit weekly gains.
Summary
The Bitcoin and crypto community have a lot to celebrate this week, but even more to look forward to in the future. This is it for this weekly crypto digest, but you can check our blog out next week for more news and updates! And to stay tuned to ChangeHero's content updates, we recommend subscribing to us in Twitter, Facebook, Reddit and Telegram. Take care!
---
Learn more:
Quick links: