2020 feels like the year when cryptocurrency adoption is finally on the rise. This month, the ChangeHero team is going to present a series of articles to our readers, giving the specifics of crypto adoption in 2020 in the world by region.
A Foreword on Methodology
Technically, cryptocurrency transactions cannot be pinned down exactly to a location, and sometimes those can involve cross-border transactions. This is why the data that services like Chainalysis use rely on approximations such as data from popular P2P platforms and web traffic if it's available. The key source for information for our article is the 2020 Geography of Cryptocurrency Report by Chainalysis, and unless stated otherwise, the information is taken from the report. The global rating they came up with serves to evaluate the degree of cryptocurrency adoption by country.
2020 Crypto Adoption in Asia
Asia is one of the leading regions in the world in crypto adoption in 2020. Due to its sheer size, the nature of it varies from business to day-to-day use. Across the region, the regulations take shape, which also helps to introduce crypto mass adoption. Among the analysed countries, China is the most representative of East Asia. This region accounts for most domestic value transfers and is the world's largest crypto market. Approximately 31% of value transferred comes from China. Not surprising, considering that Chinese miners control 65% of BTC's hashrate. [table id=16 /]
China
The major cryptocurrency-related activity in East Asia is professional trading. This is why altcoins (especially LTC, CRO, BCH, MKR) and stablecoins are very popular there. The most popular stablecoin among Chinese users is Tether. One of the possible reasons for that is a great deal of exposure the sister company of Tether LTD, the Bitfinex exchange, has in the country. China is mostly known for its pro-blockchain and anti-cryptocurrency stance. You can read more about it in our article dedicated to China & cryptocurrencies.
Vietnam
Vietnam ranks tenth in the world for the use of remittances with $13.8 billion yearly. However, it is only a presumption that some of these cross-border transfers were made using cryptocurrencies for shorter waiting times and lower fees, as normally crypto transfers are difficult to pinpoint geographically. Overall, Vietnam is in top-10 countries by cryptocurrency adoption statistics. Vietnam government, due to a high degree of mass crypto adoption in the country, has started to research crypto regulation possibilities to help regulate the space.
India
India is the world's leader in remittances with $69 billion transferred yearly. Tether stablecoins are reported to be the most popular choice of value storage among stablecoins to hedge against the instability of rupee. Earlier this year, India's Supreme Court lifted the ban that prohibited banks from dealing with cryptocurrency, allowing more businesses to operate in the region. Large corporations like Binance have started expanding their market to India, in their case with WazirX purchase and marketing campaign targeted to the country. The rumors that the ban may return emerged, but so far they were proven to be unsubstantiated.
Thailand
Thailand didn't quite make it to top-10 countries by crypto adoption, but it ranked high overall in on-chain retail value received, number of on-chain deposits and P2P trade volume. Thailand government is progressive towards blockchain technology. Just recently, it became known that Thailand and Hong Kong plan a joint CBDC project, and the Bank of Thailand has issued $1.6B government bonds on IBM blockchain.
Philippines
At the moment, the Philippines is not the country that has a legislative framework for crypto in place. The government is not yet involved in this sector unless it is warning statements about scam projects. This does not mean that they are ignoring it: the central bank Governor, for example, has been on record stating that there is interest in digital currencies. The highest metric that the Philippines score is transfer value received, so it is most likely that crypto remittances are the reason the Philippines rank so high in the global cryptocurrency adoption index.
2020 Crypto Adoption in Africa
Africa is responsible for the least volume in crypto transacting than the rest of the world's regions. However, it still sees a high degree of mass crypto adoption for remittances and peer-to-peer transfers. Fiat devaluation also plays an important part in crypto and Bitcoin adoption. [table id=17 /] Coincidentally, most of these countries are in the lead by nominal GDP, too.
Kenya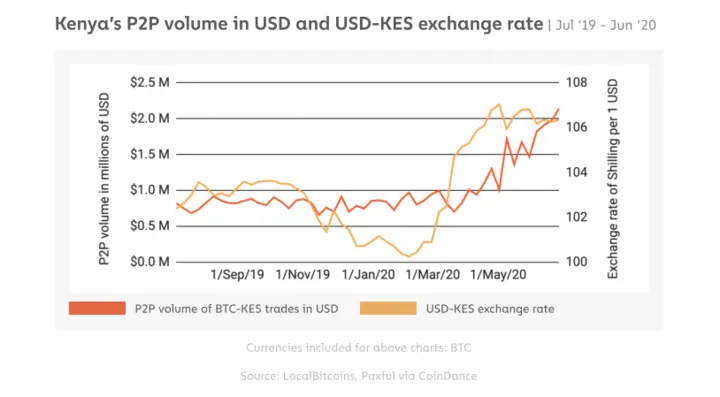 When it comes to P2P volume, Kenya is the global leader, according to the Chainalysis report. The trends in volume tend to follow the appreciation and depreciation of Kenyan shilling, so it is reasonable to suggest that the high degree of Bitcoin adoption is due to it being used by Kenyans as a hedge against hyperinflation. As far as the government is concerned, there have not been any attempts to establish crypto laws yet.
South Africa
In the same vein, South Africa is leading in P2P crypto exchanges and follows the same trends. According to coin.dance data, in 2020 the LocalBitcoins volume for South Africa has grown from 10 million rand to almost 40 million rand weekly. Moreover, in-region remittances seem to be another driving force behind crypto adoption in the country. The traditional transfers in-region can cost up to 15% of the transfer. The South African government is currently developing a framework to incentivize the growth of digital assets and crypto economy.
Nigeria
Nigerian government might be the most conscious government in the region regarding crypto. Cryptocurrencies and ICOs were recognized as securities under law, which makes it imperative to register them. When it comes to Nigeria, it is one of the markets most drastically affected by the expansion of Binance into the region. The trading volumes in crypto have consolidated into the largest service providers as soon as Binance became available in the area, mostly because they offered services previously unavailable and make emphasis on educating users.
Ghana
In 2020, Ghana saw an avalanche-like increase in P2P trading volume. According to UsefulTulips, the volume grew from $350 thousand to more than $2 million weekly.  Though the government there is neither prohibitive nor supportive towards crypto, the Bank of Ghana is considering the launch of their CBDC. From there on, it is uncertain what official stance on independent cryptocurrencies will be.
Morocco
Unlike the Sub-Saharan countries described above, Morocco and some of its Northern African neighbors (Algeria, Libya) have a ban on cryptocurrencies. In that regard, their stance is similar to China's, as Moroccan government seems to embrace blockchain in fintech. Nonetheless, P2P volumes originating in the country have consistently been significant, signaling a high degree of Bitcoin adoption.
Key Takeaways
Can it be said that Bitcoin is being adopted worldwide? Very much so, and crypto adoption, which is spearheaded by it, is a truly global phenomenon.
Developing countries in Asia and Africa have a high rate of mass crypto adoption. It is reasonable to think that the percentage of population that owns crypto is higher the higher P2P volumes are, but due to the anonymous/pseudonymous nature of cryptocurrencies, it is still hard to answer what percentage of the population owns cryptocurrency exactly. The latest statistics show that in Q3 of 2020, there were 54.27 million blockchain wallet users worldwide, so we can suggest that the real number of crypto users is slightly lower than that. Even if we assume one address in that statistic equals one person, relative to the overall world population, that is 0.0069%.
P2P is a pillar of Bitcoin adoption in most countries. Without doubt, BTC is the one being traded the most across all regions, so the cryptocurrency most likely to explode in 2020 is, unsurprisingly, Bitcoin.
Bottom Line
In this article we answered some of the most frequently asked questions about worldwide crypto adoption and overviewed two regions. There is much more to cover, so make sure you stay tuned for the next articles in this series. Subscribe to ChangeHero Blog and follow us on Twitter, Facebook, Reddit and in Telegram!
---
Learn more:
Quick links: