It's been a few weeks of a post-halving crypto-life. We are, potentially, at the beginning of a new market cycle, and our best attempt to predict how this will play out is to look at the previous times the same thing happened. Within a year from the second halving, not only Bitcoin was scoring new all-time highs, but other coins were booming as well. This came to be known as the "altcoin season", and in this article, we'll try to explain why this event is so anticipated, is altcoin season 2020 on its way and what could be the biggest players this time around.
State of Crypto Market
First, let's have a look at some numbers that can help us grasp what is happening beyond Bitcoin and top assets.
There are 5,515 coins and tokens on 22,525 markets listed on CoinMarketCap. The Total Market Cap is evaluated at $248,351,087,876. This is not to mention the projects that are not listed there but may also take part in the market activity.
A curious detail is that BTC Dominance today is at 65,6%. This is more than it was in 2018 (as seen in the graph below) but way less than prior to 2017 when there were not as many altcoins, to begin with.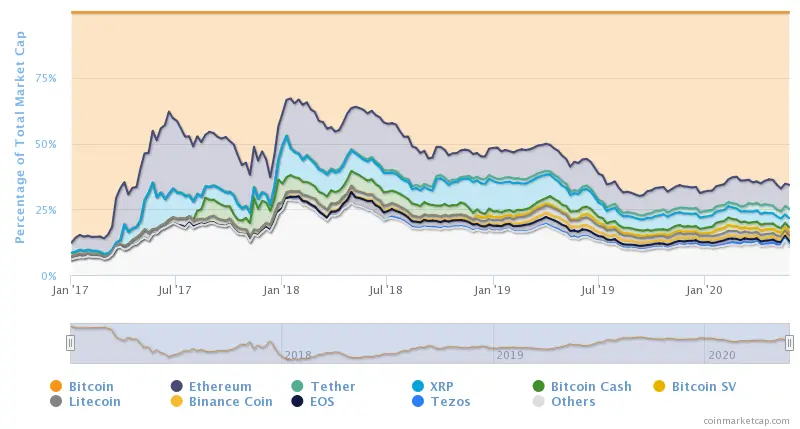 As seen in this graph, in 2017 BTC dominance was gradually becoming contested by altcoins (currencies other than Bitcoin), mostly Ethereum, and this trend peaked in mid-2017. For the entire 2018, when the market survived its first major crash, Bitcoin trading volumes took up less than half of the entire market. This period could be described as an "altcoin season" to some extent.
What is Altcoin Season
The usual situation on the crypto market is when the currencies move more or less in sync with Bitcoin.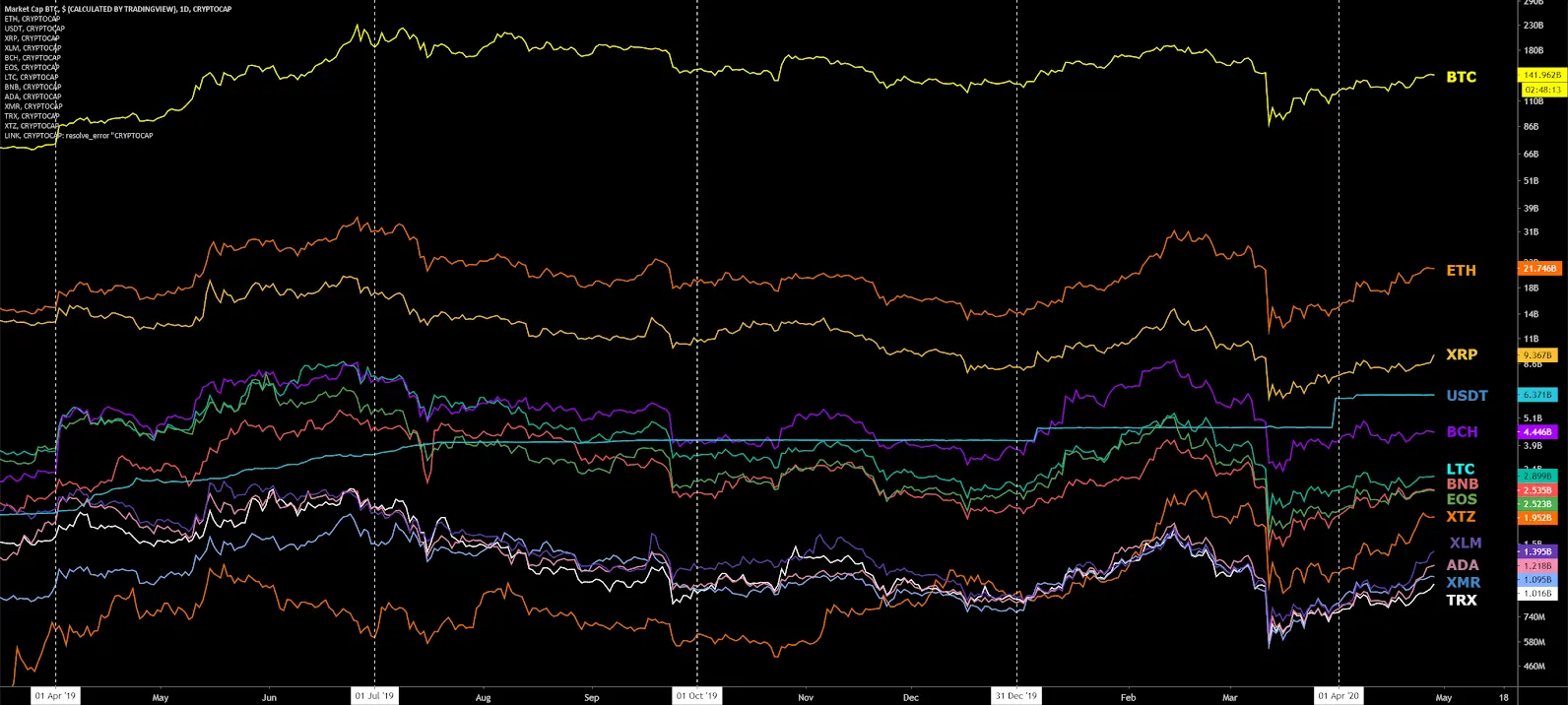 However, this is not always the case. Sometimes currencies other than Bitcoin, or altcoins, start gaining value due to their own merit and break this tendency. In times like that, you may start hearing people talking about an "altcoin season".
The Merkle defines altcoin season as a break from the trend when altcoins follow Bitcoin. However, this definition treads a thin line between this and pump-and-dump. CoinRivet also makes the same observation.
The main difference between these events is that the altcoin season is a market-wide trend. This may happen either with a surge in total market capitalization or by an increase in market capitalization for altcoins, and both of these scenarios might happen independently from Bitcoin.  The term "altcoin season" bears positive meaning, connected with the anticipation of the whole market rising.
ChangeHero's Picks for Altcoin Season 2020
We picked a few altcoins to keep an eye on in the future. Some of them are already established projects and some are in the list because they show potential to grow either because of the underlying technology or recent price performance.
Ethereum (ETH)
First of all, there is no way we were going to overlook Ethereum. It is second only to Bitcoin, a tried and true project with the underlying technology that has proven its value over the years, yet still introduces new elements of ecosystem that shake the market up to its core. Ethereum 2.0 testnet might be just around the corner, and this update will transform the network into an even more capable ecosystem that will surprise everyone in the future.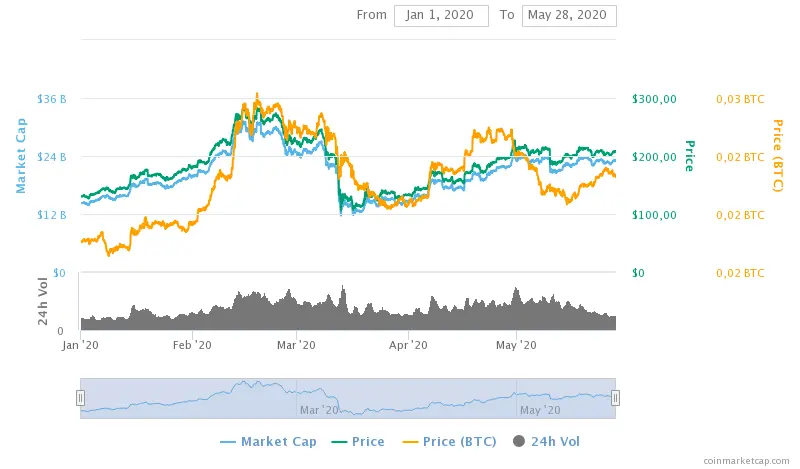 In comparison with the opening price of 2020 ($130.47), ETH is up 60%. Today it ranks second by market capitalization ($22,934,867,626) and is worth $206.41. Ether can be exchanged, bought and sold on ChangeHero, quickly and with the best rates.
In a recent YouTube video, Currency.com trading analyst John gave his prediction for ETH price in June 2020. Ethereum is going into June after a month of consolidation in a downtrend in May. The levels worth watching out for are $216 resistance, $190 support. Based on 21-day moving averages, the long-term target is $300 and the lowest support level is $150. John suggests that Ethereum 2.0 testnet launch can either move ETH price closer to the target price or cause a flip to bullish trend if the downtrend continues. Alternatively, there is a possibility that Ethereum 2.0 gets postponed again, and the market is very likely to react by a short-term ETH dump. For more predictions for Ethereum, check out our price prediction article.
Tezos (XTZ)
Tezos is one of the Delegated Proof-of-Stake networks. It was designed to solve the governance problem that plagues other decentralized networks. So far, the product has shown that their solutions are working.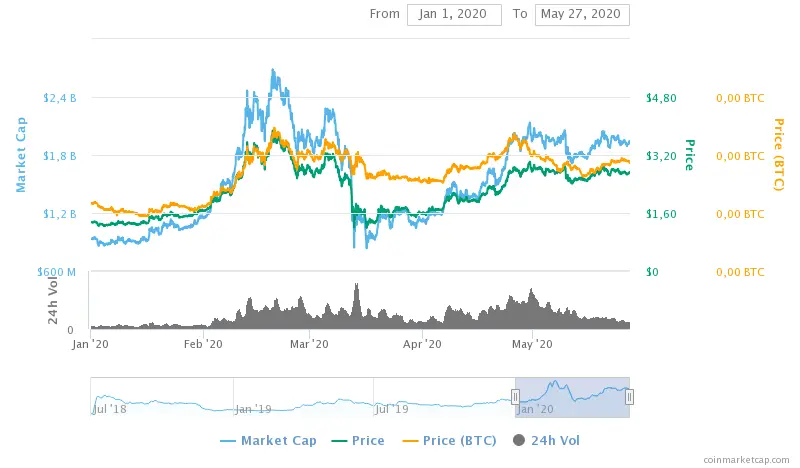 In 2020 so far, Tezos had its share of ups and downs, but lately, it has consistently been showing spectacular gains. In April, its price rose by 77.49%, and in May this trend only slowed down a bit. It reclaimed the early February levels around $2.70 and is likely bound to return to this year's highs.
At the time of writing, Tezos ranks tenth by market capitalization ($1,916,050,835) and is worth $2.69. ChangeHero supports swaps with XTZ.
In addition to positive price performance, Tezos is seeing successful technical developments. Over the course of 2019, the community and developers approved and implemented three protocol upgrades. The on-chain activity is increasing, and currently Tezos is the network with the largest amount of participation in staking among all PoS networks.
TRON (TRX)
Unlike many other coins in our list, TRON is a fairly new project. Despite that, it has already made its way into the top of the list by market capitalization and at some points even broke into the top ten, the first time being within the first year of TRX's existence.
What could be the reason? TRON is a decentralized network akin to Ethereum, but running on DPoS. It has a lot of opportunities for infrastructure expansion by building dApps on the platform. But the key is probably in outreach and marketing. TRON Foundation has communities across the world, all of which are very active on social networks, and the Foundation itself scores large partnerships for the network one after another.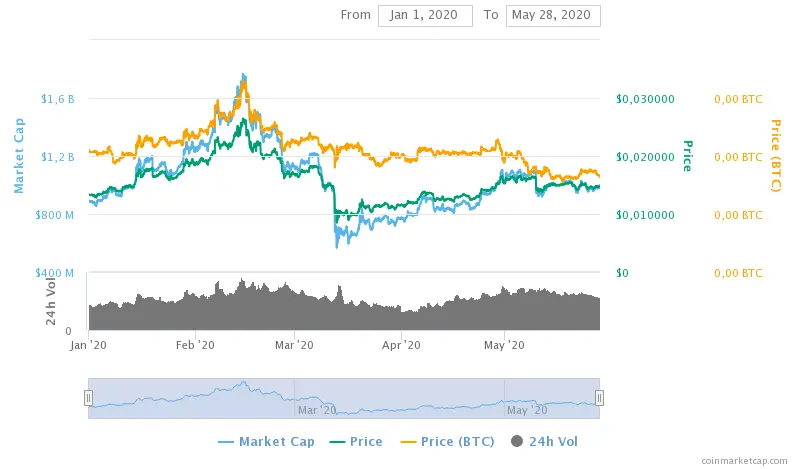 TRX, as can be seen from the chart above, is not doing as hot as some other picks. It's about at the same level as it was at the start of the year. This is neither good news, since it's down from the February highs, nor bad since TRX price has recovered since March. Another conclusion that can be drawn from the chart is that TRX price is just moving in sync with the market. 
At the moment of writing, TRON is traded at $0,015010, its rank by market cap ($1,000,904,518) being 17th. It can not only be swapped but also bought and sold on ChangeHero.
TRON might be a good investment considering consistent improvements in development. In the future, core developers are considering zk-SNARKs for optional privacy, and this is just one of the features planned for implementation.
DigiByte (DGB)
DigiByte has been around for 6 years but its time to shine has come again in 2020. It was launched with no ICO, centralized enterprise, just with the technology — and now it's breaking into higher ranks by market cap with no marketing aside from the buzz in the community. We wrote about the underlying value of DGB in detail in a recent guide.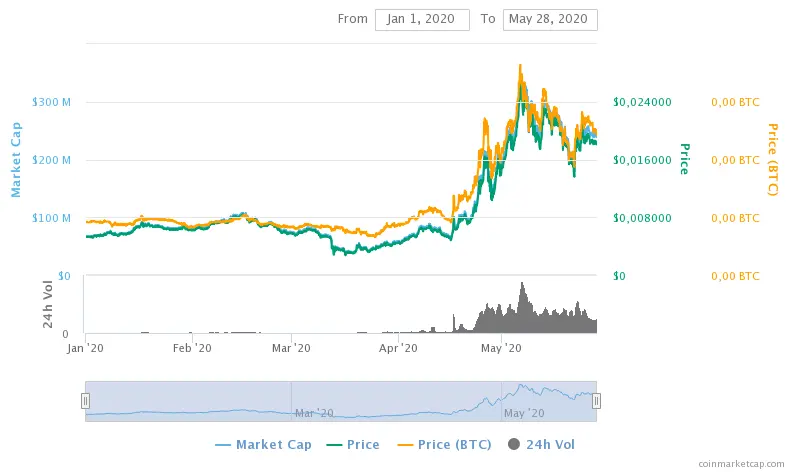 How is price action looking a few weeks later? Mostly, quite well. Just as expected, after a sudden price rise by almost 1000%, the market tried to bring back the balance by correcting it. Some have connected this with Jared Tate stepping down and selling out, but he personally rebuked this claim. Seems like the DGB price is stabilizing and now is up 600% from the 2020 lowest point ($0.002532). At the moment of writing, DigiByte costs $0.018517 and ranks 37th by market capitalization ($244,129,870). You can acquire it easily on ChangeHero by exchanging.
DigiByte apologists say that this rally was long in the making and DGB was undervalued. More neutral traders like High Altitude Investing take a less ideological stance and just point out that such pumps have happened before, making parabolic rises on the price chart but also warning that the correction happens quickly. The Right Trader thinks that the correction will not take the price to the low grind it was experiencing before late April and predicts that DigiByte will be trading around 10 cents by the end of the year.
Dogecoin (DOGE)
Dogecoin is a project fork of Litecoin. Its main merit is its community, but also, hear us out: this tweet by @WhalePanda perfectly describes why Dogecoin is included in this list.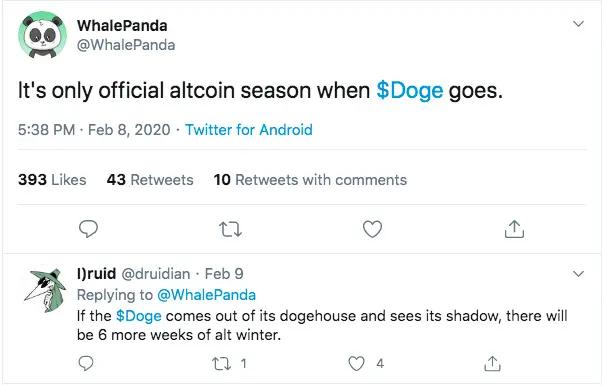 Jokes aside, DOGE is long into accumulation and has a history of pumps that precede a market-wide trend. You can read more about this in a price prediction for Dogecoin we wrote not long ago, citing expert opinions that prove this accumulation might result in a bullish trend.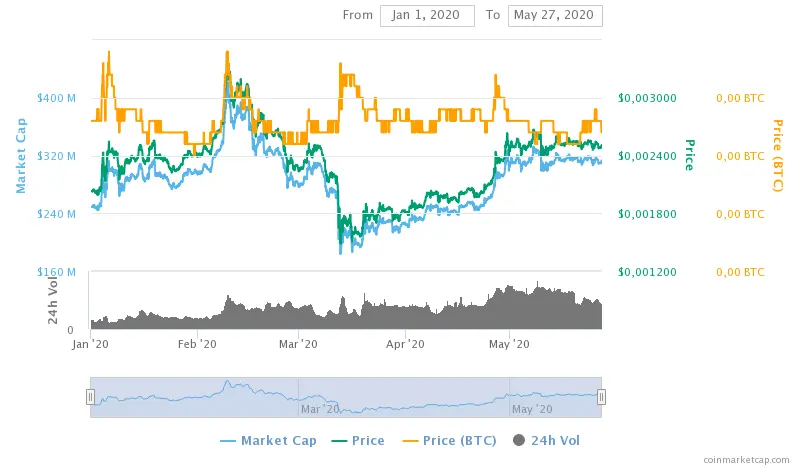 For the past month, DOGE has been trading at around US$0.0025. While this is not as high as late-February peak, it still recovered nicely from the March fall with +100% up, ultimately gaining in value.
At the moment of writing, Dogecoin ranks 31st (US$312,910,655) by market capitalization and is worth $0.002508.
Binance Coin (BNB)
There is no doubt that Binance is going strong. Binance Coin has a rather niche use case, being used mostly exclusively on Binance platforms, but the growth and development of the ecosystem solidifies BNB's value. Besides, BNB is the first IEO out there, pioneering exchange-exclusive tokens that are present on most of them nowadays. If you want to learn more about Binance Coin's uses and value, check out our guide.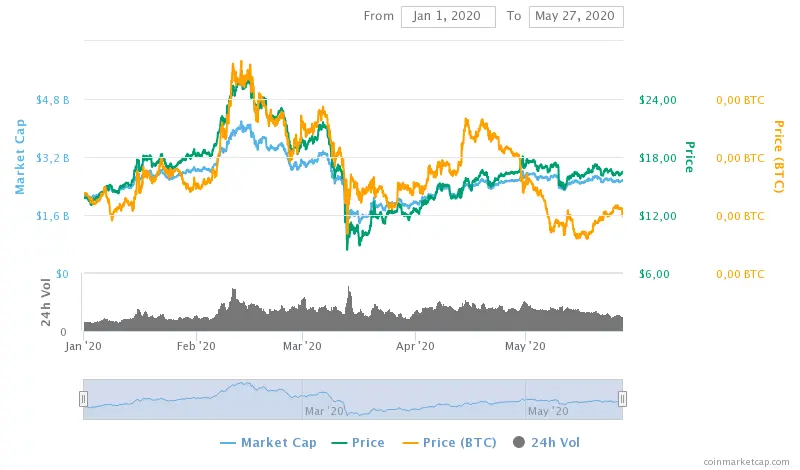 Without taking into account the fluctuations we are seeing in other currencies — February rise and correction, March collapse — ultimately, Binance Coin is up 16% from the starting point of 2020. Cryptopotato argues that this is still not enough, considering the value Binance ecosystem provides to the industry. BNB holders are not as adamant, though, as they probably believe that, in the words of CZ, "price will catch up with value sooner or later".
Right now (at the time of writing) a single BNB is changing hands at $16.74 and ranks eighth by market cap ($2,603,186,313). BNB exchanging is supported on ChangeHero.
Chainlink (LINK)
Chainlink is a blockchain solution that aims to provide a secure connection to smart contracts and external data such as APIs and off-chain data with a decentralized network of oracles. LINK is an ERC-20 token that is used for paying operators for sustaining this network.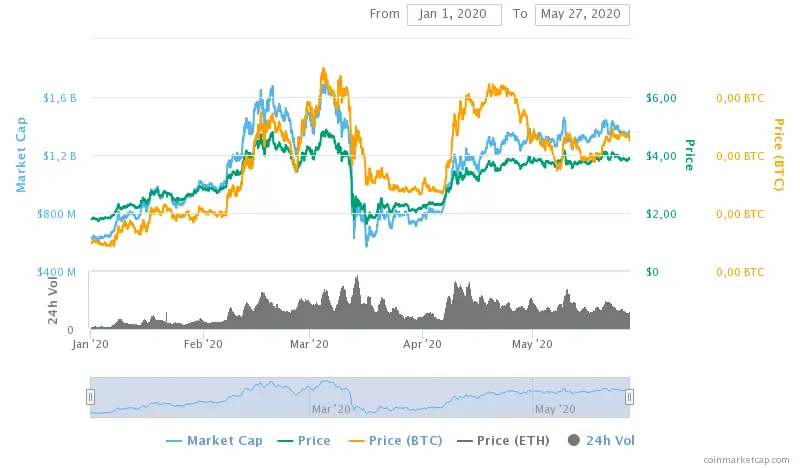 Well, now is a good time to be a Chainlink node operator. LINK is definitely in this list because of the gains. Having started the year at a price below US$2, it has doubled in price, and the uptrend was temporarily broken only by the March crash. Thus, it does not follow the trends set by Bitcoin, which is a key characteristic of an altcoin season. However, as we have said already, one example is not quite enough to say for the whole market.
Today LINK ranks 12th by market cap ($1,348,900,093) and costs $3.85. ChangeHero supports crypto swaps for the token.
Cointelegraph analysts recommend keeping an eye on LINK in the short term. Cryptogeek predicts that by the end of the year, if Chainlink continues to go strong, LINK might be worth even more than that and rise to $6. Chainlink indeed do not plan to slow down, as they keep announcing new partnerships.
THETA
Blockchain is not all about distributed ledgers and simple data transfer. It's finding its way in the entertainment industry as well, where huge amounts of money are concentrated. Theta.tv is a streaming platform, focused on esports and blockchain events, powered by THETA blockchain solution.
Let's break a pattern of showing price performance in 2020 for this one. This is the case when showing the entire history is worth it. Here is how a 150% gain on ROI that happened for only a few days looks like for THETA holders right now: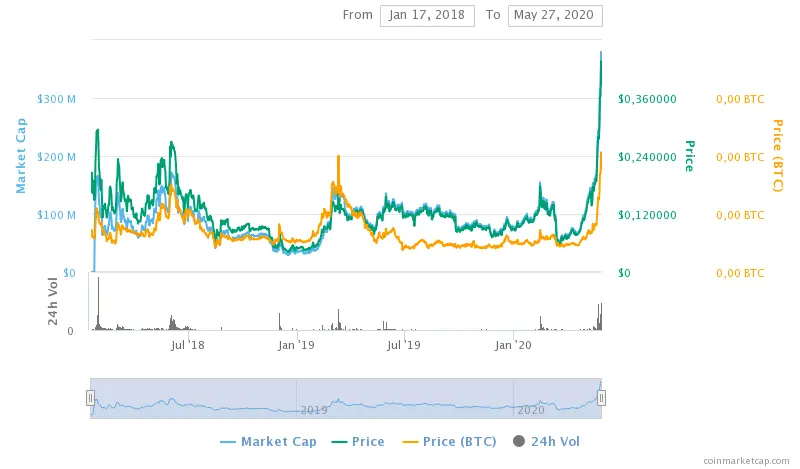 A recent network update to THETA 2.0 is cited as an explanation of the token's strong performance lately. Since this year's low in March, THETA's price has surged up by 1300%. In addition to new tech, THETA has managed to partner with Google Cloud, Samsung, Binance, Blockchain Ventures and Gumi Cryptos. These enterprises are confirmed to become validators on the new chain, as well as provide different services in their area of competence.
Such a sudden pump is definitely going to be subject to correction, as holders are most certainly going to sell high. We can only guess that after it, the price is going to stabilize at a level more adequate to the token's newly gained value. Today THETA is worth $0.359742 and ranks 30th by market cap ($313,156,746).
Enjin Coin (ENJ)
Speaking about entertainment, it's impossible not to mention blockchain gaming pioneers Enjin and their token that is powering a few gaming platforms and can be used to purchase non-fungible tokens (NFTs) for the games. In addition, ENJ is AltRank #1 on LunarCrush, which means that in terms of social engagement and performance it shows the best results.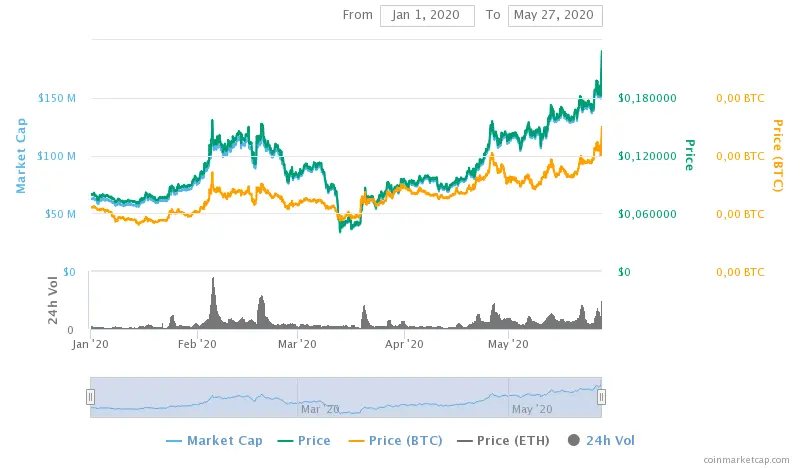 In March, Enjin announced the Multiverse project, a platform that allows for the use of NFTs across different games and incentivizes developers. Unfortunately, it happened just a few days before the plunge and could not save ENJ from suffering losses just like every other asset on the market did. This did not stop the token from performing well, and recently, with the announcement of Java SDK and Minecraft plugin, Enjin Coin is about to face new adoption prospects (and maybe even a new ATH).
At the moment of writing, Enjin Coin is ranked 43 by market capitalization ($181,872,728 USD) and is changing hands at $0.221858.
OmiseGO (OMG)
OmiseGO is another Ethereum token that is used for connecting blockchain systems with off-chain ones. OMG's use case is to connect existing financial systems with digital currency networks to provide financial services without restrictions of borders, asset classes or applications.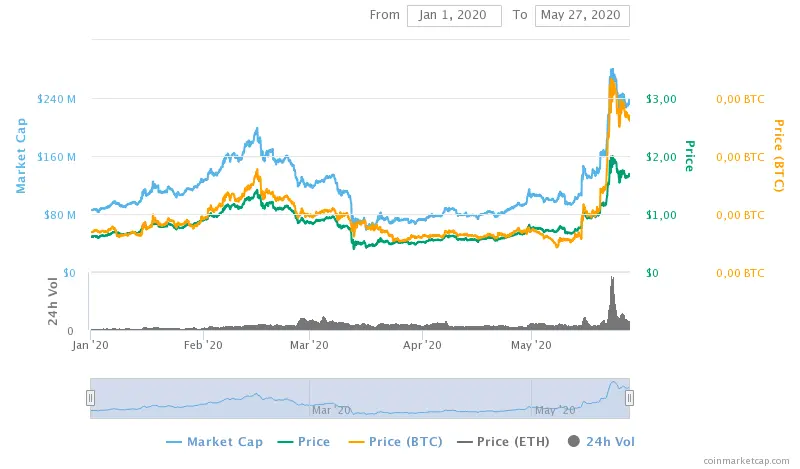 Just a week ago, as Coinbase announced the listing of OmiseGO on their platform, the token's price increased by 230%. Eventually, it seemed to normalize, and in comparison with this year's lowest point (on March 13, what gives) OMG is still up 550%.
Currently (at the time of writing) 1 OMG costs $1.61 and is placed at rank 38 with a $225,589,513 market cap. OmiseGO swaps are available on our platform.
Zcash (ZEC)
Out of all privacy coins (i.e. currencies that have protocols that reduce the transparency of records on the blockchain, protecting a user's data), Zcash is picked as the best candidate for investment by Investorplace analysts and Matt McCall. One of the reasons why Zcash might be outstanding is the most active ongoing development and best performance in such fundamentals as total daily transaction volume and lower transaction fees, as well as great increase in use of shielded transactions, a unique feature of ZEC.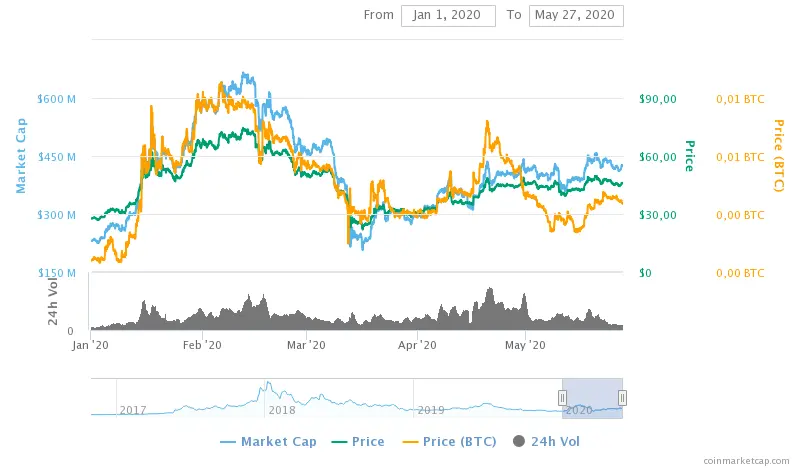 In comparison with the rest of our list, Zcash might not be able to boast swift recovery rates or a sudden pump, but in the end it is also up by 60% from the opening price of 2020 ($27.63). Today ZEC is worth $46.10 and ranks 26th by market capitalization ($426,549,396). You can top up your Zcash stash with other cryptos securely and anonymously on ChangeHero.
Altcoin Season 2020 on Twitter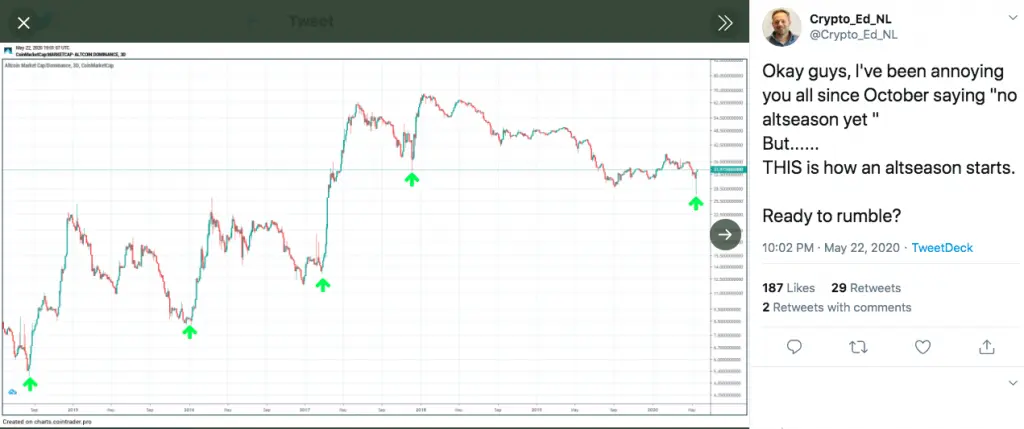 Just a few days ago, @Crypto_Ed_NL finally admitted that his previous tweets about no altcoin season 2020 in sight were not right. It's fair since no one could've predicted how the market would look like today. He makes his conclusion from the altcoin dominance chart, pointing at the possible trend reversal.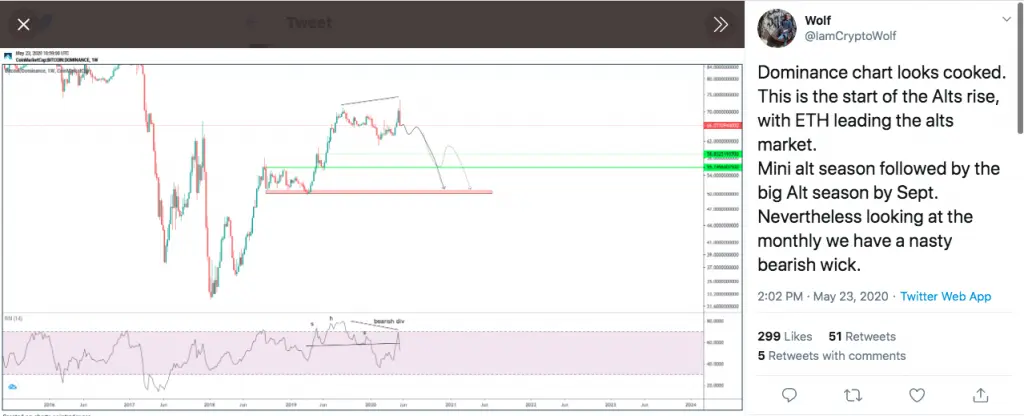 Trader @IamCryptoWolf makes the same conclusion from the inverse chart, Bitcoin dominance. In the short term, he suggests we might see some bearish action, but this will be resolved by Q3 in a "big Alt season".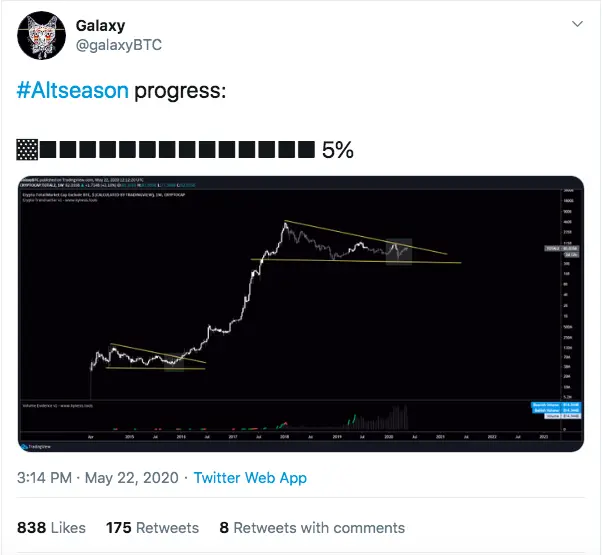 @galaxyBTC traders group take a historical approach instead of going into the technicalities. If the 2016 post-halving movement (as marked on the picture) repeats itself, we'll see another altcoin season in a while.
@alexlibertas_, expresses a somewhat maximalist PoV on the idea of an altcoin season 2020: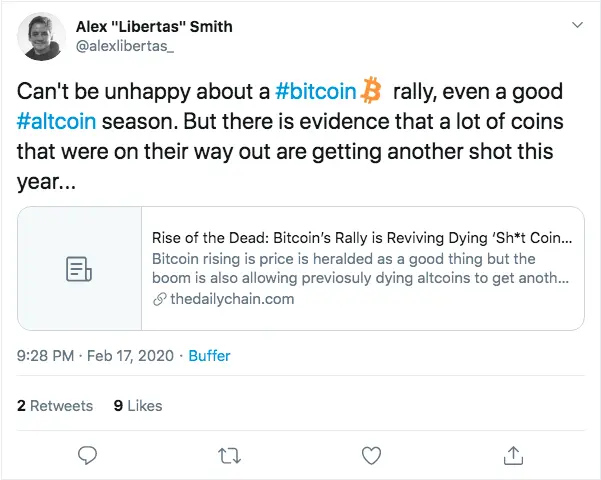 It is true that the whole market is expecting an increase in investments, not just Bitcoin. It is also true that a boom in new projects, like it happened in 2018, might happen again, and as we know, some of those ended in a pump-and-dump or were using cryptos as a front for dubious practices. But we could argue that second chances are a not entirely negative consequence of a new wave across the market.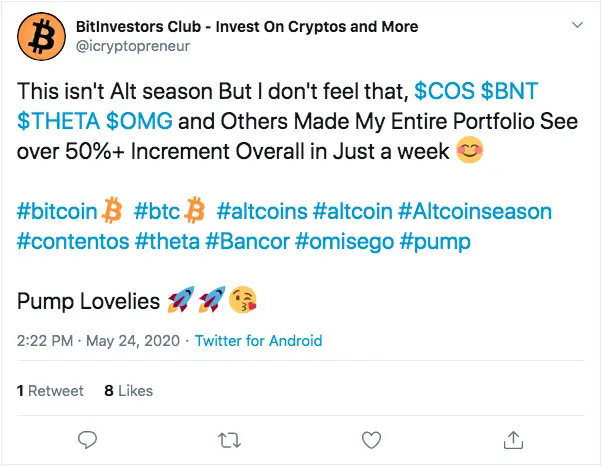 The user @icryptopreneur tells us why everyone should not sleep on the altcoin season: their diverse portfolio has experienced a more than +50% gain across different currencies (or so they say).
Just another reason to diversify: not only are your investments spread out so that if one of them loses some value, your entire portfolio will not suffer, but also if you pick the right assets with strong value, the return of your investment might increase regardless of the market trends.
Conclusion
The consensus, for now, seems that it is not altcoin season just yet. If you would like more material proof, there are even services that can prove that for you mathematically. At the same time, as far as we can predict, there is a good chance that sometime later in 2020, we will see an altcoin season happen.
Anyway, a few indicators are already on the horizon: trend breaks and rallies, dominance trend shift, general outlook in a post-halving market. If you would like to play smart and not give in to FOMO, we encourage you to do your own research and diversify your crypto portfolio — ChangeHero will help you with that.
This is it for that article! We'll keep our eye on future developments and write more on altcoins.
Subscribe to ChangeHero Blog and follow us on Twitter, Facebook, Reddit, Telegram to be the first to get notified.
---
Learn more:
Quick links:
Disclaimer
_This article is not a piece of financial advice. No price prediction is guaranteed to provide exact information on the future price. _
When dealing with cryptocurrencies, remember that they are extremely volatile and thus, a high-risk investment. Always make sure to stay informed and be aware of those risks. Consider investitions in cryptocurrencies only after careful consideration and analysis and at your own risk.