The community members often call DigiByte a sleeping giant, appealing to its solid tech, versatile applications and fair ethos. Therefore, it is only a matter of time when it will take the crypto market by storm and see its value reach new heights, and some say its recent price performance is the first sign of it. Its future price movement is a hot topic right now, so we brought you DigiByte price prediction for 2020 and some forecasts for the future!
What is DigiByte
DigiByte (DGB) is a UTXO cryptocurrency that was launched in 2014. Its main features are faster block times and higher transactional capacity than in other UTXO coins. 
DigiByte is focused on security, so their mining algorithm involves methods for different hardware and hashing algorithms for maximum decentralization. In total, there are five mining algorithms that are weighed equally, so any of them can be used effectively. As a result, the network can be sustained by more miners, which means higher hash-rates and fewer chances of custom hardware or a 51% attack.
DigiByte is renowned for its community, since this is a project running entirely on voluntary effort. Despite not being in the top for market capitalization, this is a long-standing project that continues to thrive. You can read a Beginner's Guide our team published for more details about the coin's technology and why it is succeeding.
DigiByte Price History
DGB Price from 2014 to 2017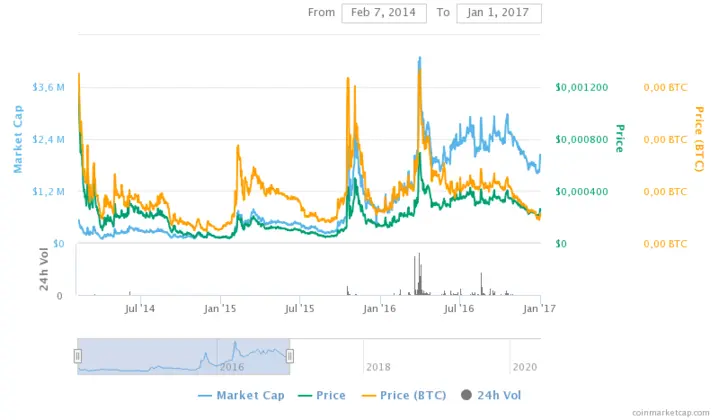 DigiByte was launched without any promotional campaign or an ICO — Jared Tate wanted it to happen in the same way that it was with Bitcoin. The project sacrificed the promise of initial performance for the ideals of a transparent and fair currency. An all-time low was recorded almost a year after the launch, $0.00002 on December 20, 2014.
In March 2015, DGB was listed on Poloniex, which helped break the decline in price. Later in the same year, following the trend in Bitcoin, DigiByte's price rose even more, up to $0.000522.
In 2016, the next significant spike in the price took place. This could be connected with Microsoft nominating DigiByte for BizSpark and Azure initiatives as a promising start-up. It made the coin's price reach more than $0.0004 for a short period of time, which is still an improvement in the context of the overall performance of Digibyte at that time. The real value was about to hit the DGB market a few years later.
DGB price between 2017 and 2019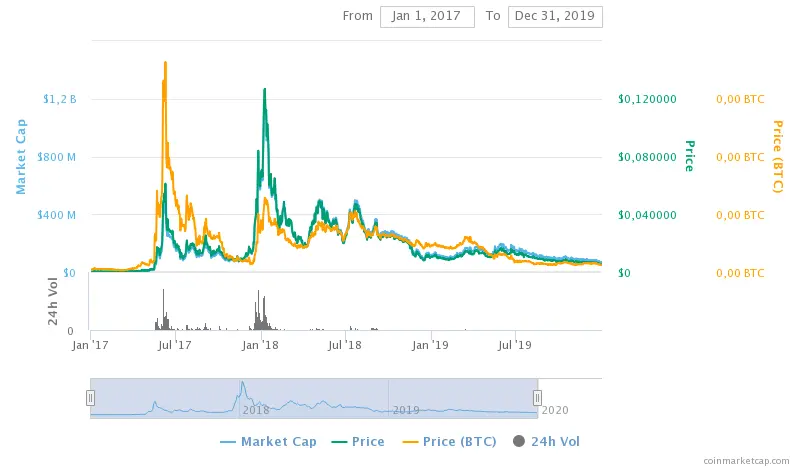 2017 and 2018 were the times of great volatility for DigiByte. In June 2017, an announcement was teased by the official account and the hype around it drove the price up ninety-fold. In the end it turned out to be a run-of-the-mill update of the blockchain and the official wallet. Another spike happened in December, 2017, after John McAffee tweeted about DGB. This price spike was happening with the market-wide surge following the Bitcoin, so this would have happened regardless.
Soon after, on January 7, 2018, DigiByte reached its ATH: $0.142889. But after that, a market-wide correction occurred, and the price was declining steadily. DigiByte, along with the majority of altcoins, suffered a substantial (-85.3%) loss from the crazy start to that year.
The Crypto Winter of 2019 hit DigiByte quite hard. As a result of it, the price has entered a downtrend that lasted for years. The opening price of DigiByte in 2019 was around one cent, and in that year it kept negative overall price performance.
DigiByte Price in 2020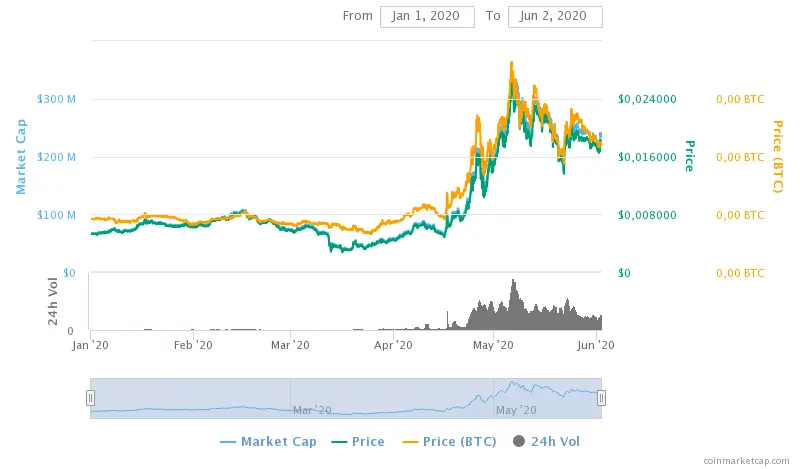 In early 2020, the downtrend was continuing, and the lowest point of it happened right after the March 2020 market crash, when a single DGB dipped to only $0.002532. But from then on, the price movements have become reassuring, to say the least, with the coin price skyrocketing in April.
DigiByte sure made some buzz this spring, breaking the downtrend so spectacularly. Over the past 90 days, it has seen an increase of almost 1000%, in a swing from $0.002532 to $0.026587. But right now there is a correction happening, and the current price of DGB (at the time of writing) is $0.017960. It's worth noting how the bulls are succeeding in keeping the price at a rather high level even in the light of it.
CryptoRating experts say that this bullish rally that defied the market trends was healthy since it had had substantial buildup. The same is said by the DigiByte supporters such as Rudy Bouwman, although their reasoning is that the coin is finally getting the recognition it deserves.
What Could Influence DGB's Price
Here's a few facts that can make DigiByte a safe long-term investment, in our opinion.
Partnerships
DigiByte was envisioned as a platform that improves on the blockchain and cryptocurrency technologies first. For projects like these, having a user base, the larger the better, is vital to the use case. Building on the platform and using the applications on it can cause an influx of investment coming into the ecosystem and the currency's market capitalization, hence the possible impact on the price.
Recently, DigiByte announced new strategic partnerships. Among them are ThreeFold and SafeHaven****, both are projects that are aligned with DigiByte and can mean extended functionality of the platform. ThreeFold is a peer-to-peer Internet grid initiative, and SafeHaven is a project that devises solutions for digital assets and documents.
Development
In the recent development news, the team is delivering on some of the planned improvements they have in their pipeline. For example, an official iOS application with DigiAssets support was tested just a few days ago and will soon be ready for the launch. Considering that this all is done by volunteers, this is promising.
At the beginning of May, DigiByte Foundation has submitted a call for developers that can contribute to the project on Twitter. Along with it, they provided an updated version of their pipeline for the currency: it includes new functions for DigiAssets, Schnorr signatures, ProgPoW and RandomX, Lightning Network, resources and SDKs for developers.
Healthy and active development means that the coin is nowhere near dead yet, in fact, it continues to thrive.
Adoption Action
In an interview with a DigiByte ambassador Josiah Spackman, YouTuber Hasshoshi discussed what is in store for DigiByte and its platform. Dutch government-run Appathon-winning application Covid-19 Alert uses DigiByte solutions to encrypt users' data. The key to adoption, as he says, is to promote working solutions first, because not everyone wants to know how it works in detail.
The collaborations, such as the one with Alternative Airlines, with which users can purchase airplane tickets with altcoins, including DGB, is an obvious advantage that will surely increase the scope of DGB uses. According to Cryptwerk, the amount of shops and merchants that accept DGB is increasing each month. In May, there were 380 companies that accepted DGB registered on that site.
In addition, earlier this year, Jared Tate, who is a former U.S. Senate Page, attended the Congressional Blockchain Caucus on behalf of the DigiByte Foundation and the crypto community as a whole, to promote the technology to the Senate representatives. This was a significant move for the entire sphere because healthy and informed regulation can foster the wide adoption the market needs.
#digibyte on Twitter: Predictions and Discussion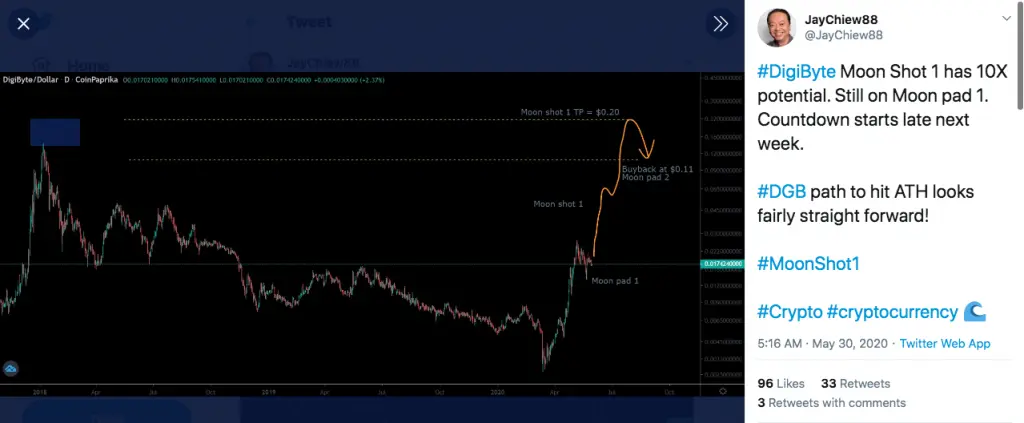 Trader @JayChiew88 usually gives advice about various cryptocurrencies, but recent price movements of DGB have caught his attention. He speculates that the price will test the all-time high level as soon as in a couple of weeks (Note: current ATH was recorded on 07/01/18 and was $0.142889).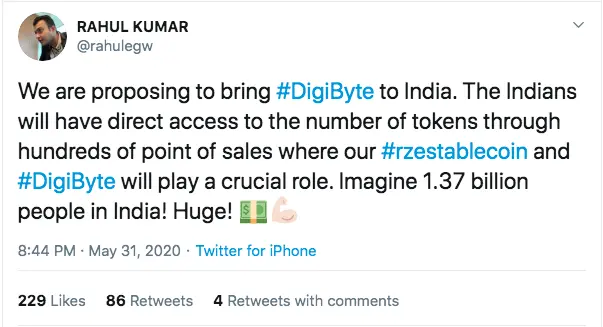 @rahulegw is the CEO of EGW Capital, a crypto bank, who recently announced his contribution into increasing the adoption of DGB: he plans to introduce a point-of-sale system to India, a huge market with a rapidly increasing presence in technology. Needless to say, this tweet made waves across the crypto Twitter.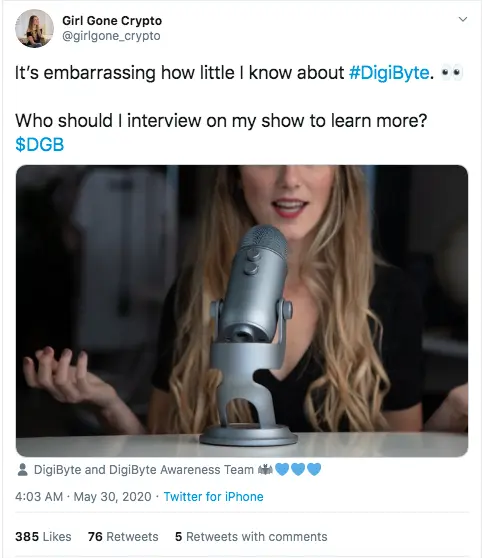 DigiByte has also been receiving attention from outside of its community, namely, @girlgone_crypto has voiced her interest and support of the project.
DigiByte Price Prediction for 2020
TradingBeasts DGB Price Prediction: $0.019 for 1 DGB
TradingBeasts gives a positive evaluation for short-term investments in DigiByte. Their algorithm predicts that in December 2020, an average price of DGB will be $0.0192275, which is a 13.8% increase from the current price.
Coinnounce DGB Price Prediction: $0.03 by the end of 2020
An even more bullish prediction is given by a finance blog Coinnounce. Basing their opinion on other predictions, as well as the fact that DigiByte has a very strong technological foundation, authors come to the conclusion that by the end of 2020 we can see DGB rising to $0.03. Another reason for them to be so bullish is that the platform keeps developing, introducing new products and, as a consequence, new users to the ecosystem.
Captain Altcoin DGB Price Prediction: maximum of $0.01
In February, Julian Joseph Lehmann of Captain Altcoin gave a less hopeful prediction for DigiByte in 2020, which surprisingly did not come true! Many predictions end up being wrong, and this is par the course, but his reasoning should be taken into account.
He proves there is a very strong correlation between BTC and DGB prices and comes to the conclusion that a continuous rally is only possible if such a rally occurs with Bitcoin, which is a real possibility after the 2020 halving. In that case, Lehmann predicted, DGB price could end up twice as high as it was at the end of 2019 (which was around $0.0053). What he couldn't have predicted, though, is that right now DGB is consistently being traded at a price well above that level.
WalletInvestor's DGB Price Prediction: bearish with a pump to $0.017 in December
In WalletInvestor's forecast at the time of writing, DGB's average daily price will sink below 1 cent in August of 2020, and by September retest the past lows, being traded within the range of $0.0017–$0.0019 on average. In October, the price will establish itself at a level about $0.002, staying there until late December, when another price spike might occur and raise the level above $0.019, making the closing average price for 2020 $0.0171.
DigiByte Price Prediction for 2021
Gov.capital's DigiByte Price Prediction for 2020–2021: $0.0088 to $0.042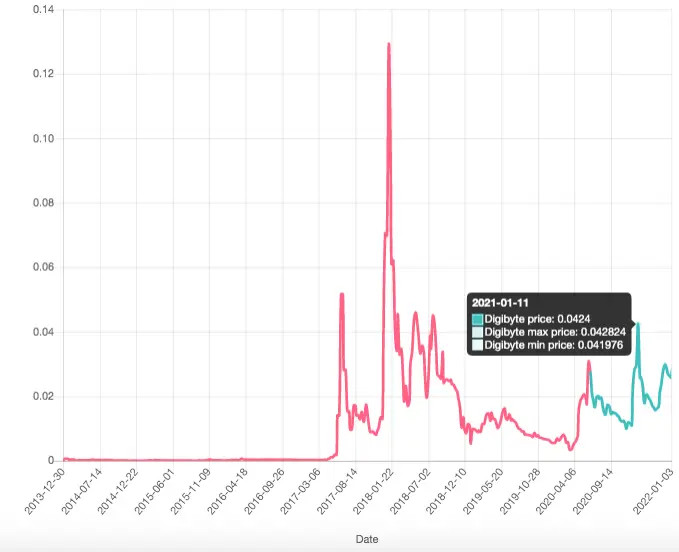 As seen on this graph, Gov.Capital prediction service also suggests that in late 2020 bears will overpower the bulls, but in January, 2021 the DGB price will surge again. At its highest, the price within a year from now will be $0.042 for a single DigiByte, which is more than a recent high ($0.026587) by 60%.
TradingBeasts DigiByte Price Prediction for 2021: $0.016–$0.023
As for the price within a year from now, TradingBeasts currently predict that on average in June 2021 DGB will be worth $0.0189283. The fluctuation is expected to take the DigiByte price anywhere between $0.0160890 and $0.0236603.
DGB Price Forecast in 2021–2024
Crypto Rating DigiByte Price Prediction: from $0.03 in 2021 to $0.19 in 2024
In the forecast by CryptoRating, algorithm assesses DigiByte to be a risky short-term investment, where short-term is understood as anything less than five years. Still, even after a couple of years, holders can get a return: The DGB price is said to gradually accumulate over the next few years: in 2021 it might reach $0.036608 on average, in 2022 it will rise to $0.058720, in 2023 DGB is forecast to be worth about $0.109170. In 2024 DGB's average price will amount to $0.193092.
CryptoGround DigiByte Price Prediction: $0.0429 in 2022
A rising trend that can be seen in CryptoGround's forecast might be similar in its consistency but it is far more modest. Their algorithm actually accounts for a possibility of DGB not doing too well in 2021: the price might see a negative change (-26.84%) in mid-2021. At the same time, it shows that DGB will not fall drastically within the next few years, so they claim that it is a safe long-term investment.
According to CryptoGround's price prediction, in 2022 a single DGB will be worth about $0.0429.
DigiByte Price Prediction for 2025
Crypto Rating DigiByte Price Forecast: up to $0.35

Continuing the trend that is described in the previous section, Crypto Rating's DGB price forecast shows that the upward momentum will take the price to an average of $0.358196 within five years from 2020.
CryptoGround's DigiByte Price Forecast: $0.0875
As CryptoGround analysis shows, DigiByte will perform better as a long-term investment, by which they mean that its worth in 5 years or more will increase significantly.
The projections that their algorithm uses show that DigiByte in 2025 might amount to $0.0875.
DigitalCoinPrice DGB Price Forecast for 2025: $0.0744–$0.0899
For a monthly breakdown so far in the future, DigitalCoinPrice uses only approximations of monthly averages. Still, they predict that 2025 will be a relatively calm year for DigiByte's price: the lowest monthly average is forecast to happen in August ($0.07444440) and highest in March ($0.08997697). The closing price ($0.07651788 in December), though, is going to be lower than the opening  ($0.08671341 in January).
DGB Price Prediction for Future Years (up to 2030)
DigitalCoinPrice DigiByte Price Prediction: up to $1 after 2027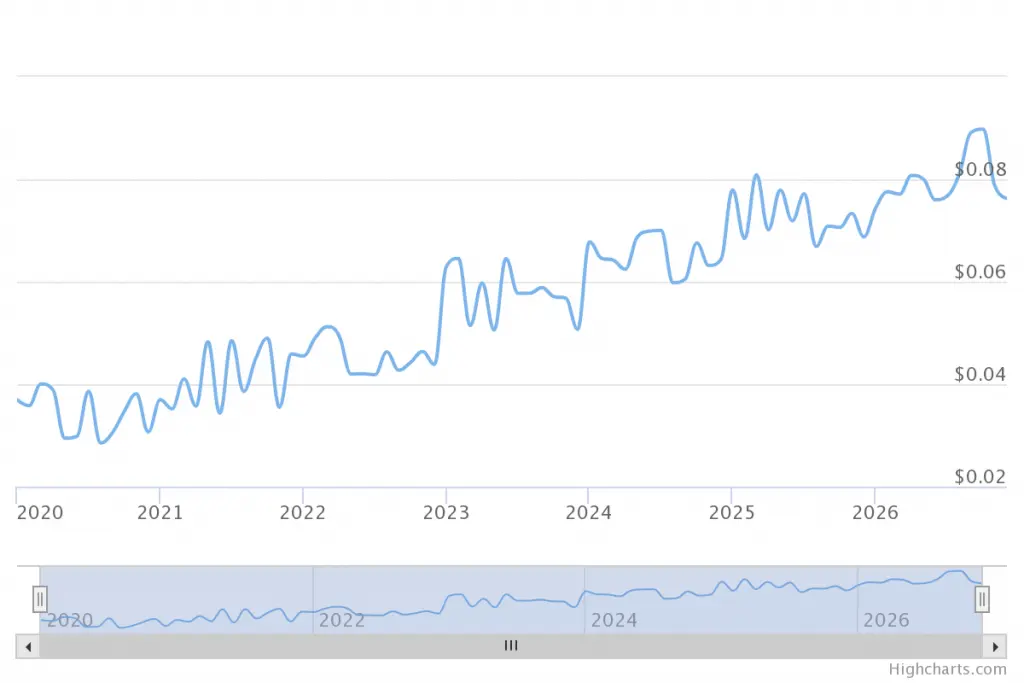 When will DGB cost $1? According to this rather positive forecast, not too soon. The next "big" number, $0.08 mark, will go seldom tested until 2026, but the year will close with DGB worth $0.07629397 a unit. By suggesting the upward dynamic drawn on the chart above will be carried out further in the future, DigitalCoinPrice analysts conclude that a $1 mark can be met not earlier than in 2027.
DigiByte Price Prediction for 2030
There is not much information about any predictions for DigiByte ten years in the future. The project has been around for six years, but six years of market data is still not enough to project the price movements using historical or technical analysis. In the end of the day, given how even the most recent predictions were rendered obsolete by the global events, it's understandable that there is no reliable way to estimate the price movements so far ahead in the future.
ChangeHero's DigiByte Price Prediction
DigiByte, in our opinion, is a coin with strong technical foundation, great potential for use thanks to the expansion of its platform, and supportive healthy community. One of the possible reasons that holds DigiByte back from gaining its place in the spotlight is that investors do not see it as a means of value transfer and storage yet. But once the DigiByte platform gains wider use, this will surely change. In that case, it might eventually reach $0.1 or even dollar parity.
Don't forget that you can swap your crypto for DigiByte with ChangeHero — we take care of all the technicalities and make the exchange easy and quick, with low fees.
As always, if you liked this article, let us know! And if you have some predictions of your own, feel free to engage with discussion on our blog, Twitter, Facebook, Reddit, Telegram. 
---
Learn more:
Quick links:
Disclaimer
_This article does not constitute financial or investing advice. No price prediction or forecast is guaranteed to provide exact information on the future price. _
When dealing with cryptocurrencies, remember that they are extremely volatile and thus, a high-risk investment. Always make sure to stay informed and be aware of those risks. Consider investitions in cryptocurrencies only after careful consideration and analysis and at your own risk.