We continue our 2022 round-up with a coin review for five cryptocurrencies that showed the best yearly performance. What are these coins? Why did they do better than the rest of the crypto market? What 2023 forecast can we give? Read the answers below in the new article!
Key Takeaways
The best performance in 2022 so far has been shown by Gains Network (GNS). It is a token of a decentralized derivatives exchange;
Two more exchange tokens made the cut: GMX, one of the two native tokens of a perpetuals DEX of the same name; and LEO, an iFinex utility token;
The other two crypto projects that showed positive performance in 2022 are Trust Wallet Token (TWT) and Bitgert (BRISE).
Gains Network (GNS)
What is the most profitable crypto of 2022? We present to you Gains Network, a crypto project that surprisingly delivers on its name.
What is Gains Network? It is a decentralized derivatives exchange on Polygon. It supports crypto and stock derivatives and forex pairs with leverage of up to 1000X. GNS is its native token, used in an aggregated liquidity pool GNS/DAI, as well as in "trading PnL simulation" through mint and burn. Therefore, its liquidity providers have only two choices but in return receive fees and incentives from all activity on the DEX.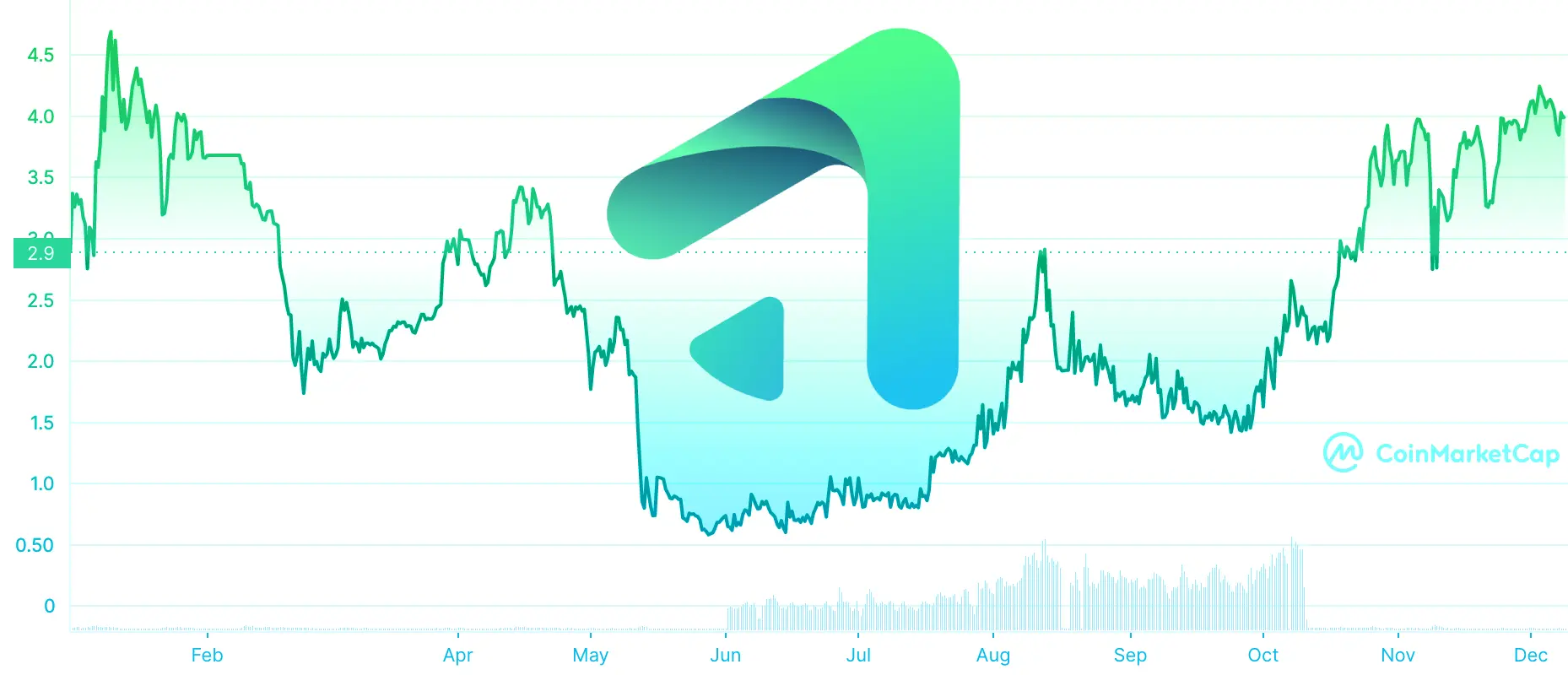 What made GNT price gain 625.5% in 2022? Aside from the organic growth of their flagship product gTrade, around the time of spike in August, they announced single-sided staking of GNS. The way it works is users receive incentives in DAI for providing GNS to the pool. In other words, the rewards come not from inflation but from the trading activity on gTrade.
Does GNS have a future? As far as 2023 goes, it is all set. The team is working on introducing commodities and indices, as well as bringing Gains Network to Arbitrum. These events can serve as catalysts for more price surges.
At the same time, Hackernoon review warns that the protocol is not as decentralized as it seems. When addressing the systemic risk of the mint and burn system, the team slipped up and admitted they exercise control over deposits and trading. This arrangement is officially temporary, as the team plans to cede governance to a DAO of GNS holders.
Trust Wallet Token (TWT)
The second-best performance during 2022 was shown by Trust Wallet Token. How come a simple wallet utility token gained 207.9%? It might surprise you how unsophisticated the reason is. In fact, it can be tracked to a single tweet:
.@TrustWallet your keys, your coins. https://t.co/pJUc26kQ7n

— CZ 🔶 Binance (@cz_binance) November 13, 2022
To expand on the context and complete the picture, the comment by Changpeng "CZ" Zhao was made in the fallout of the FTX insolvency and a hack, which left its users unable to retrieve their funds. Incidentally, CZ became the most closely watched public figure during the story, since he at one point intended to buy FTX out after humoring selling millions of FTT. As a cherry on top, his endorsement is not random: Trust Wallet is owned by Binance, the exchange where CZ is the CEO.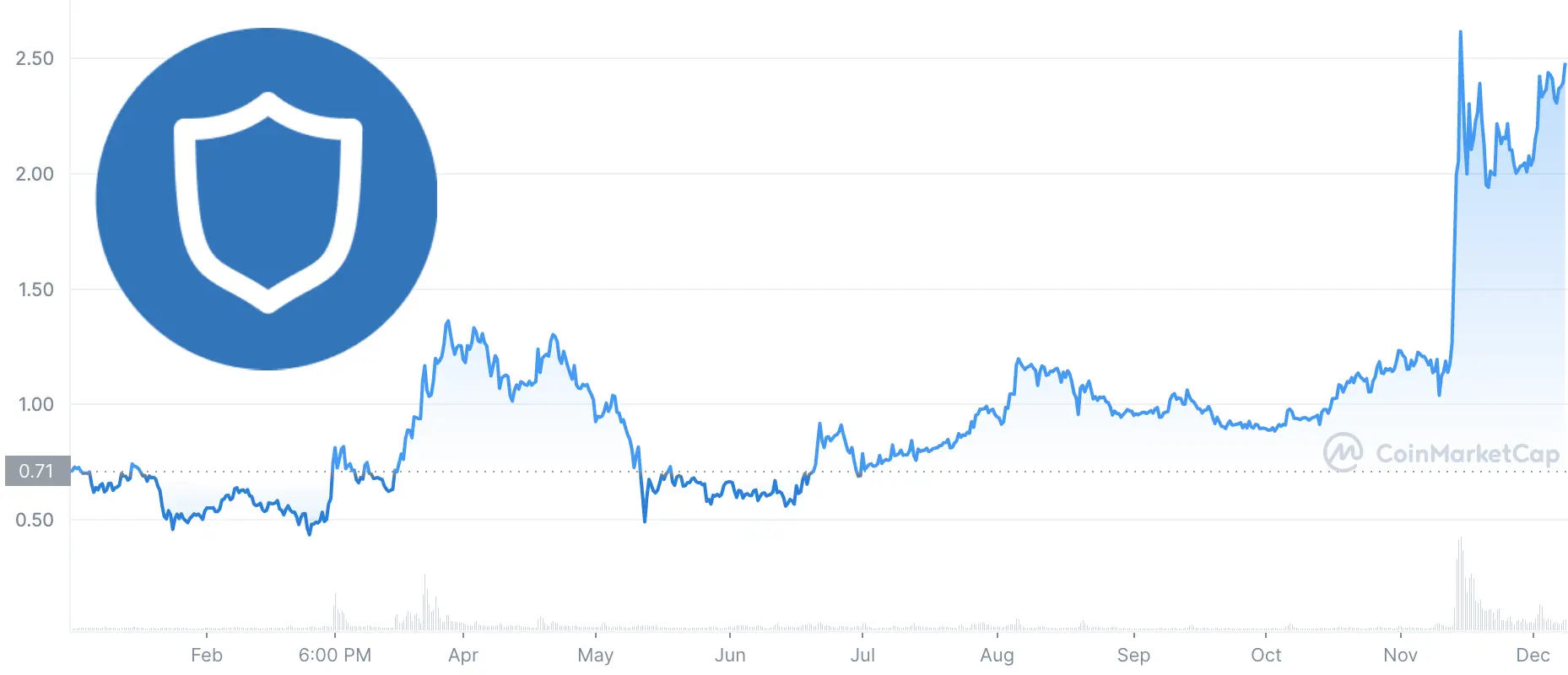 So should you buy TWT before 2023? On the one hand, self-custody is as important as ever, and Trust Wallet has always been a popular pick. So, the chance of it crashing is not significant as it is supported by thousands of users. This is what Cryptonews say in their TWT price prediction, too. On the other hand, for the time being, its rally is sustainable but such a sharp increase in price is unlikely to go without a correction. In December 2022, the technicals may look healthy, but it is not guaranteed to continue in 2023.
GMX
What is GMX and why is it on the list? It advertises itself as a decentralized perpetual exchange on Arbitrum and Avalanche. Perpetuals are futures contracts without an expiry date, i.e. an agreement to buy or sell an underlying asset at an unspecified point in the future. Crypto perpetuals were first introduced by BitMEX but until GMX came around remained available mostly only on centralized exchanges. GMX is a governance token of the DEX, and its contract accrues 30% of the trading fees to distribute to GMX stakers.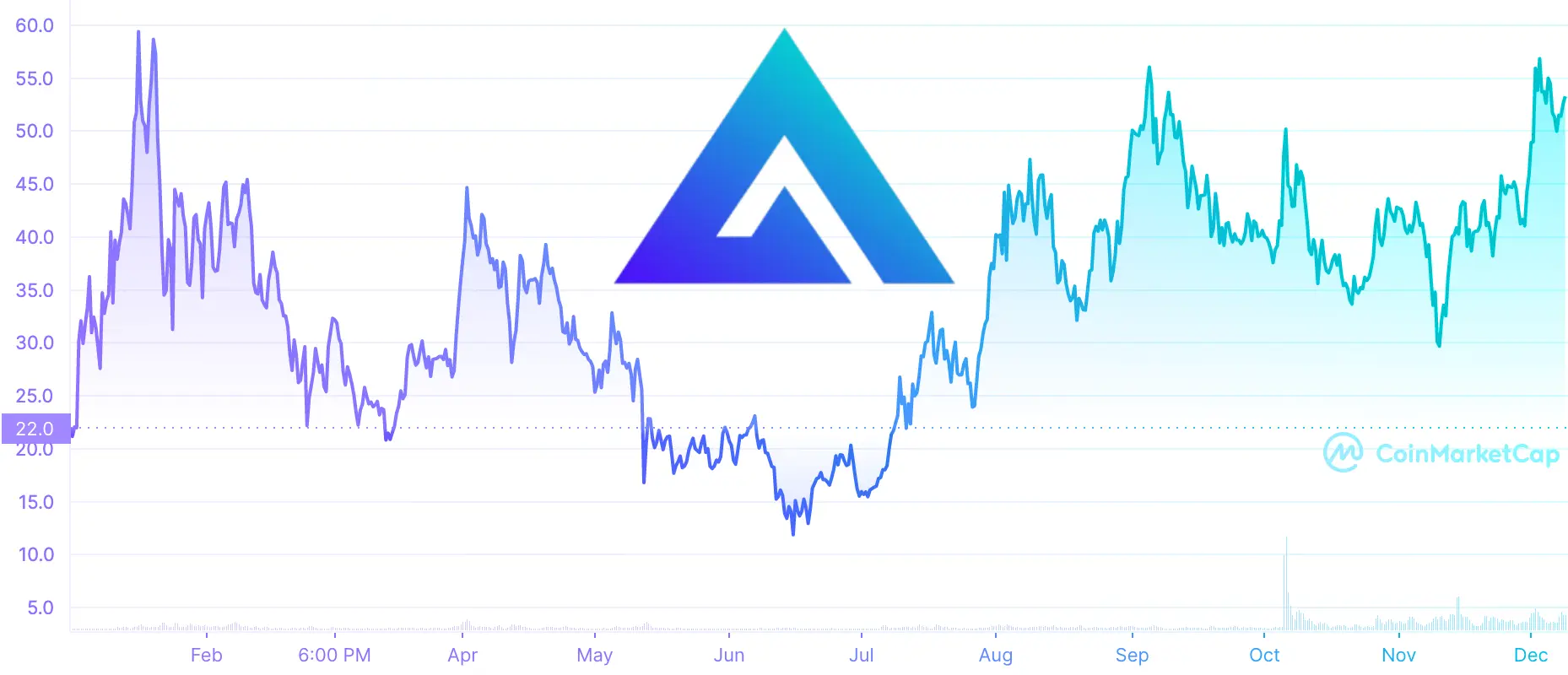 On a yearly chart, the GMX price shows an 89.6% profit. It decoupled from the crypto market's downtrend in August when Arbitrum migrated to an updated Nitro contract. It continues the rally as fees accrued on GMX overtook those on Uniswap.
Experts note that after the FTX crash, traders' confidence in centralized exchanges took a hit as they turned to decentralized alternatives. With this in mind, GMX is in an especially beneficial position since it supports derivatives and leveraged trading. In an aggregate GMX price prediction by Capital.com, they cite figures from $46 to $56, in line with technical analysis.
Bitgert (BRISE)
2022 became the year Bitgert mainnet got launched. Its team pledged to build a highly scalable (up to 100 hundred TPS) blockchain platform for DeFi, NFTs, and Web3 with near-zero fees. Without much of a delay, they shipped Bitgert Exchange, PayBrise, and onboarded dozens of projects.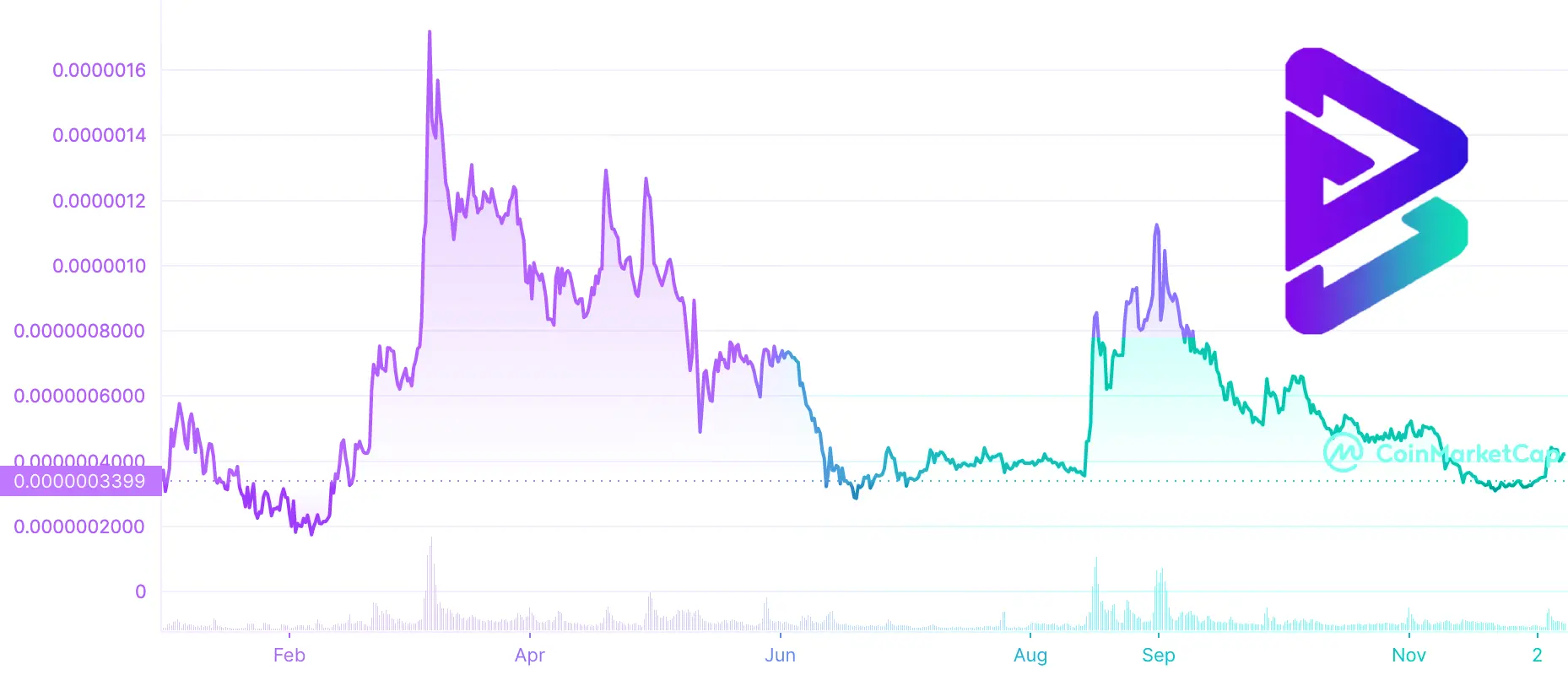 In a year, the BRISE price gained 83.9% and 24.8% in 2022 to date. The February and September spikes corresponded to launch announcements, and considering the age of the project, there are more to come as well.
What else can happen to Bitgert in 2023? Analytics Insight suggests BRISE can keep the momentum and overtake better-known names in the process. On the other hand, The Tech Report cites a few reasons to be concerned about the legitimacy of the coin: bot-ridden Twitter following, lack of an independent audit, and an anonymous team. Ultimately, your decision on whether buy BRISE or not should account for all arguments.
UNUS SED LEO (LEO)
The final altcoin in the selection is one that we have previously highlighted — Bitfinex's Unus Sed LEO. It is a classic exchange token with a twist: LEO was sold in a private sale after Bitfinex was hacked in the summer of 2016 to raise money for reimbursements. Going forward, iFinex, the parent company of Bitfinex, pledged to incrementally buy back LEO with a share of Bitfinex's profits.
LEO also acts as a utility token in the iFinex ecosystem. For example, you can use it in the Bitfinex Borrow as collateral or the exchange itself for a fee discount.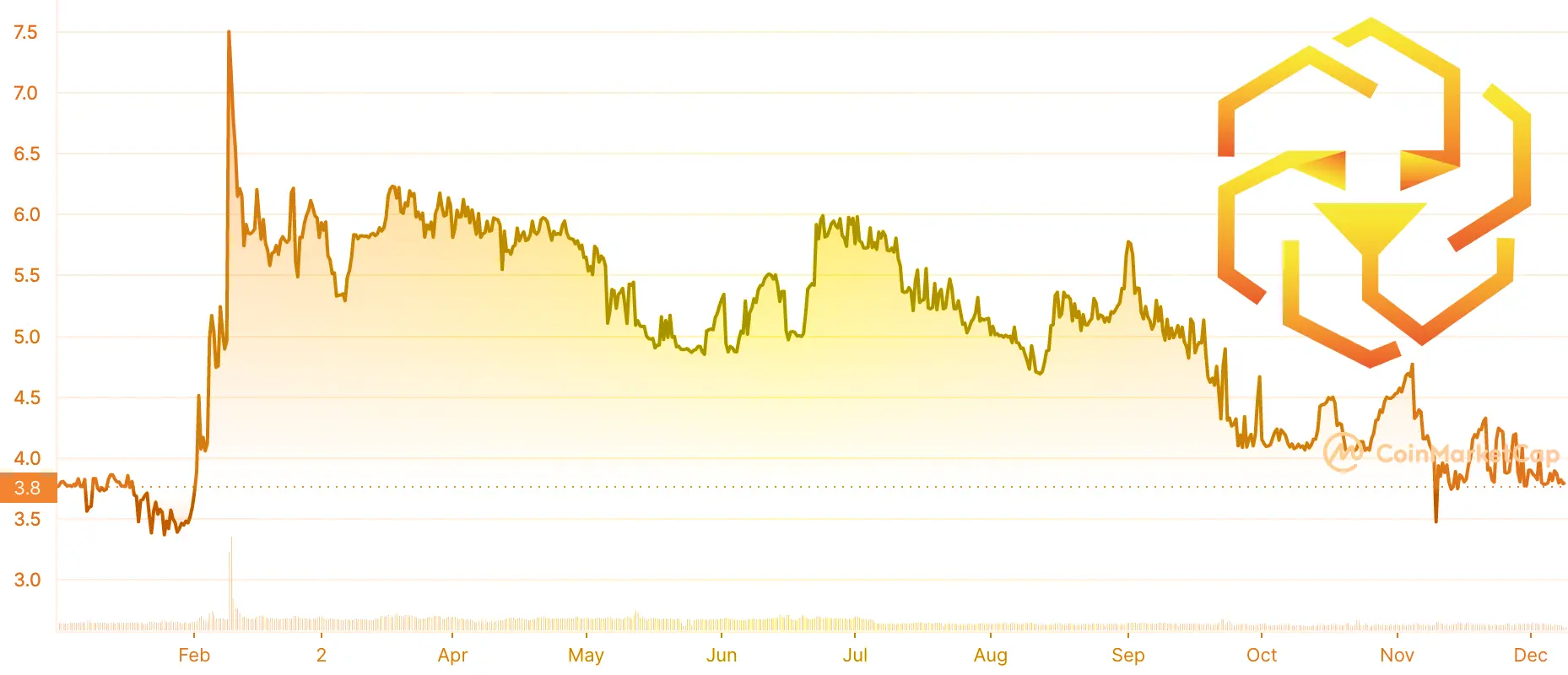 In comparison to a year ago, the LEO token rose in price by 4.6%. Not much, but not a loss either. Its price movements were connected with the arrest of suspects accused of laundering the funds stolen in the 2016 hack. After the news, LEO's price jumped to $7.5, as buyers rushed in hopes of securing a share of reimbursements. This story also kept LEO afloat against the market downturn.
What awaits the token now and what LEO price prediction can we give with its future in mind? Judging by the dashboard, the buyback-and-burn is set to continue for a while. In the meantime, its utility as an exchange token can secure demand for it to some extent. The Captain Altcoin team believes the bottom of the bear market will be found at the turn of Q1 to Q2 of 2023, and altcoins, including LEO, will follow Bitcoin.
Bottom Line
Overall, 2022 has not been a year of profits on the crypto market, made worse by several major collapses. Some may argue that this is crypto winter in action, weeding out the weak and unreliable. Even in these conditions, though, there have been several altcoins that brought their holders profit.
We hope you enjoyed our reviews of them and crypto predictions for 2023! If it left you wanting more, visit our blog and subscribe to ChangeHero on Twitter, Facebook, Reddit, and Telegram.
---
Quick Links: