For the first time in 2021, alt and Bitcoin traders have had to worry about prices. Surprisingly, the news indicates the opposite: Ethereum scored a new ATH following BTC, the US walked back on tightening AML. There is even more to go through in Bitcoin digest. Doesn't it all sound exciting? Read more in our fresh crypto digest!
ChangeHero Updates
January Series: Evolution of Money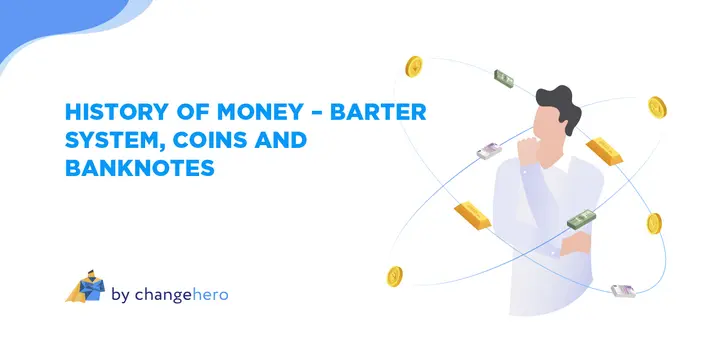 This week, we published the first of the two articles on history and evolution of money. You can read part one on the history of means of payment right now! Stay tuned for part two.
Latest Crypto News
Bitcoin Digest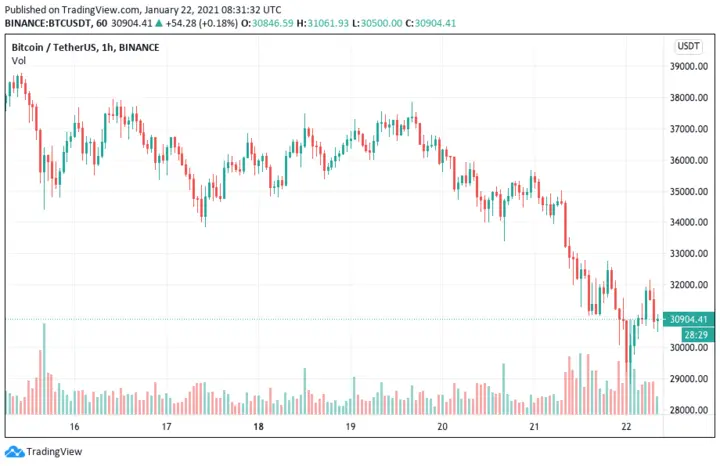 $40k was really close a week ago. This week, the bears were in the lead. BTC was rejected from crucial support levels ($38k, $37.5k, $36k) several times and even slid below $30 thousand ($29,070.00). That level was defended again, but now Bitcoin is trading around $31–32 thousand. Is Bitcoin going to crash again? Analysts say, it is too early to panic. On-chain metrics suggest the whales are bracing for correction, which can refuel the bull run.
Speaking of which, now can be a reasonable opportunity to buy low. MicroStrategy has used the opportunity to buy another $10 million in BTC. You can do it on ChangeHero, too, in a matter of minutes, easily and securely;
In other Bitcoin news: on Wednesday, BitcoinCore.org and Bitcoin.org hosts have received takedown notices for the Bitcoin whitepaper. The claims were filed on behalf of Craig Steven Wright, who is known for claiming to be Satoshi Nakamoto. In response to threats of legal action, the community members spread the whitepaper further in the Internet and decentralized networks. The whitepaper is now hosted by Square, Chaincode Labs, Paradigm, Novi as well as on Arweave and InterPlanetary File System (IPFS).
Ethereum News
The Ethereum community is again discussing EIP-1559 in the wake of Berlin hardfork, scheduled for February or March. This change is set to rework the fee system by making it more explicit but more importantly, shifting miner revenue from base fees to tips.
A mining pool Flexpool rallied smaller players to join the boycott of the change. With major mining pools such as Sparkpool and BitFly, the opposition now amounts to roughly 35% of the network. The rest of the major players, who are right now in the majority, either remain neutral or support EIP-1559.
Business Crypto News
World's leading asset management company BlackRock reportedly filed documents with intention to add Bitcoin futures into their portfolio. The conglomerate has approximately $7.8 trillion in assets under management. It's important to note that the company for now considers only cash-settled futures. Nevertheless, exposure to Bitcoin can also serve as proof of interest in the cryptocurrency.
Crypto News on Adoption
CNBC reports that the United Kingdom's NHS is collaborating with Everyware and Hedera Hashgraph to track COVID-19 vaccine storage conditions. The vaccines require cold storage, so tracking any irregularities is vital. Everyware sensors are tracking the temperature and Hedera Hashgraph blockchain keeps it in immutable record.
Regulation & Politics Crypto News
The US has notoriously strict and influential crypto regulation. Starting January 20, the nation is now under the new administration, and the change is already in motion. The bill that proposed tracking of transactions from "unhosted" wallets and extra KYC steps was strongly criticized by the community. However, since the old administration did not see it to become the law, its proceeding is now frozen.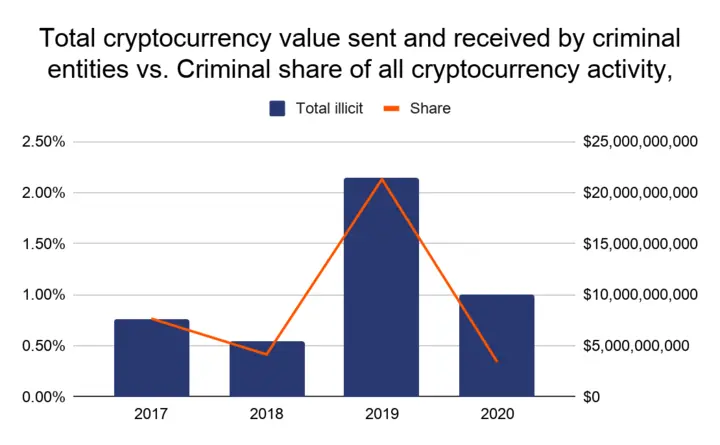 Love it or hate it, KYC and AML procedures seem to actually work. Chainalysis have published a 2020 report on Crypto Crime. In comparison with 2019, the flow of illegal operations in crypto has considerably reduced, and now accounts for only 0.34% of the total volume.
Twitter Crypto Digest
1\ There is an alarming amount of misinformation (fueled by the media) on what exactly happened to Bitcoin yesterday, and whether funds were "double spent"

Here's everything you need to know 👇 — Lucas Nuzzi (@LucasNuzzi) January 21, 2021
Several media outlets have published articles which claimed that a double-spend has happened on the Bitcoin blockchain. What really happened was a block reorganization: miners simultaneously created two parallel blocks, but one block later, one of those was orphaned. Specialists, such as Coin Metrics' Lucas Nuzzi, and community members took to Twitter to debunk the FUD.
~$500M worth of UNI has already vested to the Uniswap governance community treasury out of $4b total (based on current price)

What are some of the most impactful ways governance can allocate this UNI? Dream big 🚀 — Hayden Adams 🦄 (@haydenzadams) January 18, 2021
Hayden Adams, Uniswap lead developer and founder, took to Twitter to learn how the community would want to use the protocol's treasury funds. In a community-governed protocol, such as Uniswap, this is a pretty valid way of making decisions. Suggested options included outreach, education, research and even lobbying.
The Guggenheim CIO Scott Minerd ladies and gentlemen. I will just leave this here, draw your own conclusions😉#Bitcoin pic.twitter.com/TSrtF759mM

— xCR1337 (@cryptonator1337) January 21, 2021
Not everyone in the community is thrilled with mainstream financists coming into crypto. Guggenheim Partners got a position in crypto via Grayscale in late 2020. Their executives are already notorious for wildly differing BTC price predictions and valuations, made several weeks apart. They serve as market litmus tests better than actual educated guesses.
Influencer of the Week
longing altcoins and shorting Bitcoins like an absolute ape pic.twitter.com/PDID31bk8O

— Beastlorion (@Beastlyorion) January 17, 2021
The real reason why the BTC dominance dumped.
Jokes aside, Beastlorion is known for their trading ideas and unyielding love for crypto and alts. Don't let the emotional facade fool you — though sometimes ironic, they're serious about their business.
Top Crypto Digest
We covered BTC in the Bitcoin digest earlier but what is happening to cryptocurrencies in general? At the moment of writing the crypto digest, the general market stats are:
Total Market Cap: $883,472,366,698 (-16.06%);
BTC Dominance: 64.33%.
7d Top Coin Digest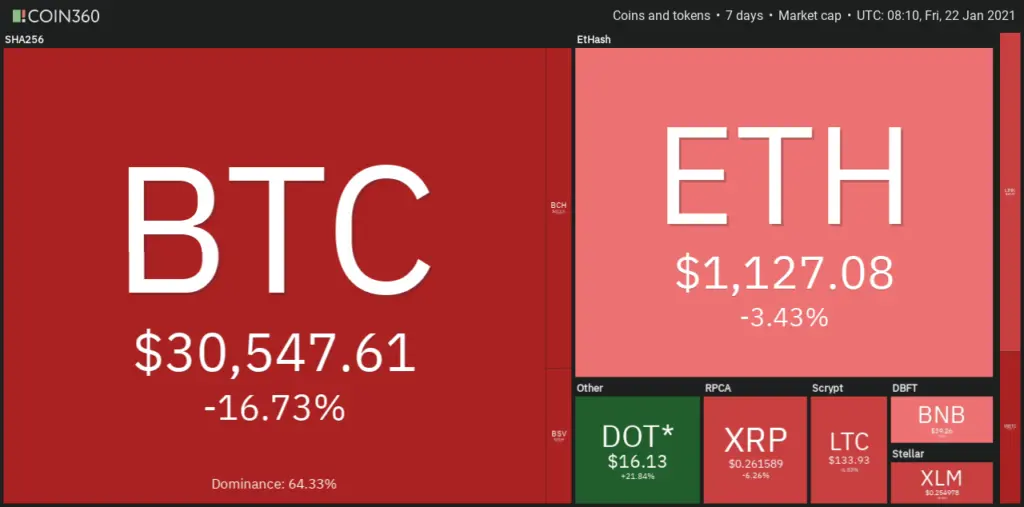 This week the market is seeing the first major correction in 2021. Polkadot, Chainlink and Binance Coin managed to flip the positions, despite the losses for the latter two. At the moment of writing the crypto digest, the 7-day change of the top currencies is as follows:
ChangeHero Gainers of the Week
While most major coins are falling, there are altcoins in green. At the time of writing the crypto digest, the currencies that showed the best growth are:
Key Takeaways
Bitcoin digest comes down to the first correction and the return to $30 thousand. Despite the circulating FUD, the sentiment is mostly optimistic;
Ethereum is also making news with the renewed ATH ($1,448.18) and discussions over rework of the fee market;
Global crypto community is watching the new US administration. Their stance on crypto will take shape in the nearest future and influence not only US citizens. 
Conclusion
This week saw the markets shift from greed to fear again for the first time in 2021. Nevertheless, most of the news that was covered this week is positive. Perhaps, the sentiment may prevail and reverse the movement of markets as soon as next week.
We'll see it in the next crypto digest in our blog. Don't forget to subscribe to ChangeHero's updates on Twitter, Facebook, Reddit and Telegram.
---
Learn more:
Quick links: