Have been watching Bitcoin all week and missed all the other news? Worry not! In this weekly crypto digest we have some news about ChangeHero, as well as summarize the most important crypto news. A rundown on the state of the cryptocurrency market in the top coin digest? You bet it is there, too.
ChangeHero Updates
New Coins and Tokens
Let us start our crypto digest with our own news. In a new round of updates to our service, we enabled support of even more coins and tokens! 
The full list of new assets is: AAVE, AGI, BAND, BAT, BLZ, BQX, BUSD, CELR, COTI, DOCK, DOT, FTT, GT, HUSD, LXT, MATIC, MDA, MDT, NODE, NPXS, OGN, PERL, REN, SNX, SOC, SRM, STMX, STPT, SUSHI, SXP, VIBE, WABI, WBTC, YFI, YFII. Swap these 35 altcoins with ChangeHero anytime with no limits or registration!
Latest Crypto News
What was happening in the crypto world in the past seven days? Here's our summary!
Bitcoin News
Let's start a Bitcoin digest with a BTC price update: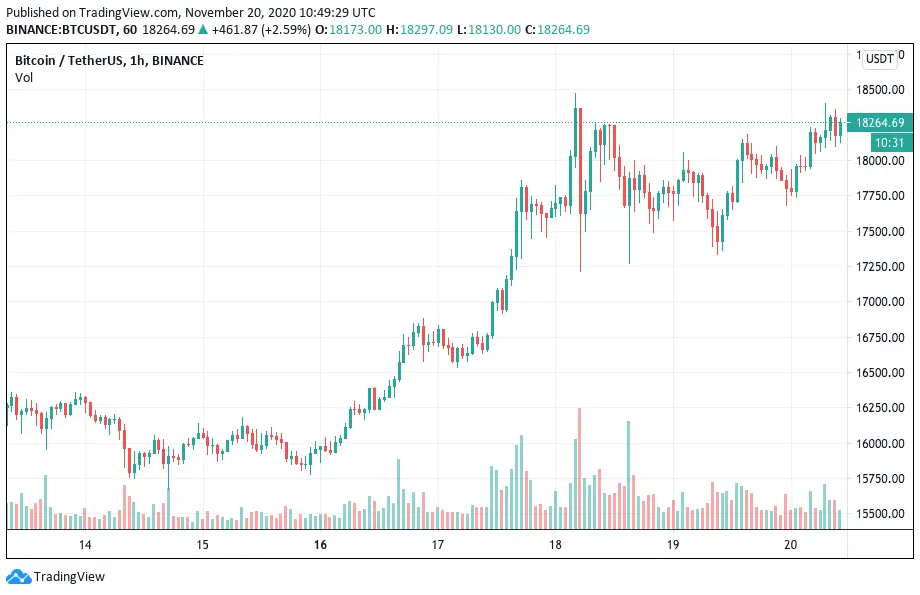 On November, 17 Bitcoin price jumped from $16,750 to above $17k and the day closed above $17,500. The next day the upward movement continued, and Bitcoin almost reached $18,500 in a moment. As of today, it is moving consistently above $18k on a 1-hour chart.
Bitcoin is also hitting the market cap ATH. On December 17, 2017, when the price was the highest, BTC's capitalization was $320,576,568,850. Today it is $339,064,381,644.
Altcoin and DeFi News
Bitcoin is not the only asset back to the early 2018 levels. Ethereum also broke above $500 for the first time since 2018. The ERC-20 standard also turned five this week.
Most popular altcoins are not showing exciting price action with a few exceptions like Litecoin and XRP (more on that later in our coin digest!).
Some other sectors of the cryptocurrency market are also on the rise. DeFi is seeing growth in total value locked and number of active users. DeFi tokens like SUSHI, AAVE and YFI are bringing gains to holders this week.
Crypto News on Adoption

AirBNB, one of the leading travel services in the world, disclosed the plans to research and develop emerging technologies, including cryptocurrency payments. In the IPO registration application directed to Securities and Exchange Commission. If the plans are carried out, millions of hosts and travelers around the world will become able to accept and pay with cryptocurrencies.
In November, we published a series of articles covering the latest research about crypto adoption in 2020. The articles on this theme cover cryptocurrency adoption by region:
Tech Crypto News
Two popular altcoins, Bitcoin Cash and Zcash have had hardforks in the past seven days. The upgrade in Bitcoin Cash caused a chain split, with the main difference between the new blockchains being a controversial "tax" on mining rewards. More on that can be found in our 2020 Bitcoin Cash hard fork article.
Coincidentally, the Canopy upgrade in Zcash also replaced the Founder's reward with Developer's fund which is filled with a share of block subsidies. Read more about the upgrade and the reward halving in the ChangeHero ZEC price prediction.
Regulation & Politics Cryptocurrency News
In October, Forbes published an article which disclosed an alleged leak from Binance documents. The story made waves in the whole community. The document claimed to outline the roadmap of the exchange, according to which the US division of it was created as a diversion for the US regulators. This week, Binance came forward with rebuttal and filed a lawsuit against Forbes. At the same time, the exchange tightened the grip on regional restrictions and reportedly started banning the accounts that come from the US.
Twitter Crypto Digest
should i go long on bitcoin ?

— Maisie Williams (@Maisie_Williams) November 16, 2020
British actress and Game of Thrones lead, Maisie Williams has made a few tweets on Bitcoin this week. When celebrities start talking, the FOMO is about to really kick in, so watch out and keep calm.
We've analyzed over 1 mln tweets by 100+ influencers to find out what sort of impact they really have on crypto.

Spoiler: they don't affect crypto prices as much as we thought 🤔 All the insights in the full version on our site: https://t.co/lCjXTLqwys pic.twitter.com/Auw3hL1AaP — BDCenter Digital (@BDCenterDigital) November 16, 2020
Marketing agency BDCenterDigital presented a report on Crypto Twitter influencers. In it, they studied almost a hundred accounts to determine if they really can influence the prices of the assets they are discussing on Twitter. Long story short, their findings show that influencers are more likely to follow the sentiment than actively shape it. Mentions tend to follow the price: the higher the price, the more often an asset is talked about on Twitter.
"We determined that bitcoin was not a security, it was much more a payment mechanism and stored value," says SEC Chairman Jay Clayton on #btc. "Our current payment mechanisms--have inefficiencies those inefficiencies are the things that are driving the rise of bitcoin." pic.twitter.com/3r1mxzfgpi

— Squawk Box (@SquawkCNBC) November 19, 2020
Another week, another highlight from CNBC. In this interview, the hosts interviewed soon to be ex-chairman of SEC, Jay Clayton. In the video, he admits the impact Bitcoin has on the economy, calling it "a payment mechanism and store of value". Clayton took his seat in 2017, during the previous Bitcoin rally, and as 2020 comes to a close, he might be leaving during another one.
Influencer of the Week
NFT/Gaming tokens are gonna be all the rage. Very bullish on micro-caps in this field overall, but check out $VIDYA and proceed to pump my bags, please. https://t.co/JJu65uxTWY

— Zissou™ (@ZeusZissou) November 17, 2020
@ZeusZissou describes themselves as professional shitposter, actively tweeting about obscure coins and politics. At the same time, if you dig deep enough, it becomes obvious that they are quite serious about their forays into crypto. We recommend giving the account a follow for occasional ideas about emerging projects.
Top Crypto Digest: Price Change
At the moment of writing the crypto digest, the market's dynamics for the last 7 days are the following:
Total Market Cap: $493,133,229,865 (+8.88%); 
BTC Dominance: 68.12%.
7d Top Coin Digest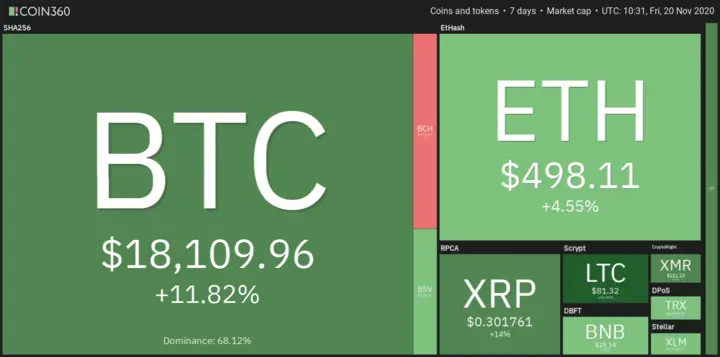 The top currencies this week are consistently in the green. Especially Bitcoin, which saw a double-digit gain and is now trading above $18k. The only exception to this is BCH, which underwent a chain split a week ago. At the moment of writing the crypto digest, the 7-day change of the top currencies is the following:
Which cryptocurrency is the best to buy now, aside from Bitcoin? In our opinion, Ethereum and Litecoin show promising results. However, you should not forget about doing research and using multiple trusted sources — ChangeHero does not provide financial advice.
Gainers of the Week on ChangeHero
What is the fastest growing cryptocurrency right now? Looks like the DeFi tokens are winning this week. At the time of writing this crypto digest, the top three are:
The top coin digest list includes the coins that can be traded and exchanged on ChangeHero. You can buy and sell some of them (BTC, ETH, BCH, BSV, TRX) with your credit card on our website, too. Either way, it will not take more than 15 minutes, and we will find the best rate on the market for your purchase.
Key Takeaways
Bitcoin is seeing double-digit gains and is back to the early 2018 levels;
Not every altcoin follows suit yet. Most notably, the ones that see growth are ETH, LTC and XRP;
The fastest-growing assets this week are DeFi tokens;
Twitter is actively talking about Bitcoin, the same as last week;
ChangeHero has 35 new coins and tokens available for exchange.
Summary
While the Bitcoin rally was the center of attention this week, the other cryptocurrency news made waves, too. If you missed any news, hope you get a more full picture now after reading our crypto digest. Don't forget to subscribe to our blog and give us a follow on Twitter, Facebook, Reddit and Telegram for more news and informative content!
---
Learn more:
Quick links: