Crypto market is enjoying a Bitcoin bull run and the starting altcoin season. With more options to become an investor than ever, many newcomers are curious what to include in the portfolio. What is the best cryptocurrency to invest in 2021? Find our list of top 10 cryptocurrencies to buy in 2021 below!
Top Cryptocurrencies to Invest in 2021
Bitcoin
Bitcoin is a blockchain-based peer-to-peer online currency. Its main feature is the ability to work without any interference from third parties, which is achieved through cryptographic methods.
Bitcoin was designed to be a means for online payment, a digital alternative to cash. Eventually, its provable scarcity was embraced as a more prominent feature and the "inflation hedge" narrative emerged.
Most investors dabbling in cryptocurrencies first try the original currency that started it all. Bitcoin served as a cornerstone of the entire market, and still accounts for about 60% of its total capitalization. It is definitely the safest choice among the top cryptocurrencies to invest.
Performance in 2020 and 2021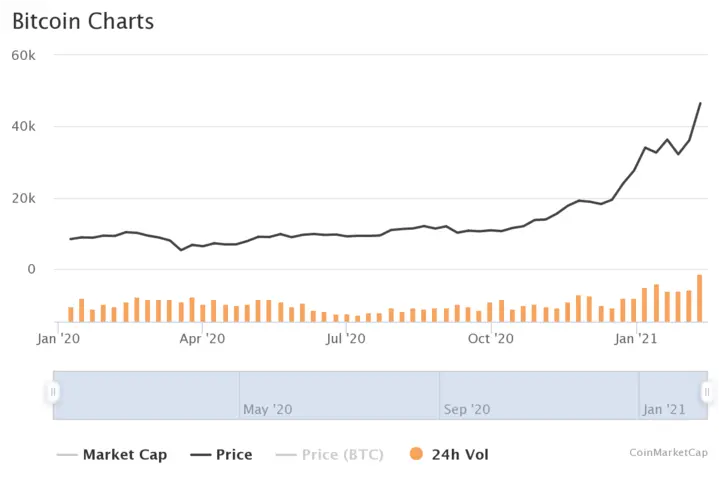 In May 2020, in an event called "halving", Bitcoin issuance rate was reduced in half. Historically, it was followed by a rally within several months. Bitcoin renewed the 2018 record levels around $19,000 in November 2020 and started being traded above $20 thousand. This year, it has renewed the record again several times, and the current all-time high price is $48,003.72 (February 9, 2021).
In comparison with the opening price in 2020, Bitcoin grew by 567.19% at the time of writing.
Perspectives for 2021
The latest trends that are likely to drive the price of Bitcoin further up are institutional investors and mainstream adoption.
In 2020, funds like Grayscale Investments started offering exposure to cryptocurrencies to institutions. Companies such as Tesla, MicroStrategy and Square put billions of dollars in BTC. These investments prove that Bitcoin was recognized as a store of value and create a sound reputation for it.
As for mainstream adoption, PayPal has enabled purchase and sending of BTC last year. Both Visa and MasterCard announced plans to expand into the cryptocurrency sector. While these factors do not influence Bitcoin alone, as the most popular cryptocurrency, it will enjoy their benefits the most.
Ethereum
Ethereum's value proposition can be summed up as the world's computer. It is a decentralized  open-source blockchain platform that can execute fully automatic smart contracts. Thanks to smart contracts, numerous other protocols and cryptocurrencies were built.
Ethereum is powered by Ether, or ETH, which is a currency that can be used to pay for transaction fees and smart contract calls. Given the scale Ethereum currently operates on, ETH is necessary to use stablecoins, DeFi products and Ethereum-based decentralized applications.
Performance in 2020 and 2021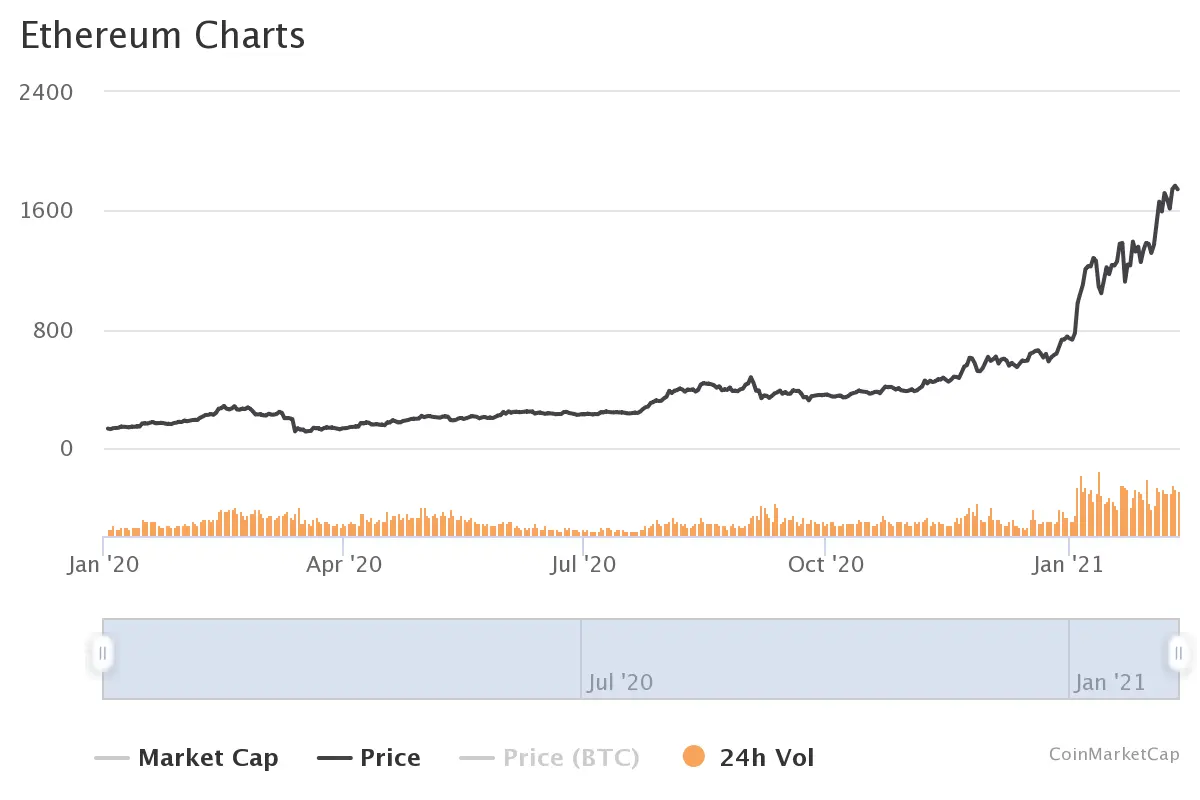 While Ethereum mostly followed the growth of Bitcoin, there were other factors in play, too. Firstly, Ethereum appreciated in the summer of 2020, when DeFi started to grow at an avalanche rate. Secondly, in late 2020, Ethereum core developers have finally released the mainnet of Ethereum 2.0 in its first phase.
In 2021, Ethereum, like Bitcoin, went through the roof and broke the records, too. Its current ATH of $1,826.70 was seen on February, 10.
In comparison with the opening price in 2020, Ethereum grew by 1,245.54% at the time of writing.
Perspectives for 2021
In addition to the mentioned factors, which are already massively contributing to the rally, there are more.
The official branches of the US Fed are researching DeFi and positively evaluate its potential. The news drove ETH to its current ATH, and in the longer term might mean adoption on a national scale.
DeFi itself is not strictly limited to Ethereum, but the existing ecosystem is mostly built on top of it. At least for now, its dominance in DeFi makes it one of the top 10 cryptocurrencies to buy in 2021.
XRP
XRP is a cryptocurrency-adjacent open-source network. One of the use cases for the XRP Ledger is in the Ripple real-time gross-settlement system. With XRP, less costly and almost instant global money transfer becomes possible, which makes it an alternative to SWIFT.
Performance in 2020 and 2021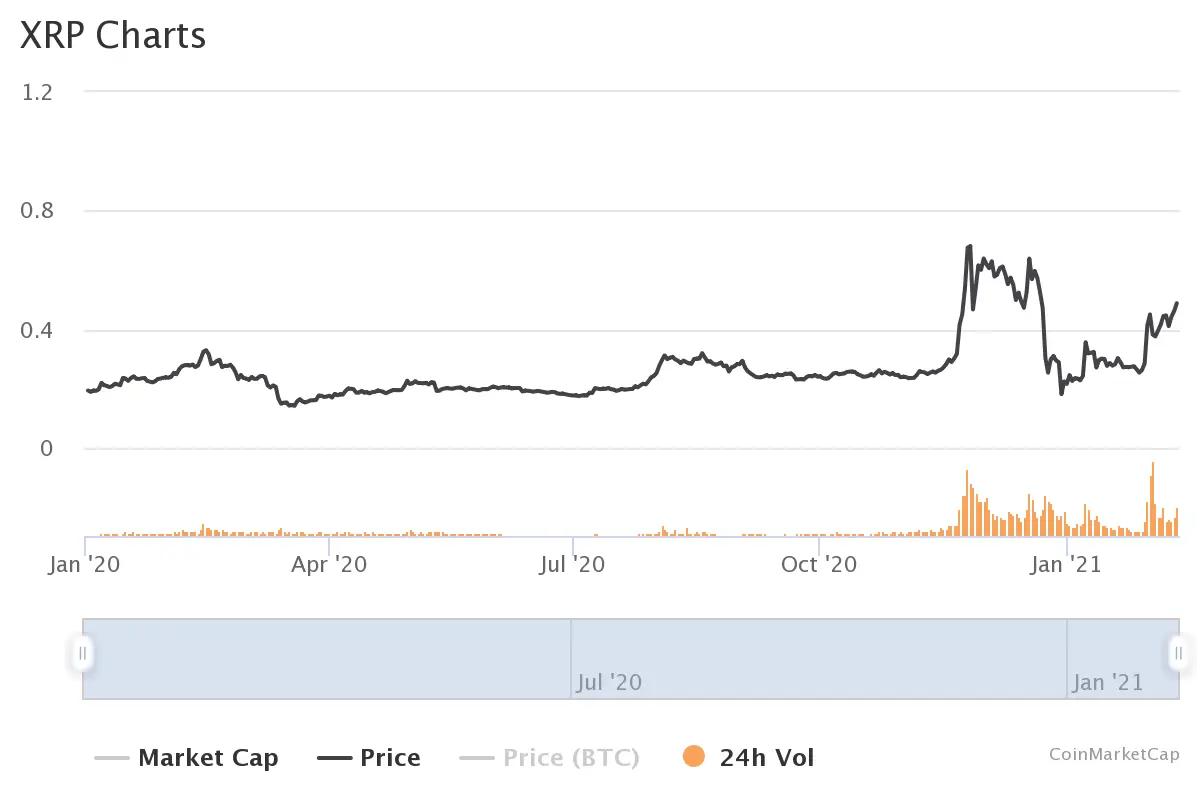 In comparison with the opening price in 2020, XRP grew by 162.83% at the time of writing. It is one of the few currencies that did not have the chance to renew its ATH in 2020.
In November Spark project announced an airdrop of FLR tokens. The tokens would be distributed according to a XRP snapshot. However, in December the Securities and Exchange Commission filed a lawsuit against Ripple Labs. The price lost its momentum, and XRP sank to $0.18.
In 2021, there have already been several attempts to reclaim the price. However, with the legal status unclear, the community is waiting for the hearings to clarify the future of the asset. When the news arrives, make sure to read the coverage in our blog.
Perspectives for 2021
Despite the trouble with the SEC, XRP is still one of the top 10 cryptocurrencies to buy in 2021.
It is a fact that for the time being, XRP trading is suspended on several large exchanges in the US. Grayscale temporarily retired their XRP trust. However, the legal battle is far from being decided.
In addition, it is Ripple Labs that is being sued. XRP Ledger itself is open-source and managed by the community. XRP is also one of the most popular crypto assets in another heavily regulated economy: Japan.
Polkadot
Polkadot is one of the up-and-coming newcomers of 2020. Despite being a recent addition to the market, it is already in the top 10 cryptocurrencies to buy in 2021. Why?
Firstly, the Polkadot platform is developed by renowned cryptographers and developers.
Secondly, Polkadot delivers on a protocol that provides interoperability between many blockchains by facilitating cross-chain data transfer. Polkadot's native token DOT is providing network governance, backing operations and is used in creating parachains.
Performance in 2020 and 2021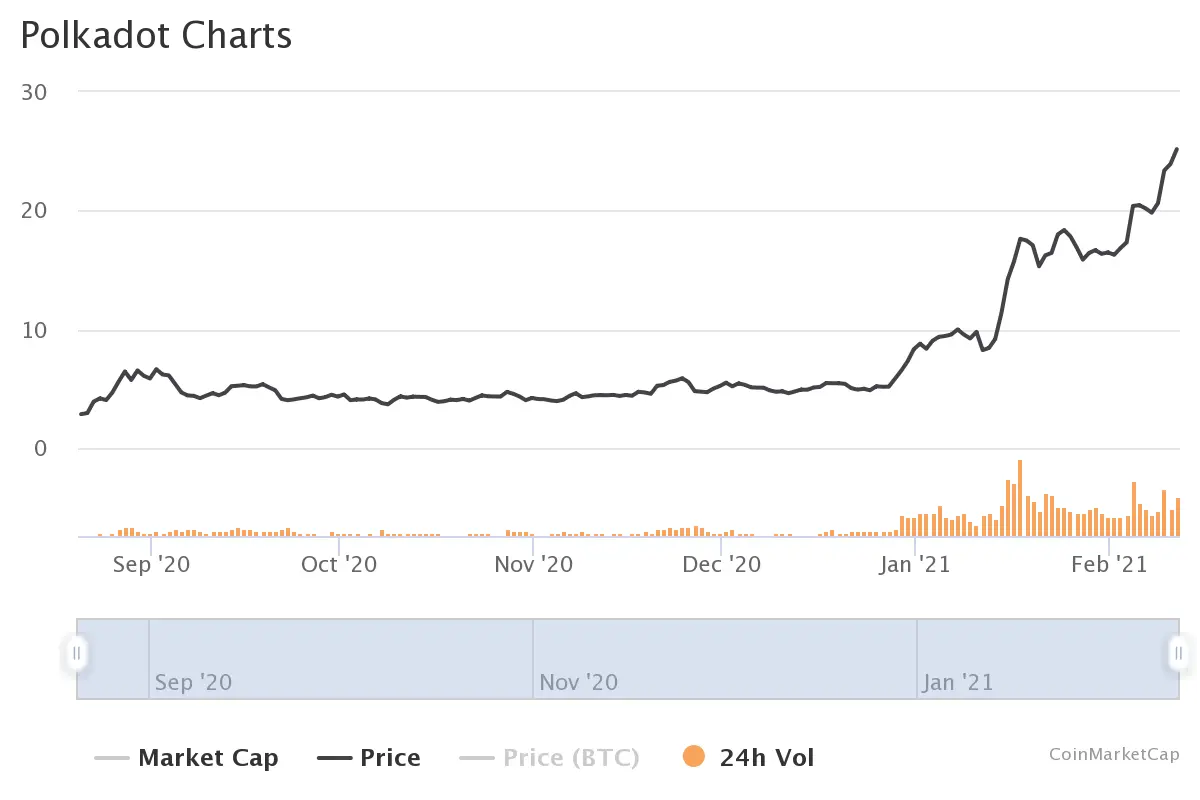 Polkadot blockchain was launched on May 26, 2020. However, the phase that unlocked DOT wasn't rolled out until August, 18. In the first weeks of existence, DOT quickly became a coin with more than a $5 million capitalization. Back then it seemed impressive, but then DOT has really started going off in 2021.
In comparison with the opening price after the redenomination, Polkadot grew by 768.62% at the time of writing.
Perspectives for 2021
Polkadot governance powered by DOT is in its final completion stages. All that is left is relay chain launch, which can be expected this year.
What is more interesting is the things that can be built on top of it. Polkadot can support smart contract chains, oracle chains, identity chains, financial chains and more. A bridge to Ethereum is also in the works, and once it is done, DeFi can spill into Polkadot-integrated networks.
Binance Coin
In comparison with the previous project, Binance Coin is a more conservative but not less interesting asset among the top 10 cryptocurrencies to buy in 2021. Binance Coin is a cryptocurrency mainly used within the Binance ecosystem, which includes the most popular cryptocurrency exchange. Other parts of the system in which BNB can be used are payment gateways, Binance Launchpad and DEX.
Performance in 2020 and 2021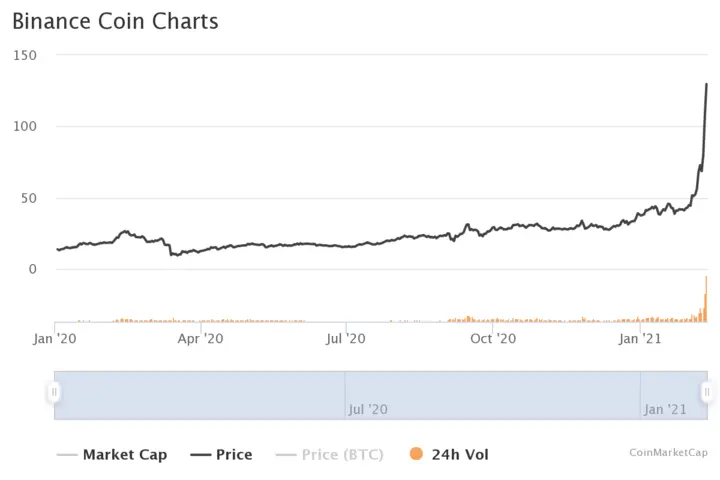 In comparison with the opening price in 2020, BNB grew by 803.64% at the time of writing. Most of the growth has happened in February 2021 alone.
In 2020, there was a clear uptrend for BNB. By the end of the year it grew from $14 to $38.
Like we said, today Binance is one of the most popular trading platforms. With the surge in price of Bitcoin and altcoins, Binance is registering record-breaking traffic. BNB's ATH was observed just a day ago, on February 10: $148.07.
Perspectives for 2021
Binance Coin holders have more token burns, Binance Cards and DeFi ventures to look forward to.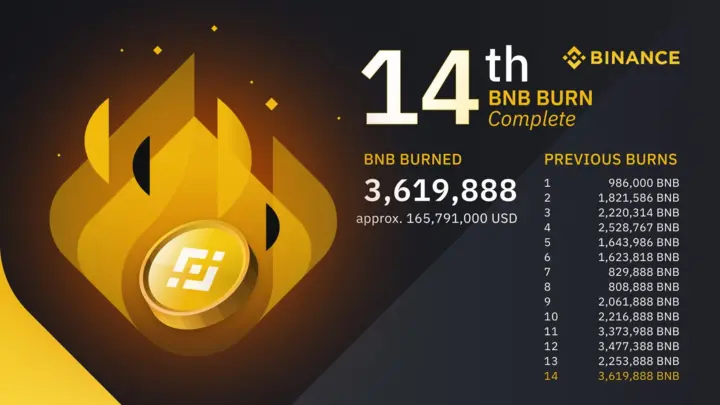 Token burns are ongoing monthly events in which a chunk of BNB supply is slashed, basically increasing the value of the remaining coins. The 14th burn introduced a new formula designed specifically to accelerate the rate at which BNB are burnt.
Binance Cards are a product which was launched last year, but is still pending approval in several countries. Once these cards can be used, paying with crypto, including BNB, will become more accessible.
Binance Smart Chain is one of the alternative DeFi platforms that has not gained traction yet. However, if the Ethereum gas fee issues persist, users might start moving to other platforms.
Litecoin
In short, Litecoin is a fork of Bitcoin that improved on some of its fundamental features to make it more suitable for daily transacting. Most notably, block time (2 minutes) and supply (84 million) were modified to make validations quicker and give a higher cap on total supply.
Performance in 2020 and 2021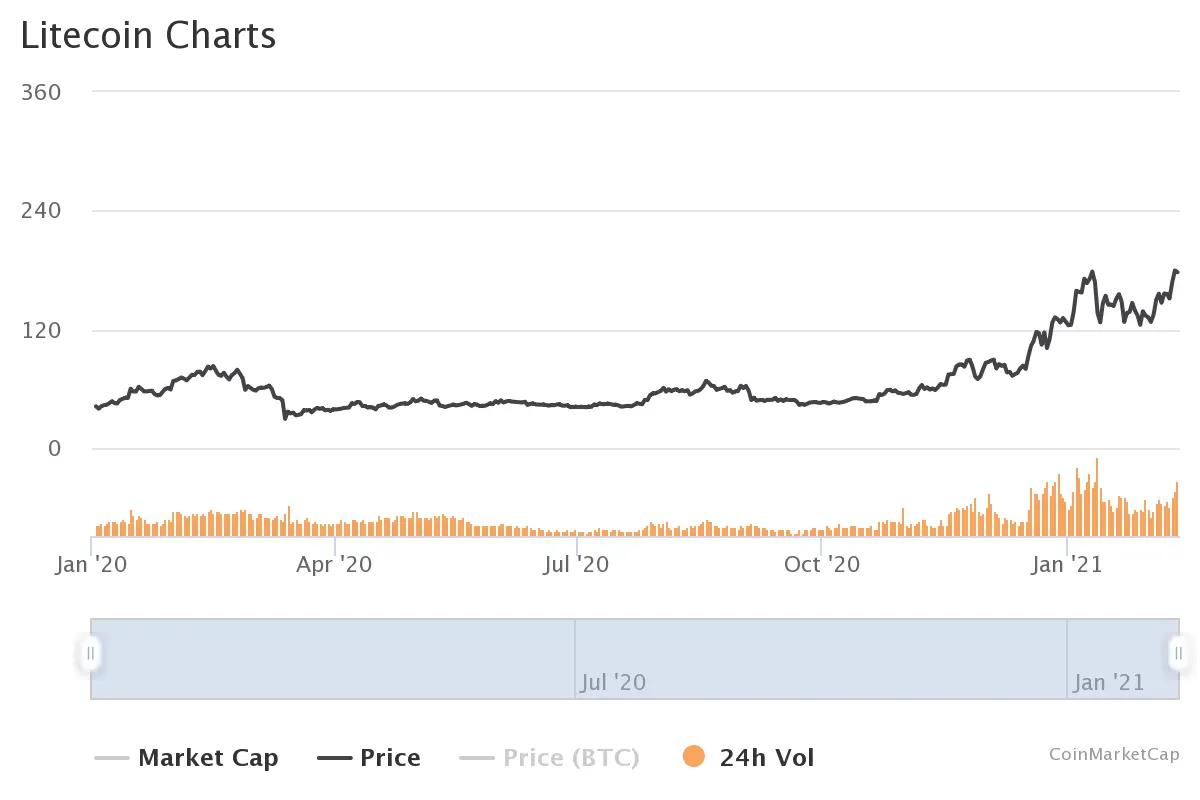 In comparison with the opening price in 2020, Litecoin grew by 352.77% at the time of writing. It has also not broken its ATH price record but it is halfway there! The technicals set it up for further growth.
Perspectives for 2021
MimbleWimble, a privacy protocol which is capable of masking transaction details from outside observers, will be activated in 2021. On the one hand, this will greatly improve the functionality of LTC. On the other hand, listing coins with privacy features is quite risky for exchanges.
Litecoin is also riding the coattails of Bitcoin in terms of adoption. Grayscale offers exposure to LTC through its Litecoin trust, and LTC is available for purchase in PayPal.
We admit: it feels quite weird writing this in 2021… But Litecoin definitely belongs in the top 10 cryptocurrencies to buy in 2021.
Chainlink
ChainLink is a decentralized oracle platform that bridges the gap between real-world data and blockchain. Chainlink oracles compare the data and convert it to a common denominator, eliminating the single point-of-failure of centralized oracles. Operators are rewarded with LINK tokens for their work, which they can stake to secure even more work.
Performance in 2020 and 2021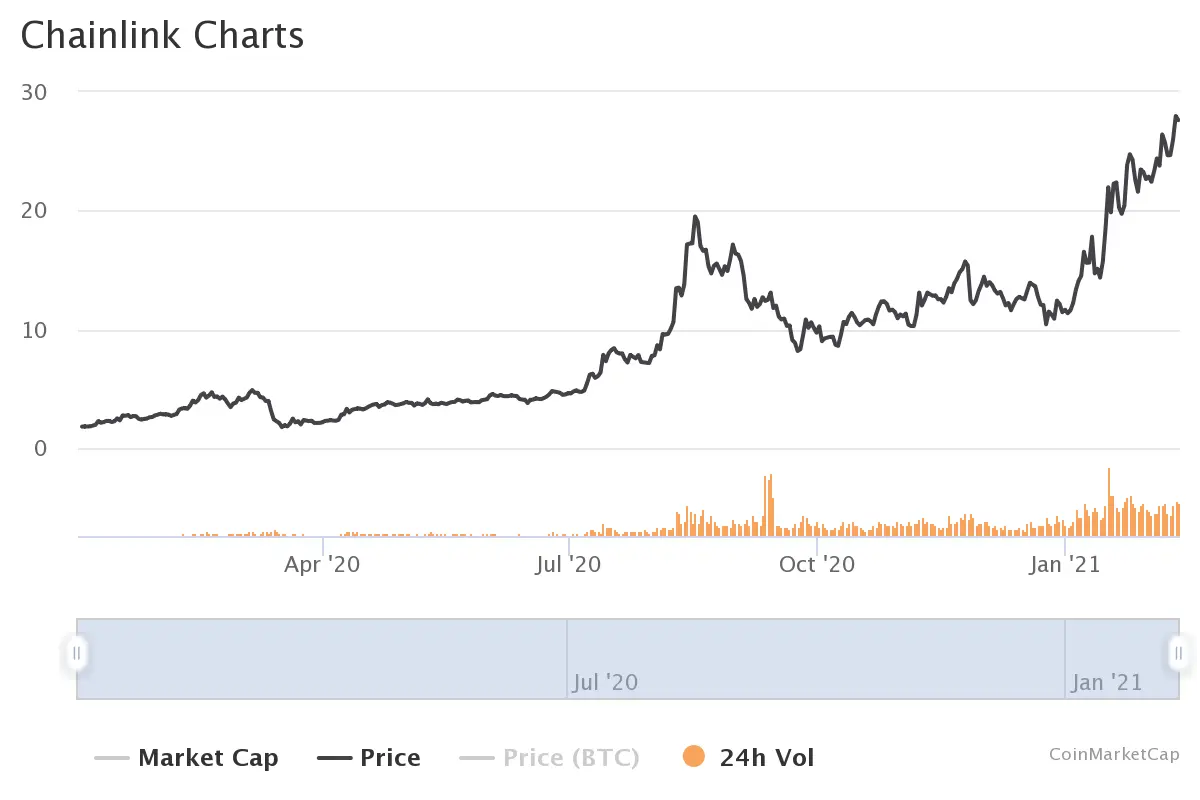 In comparison with the opening price in 2020, LINK grew by 1467.23% at the time of writing. Most of the community was impressed with the performance of ChainLink in 2020. However, it is setting up to continue being in top 10 cryptocurrencies to buy in 2021, too.
Chainlink is in the midst of a rally, and its current ATH of $28.60 was reached just a day ago, on February 10.
Perspectives for 2021
Chainlink is one of the most used protocols in DeFi: it's employed in Compound, Kyber Nework, Polkadot etc. Needless to say, as DeFi keeps developing, Chainlink will be one of the first projects to benefit.
In a conversation with Decrypt, the project's founder Sergiy Nazarov confirmed that non-blockchain companies are also looking into integrating Chainlink. The announcements can become price-driving events, so it may be a good idea to stock up on LINK in advance.
Bitcoin Cash
Bitcoin Cash is a peer-to-peer money transfer system based on Bitcoin's model. In 2017 it split from its blockchain, making several improvements. The main new feature of the network is increased block size, 32 MB as opposed to Bitcoin's 1 MB.
Performance in 2020 and 2021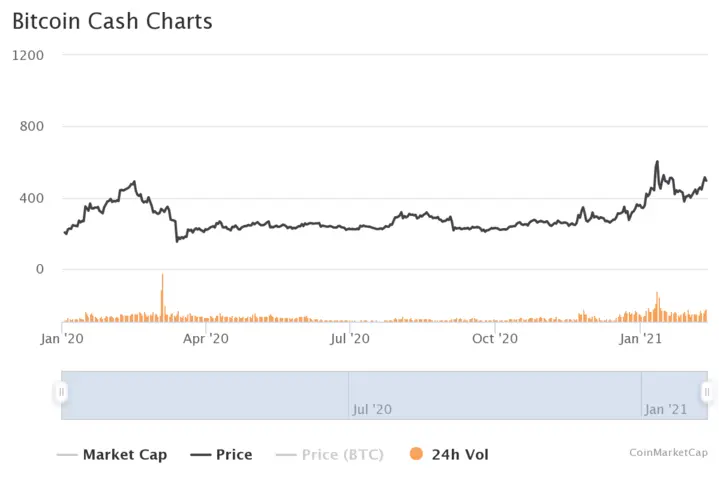 In comparison with the opening price in 2020, Bitcoin Cash grew by 158.01% at the time of writing. In 2020, it underwent yet another chain split, but it did not seem to significantly influence the price.
Perspectives for 2021
It seems that the torch of original BCH in 2021 will be carried by BCH Node fork. The community has already submitted a few changes which will go into effect on May 15, 2021. There are a ton of updates planned in 2021, including push for adoption and scalability improvements.
Bitcoin Cash is one of the currencies supported by Grayscale and PayPal, so like Litecoin, it could also reclaim some attention.
Dogecoin
Which Cryptocurrency will explode in 2021? No one could have expected it to be DOGE. 
Dogecoin is one of the oldest standing cryptocurrencies, from a technical perspective — a fork of a fork of Litecoin. Dogecoin branding is based on a popular Internet meme Doge.
Performance in 2020 and 2021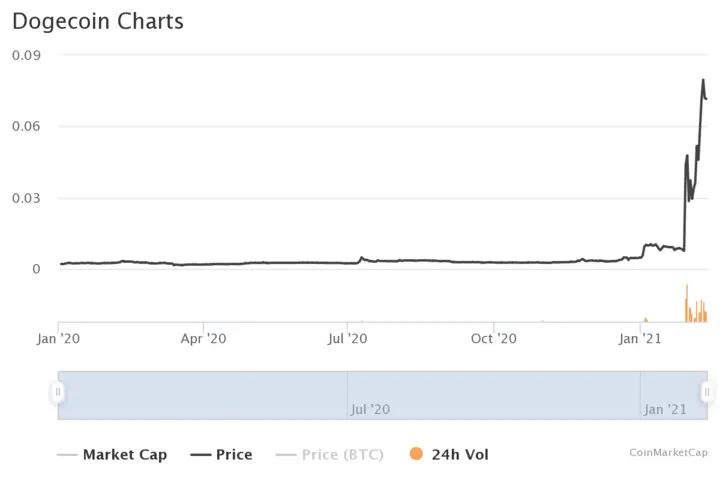 In comparison with the opening price in 2020, Dogecoin grew by 3511.93% at the time of writing. Like with other entries in the top, most of it has happened in 2021.The new ATH of Dogecoin: $0.08495 was reached on February, 8. On this day, and a few days before, Elon Musk made several Twitter posts pushing for DOGE.
Perspectives for 2021
Despite the financial success, there is not much to expect from Dogecoin in terms of development. However, with the breakthrough of the coin into top 10, there is a chance that interest in development can return.
As for institutional adoption, not much can be expected here, either. Dogecoin price is driven mostly by retail demand. However, we all see what gains it can achieve.
Stellar
Stellar is an open network for money storage and transfer, running since July 2014. Like XRP, which it is heavily influenced by, it aims to make global transactions less costly, more effective and borderless.
Performance in 2020 and 2021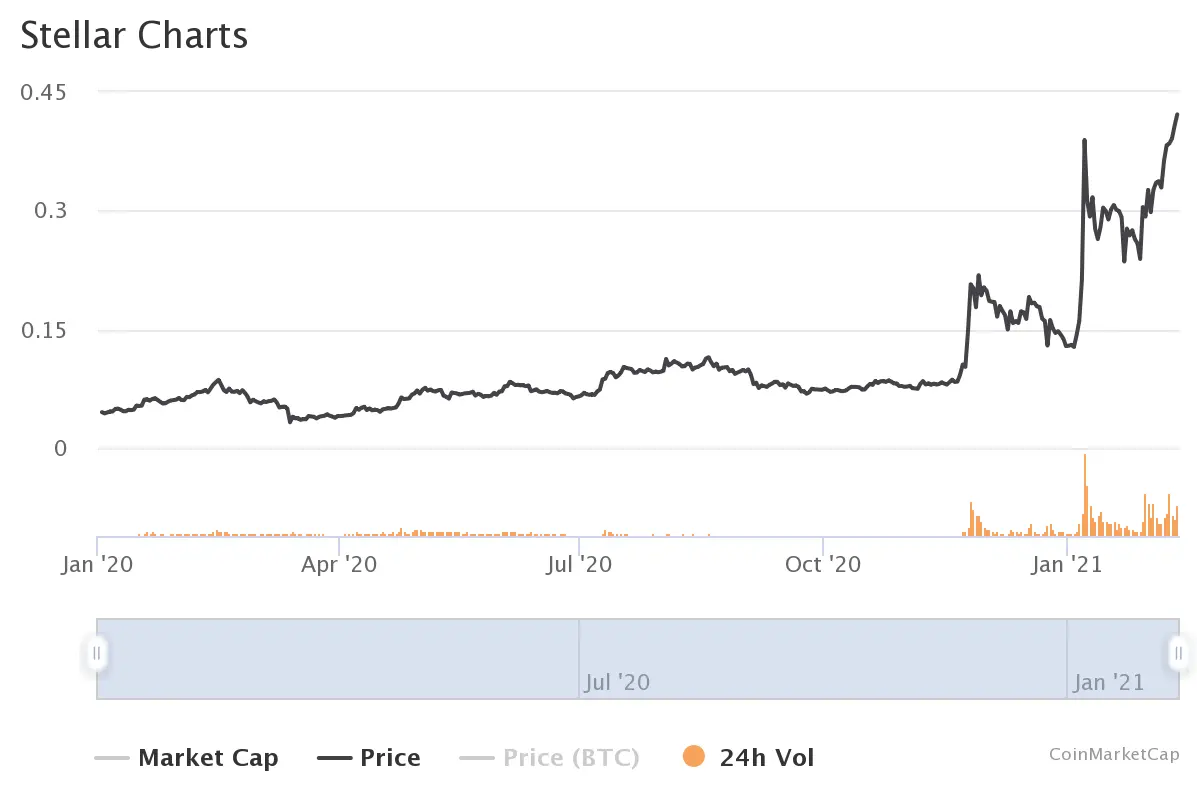 In comparison with the opening price in 2020, Stellar lumens grew by 886.92% at the time of writing. Despite the impressive growth, XLM has not renewed its ATH in this bull run yet! This alone warrants inclusion of XLM in the top 10 cryptocurrencies to buy in 2021 list.
Perspectives for 2021
Recently Stellar-related news reported Stellar Development Foundation will be working with Ukrainian government on digital hryvnia in the next year. Among the currently developing collaborations are Circle, issuers of USDC and Signal, a popular privacy-preserving messaging app.
How to Buy Top Cryptocurrencies on ChangeHero?
Suppose, you picked one of the top cryptocurrencies to invest in. For your convenience, all of these cryptocurrencies can be bought on ChangeHero in five easy steps:
Choose the currencies on the home page, amounts and the type of exchange. Provide your wallet address (and memo/tag, if necessary) in the next step and check the amounts;
Double-check the provided information, read and accept the Terms of Use and Privacy Policy;
Send in a single transaction the sum of cryptocurrency you will be exchanging. Fixed Rate transactions have a 15-minute limit;
And now, relax! We are doing all the work: checking the incoming transaction and doing the exchange as soon as it arrives;
As soon as the exchange has been processed, your assets are on the way to your wallet. We'll be happy to hear your feedback if you enjoyed using ChangeHero.
Our support Heroes are available anytime in the chat on our website or through the email: [email protected].
Key Takeaways
The cryptocurrency market is in a bullish cycle that follows Bitcoin halving events. Will Bitcoins go up in 2021? Chances are, we are not near the end of the cycle yet, which means, probably, yes;
Some cryptocurrencies are already beating their record prices from the last bull run: Bitcoin, Ethereum, BNB, Chainlink, Dogecoin;
However, there are a few coins which have not beaten their ATH yet: Stellar, BCH, Litecoin, XRP;
Which Cryptocurrency is growing the fastest? In terms of price, Dogecoin, followed by Chainlink. The vertical growth and fundamentals make the latter a more reliable (but less fun) investment.
Conclusion
To be frank, there is no single best cryptocurrency to buy 2021. Instead, it is best to diversify the portfolio to minimize losses in case of an unforeseen event. We hope our list of the best cryptocurrencies to invest was helpful to understand where to begin!
If you enjoyed the analysis of top cryptocurrencies to invest in, check out ChangeHero's blog. You can stay tuned to the updates and get more bite-sized content on our Twitter, Facebook, Reddit and Telegram!
---
Quick links:
Disclaimer
This article is not a piece of financial advice. When dealing with cryptocurrencies, remember that they are extremely volatile and thus, a high-risk investment. Always make sure to stay informed and be aware of those risks. Consider investitions in cryptocurrencies only after careful consideration and analysis and at your own risk.