The Dogecoin mania blew up in 2021, although it has been pretty well-known among enthusiasts since its beginnings in 2014. Its fall-off in more recent years and the degree to which Dogecoin started to be associated with Elon Musk make some crypto investors who feel late to the party ask if it is worth it at all. The ChangeHero team believes that it is, and in this article, we make a case for buying Dogecoin in 2023.
Brief Intro to Dogecoin (DOGE)
Dogecoin (DOGE) is a cryptocurrency, meaning it is a decentralized digital currency maintained by a network of computers recording a distributed ledger (blockchain) with the help of cryptography. Or, if it sounds too complicated: it is one of the cryptocurrencies that can be freely transferred to anyone who has a Dogecoin wallet address and traded on specialized cryptocurrency exchanges. Due to these two properties, DOGE is attributed some value and therefore, can be spent at shops that accept Dogecoin or tipped just like digital currencies.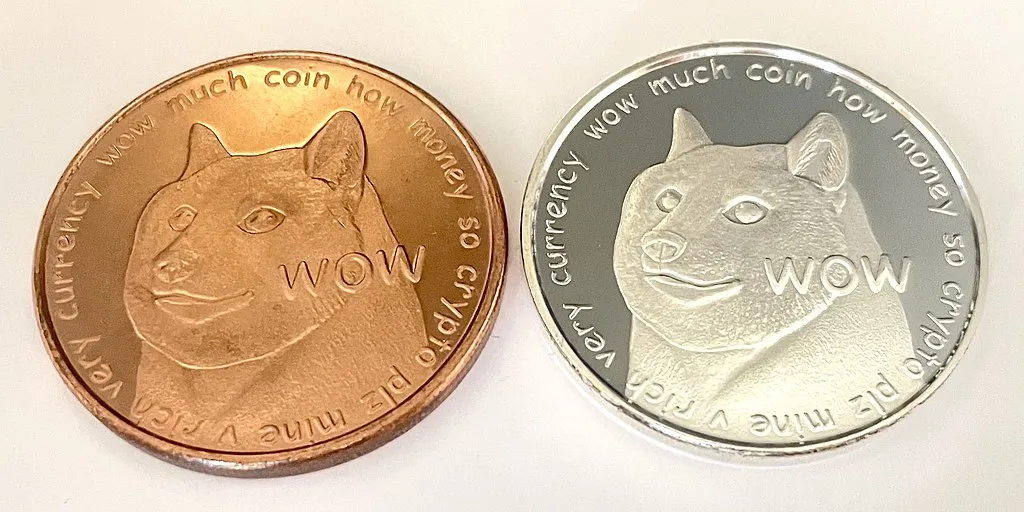 The original meme coin, based on the likeness of the Shiba Inu (Japanese dog breed) Kabosu, was launched in 2014. The idea and name were proposed on a whim by Jackson Palmer, and Billy "Shibetoshi Nakamoto" Markus reached out to him to provide the code for his idea. Dogecoin transactions get recorded on its own blockchain, making DOGE a coin, while most meme coins these days are tokens. Not that a lot of effort went into the first iteration of the Dogecoin blockchain: it was a fork of Luckycoin (which was a fork of Litecoin). These days, DOGE shares its mining power with LTC.
Dogecoin (DOGE) is one of the most well-known crypto projects in and outside the crypto market but there's no shame in it if you still don't know enough about it yet. We recommend reading our Beginner's Guide to Dogecoin to learn more about its essentials.
Dogecoin Price History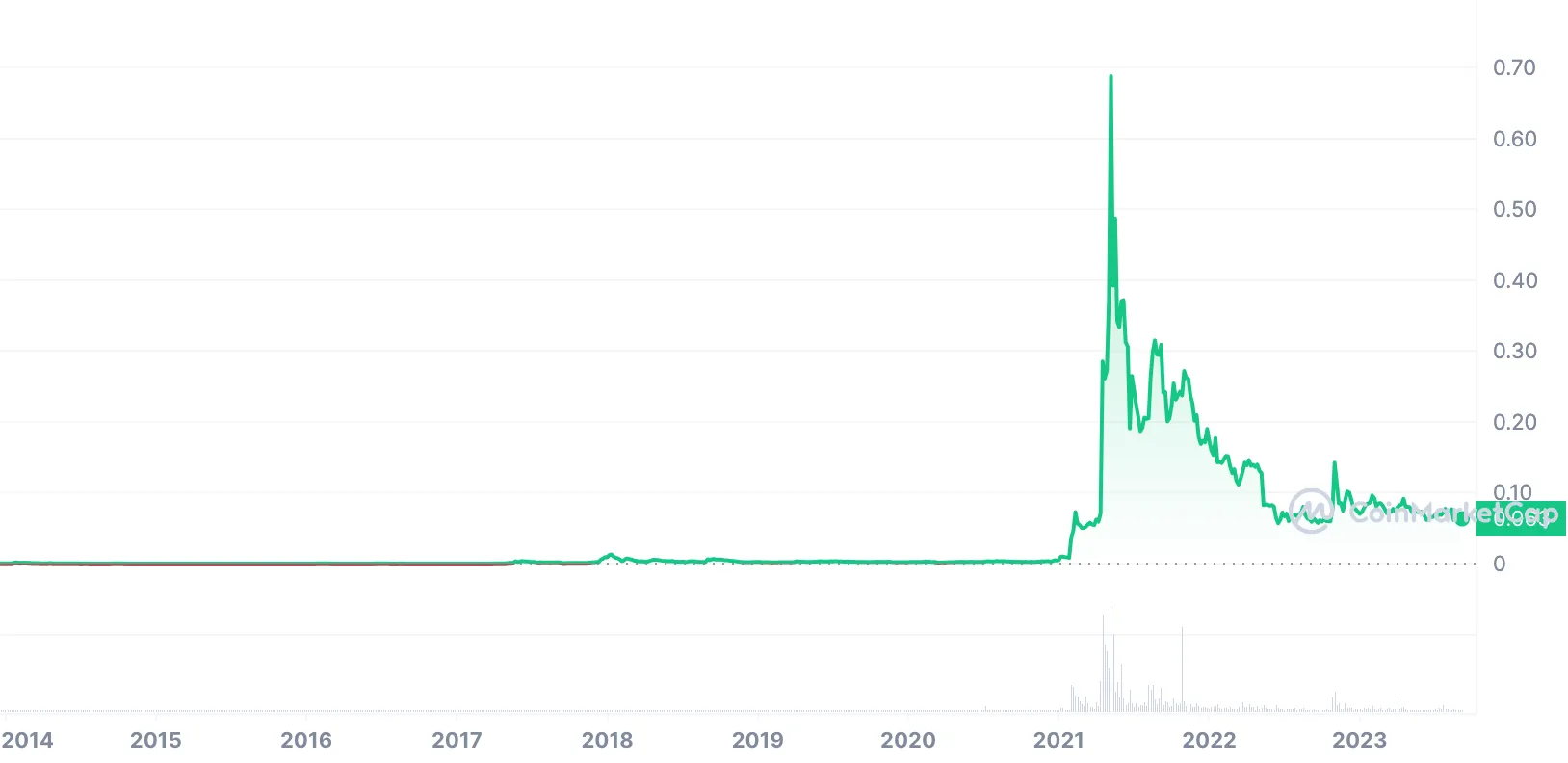 The history of Dogecoin's success will be incomplete without a review of its spectacular price history. On a linear scale (above), you should be able to see just how high the DOGE token price was able to shoot up in 2021. Even on a logarithmic scale (below) the price rise is parabolic: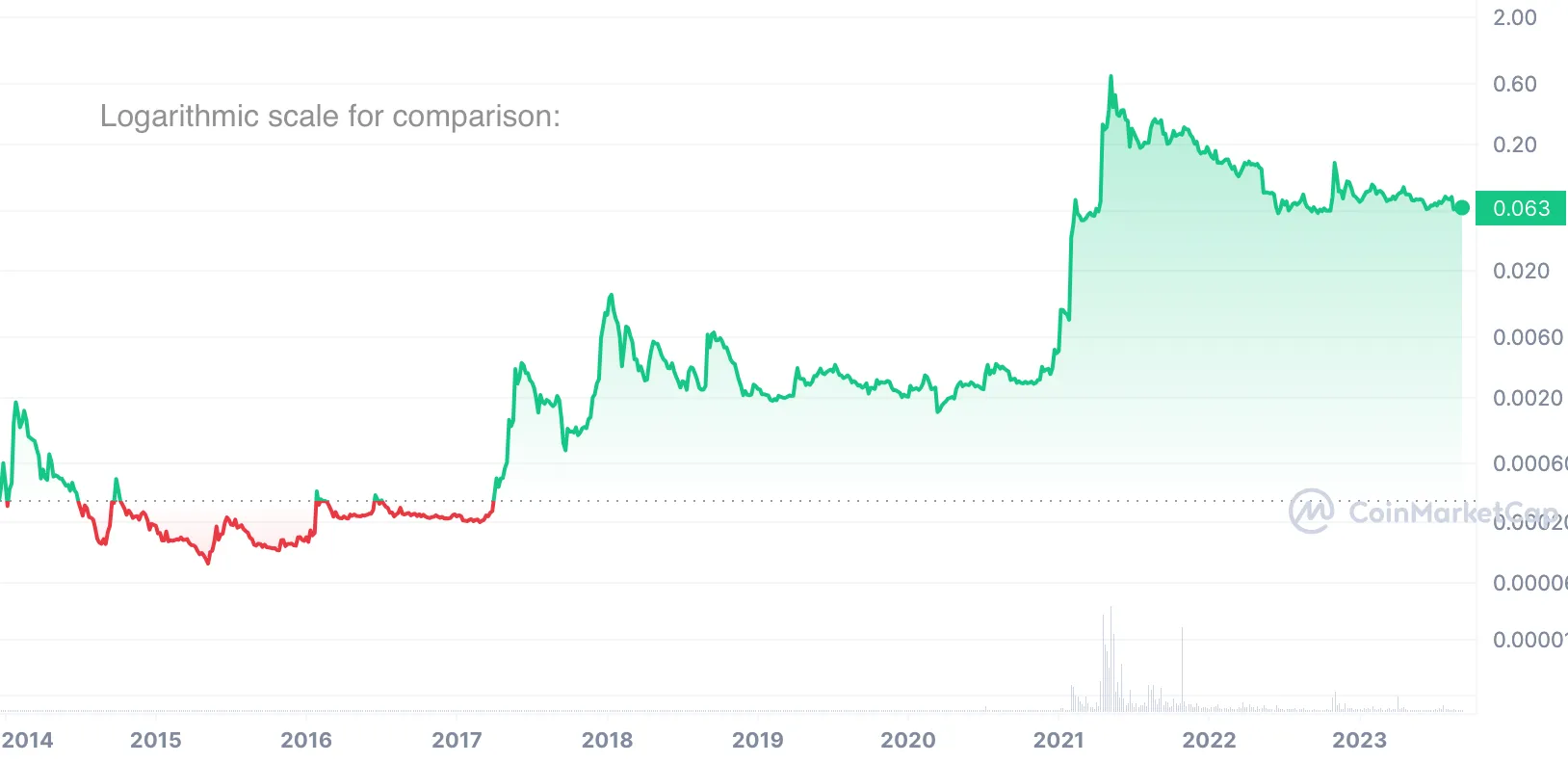 To complement the information from the charts above, let us give you a brief history lesson. Due to the popularity of the Doge meme in 2014, unsurprisingly, the coin took off immediately. After the interest and curiosity dwindled and it became clear that there was barely any use for this meme coin, DOGE's price declined and slumped until 2017. At the end of that year, Bitcoin (BTC) went on a bull run and the rest of the crypto market followed.
But as we have seen on the linear chart, the 2017 flight to the Moon would pale in comparison to the one that took place in 2021. What was the secret sauce? You might already know by now who is behind it: none other than Elon Musk. The billionaire first said that DOGE was his favorite cryptocurrency in 2019 but in 2021, when the greed index of the crypto market was off the charts, he fully embraced his inner Dogecoin fan. The exposure brought by his tweets and posts made a lot more people discover the meme crypto, and even the crypto space in general, and launch dozens of spin-offs like $ELON, $BABYDOGE, and $FLOKI.
Not everyone was happy with Musk's involvement in Dogecoin, though. It caused some concerns that if any individual can influence the price of DOGE so it can go up to such an extent, in the same way, they could singlehandedly bring it down. This manifested, for example, in a class-action lawsuit against Elon Musk, accusing him of price manipulation, securities fraud, and insider trading, among other claims. Not to mention, previously the true people's crypto with only Doge as a mascot, now the meme coin is inseparably connected with the name of the eccentric billionaire.
Reasons to Get DOGE
The meteoric crash from a 2021 high and the involvement of Elon Musk may cause some crypto investors to dismiss Dogecoin entirely. In this article, we are going to give you some reasons why it is not too late to buy Dogecoin in 2023.
It's Cheap
DOGE is still in the sub-dollar camp after all these years. Even though every dollar put in Dogecoin in 2020 would have gotten you up to thirty times more than today, stockpiling on DOGE is still not that costly.
Can Dogecoin show similar results in the future? If history repeats, the DOGE price can skyrocket again in a few years. There is always a slim chance that the opposite will happen, should some negative news break out. If you are looking for a Dogecoin price prediction with facts and figures, you can check out an article by our team!
It's High-Cap
Against all possible odds, Dogecoin (DOGE) has cemented itself in the top ten largest cryptocurrencies on this market. Its market cap exceeds some of the largest DeFi players and infrastructure layer tokens. Despite the value Solana, Polkadot, and Polygon add to the crypto industry, their native tokens all lag behind the aggregate value of DOGE tokens.
Dogecoin exists in a curious grey area where it can be appreciated by both risk-averse and risk-seeking investors. As one of the top-10 coins, it is less likely to "go to zero" (though it is not to say that this cannot happen — see Terra (LUNA)). It also enjoys high liquidity on crypto exchanges, which is proof of the market's resistance to sell-offs.
At the same time, in the long time frames (a year and three years) Dogecoin has a better Sharpe ratio than Ethereum (ETH) and Cardano (ADA). This metric shows how well an asset performs with adjustment to risk, and the higher the number, the better the result.
In short, DOGE can be a decent option to add a more risky asset to a risk-free portfolio or vice versa, a safer asset for a portfolio seeking gains from volatility. Whether you are a newcomer or an industry veteran, your altcoin portfolio could win from having some Dogecoin.
It's Iconic
Saying that Dogecoin these days is widely recognized is no understatement. A Harris Poll survey among 2,000 Americans in 2021 found that at the time, Dogecoin was familiar to more people than Ethereum, and second only to Bitcoin in recognition. As it turns out, even the most complex technological achievements can pale in comparison to silly memes when it comes to clout.
Partially, it was probably the clout that held the coin afloat all these years and propelled it into the spotlight. The Dogecoin community is very well-known for its light-hearted newcomer-friendly approach, in contrast to the more hard-boiled libertarian and cypherpunk ethos of other early cryptocurrencies. Its members may not have made a lot of contributions to the codebase of Dogecoin but they sure made plenty of memes. Many other projects attempted the viral marketing route only to short-term success at best, and realistically, it is a miracle DOGE caught on for so long.
Love it or hate it, Dogecoin gave way to many phenomena on the cryptocurrency market that may not have emerged otherwise: from other dog coins to more open communities. We can't help but appreciate DOGE for it!
How to Buy Dogecoin with ChangeHero
Dogecoin (DOGE) is a popular cryptocurrency, so there is no lack of options when it comes to Dogecoin trading or getting your hands on it. However, some come with tradeoffs of custody and others require you to sign up and deposit funds. On ChangeHero, you won't run into these hurdles and receive your DOGE coins to own at the best rate across ten markets.
Choose the currencies on the home page, amounts, and the type of exchange. Provide your DOGE wallet address in the next step and check the details;
Double-check the provided information, read and accept the Terms of Use and Privacy Policy;
Send the cryptocurrency for the swap in a single transaction. In a Fixed Rate transaction, you have 15 minutes before it expires;
Sit back and relax. Now we are doing all the work: checking the incoming transaction and making the exchange as soon as it arrives;
As soon as the exchange has been processed, your DOGE is on its way to your wallet. And so, the transaction is finished!
The flow is simple enough but if you struggle with something, don't worry. Our support team is available 24/7 to help you in the chat or through the email: [email protected].
Conclusion
In 2023, Dogecoin (DOGE) is still emblematic of the most fun facet of the cryptocurrency market. Fun and profit are not mutually exclusive, and DOGE proves it with its long history of being an underdog and coming out at the top.
Did our article convince you that Dogecoin has still got it? Let us know on Telegram, X (Twitter), Reddit, and Facebook, and share the post! If it was other projects and facts we mentioned in the article that caught your attention, you will be able to continue learning about the crypto landscape from the the ChangeHero blog.
---
Frequently Asked Questions
Is Dogecoin a good investment in 2023?
The ChangeHero team considers Dogecoin (DOGE) to be a good buy in 2023. It is too volatile to be considered for a significant investment but it is viable to diversify any kind of cryptocurrency portfolio.
Can Dogecoin reach $20?
For Dogecoin to reach $20 with its current circulating supply (140,921,476,383 DOGE per CoinGecko), it has to amass a $2,818,429,527,660 market cap. This figure is far greater than the total market capitalization of the entire cryptocurrency market ($1,075,199,130,537 at the time of writing, CoinGecko). With this in mind, it is unlikely that Dogecoin's price will be able to reach $20 in the foreseeable future.
Is Dogecoin still worth investing in?
The ChangeHero team's consensus is that Dogecoin is still worth buying, but due to it being an inherently risky investment, one should allocate no more than they are willing to lose into DOGE.
Disclaimer
This article is not a piece of financial or investment advice. No price prediction is guaranteed to provide exact information on the future price.
When dealing with cryptocurrencies, remember that they are extremely volatile and thus, a high-risk investment. Always make sure to stay informed and be aware of those risks. Consider investing in cryptocurrencies only after careful consideration and analysis of your own research and at your own risk.