Crypto market inherited plenty of features of traditional markets, lingo being one of them. Not every crypto investor comes into the fray equipped with this prior knowledge, and may be confused about some ubiquitous terms. In this guide, the ChangeHero team will explain the concept of crypto market cap and shed some light on its significance.
Key Takeaways
Market capitalization in crypto is calculated by multiplying the circulating supply by the current price of a coin or a token. It is a metric useful to determine the approximate value of a crypto asset;
Bitcoin's market cap dominance is sometimes referred to as Bitcoin dominance (BTC.D) for short. This metric is ascribed even more meaning: traders use it to get an idea of the market sentiment and trends;
There is a portion of crypto community who believe the value of Ethereum can exceed Bitcoin's. This scenario is called "the flippening".
Sorting out the Terms: Market capitalization, Total Crypto Market Cap, Market cap dominance
Market capitalization is a term from the stock market. It describes the total value of a certain stock, calculated by multiplying the number of outstanding shares by the price of one share. Market capitalization is opposed to market value, a more complex metric that is derived from the metrics of the company's performance. In crypto, applying the same metrics to any given coin as to a stock is not possible. Bitcoin has no revenue streams because it is not a company. However, as a subjective measure of the value of a crypto asset, market capitalization has been adopted. In crypto, you would calculate the market cap by multiplying the circulating supply of a coin or token by its current price. Market cap is not always a precise figure because cryptocurrencies are often traded on multiple exchanges, where their prices differ.
The total or global cryptocurrency market capitalization is the sum of the market caps of each cryptocurrency. Just like market capitalization in crypto, it is not an absolutely precise figure. Firstly, it is near impossible to keep track of every single coin and token in existence because dozens get created daily. Secondly, the imprecision of each coin's market cap compounds in total market cap, making it an even less reliable metric.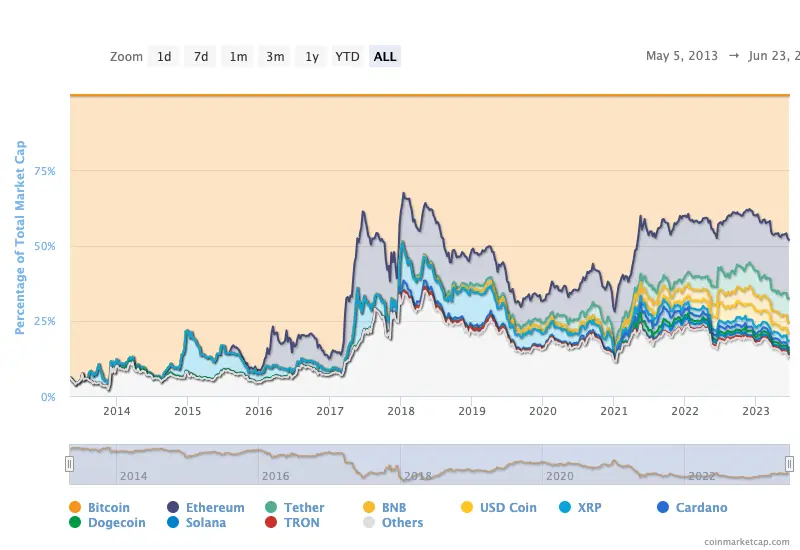 And finally, market cap dominance is the share of a coin's market capitalization in the global market cap. Bitcoin, being the largest cryptocurrency, has the highest market cap dominance. At the time of writing, it is 49.8% on CoinMarketCap and 48.1% on CoinGecko.
What is the "Bitcoin dominance" (BTC.D)?
Due to its special status and for short, the market cap dominance of Bitcoin is called Bitcoin dominance. This is an interesting metric to many traders for a variety of reasons.
One of them is that Bitcoin's performance is sometimes weighted against altcoins (or the rest of the entire crypto market). Time when altcoins outperform BTC is sometimes called "altcoin season", and in this market, traders who take more risks see higher gains. Other times, when the market is more conservative, altcoin holders risk suffering more losses than bitcoiners. Shifts in the ratio between Bitcoin dominance and altcoins in total market capitalization are believed to signal such changes in market sentiment.
On analytical services such as TradingView, Bitcoin dominance can be analyzed on charts, shortened as BTC.D. Some traders treat it as a subject for technical analysis, and try to predict changes in crypto market trends.
How Crypto Traders Use Bitcoin Dominance
BTC.D is used as a gauge for several sentiment shifts such as:
Fear–greed ratio. As investors get fearful, they tend to go for more reputable cryptocurrencies such as BTC and ETH. On the contrary, as the space heats up, they can be expected to seek profits elsewhere.
Repetition of previous market cycles. As more traders feel confident about the space, they buy into BTC to secure profits in a safe haven asset.
🔥 Hide Your Alts! It's BTC & ETH Time by FieryTrading on TradingView.com
What Does Bitcoin Dominance Change Mean for the Crypto Market?
On the whole, long-term changes in BTC.D show how the crypto market is evolving. If in 2013 BTC.D was almost 95%, these days it is below 50%. It means that more altcoins find their footing and develop into credible platforms and digital currencies.
At the peak of the ICO (Initial Coin Offering) frenzy in 2017, Ethereum's market cap dominance came close to BTC's. The first cryptocurrency accounted for 38.7% of the total crypto market capitalization, while the runner-up peaked at 31%. This illustrates just how much Ethereum became popular with this feature and gives an idea how it was back then — so what if the figures are only approximations.
What is "the flippening" in crypto?
Ever since then, the hypothetical scenario in which ETH would overtake BTC by market capitalization has been floating in the air. The proponents of this scenario call it "the flippening", the most significant market cap rank flip to ever occur.
Crypto enthusiasts are very divided on the probability of flippening. On the one hand, Bitcoin remains an undisputed standard for cryptocurrencies and amassed the most value from the entire crypto market. Enen though Ethereum houses thousands of tokens and DeFi protocols. On the other, a larger variety of use cases makes ETH more worthy of the largest global cryptocurrency market cap share in the eyes of its followers.
Conclusion
Market cap is a useful metric to see how big a crypto project is but it is at best an approximation. This is true even for assets in traditional markets, so it should not be taken at face value. Instead, we can use it to compare coins to each other and observe the cryptocurrency market growth.
Keep an eye on the ChangeHero blog to learn more about the latest crypto news, projects, and platforms. And for quicker bite-sized updates, follow us on social media: Twitter, Facebook, Reddit, and Telegram.