This month, Ethereum completed the transition to Proof-of-Stake by enabling withdrawals of staked Ether. Now validators can deposit, stake, and withdraw ETH as originally intended, which seems to be able to drive down the demand for products like Lido. It is a so-called "liquid staking" solution, which issues tokenized assets to replace the locked crypto. In this article, the ChangeHero team will dive deeper into the current state of Lido and give an LDO price prediction for the short and long term.
Lido DAO (LDO) Price Predictions 2023–2033
| | | |
| --- | --- | --- |
| Year | Minimum price, USD | Maximum price, USD |
| 2023 | $1.41 | $4.06 |
| 2024 | $2.37 | $6.11 |
| 2025 | $7.16 | $9.25 |
| 2028 | $5.30 | $45.77 |
| 2030 | $11.20 | $25.69 |
| 2033 | $18.71 | $57.65 |
Some analysts and investors believe that Lido's innovative technology and user-friendly interface may attract more users and investors, which could drive up the demand for LDO and increase above the current ATH of $11 in the long term;
Others are more cautious and believe that LDO's price may be affected by changes in the broader cryptocurrency market and regulatory developments and that it is very likely to experience volatility in the short term;
Overall, the sentiment towards LDO seems to be positive, with many investors and analysts bullish on the project's potential and optimistic about its future growth prospects. However, as with any investment, there is always some level of risk involved, and investors should conduct their own research and due diligence before making any decisions.
What is Lido DAO?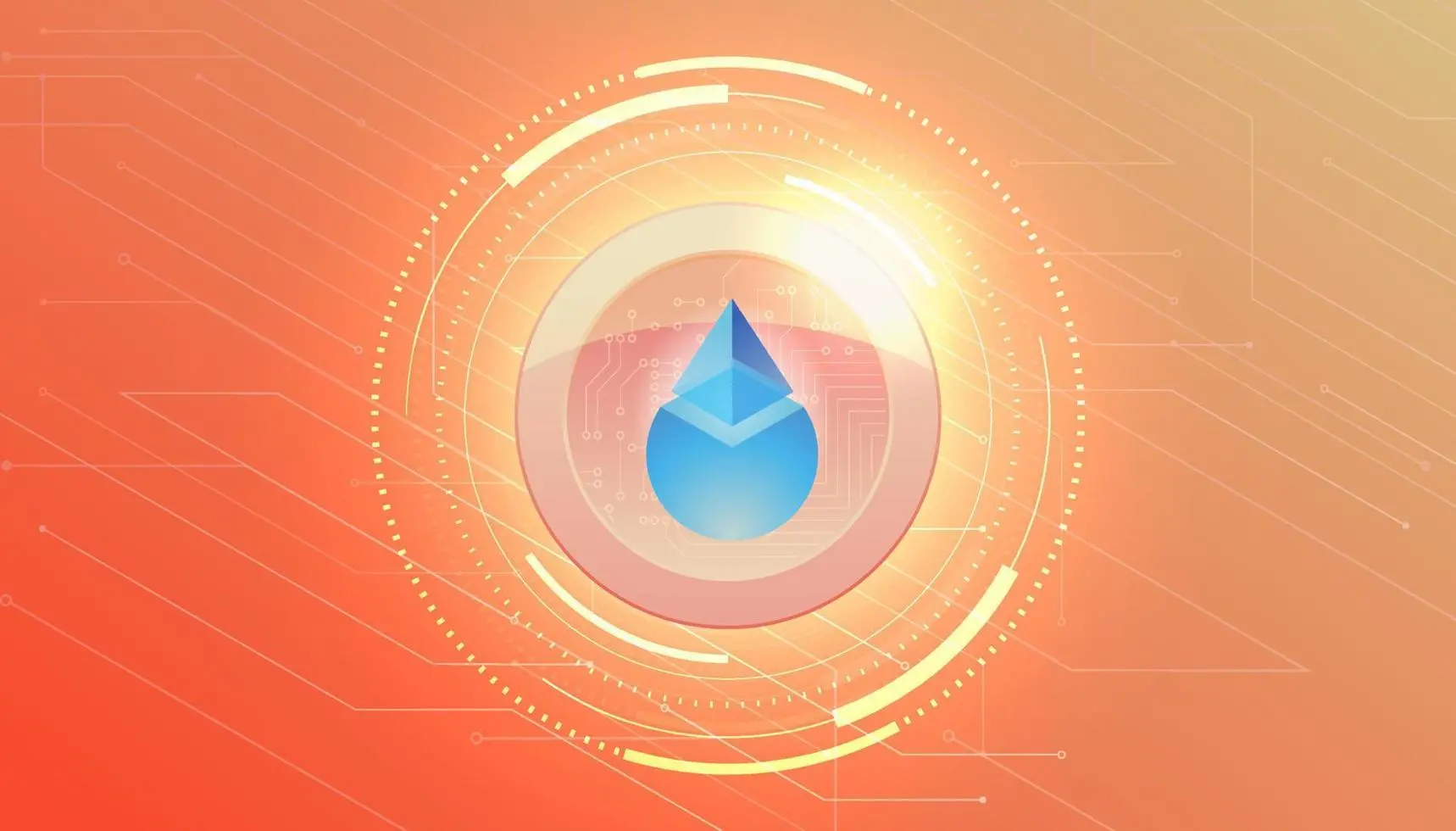 Lido is a liquid staking solution for Ethereum and other blockchains: it allows users to stake their crypto and earn staking rewards without having to worry about the technicalities of running a validator node. Lido DAO operates a network of validators on behalf of its users, and users receive stETH in exchange for their staked ETH.
You can learn more about Lido and liquid staking in the guide to liquid staking by ChangeHero!
Lido is run by a decentralized autonomous organization (DAO) of the same name. LDO is the governance token of the Lido DAO, and its primary use case is governance. Firstly, LDO holders can vote on proposals that affect the direction of the project. These proposals can include changes to the platform's fee structure, adjustments to the staking parameters, upgrades to the Lido smart contracts, and even changes to the LDO token itself.
In the past, the DAO members have put such things forward as proposals as integrations with other DeFi products, adjusting staking parameters, or even limitation of the maximum stake in the Ethereum network. The governance was designed to ensure that the Lido DAO ecosystem remains transparent, decentralized, and responsive to the needs of its users.
LDO Price History (2021–2023)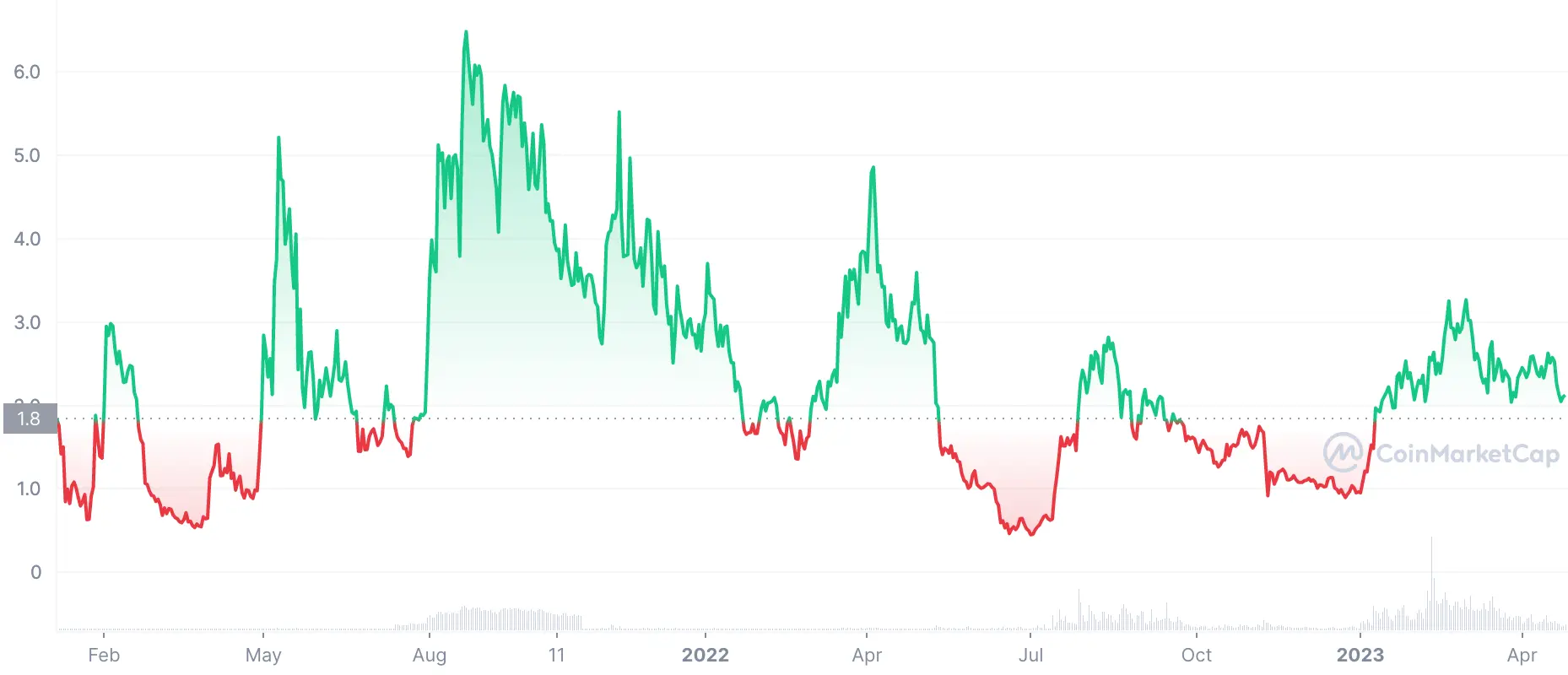 Lido DAO held a private presale in September 2020, where it raised $2 million from investors. The presale was oversubscribed, with more investors wanting to participate than there were tokens available. The funds raised in the presale were used to bootstrap the development and launch of the Lido protocol.
The investors in the Lido DAO presale included a mix of venture capital firms, crypto funds, and individual investors. Some of the notable investors in Lido DAO include ParaFi Capital, Robot Ventures, Digital Currency Group, Terraform Labs, Coinbase Ventures, and IOSG Ventures.
The full, public launch of LDO on the Ethereum mainnet took place on January 18, 2021, with an initial price of around $1.8. The first surge to the LDO price did not take long but the following one that took it to the ATH happened shortly after Lido announced plans to branch out to Solana. Of course, the crypto market conditions at the time helped a lot, since Bitcoin was on the rise, too. The maximum price LDO has ever reached was $11 on November 16, 2021.
Due to its design and convenience, Lido quickly amassed popularity and became one of the most sought-after Ethereum-based products. It was popular with large players, too, which led to some unexpected consequences during the tumultuous market in 2022. stETH, a Lido product that acts as a replacement for the staked Ether, briefly depegged from the ETH price in May 2022. This led to a liquidity crisis in the Curve Finance pools and contributed to the fall of Celsius.
2022 in crypto was characterized by a clear downtrend in most cryptocurrencies, LDO not being an exception. However, in 2023, when the trend changed to the upside, LDO has also strongly appreciated and more than doubled in comparison to the year's opening price of $0.95. The current price of LDO at the time of writing is $2.0626 and the governance token ranks 34 by market capitalization (according to CoinMarketCap).
What affects the price of the Lido DAO Token?
Demand for Liquid Staking
After the Shapella upgrade, the Merge is officially over, and the staking in Ethereum is working in full force. Nevertheless, the upgrade did not take away the things people use Lido for: it became highly popular not just because of the inactive withdrawals.
Ethereum has very high requirements for running a validator node: on top of ensuring proper memory size and bandwidth, one is required to stake no less than 32 ETH (~$58,357 at the time of writing). The rewards may be worth it but it is far from being accessible.
Lido solves this by running validator nodes on behalf of the users who entrust them with their ETH. In return, Lido issues stETH, a fungible token that acts as an equivalent to the locked Ether. This stETH can be used in other DeFi products as collateral or traded on decentralized exchanges.
How does LDO play into it? Simply put, the higher the demand for Lido's services, the more motivation users will have to take part in steering the protocol. And LDO is a requirement for this.
Partnerships and Integrations
Partnerships and integrations increase the value, visibility and adoption of the Lido DAO and the relevant ecosystem. In addition to increasing the demand for LDO, it can also have a positive effect on investor confidence in the token, driving its price up further.
For example, in November 2022, Coinbase, one of the largest cryptocurrency exchanges, listed LDO on its platform. There is a reason why the "Coinbase effect" is a thing in crypto: it increased the visibility of Lido and made it easier for users to buy and sell LDO.
Before that, in December 2021, Lido announced a partnership with Chainlink, a decentralized oracle network. The integration of Chainlink's price feeds allows Lido to ensure accurate and up-to-date pricing for staking rewards. This partnership increased confidence in the reliability of Lido's staking services, which contributed to an increase in demand for LDO.
Regulatory changes
Lido as a product presents a challenge to the contemporary regulatory environment, and the U.S. is a jurisdiction where its status is the most nebulous. So far, we are seeing more scrutiny toward crypto services from the US Securities and Exchange Commission (SEC), and it is not clear if Lido's stETH is a security token. If it is ruled out as such, it was rolled out as an unregistered one, which is in violation of U.S. laws. Not only the US investors would be barred from using Lido but it can also have a negative impact on the users overseas as well.
In a crypto-friendlier world, we could see Lido operating within a legal framework. In that case, it would see more adoption and high investor confidence. In the present, though, things such as DAO accountability or smart contract regulation are legally gray areas.
It is important to note that the impact of regulatory changes on the price of LDO is not always straightforward and may be influenced by other factors such as market sentiment, adoption, and overall demand for cryptocurrencies. Therefore, it is important to closely monitor regulatory developments and their potential impact on the crypto sector as a whole.
Our LDO Price Analysis and Forecast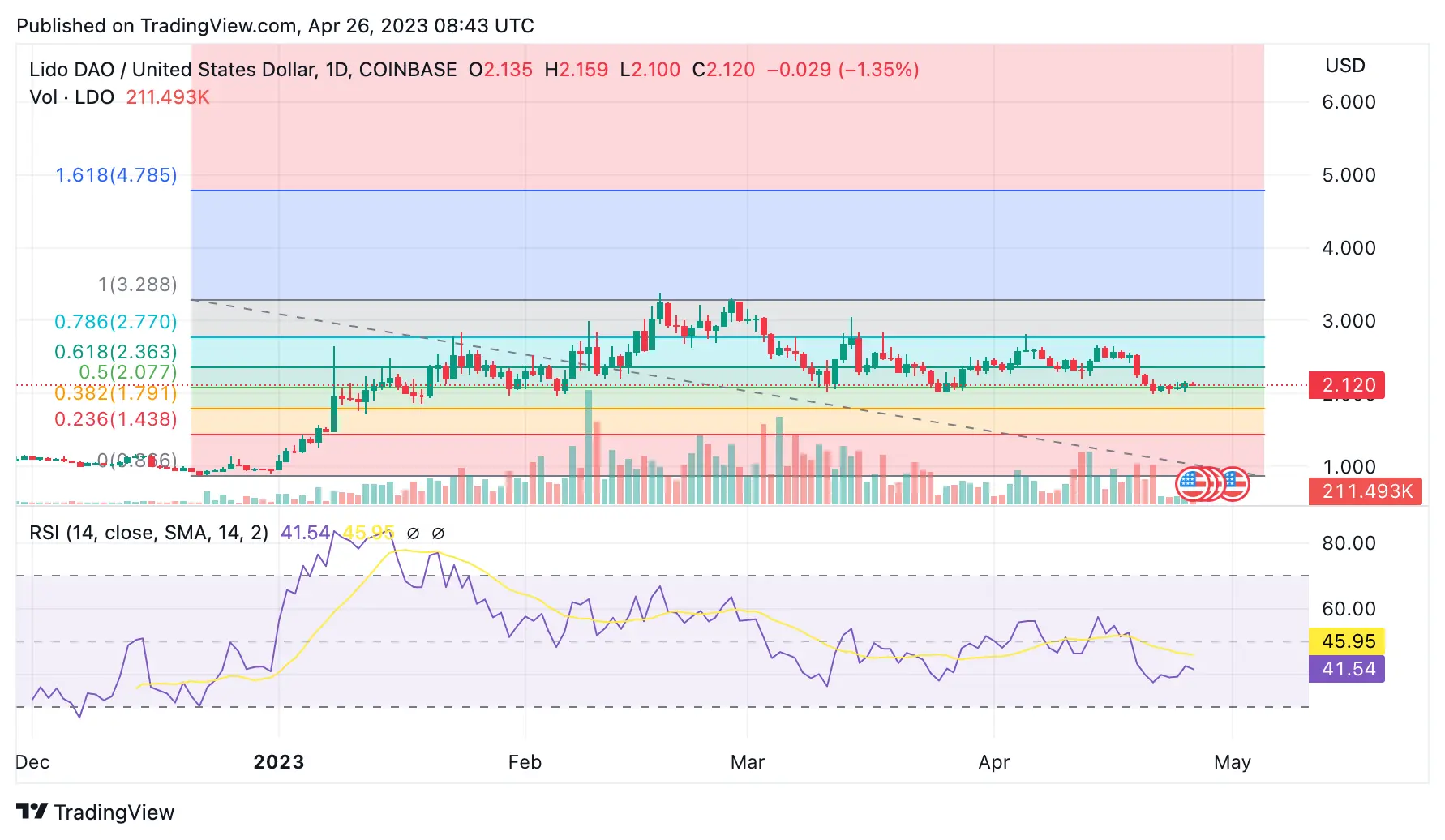 So far in 2023, the LDO price generally sticks to 0.5 and 0.786 Fibonacci extensions, corresponding to the range between $2.07 and $2.77 with occasional breakouts. The trading volumes are not as high as earlier this year, so even if a pump occurs, right now there is not a lot to support it. The relative strength index's simple moving average is about to cross over the RSI in the oversold area, so for the time being bears and bulls can play tug of war for a while before any real change.
Lido DAO Price Prediction 2023
The technical analysis by BLESSED CRYPTO is made thanks to Elliott Waves. This principle helps look for price movement trends by leveraging collective trader psychology. In their opinion, the LDO price should pull back after breaking out from the long-term resistance and complete a fourth wave. Therefore, it can dip to an area around $1.41–1.83. While they weigh the bearish scenario as a more likely one, considering a bullish scenario, LDO can go up to $4.06 max sometime in 2023.
CoinMarketCap's crowdsourced price prediction resource uses an unconventional method: it surveys users about the potential growth of cryptocurrencies. The majority of their audience gauges that in a month, the Lido DAO token price can grow by 17% to $2.3851. By August 2023, it is expected to pull back a little by +13% to the current price of $2.32.
Captain Altcoin predicts that LDO will have a price of $2.39 by the end of 2023. This prediction is based on their analysis of market trends, technical indicators, and historical price data. According to their Lido DAO price prediction, LDO is a good investment for the longer term, but investors should be aware of the risks associated with investing in cryptocurrencies.
LDO Price Prediction 2024, 2025
CoinCodex predicts that LDO will have a price of $2.37 in 2024, exactly a year from now. This prediction is based on their proprietary algorithm, which takes into account historical price data and market trends. However, their analysis of technical indicators sees more bearish signs in play right now.
CoinPedia predicts that LDO will have a maximum price of $5.782 in 2024. This prediction is based on their analysis of market trends and historical price data. This is a less conservative prediction than CoinCodex's, suggesting that LDO will see moderate growth over the next few years.
According to the AI-powered algorithmic forecast by PricePrediction.net, the LDO price is going to keep growing. In 2024, its predicted maximum price can reach $6.11 and the minimum price will dip to $5.36. As for the next year, the minimum price of LDO will rise to $7.62 and the maximum price in the forecast can go further to $9.25 in 2025.
In contrast to their bearish short-term LDO price analysis, DigitalCoinPrice predicts that throughout 2025, the LDO's average price will reach $7.16 USD. Their prediction is based on their analysis of market trends and the overall growth potential of the DeFi space.
Bitnation echoes the previous LDO price forecast and predicts that the average LDO price will reach $7.22 in 2025. Among the things they go off from are market trends, the overall growth potential of the DeFi space, and the expected adoption of Lido's staking services.
It's important to note that these predictions are speculative and should be taken with a grain of salt. The cryptocurrency market is notoriously volatile and unpredictable, and many factors can influence the price of a token. However, these predictions do suggest that there is potential for significant growth in the LDO price over the next few years, especially if Lido DAO continues to gain popularity and adoption in the DeFi space.
Lido DAO Price Forecast 2028, 2030, 2033
Five years in advance is a long way off from now, so how high LDO price can go by then? Gov Capital predicts that by that time the LDO price will reach $45.77 USD by the end of 2028. Their predictions are based on their algorithmic analysis of market trends and historical price data.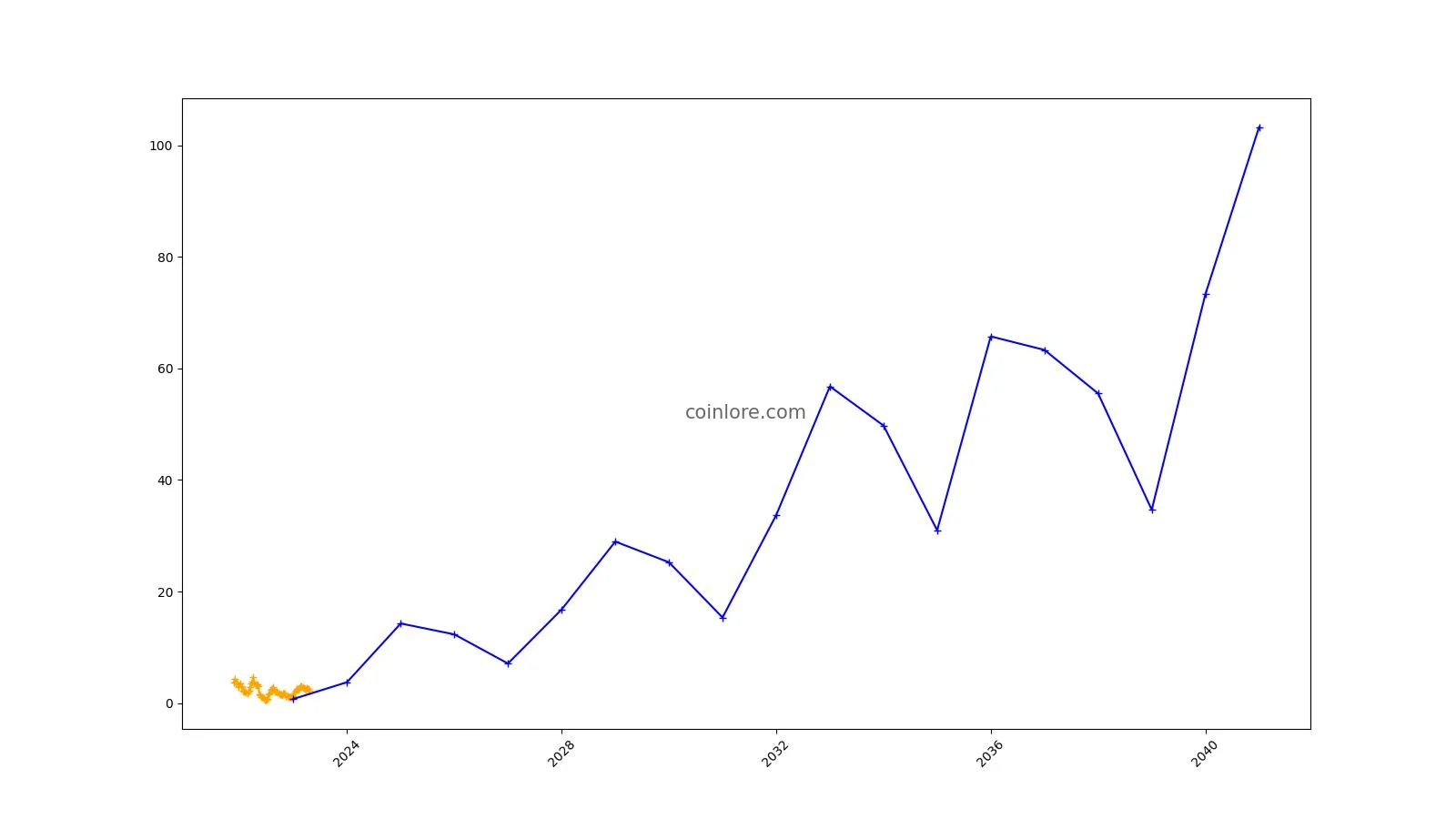 AMB Crypto forecasts that the LDO price will reach $5.30 to $7.95 by the end of 2028, $11.20 on average throughout 2030, and at least $19.69 by the end of 2033. Their predictions are based on their analysis of market trends and the growth potential of the DeFi space.
On the other hand, CoinLore predicts that LDO will reach an average trading price of $25.69 by the end of 2030. By the end of 2033, the maximum price of LDO will be $57.65, unless it crashes to $18.71.
How to Buy LDO?
You can get LDO on the ChangeHero website in a few steps without obligatory KYC or registration. Just swap any crypto for LDO on ChangeHero!
Choose the currencies on the home page, amounts, and the type of exchange. Provide your wallet address in the next step and check the amounts;
Double-check the provided information, read and accept the Terms of Use and Privacy Policy;
Send in a single transaction the cryptocurrency you will be exchanging. Fixed Rate transactions have a 15-minute limit;
Done? Now we are doing all the work: checking the incoming transaction and doing the exchange as soon as it arrives. The Best Rate transactions will use the rate current to the time when your funds arrive. The Fixed Rate will use the rate at the time of step 1;
As soon as the exchange has been processed, your LDO is on its way to your wallet.
Customer support is here for you 24/7 in the chat on the website or through the email: [email protected].
Conclusion
Experts predict that Lido's staking-as-a-service solution will continue to gain traction in the industry, allowing more users to participate in staking and earn rewards and that Lido has the potential to become a major player in the DeFi ecosystem.
How far off do you think these price predictions are? Let us know on Twitter, Reddit, Facebook, and Telegram, and subscribe while you are at it! For more content to help you in navigating the crypto world, try exploring our blog.
---
Frequently Asked Questions
What will the Lido DAO coin price be in 2030?
The projected price range for LDO in 2030 varies depending on the source, with targets ranging from $11.20 to $25.69.
What is the price of LDO in 2025?
There are differing predictions for LDO's 2025 price target, with estimates spanning from $7.16 to $9.25 across multiple sources.
What is the price prediction for LDO in 2023?
LDO's projected price in 2023 varies among different sources, with targets ranging from $1.41 to $4.06.
Disclaimer
This article is not a piece of financial or investment advice. No price prediction is guaranteed to provide exact information on the future price.
When dealing with cryptocurrencies, remember that they are extremely volatile and thus, a high-risk investment. Always make sure to stay informed and be aware of those risks. Consider investing in cryptocurrencies only after careful consideration and analysis of your own research and at your own risk.
Learn more:
Quick links: