Altcoins take the cake from the first crypto in terms of news this week, with Ethereum in the lead! Our team rounded up the most relevant and essential cryptocurrency news from the past seven days in case you missed anything.
Key Takeaways
Crypto market is mostly in the green across the board, with altcoins massively outperforming Bitcoin;
The main event of the week is the long-awaited controversial Ethereum London hard fork. The update went live on Aug 4, 2021, and changed fee and supply mechanics;
In other news, Miami is launching MiamiCoin, Uruguay and Spain want to legalize cryptocurrencies, and Zcash might go PoS.
Latest Cryptocurrency News Digest
Bitcoin This Week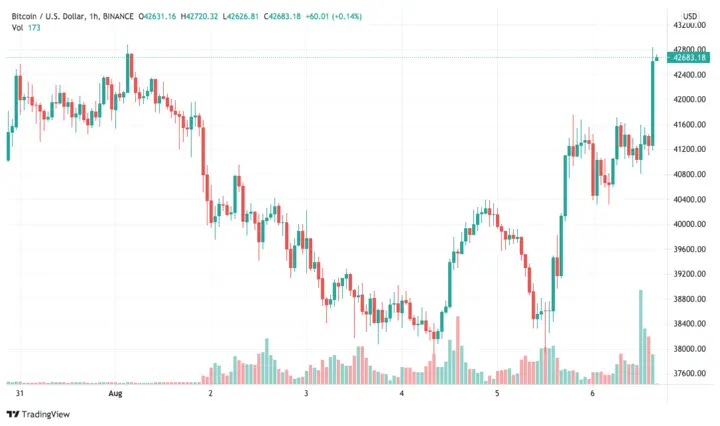 After a great start to the week, why is Bitcoin crashing? The rise above $40,000 was not defended by bulls and BTC got rejected.
On August 4, BTC met the support level at $38,200 in the oversold area and bounced to $40,000. The attempt was short-lived again, but next time bulls have managed to fix above $41,000.
Latest Bitcoin News
Illiquid supply of Bitcoin (i.e. BTC not in circulation) has hit an all-time high: 14.447 million BTC. This reflects a long-term holding sentiment among owners and investors.
While America struggles to approve a single Bitcoin-tracking ETF, France joins Canada and Brazil. Melanion Capital received approval to start trading a Bitcoin-tracking ETF on Euronext in Paris.
Altcoin News
Ethereum underwent a long-anticipated planned London hard fork on August 4, which introduced base fees that leave circulation. Since then, 4,834.74 ETH has already been burned at the time of writing.
Anonymous cryptocurrency Zcash might be transferring from Proof-of-Work to Proof-of-Stake in the near future. Zooko Wilcox has submitted a proposal for community discussion and development.
Coin Metrics data manager Lucas Nuzzi brought to wide attention a reorganization in the BSV blockchain. At some point, there have been three competing chains mined side to side.
Business Cryptocurrency News
Xiaomi representative in Portugal, Mi Store Portugal, announced collaboration with Utrust to accept BTC, ETH, USDT, DASH and Utrust token. After the head corporation came forward on Weibo denying involvement, the announcement was taken down.
Cryptocurrency News on Adoption
Spanish legislators are reviewing a bill that would allow using blockchain and smart contracts for routine activities covered by banks. The group that proposed the law suggested legitimising usage of smart contracts and similar instruments for mortgage administration and insurance compensation.
Regulation & Politics Cryptocurrency News
11 exchanges in South Korea are shutting down operations in the light of inspections. Most of them have failed to comply with the requirement to open real name accounts.
The US Senate is reviewing the Infrastructure Bill, one of the largest parts of the stimulus policy, which implies an issue of 1 trillion dollars. One of the points of contempt that delays finalization of the law is the crypto-related amendment, which would imply heavy taxing of the sector.
Social Media Cryptocurrency News Digest
Video of the Week
As a highlighted video of this week, we offer this extensive coverage of the Ethereum news about the London hard fork. YouTuber VoskCoin goes through relevant news, posts and resources to comment.
Cryptocurrency News from Twitter
Businessman, part owner of @SunderlandAFC, and #Uruguay presidential candidate @juansartoriuy announcing a potential law to establish "legitimate, safe, and secure" use of cryptocurrency in Uruguay. https://t.co/uDfPDLqc4H

— jmbush.btc🇺🇾🇸🇻 (@jmbushwrites) August 3, 2021
Uruguay congressman Juan Sartory announced plans to introduce a draft of a law to legitimize cryptocurrencies, as J. M. Bush shared.
We've literally been through far worse and Btc is sitting at 40.2k

Zoom out — Pentoshi Wont DM You (@Pentosh1) August 6, 2021
Crypto influencer Pentoshi puts all the news into perspective: even despite all the hurdles, crypto market is at a high relative to the history.
1/ If you've been following threads on the Infrastructure bill, you know that there is a hastily conceived provision related to digital assets. This provision could have a profound negative impact on crypto in the US and unintentionally push more innovation offshore.

— Brian Armstrong (@brian_armstrong) August 4, 2021
Coinbase CEO explained how the Infrastructure Bill ties into crypto and what options the senators are exploring.
Influencer of the Week
Irrespective of subsequent price action, huge milestone for Ethereum and the crypto community in general.

Been a long wait. Along with the ETH now we can finally burn the "What come first? _____ or EIP 1559 jokes?". gg dot eths — Hsaka (@HsakaTrades) August 5, 2021
Trader of the week is user Hsaka. Check them out if you want analytical coverage (and memes) of the crypto and market trends.
This Week on the Market
How is the market this week? At the moment of writing the digest, the general stats are:
Total Market Cap: $1,670,992,404,388 (+8.98%);
BTC Dominance: 45.8%.
7d Change in Top Coins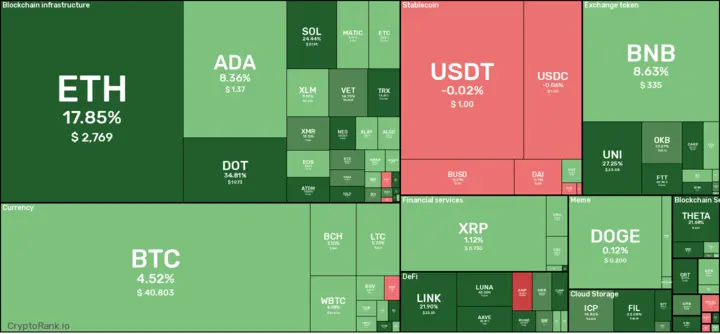 What are some good cryptocurrencies to invest in? Ethereum is obviously doing well but buying high is not exactly recommended, look at the rest of the top instead. At the moment of writing, the weekly change of the top currencies is:
Gainers of the Week
What is the best crypto to invest in right now? Altcoins like these have been outperforming even Bitcoin:
Conclusion
What an exciting week it has been overall! Governments worldwide recognize the need to deal with cryptocurrencies and blockchain, for better or worse. A week from now, find a new weekly crypto news digest in our blog. Follow ChangHero on Twitter, Facebook, Reddit and Telegram for daily updates and more content.
---
Quick links: