Early into 2021, the cryptocurrency market surpassed $1 trillion dollars in capitalization. The 2021 crypto trends so far show us that the market is not going to be the same as before. Will crypto go up in 2021? Most industry experts unanimously agree! Emerging crypto market predictions show us that the growth will be unprecedented. The ChangeHero team looks at crypto predictions for 2021 to find out what we can expect from this year.
Comparison of Bitcoin Bull Runs
Most crypto market predictions rely on historical data. To begin with, let's see how the current 2021 crypto trends overlap with the history.
Ecoinometrics have some interesting data comparison to share. They compared rallies after two previous halvings and follow the growth of Bitcoin in 2021.
#Bitcoin after the Halving Jan. 13, 2021

246 days after the 3rd halving.#BTC at $34,425. Don't waste this pullback by waiting for a "better time" to buy. Now is the time to accumulate before the next leg up. pic.twitter.com/P0cQzLP4ar — ecoinometrics (@ecoinometrics) January 13, 2021
If the events keep unfolding like in 2013 and 2017, Bitcoin can reach $100,000 in April. By October, the range defined by previous events lies well above $200,000.
Moon Capital put the current price action of Bitcoin and previous rallies in perspective.
Clearly a blow off top bubble here. Would not buy #Bitcoin at ≈ 2x ATH.

May 2017 1 BTC = $1,791 pic.twitter.com/8EebgnPlwx — [email protected] 🔑 (@Moon__Capital) January 9, 2021
Critics and sceptics often call Bitcoin a bubble. However, for some reason, after the pump and correction, Bitcoin is worth more than before. Whatever looks like a bubble in the short term, in the long term is just a spike on the graph.
Top Crypto Predictions for 2021
CEO of ShapeShift Erik Voorhes has recently shared one of his thoughts on the future of the crypto market. One of his crypto predictions for 2021 is that the market capitalization will double in half a year.
Crypto Market Cap: $1 Trillion

Took ten years. It will take less than six months to get to $2 Trillion.https://t.co/X4HCHcbEKs #bitcoin #ethereum pic.twitter.com/Ggvu00vlFv — Erik Voorhees (@ErikVoorhees) January 7, 2021
Where such a leap might take the market? What does it mean for the top currencies? Let's have a look at some crypto predictions for 2021.
Bitcoin
In 2009, Bitcoin was envisioned as peer-to-peer digital cash. Over time, the "digital gold" narrative emerged and Bitcoin became seen as a store of value. What will bitcoin be in 2021?
The 2020 rally was largely attributed to institutional investors flocking to Bitcoin. Among those the most resounding are Grayscale Investments and MicroStrategy Fund. 
The COVID-19 pandemic made the governments take measures to stimulate economies, which included inflating money supply. Large part of this stimulus ended up parked in BTC, which was already well-known as a programmatically scarce asset. As fiat currencies lose purchasing power, the BTC price denominated in fiat grows. And from what we can already see, this is not going to stop.
What is the best Cryptocurrency to invest in 2021? It might as well be Bitcoin, because on the cryptocurrency market it is one of the safest cards to play. Most crypto market predictions rely on Bitcoin, as it makes up almost 70% of the market.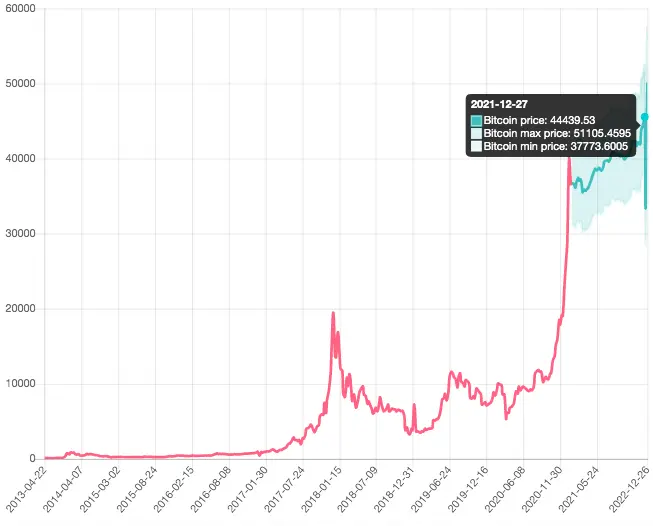 All in all, most crypto predictions for 2021 regarding Bitcoin tell us that the rally is far from over. Conservative price targets point at $30,000 to $50,000 price range. Industry experts like Anthony Pompliano and Samson Mow think it can even go as high as $100,000. You can read more in our Bitcoin price prediction 2021 update!
Ethereum
2020 was a big year for the Ethereum team and users. The developers finally implemented Proof-of-Stake in the mainnet, and decentralized finance protocols built on Ethereum were booming.
Nevertheless, Ethereum still has issues with scaling, and the next steps on its roadmap intend to deal with exactly that. DeFi protocols show no signs of slowing down in growth.
The launch of Ethereum 2.0 served as a backbone for further updates. Ethereum Foundation researcher Danny Ryan said the next updates won't be as grand but will improve the scaling and throughput. However, for the nearest future, tech-savvy users can look forward to second-layer solutions such as Optimism or OMG Network.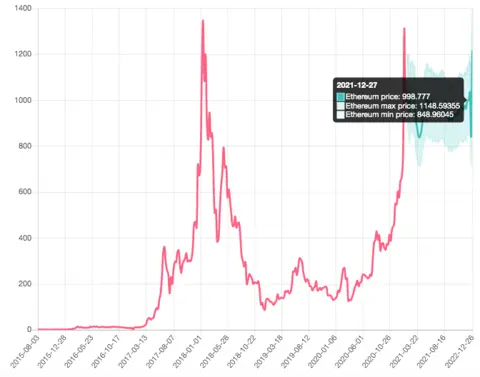 Tech updates without doubt can influence the price and future of Ethereum. What other factors are there that can move the price chart? See in our ETH price prediction for crypto predictions for 2021 regarding Ethereum. Different sources provide either moderate targets of $3,119 or bullish targets of $10 and even $35 thousand USD for ETH in 2021.
XRP
Which crypto will explode in 2021? What if we tell you XRP? However, to be clear, "explode" could mean both a success and a crash in this context. Let us explain.
XRP holders have a set date in 2021 they could look forward to: February 22. This is the day when the first showdown between Ripple and Securities and Exchanges Commission (SEC) is scheduled. This hearing might show which outcome to expect.
EOS developers, Block.one, were also sued by SEC. After being fined and repaying the charges, they did not suffer significant reputational damages. In fact, EOS remains in the top-20 cryptocurrencies.
However, there is a chance the SEC's decision that XRP is an unregistered security prevails. In that case, crypto exchanges will have to delist it or register as securities exchanges if they want to keep operating in the USA.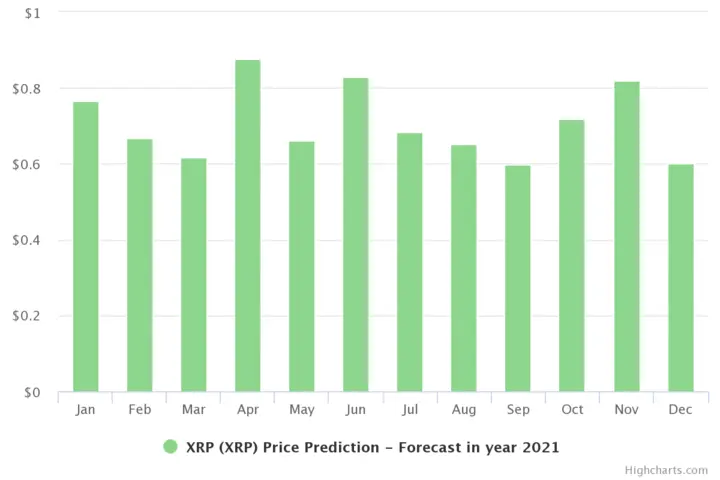 Most crypto predictions for 2021 regarding XRP state this lawsuit will define the future of this currency and the market as a whole. We have called it in our XRP price prediction. Sources cited in it have targets ranging from to $1.14 to $1.33.
Litecoin
Good news for Litecoin holders: MimbleWimble will be activated in 2021. This protocol upgrade was long in the making, but the developing team is at the finish line.
MimbleWimble is a privacy protocol which is capable of masking transaction details from outside observers. On a first glance, this will greatly improve the functionality of Litecoin, won't it?
However, other concerns might come into play. In December, Bittrex delisted XMR, ZEC and DASH supposedly over regulatory concerns. All these currencies have privacy features, however, in ZEC and DASH they are opt-in. Nevertheless, they were caught in a crossfire. Exchanges take risks when listing coins with privacy features, and LTC might soon join them.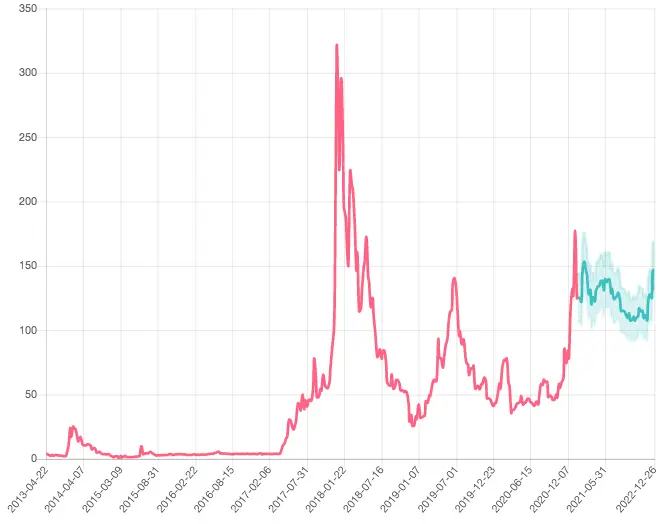 In our Litecoin price prediction we have covered MimbleWimble, as well as other factors that can influence the price. Check the article to learn more about it! The predictions from our article place targets at $137.26, $133.30 and $245.
Bitcoin Cash
Finally, let's see what crypto predictions for 2021 have to say about Bitcoin Cash.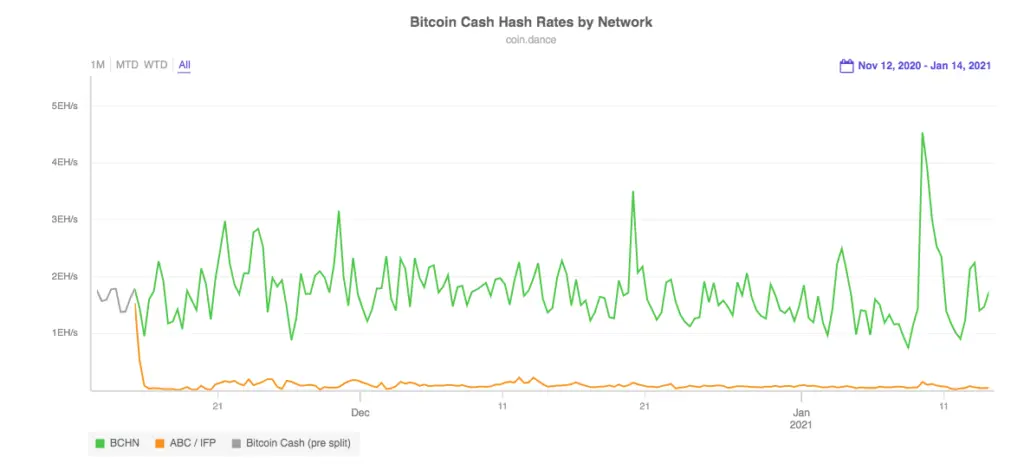 By Bitcoin Cash we understand the BCHN, dominant chain. On November 15, 2020, on a planned hardfork day, BCH ABC and BCH Node split into two chains.
It seems that the torch of original BCH in 2021 will be carried by BCHN. The community has already submitted a few changes which will go into effect on May 15, 2021. There are a ton of updates planned in 2021, including push for adoption and scalability improvements.
As for BCHA, it is not very likely that the chain will be abandoned completely. However, the coin has only a fraction of the dominant chain's hashrate and the BCHN valuation. But who knows, perhaps, this currency is going to make a surprise comeback in 2021.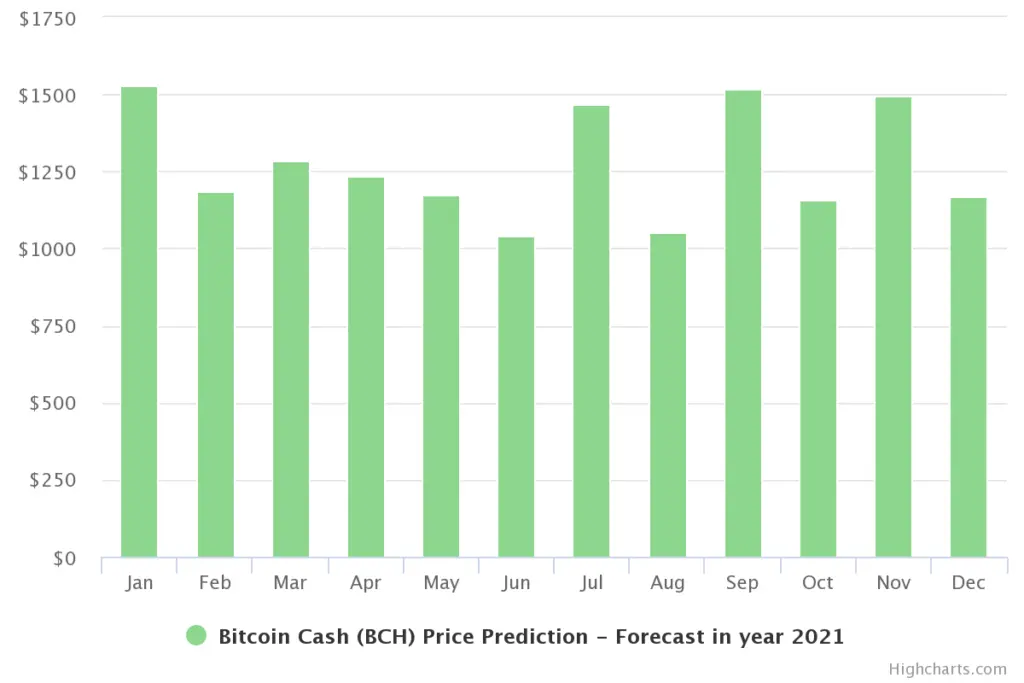 Some sources forecast that BCH will be worth any amount between $420.85 and $1,526.93 in a year. You can also check out more ideas about Bitcoin Cash in 2021 in our Bitcoin Cash price prediction.
Conclusion
From the emerging in 2021 crypto trends, we can try to make some crypto market predictions. However, ultimately everything can change because of unforeseen events, or "black swans". The forecasts only prepare us for the most probable course of action without any guarantee.
Want to know how events develop? Why not check our blog for regular news and updates and get them on our social media: Twitter, Facebook, Reddit and Telegram?
---
Learn more:
Quick links: