In the past few days, Bitcoin decoupled from the dipping stock market again and did not suffer losses like USD. At the same time, governments around the world and financial executives voice their confidence in the future of BTC. This and other most relevant news of the past seven days covered in our weekly crypto news digest.
Key Takeaways
Bitcoin has shaken off the crackdown on miners in China but failed to break out. Resistances at $40,000 remain largely undefeated;
Several world's nations like Panama and Tanzania expressed support of El Salvador's decision and are considering making Bitcoin legal tender;
Ethereum and altcoins are in the red this week but that could change when Goldman Sachs makes ether options and futures public.
Latest Crypto News Digest
Bitcoin Digest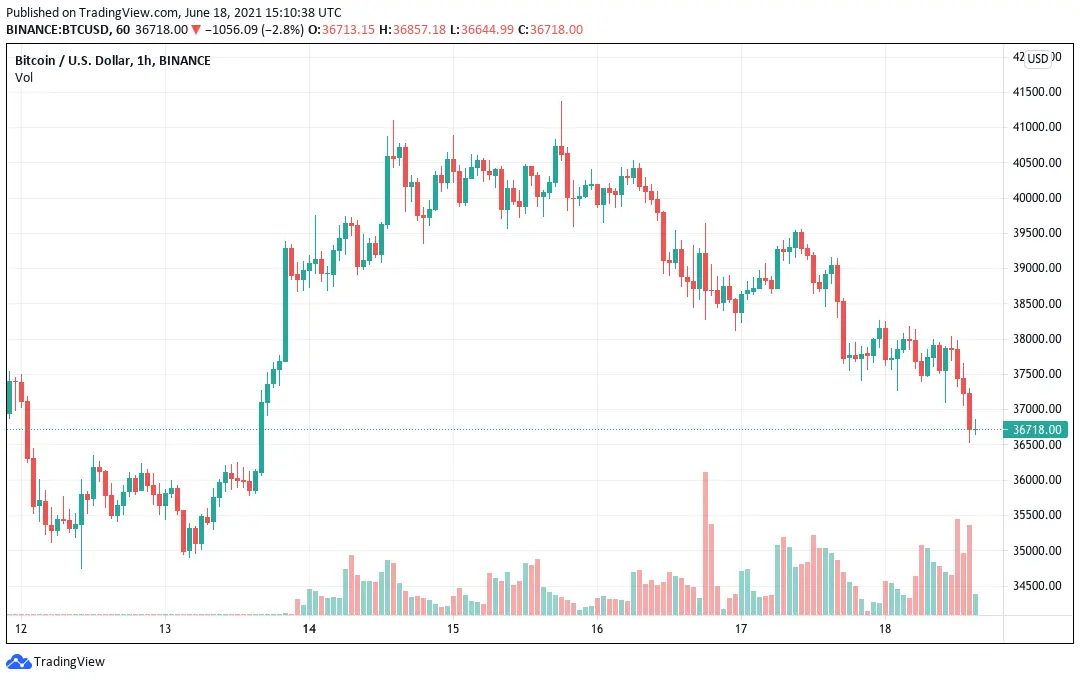 Last weekend turned out to be surprisingly productive for Bitcoin price. Despite the dip to $34,700 it bounced up to $39,755 by Monday morning.
Multiple attempts to reclaim $40,000 were made on Monday and Tuesday but fell through. It has winded down and is now pressured lower to $36,000.
Bitcoin News
The US Federal Reserve announced on Wednesday the interest rates would not grow, to which the dollar index reacted by dropping. Despite that, Bitcoin remained resilient.
Bitcoin hash rate declined to a 6-month low after the crackdown on mining in China. It had more impact in the short run, as block times increased dramatically last weekend.
Altcoin News
Ethereum news this week is positive as Goldman Sachs revealed they will start offering ether options and futures.
Digital wallet app Revolut added support for 8 DeFi tokens. Following PayPal and CashApp, now they support purchases in app (but not outside of it and will not let transfer cryptocurrencies).
Iron Finance, which runs collateralized stablecoin IRON and token TITAN, suffered severe reserve issues. Whales were able to dump TITAN, make IRON drop below the $1 peg, bought the stablecoin and cashed out the profits, triggering a panic sell-off.
Business Crypto News
A survey of 100 chief financial officers showed that in five years, hedge funds plan to increase their exposure to crypto assets up to 7.2%. North American funds demonstrated more eagerness to devote larger parts of their portfolio than their European counterparts.
Travala, a crypto-first travel booking service, launches Dtravel for accommodation bookings. The project will be governed by a decentralized autonomous organization (DAO) with TRVL token as a governance tool.
Crypto News on Adoption
Propy sold its first real estate object as an NFT for 36 ETH. The Kyiv apartment which belonged to TechCrunch founder Michael Arrington was bought by him in 2017 in exchange for crypto.
Following El Salvador, a few states expressed their support in making cryptocurrencies legal tender. Among them are Paraguay, Panama, Venezuela, Mexico and Tanzania.
Regulation & Politics Crypto News
Morgan Stanley analysts presented a possible scenario of the digital euro impact: euro area total bank deposits may reduce by 8%, or €873 billion. Among the most impacted will be smaller states, such as Latvia, Estonia, Slovakia and Greece.
Now official: India has repealed the possibility of a cryptocurrency ban. The legislative session still hasn't begun, though, so the actual regulation is yet to take shape.
Crypto News Digest from Social Media
Video of the Week
Taproot upgrade got locked in this week. What does it mean and why should you care?  Andrei Jikh explains: with Schnorr signatures, more complex Bitcoin smart contracts can be implemented. And with Taproot, there will no longer be any way to reverse engineer user's data from the transaction history.
Crypto News Digest from Twitter
This is inaccurate. Tesla only sold ~10% of holdings to confirm BTC could be liquidated easily without moving market.

When there's confirmation of reasonable (~50%) clean energy usage by miners with positive future trend, Tesla will resume allowing Bitcoin transactions. — Elon Musk, the 2nd (@elonmusk) June 13, 2021
Elon Musk clarified once again that Tesla did not make a 180 on Bitcoin and will accept it eventually. The community is still sceptical, because many suspect that Tesla wants to become the major supplier of mining energy.
MicroStrategy keeps backing up the truck on bitcoin, even issuing the world's first "bitcoin bond." @MicroStrategy CEO @michael_saylor breaks down his strategy. $MSTR pic.twitter.com/ftLsqPEtPe

— CNBC's Fast Money (@CNBCFastMoney) June 15, 2021
CNBC Fast Money hosted none other than Michael Saylor to update the viewers on the Bitcoin situation. What is noteworthy is that this time he went on record admitting that Ethereum is a worthy investment, too.
I got hit like everyone else. Crazy part is I got out, thought they were increasing their TVL enough. Than Bam.

— Mark Cuban (@mcuban) June 16, 2021
Here is your reminder that even being a millionaire does not save you from failures. Marc Cuban, DeFi aficionado, got burnt on the TITAN rug pull, and now calls for regulation. Which cryptocurrency will explode in 2021? This one did, just not the way the holders expected.
Influencer of the Week
deleting dating apps to meet someone the old-fashioned way (buying the BTC he forgot he mined in 2014 at a 2% discount so he doesn't need to make a Coinbase account)

— Sam Trabucco (@AlamedaTrabucco) June 16, 2021
18 Do you consider yourself savvy in the crypto sphere and investments? Then we can recommend subbing to Sam Trabucco of Alameda Research. If you understand the markets well, his insights are extremely valuable. Newcomers can subscribe too, just for his jokes alone.
Top Coin Digest
Bitcoin dominance somehow keeps declining, while the total market cap catches up. Is crypto going to crash? Not yet, it seems. At the moment of writing the digest, the general market stats are:
Total Market Cap: $1,550,926,461,798 (-1.86%);
BTC Dominance: 45.3%.
7d Change in Top Coins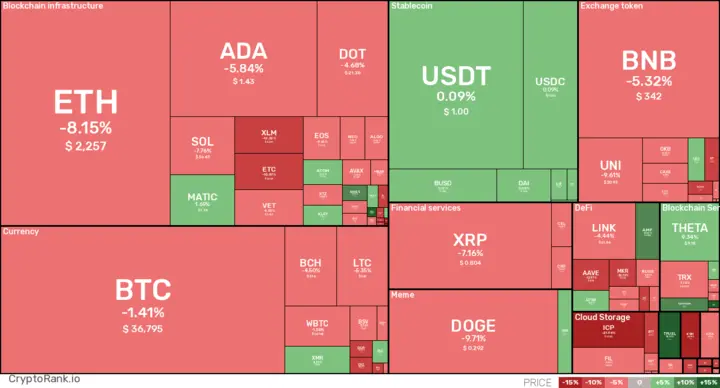 Which crypto should I buy today? Market is following Bitcoin down, so anything goes. At the moment of writing, the weekly change of the top currencies is:
Gainers of the Week
Which altcoin has the most potential? For a few weeks in a row, Polygon keeps rising but this time it was outperformed:
Conclusion
As stock markets are getting shaky, crypto markets are recovering and re-establishing a positive sentiment with all the crypto news. We hope you found this digest insightful. Keep an eye on our blog for more! Follow ChangHero on Twitter, Facebook, Reddit and Telegram for live updates.
---
Quick links: