This week, with June ended Q2, which yielded a loss but the market sentiment has moved past fear. Positive news is coming from institutional investors but regulators are out for crypto again. We rounded up what exactly was happening for the past seven days in our weekly crypto news digest, enjoy!
Key Takeaways
Bitcoin stopped bleeding out and attempted to push beyond $35,000 successfully. July opened with a brief downtrend which took it to $33,475 but ultimately, BTC is up again;
Positive news for crypto come from the institutions, as 650 American banks prepare to offer crypto purchases and JPMorgan publishes favorable report on Ethereum staking;
The Binance exchange comes under fire as the UK, Thailand and Cayman Island monetary authorities seek action for unlicensed operations.
ChangeHero Updates: New and Returning Coins
Wondering, "Which crypto should I buy today?" We have new enticing options! If you missed being able to exchange 1INCH and REP, they are back, swap instantly and enjoy the experience! As for the new assets, check out Kusama (KSM), the canary chain of Polkadot. As always, exchanging on ChangeHero requires no account or logging in — swap crypto on the fly.
Latest Crypto News Digest
Bitcoin Digest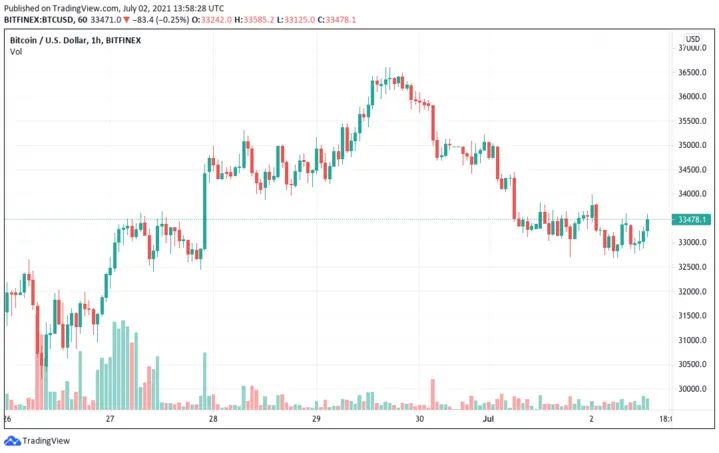 Bitcoin price this week attempted to storm a psychological resistance at $35,000 and succeeded. The next resistance at $36,500 was stronger though, so it pulled back to $35k and failed to fix above it.
Both pushes upward and down have to do with June ending and positions closing. At the moment, BTC is changing hands for $33,475.
Bitcoin News
Early adopter of Bitcoin and maximalist Mircea Popescu was declared dead by drowning at a Costa Rica beach on Sunday. He was odious for operating MPEx exchange (which required 30 BTC to sign up) and placing a bounty on a Bitcoin Core developer during the block wars. Popescu's Bitcoin fortune was rumored to be approximately 1 million BTC. He himself led a life of a Bitcoin billionaire.
Bitcoin Mining Council presented the first quarterly report on energy usage from miner pools that make up 32% of global hashrate. Their findings show that 56% of energy they used for mining Bitcoin comes from sustainable sources.
Altcoin News
JPMorgan analysts compiled a report on staking, with a particular focus on Ethereum 2.0. In their findings, the staking industry can blow up to a $40 billion-profit income source as soon as in 2025. This could be the reason ETH became the best performing asset in the Top-10 this week.
Centre, USDC issuer announced plans to expand the stablecoin to ten more blockchains. The platforms include Avalanche, Celo, Flow, Hedera, Kava, Nervos, Polkadot, Stacks, Tezos, and Tron, with the latter being launched this week.
Is eCash (XEC) a new kid on the block? Not really, it is a rebranding of Bitcoin Cash ABC, a fork that originated in November 2020. Developers say that the rebranded version will support staking and will be denominated 1:1,000,000.
Business Crypto News
650 American banks and credit unions will become able to offer cryptocurrency services and Bitcoin purchases to their customers. This became possible thanks to the collaboration with NYDIG, digital asset manager and payment provider NCR.
Crypto News on Adoption
Retail adoption of Bitcoin in India keeps skyrocketing, with a 900% increase in trading volumes in June. Most investors seem to be unfazed by the dubious regulatory status of crypto assets.
Regulation & Politics Crypto News
Cayman Islands Monetary Authority issued a warning about the Binance exchange, stating that it operates without license. This came after British FCA limited the operations of the exchange and Thailand SEC sought legal action.
Wisconsin Senator Cynthia Lummis spoke about cryptocurrency regulations with CNBC financial advisor. She believes that retirement funds and similar asset managers are supposed to have at least partial allocation in Bitcoin and digital assets.
Crypto News Digest from Social Media
Video of the Week
Lark Davis sums up the week: he gives a Bitcoin review and rounds up the latest news. When analyzing Bitcoin charts, he cannot definitely answer the question "Will Bitcoin go up?", although he personally hopes it would. In other news, Australia is reviewing Bitcoin ETFs and Germany approved $415B investments in crypto. He also draws a bottom line on China's efforts to ban Bitcoin, summing this up as the largest assault on Bitcoin, which it survived.
Crypto News Digest from Twitter
BREAKING – Soros Fund Management, the family investment firm managed by billionaire George Soros has been given the green light to trade #Bitcoin. pic.twitter.com/pALcCGkfh4

— Bitcoin Magazine (@BitcoinMagazine) June 30, 2021
More old school investors and magnates are warming up to Bitcoin, this time it is Soros Fund Management's turn. Curiously enough, the community seems to be divided on the news in the replies: not everyone considers this great news for Bitcoin.
In coming weeks it is very likely USDT's share of the stablecoin supply on Ethereum will fall below 50% for the first time.

USDC is quickly emerging as the dominant stablecoin on Ethereum in large part due to its growing role in DeFi. 1/ pic.twitter.com/LklIUagMWj — Ryan Watkins (@RyanWatkins_) June 29, 2021
Messari researcher Ryan Watkins draws attention to wavering USDT's dominance on the stablecoin market. Seems like the hard work of Centre is paying off.
140 free NFTs for 140 of you, besties pic.twitter.com/0Pm0tNhIRg

— Twitter (@Twitter) June 30, 2021
Twitter dropped a whopping 140 NFTs on Rarible this week, but the best thing? They're giving them away for free to randomly selected followers.
Influencer of the Week
$ALTS: finally having a green day after weeks of relentless dumping.

CT: "This won't end well for bears." — Lenny (@TraderLenny) June 23, 2021
Highlighted this week is a trader who goes on Crypto Twitter by Lenny. They're a fellow of a few words but making each post count with quality insight or opinion.
This Week on the Market
How is the market this week? More than better off after last week's bloodshed! At the moment of writing the digest, the general market stats are:
Total Market Cap: $1,367,528,126,578 (+2.07%);
BTC Dominance: 45.7%.
7d Change in Top Coins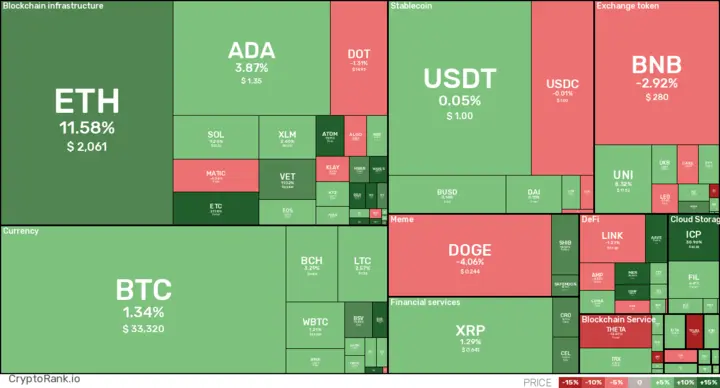 At the moment of writing, the weekly change of the top currencies is:
Gainers of the Week
Which Altcoin has the most potential? Looks like DeFi tokens are back in favor:
Conclusion
Q2 2021 turned out to be one of the worst for most cryptocurrency holders but going forward, things seem to get better. Most of the market is up this week, especially Ethereum, and cryptocurrency services and businesses get wider acceptance. For weekly crypto news, keep an eye on our blog! Follow ChangHero on Twitter, Facebook, Reddit and Telegram for more frequent updates.
---
Quick links: