Basic Attention Token, or BAT is the token that powers a groundbreaking advertising model for the Brave Browser's 40 million users. The ChangeHero team collected the news, analytical insights and BAT Price Prediction 2021 end of year and beyond in this article.
BAT Price Prediction 2021–2030
[table id=40 /]
Bullish BAT price prediction 2021 claims the currency can hit $4.9 as soon as this year;
BAT price prediction 2022 looks more realistic and promises ranges between $1.18 and 1.89;
By 2025, BAT is expected to appreciate to $10 and even $15. By 2030 it will further increase in price to $28.
What is Basic Attention Token?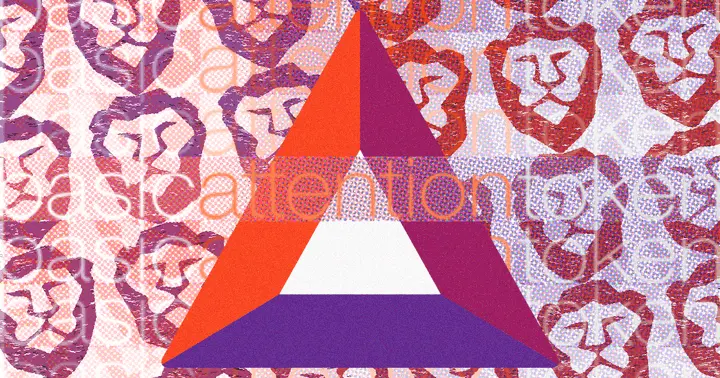 Basic Attention Token, or BAT powers the novel privacy-preserving advertisement model for Brave Browser. It is paid out as a reward for the users' attention in exchange for them watching personalized ads. Advertisers can opt in to buy campaigns with BAT, and content creators can receive donations in BAT, if they so choose. The creators of the model intended to make it beneficial for every side of the ad campaign. If you want to know more about Brave and BAT, we highly recommend reading our guide to Basic Attention Token for beginners!
BAT Price History
BAT Price in 2017–2019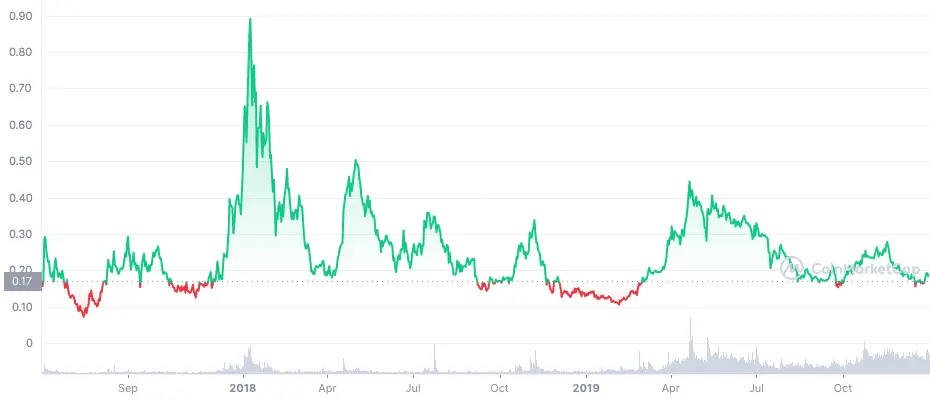 There are 1.5 billion tokens, which are pre-mined and in circulation. The supply is set in the token's smart contract and cannot be changed. At an Initial Coin Offering in May 2017, 1 billion BAT was sold for $35 million in under 30 minutes. When it was listed on exchanges, the 2017 Bitcoin bull run was in full swing, and BAT reached 90 cents at the opening of 2018. After this peak, BAT sharply corrected and was more or less correlated with Bitcoin. 2018 for BAT was mostly a downtrend, and the 2019 high was about a half of the 2018's peak at 41 cents.
BAT Price in 2020–2021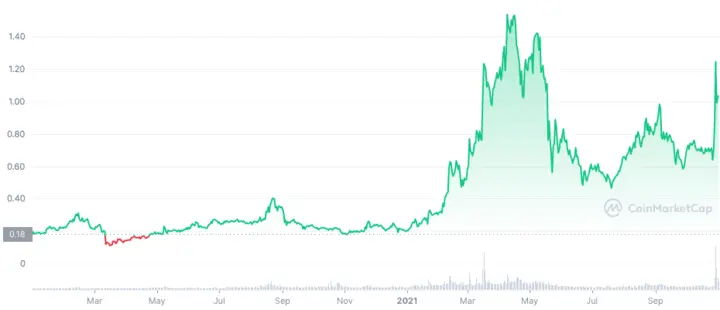 Early 2020 was a time when the entire cryptocurrency market looked optimistic, only to come crashing down on March 13 with the stock market after the COVID-19 pandemic began. The brief rally in mid-2020 corresponds to the launch of an updated Brave Browser version, as well as overall market trend. Other than that, BAT spent most of 2020 consolidating. The rally of Bitcoin in late 2020 caught up to BAT only after 2021 started. Basic Attention Token took off and reached its current all-time high of $1.65 on Apr 9, 2021. Only recently, BAT decoupled from Bitcoin and has drawn the largest daily green candle in its history on November, 1. This was caused by institutional investor Grayscale adding to their BAT holdings. At the time of writing, Basic Attention Token ranks 83rd by market capitalization (according to CoinMarketCap). The price of BAT is $1.04.
What influences the BAT price?
Institutional Exposure
Digital asset manager Grayscale continues to add altcoins, which include BAT, to their products for accredited investors. In October and November, the asset manager added almost 300 thousand BAT to offer to their clients. As mentioned in the previous section, Grayscale adding more BAT to their trusts is perceived as bullish. Why is that? Greyscale provides asset management and due diligence services to their customers, so it is safe to say that they would not list it without a reason. Exposure for institutional investors means that there are solid fundamentals in the first place.
Technological Updates
Basic Attention Token operates on the Ethereum blockchain, which comes with its own strengths and weaknesses. Ethereum is one of the most secure options to build on right now, since there are significant mining powers dedicated to securing the network. However, it is a well-known fact that Ethereum has scalability problems, and the number of its users grows daily, increasing the workload. To solve this problem, developers are moving to layer-two protocols until the whole network merges with Ethereum 2.0. Brave Browser is no stranger to layer-two solutions or layer-one blockchains to extend their platform onto. The research project Themis is dedicated to finding the optimal way for Brave ads to operate. Needless to say, DeFi and NFTs are also on the table for the team, according to the official website.
Adoption
Thanks to Brave Browser trespassing a threshold of 40 million monthly active users worldwide, BAT went on a rally and decoupled from Bitcoin. Brave Ads have more than a million verified creators on Twitch, YouTube and Twitter who can be tipped for their content with BAT. The number of advertisers that use Brave Ads has also grown significantly in a year, with more than 4 thousand campaigns active worldwide according to the official website. Adoption is simply one of the most powerful forces to drive crypto. Even mere exposure helps, and Brave's reward model is actively converting users.
BAT on Twitter
$BAT is launching their own dex and it's going to bridge Defi + NFT with the Attention Economy via Bat.

Real product and also listed on Coinbase. Going to ape in if we get a dip.@AttentionToken pic.twitter.com/eMNf44OXpY — cevo (@cryptocevo) October 30, 2021
Writer and influencer cevo vouched for Basic Attention Token and Brave: the upcoming updates will expand on BAT so much, it will take off.
$BAT Breakout and retest done✅ Now time to send it🚀

Target is given in the chart! pic.twitter.com/k7wM4ot62j — Scofield (@Crypto_Scofield) October 31, 2021
Trader Scofield analyzed BAT-USD charts for a change. Their target would put BAT at $1.63 at the current BTC-USD rate.
🐳 #BasicAttentionToken jumped +59% Saturday, and one of the foreshadowing signals has been the rise of coins moving into the top 10 largest $BAT non-exchange addresses, and away from the top exchange addresses. This key ratio often signals #bullishness. https://t.co/3mOYCf3ZFR pic.twitter.com/nIGdqHcPeZ

— Santiment (@santimentfeed) October 31, 2021
While the community is puzzled, what exactly sent BAT up, Santiment shared on-chain metrics that give a clue to this rally. They and other analysts hint big addresses and long-term holders could be moving the price.
BAT Price Prediction 2021 EOY
BitBoy Crypto Basic Attention Token Price Prediction 2021: $3
YouTuber BitBoy Crypto predicts that by the end of the year 2021, Basic Attention Token can reach $3. This is a reasonable prediction based on the utility BAT provides and the growth of Brave Browser.
CryptoNewsZ BAT Price Prediction 2021: $2.5
A more conservative but otherwise welcome by the BAT holders estimate is given by CryptoNewsZ. They are confident that by the end of 2021, BAT can rally on adoption news up to $2.5.
Cryptopolitan BAT Price Prediction 2021: $2.5–4.9
Previous target is also supported by Cryptopolitan authors. Though they believe $2.5 by the EOY 2021 is absolutely feasible, their target lies at as high as $4.9.
BAT Price Prediction 2022–2024
Coinpedia BAT Price Prediction 2022: $1.118–1.891
Coinpedia analysts account for two scenarios in their prediction, bullish and bearish. In the bullish scenario, this year's rally will extend to 2022 and BAT can appreciate up to $1.891. In the bearish one, user adoption will not accelerate the growth of price, and its price will slightly increase to $1.118.
DigitalCoin BAT Coin Price Prediction 2023: $2.2 on average
Forecast service DigitalCoinPrice projects that by 2023, on average BAT can be changing hands for $2.2. The difference between the lowest and highest monthly averages is not much, $1.83 and $2.54 respectively.
WalletInvestor Basic Attention Token Price Prediction 2024: $1.83–2.739
Another analytics compilation site WalletInvestor considers BAT a profitable investment and is bullish on it. The returns in that year in comparison to current price are expected to be at 129.3%. 2024 can open anywhere between $1.83 and $2.281, and close between $2.197 and $2.739.
BAT Price prediction 2025
CoinQuora Basic Attention Token Price Prediction: $15
The 2025 target based on the current trends that CoinQuora analysed is at $15. Of course, along the way, there will be dips and breakouts but in the long term putting the target so high is not unfeasible.
Ripple Coin News Basic Attention Token Price Prediction: $15
The same target is given in the Ripple Coin News analysis, albeit for fundamental reasons. Even if Brave does not achieve global adoption and become #1 browser, it still can foster a solid user base which will drive up the value of BAT.
Market Realist Basic Attention Token Price Prediction: $10
Market Realist gives a bit more modest target for BAT in 2025: $10. This is still impressive, considering how a $1,000 investment today can turn into $15,000 in five years if the estimate is true.
BAT Price prediction 2030
Trying to guess several years in advance is admittedly unreliable, not mentioning by the end of the decade. What if we still tried, though? Prediction service PricePrediction.net forecasts that in 2030 BAT can be changing hands for $27.79 on average.
Our BAT Prediction
The trend Basic Attention is showing right now suggests that it can outperform many altcoins and Bitcoin. At this rate, if the breakout persists and large players won't sell, we may see a new all-time high by the end of 2021.
How to buy and exchange BAT with ChangeHero?
Did you know you can buy BAT with a credit card on ChangeHero? What you need to do is:
Choose the country of residence, amount to buy and currencies. Proceed to the next step;
Check the currency of purchase and amounts. Provide a BAT address;
In the next steps, verify your phone address and card info. Pass 3D-secure verification;
Finally, to make a purchase pass the identity verification with a state-issued ID and a selfie;
You can also get Basic Attention Token quickly and anonymously by exchanging it from other cryptocurrencies on ChangeHero:
Choose the currencies on the home page, amounts and the type of exchange. Provide your wallet address in the next step and check the amounts;
Double-check the provided information, read and accept the Terms of Use and Privacy Policy;
Send in a single transaction the sum of cryptocurrency you will be exchanging. Fixed Rate transactions have a 15-minute limit;
All done? Now we are doing all the work: checking the incoming transaction and doing the exchange as soon as it arrives. 

The Best Rate transactions will use the rate current to the time when your funds arrive.
The Fixed Rate will use the rate at the time of step 1;

As soon as the exchange has been processed, your BAT is on the way to your wallet. 
ChangeHero's customer support is available 24/7 in the chat on our website or through the email:

[email protected]

.
Conclusion
Brave offers a groundbreaking ad platform, which is bolstered by the trust institutional investors are willing to put in BAT. In the crypto community, Brave is widely considered an exemplary product with real value. We would love to hear your thoughts on the future of Basic Attention Token and Brave. Other articles in our blog can spark an equally interesting discussion, too! Feel free to follow our pages on social media: Twitter, Facebook, Reddit and in Telegram.
Frequently Asked Questions
[sc_fs_multi_faq headline-0="h4" question-0="Is BAT a good investment in 2021?" answer-0="Most expert opinions agree that BAT is a good investment in 2021." image-0="" headline-1="h4" question-1="What will BAT be worth in 2022?" answer-1="In a year, BAT can be worth anywhere between $1.118 and 1.891." image-1="" headline-2="h4" question-2="What will BAT be worth in 2025?" answer-2="Estimates given for BAT in 2025 aim for $10 to $15." image-2="" headline-3="h4" question-3="What will BAT be worth in 2030?" answer-3="Estimates given for BAT in 2030 aim for $27.79." image-3="" headline-4="h4" question-4="Will Basic Attention Token grow?" answer-4="Most experts agree that BAT will keep growing even in bearish scenarios." image-4="" count="5" html="true" css_class=""]
---
Disclaimer
This article does not constitute financial or investing advice. No price prediction or forecast is guaranteed to provide exact information on the future price. Past performance is not indicative of future results. When dealing with cryptocurrencies, remember that they are extremely volatile and thus, a high-risk investment. Always make sure to stay informed and be aware of those risks. Consider investitions in cryptocurrencies only after careful consideration and analysis and at your own risk.
Learn more:
Quick links: