Last November, Brave Browser surpassed 20 million active monthly users. Brave Browser is most closely associated with the BAT token. Why do users choose this browser and what is the connection with the token? Find out in our Basic Attention Token guide for beginners.
What is Basic Attention Token?

Before we start the BAT guide portion, we have to mention Brave Browser. It is an ambitiously novel kind of browser. Brave was created with an utmost dedication to user's security and privacy. Brave also has a unique Brave Rewards platform, which offers users and businesses plenty of benefits.
What is Basic Attention Token? Abbreviated as BAT, it is a ERC-20 token native to Brave Rewards platform. "Basic Attention" in the name comes from the idea to pay users for time and attention they spend watching ads.
The advertising platform is supposed to solve many problems for both users, publishers and advertisers. Users can receive BAT for opting in to receive ads and watching them. Publishers and content creators can be tipped in BAT in proportion to the time spent on the site by the user. Advertisers get access to a privacy-oriented opt-in platform, which returns more engagements, and prevents ad fraud.
History of BAT and Team
The ICO (Initial Coin Offering) of Basic Attention Token was one of the fastest. In 2017, the project managed to raise $35 million in under a minute. Perhaps, it was a result of not only offering a solid project but also the names behind it.
Both founders, Brendan Eich and Brian Bondy have a long history of working in leading positions at Mozilla. Eich founded the company and launched Mozilla Firefox in 2004. He is also the inventor of JavaScript. Bondy was leading software development in Mozilla, Corel Corporation and Khan Academy.
How do BAT and Brave Rewards Work?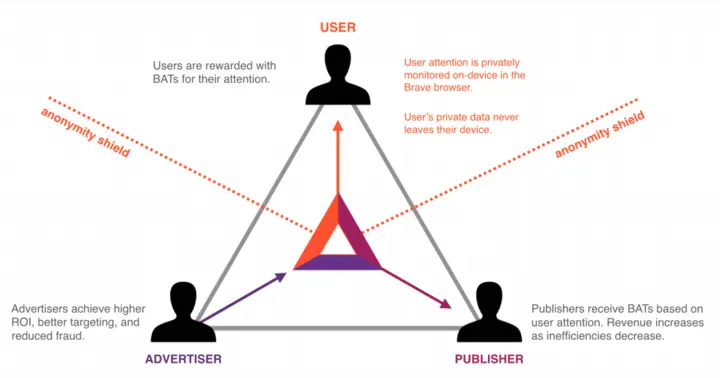 Like we already mentioned in this Basic Attention Token Guide, the platform it works on has three main elements. Let's look how the flow described in the BAT whitepaper works.
How is the platform useful for advertisers? Users' attention (i.e. being active on tab) is rewarded, which increases engagement. The only middleman between advertisers and users is Brave because the platform itself is a digital ad marketplace.
How is the platform beneficial to users? The browser collects only non-attributable data, from which it is impossible to identify the user. Then this data is encrypted at the user's end. After that, the browser selects the ads suitable for the user. Users get 30% of ad revenue provided to the advertiser in BAT.
How is the platform useful for publishers? BATs are distributed to them in proportion to user attention. The longer users spend reading the article(s) on a publisher's site, the more BAT is attributed to them.
Comparison with Similar Projects
Decentr is another project set out to enhance users' web-browsing experience. Their goal is, however, to allow users to decide how their data is going to be used and incentivize it. Brave Rewards is a more straightforward platform in that regard. In addition, Brave can already be used for daily web-browsing, as opposed to the Web 3.0-based Decentr browser.
A monetized decentralized ad campaign platform was tackled by AdEx Network. However, it is more focused to offer a platform for advertisers than for users.
Basic Attention Token Price
What is Basic Attention Token maximum supply? It is 1.5 billion tokens, which is pre-mined and in circulation. The supply is set in the token's smart contract and cannot be changed.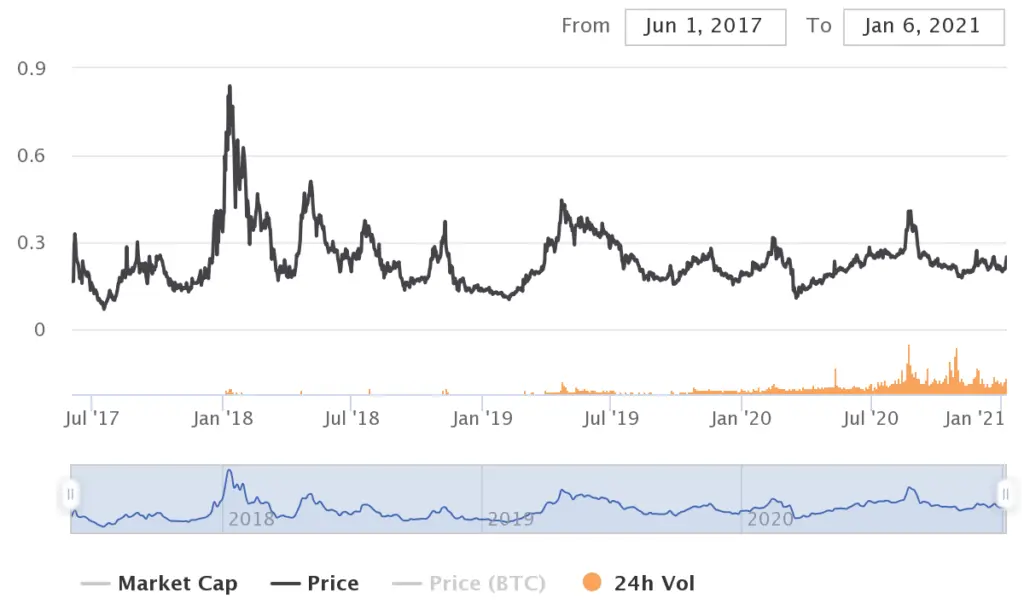 BAT has caught the wind of the previous market-wide bull run in 2017. In early 2018, it hit its current all-time high price: $0.9807 (January 9, 2018).
It is not yet clear if it caught the wind of the 2020 bull run. At the moment of writing our BAT guide, Basic Attention Token price is $0.2887 and its market capitalization is $432,098,687.24 (rank #63).
What can you do with Basic Attention Token?
What is Basic Attention Token's use case? Aside from tipping, there are a number of other use cases reserved for BAT. Developers intended to make it possible to fund their small-scale campaigns with BAT they get from web-surfing. BAT can also be spent on premium content or subscriptions for publishers. Brave platform also makes it possible to develop a marketplace of digital goods, such as high-resolution audio and video files. Finally, game developers can act as publishers and utilize BAT in their games and apps. For example, Splinterlands, one of the best known blockchain games, accepts BAT, and Gala Games partnered with Brave.
Is Basic Attention Token Controversial?
To give a full picture, Basic Attention Token guide has to include possible pitfalls. What could they be?
There are some centralization concerns around the platform. Some community members found it suspicious that Brave reserves the right to reclaim unused airdropped BAT or refuse access. In addition, like with many ICO boom-era projects, people find the token creating more friction. Nevertheless, Brave prides themselves on being blockchain-based and adhering to the strengths of the technology.
Partnerships and Future Plans
Like we previously mentioned in the BAT guide, Brave is looking to extend the list of BAT use cases. In addition to Splinterlands and Gala Games, Brave platform is enjoyed by Dow Jones Media and Cheddar news websites. Verified Brave creators include Wikipedia, The Guardian, Vimeo and The Washington Post.
On a long laundry list of future features for Brave Browser are: first-party cookie blocking, synchronisation between devices, and more. At the moment, the BAT in the browser cannot be withdrawn, but it is stated that this feature is planned.
BAT on Twitter
Why take our Basic Attention Token guide for granted? Have a look at what the people are saying about BAT on Twitter.
When $BAT moonshot? One of the most successful ERC20 token projects and it only has a market cap of $400m pic.twitter.com/sp4qvr90jw

— Beastlorion (@Beastlyorion) January 9, 2021
Trader Beastlorion considers BAT to be a solid but undervalued token. He calls it one of the most successful projects built on Ethereum tokens.
$BAT testing that .28 break.

.36-.40 up next on close over .28-.29 pic.twitter.com/qqpPUrpimw — RNB (Crypto Warrior) (@CryptoWarrior01) January 7, 2021
Twitter influencer RNB shared their update to a previous analysis. As they predicted in December, the price successfully broke above $0.30 and is now bound to higher levels.
Youtube channel: MrBeast is now a verified #Brave browser publisher. Subscribers count: 50,200,000 https://t.co/gIzZTW2xpg

— batgrowth.com bot (@batgrowth) January 6, 2021
BatGrowth is a bot that shares Basic Attention Token news about verified creators. One of the latest large additions to the list of verified creators is Mr.Beast's YouTube channel. His audience is about 50 million people, and he has been on record being positive towards crypto. His other channels, which range from 3 to 13 million people, are also included.
How do you get Basic Attention Tokens?
Now that we have reviewed all the fundamental features of the project, let's get some practical advice in this Basic Attention Token guide.
Browsing can only get you so much BAT every month. If you wish to support your favorite creators with an extra tip, you will need to top up your Brave Browser's wallet.
How can you do it? Use ChangeHero! You can get Basic Attention Token with crypto or a bank card. You can also sell it for fiat currencies.  We will find you the best rate and process the transaction in a few minutes. No account needed!
A Basic Attention Token guide would be incomplete without instructions. How to get BAT using ChangeHero?
Choose the currencies on the home page, amounts and the type of exchange. Provide your BAT wallet address in the next step and check the amounts;
Double-check the provided information, read and accept the Terms of Use and Privacy Policy;
Send in a single transaction the cryptocurrency you will be exchanging. Fixed Rate transactions have a 15 minute limit;
After that, we are doing all the work: you can sit back and relax;
As soon as the exchange is processed, your BAT is on the way to your wallet. Congratulations! We'll be happy to hear your feedback.
Our support is available 24/7 in the chat on our website or through the email: [email protected].
How to store BAT?
One more important thing we have to mention on the BAT guide: to hold it, you need a wallet. BAT can be held in any wallet that supports ERC-20 tokens.
If you want to hold and manage multiple assets in one place, we recommend Exodus. It is available on desktop and mobile devices (iOS and Android). For cold storage, we suggest Trezor devices. In these wallets you can seamlessly exchange cryptocurrencies thanks to an integration of ChangeHero.
Key takeaways
Basic Attention Token is a ERC-20 token powering the Brave Rewards platform;
On this platform, users are rewarded with BAT for watching ads and publishers are rewarded for providing engaging content;
Aside from that, BAT can be used in games (e.g. Splinterlands), to pay for premium content (e.g. Dow Jones Media) or to tip creators;
Verified creators (such as Wikipedia or The Washington Post) can also gain monthly tips in proportion to the time users spent reading their content;
BAT can be earned in the Brave Browser or bought like any other cryptocurrency.
Conclusion
Brave Browser keeps building an ecosystem of applications and expanding their audience. They provide a privacy-oriented alternative to the current digital advertising and web browsing experiences.
If you enjoyed our Basic Attention Token guide, make sure to check out our blog for more guides and digests and subscribe to ChangeHero in social media for updates: Twitter, Facebook, Reddit and Telegram.
---
Learn more:
Quick links: