Can you believe that three quarters of this year have already gone by? By now, it is getting more clear which of cryptocurrencies and altcoins deserve the title of the top performing asset in 2022. Let's have a look at the potential candidates.
Key Takeaways
In Q3 2022, from July through September, multiple altcoins showed double-digit growth;
Some of the cryptocurrencies in this list were influenced by the Ethereum merge. However, this is simply a trend and not a rule, as others were influenced by their own unique factors;
The best performance was shown by Lido DAO (LDO), Luna Classic (LUNC), Quant (QNT), Chiliz (CHZ), Ethereum Classic (ETC), Polygon (MATIC), Nexo (NEXO), PancakeSwap (CAKE), Ravencoin (RVN), and Reserve Rights (RSR).
Top 10 Cryptocurrencies in Q3 2022
Reserve Rights (RSR)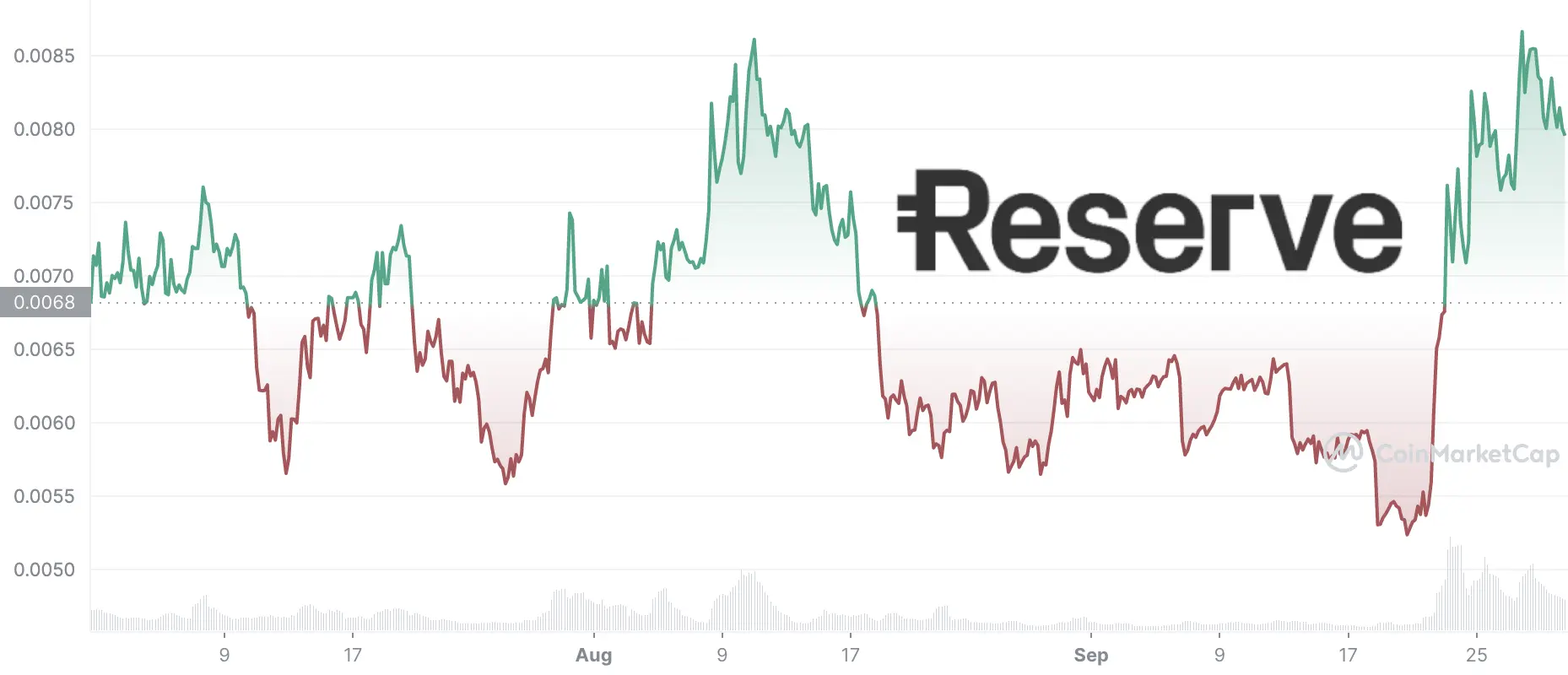 Starting with the Reserve ecosystem's native token RSR, which is up 14.35% from the end of Q2 2022. On July 1st, Reserve Rights was trading for the price of $0.00714. At the quarter's close, through some considerable volatility, RSR's price rose to $0.008165.
Reserve Rights currently ranks 86th on CoinMarketCap with a ~400 million USD capitalization, which is considered to be mid- to low-cap. These coins are no strangers to high volatility, and if we look closely, RSR has been following roughly the same trends as the rest of the crypto market.
Reserve's value is mainly provided by a payment app RPay, available in select countries in Latin America, a market with enormous potential. Rpay already has over 500 million downloads in its region alone.
The Reserve protocol is not limited to RPay, however, but rather offers a foundation to build blockchain-based financial applications. It is supposed to be working with stable RTokens backed with Ethereum-based RSR tokens. At the moment, according to the project's roadmap, Reserve is looking for developers of RTokens. Once the model is more widely adopted, RSR will have an even better boost for its value than it does now.
Ravencoin (RVN)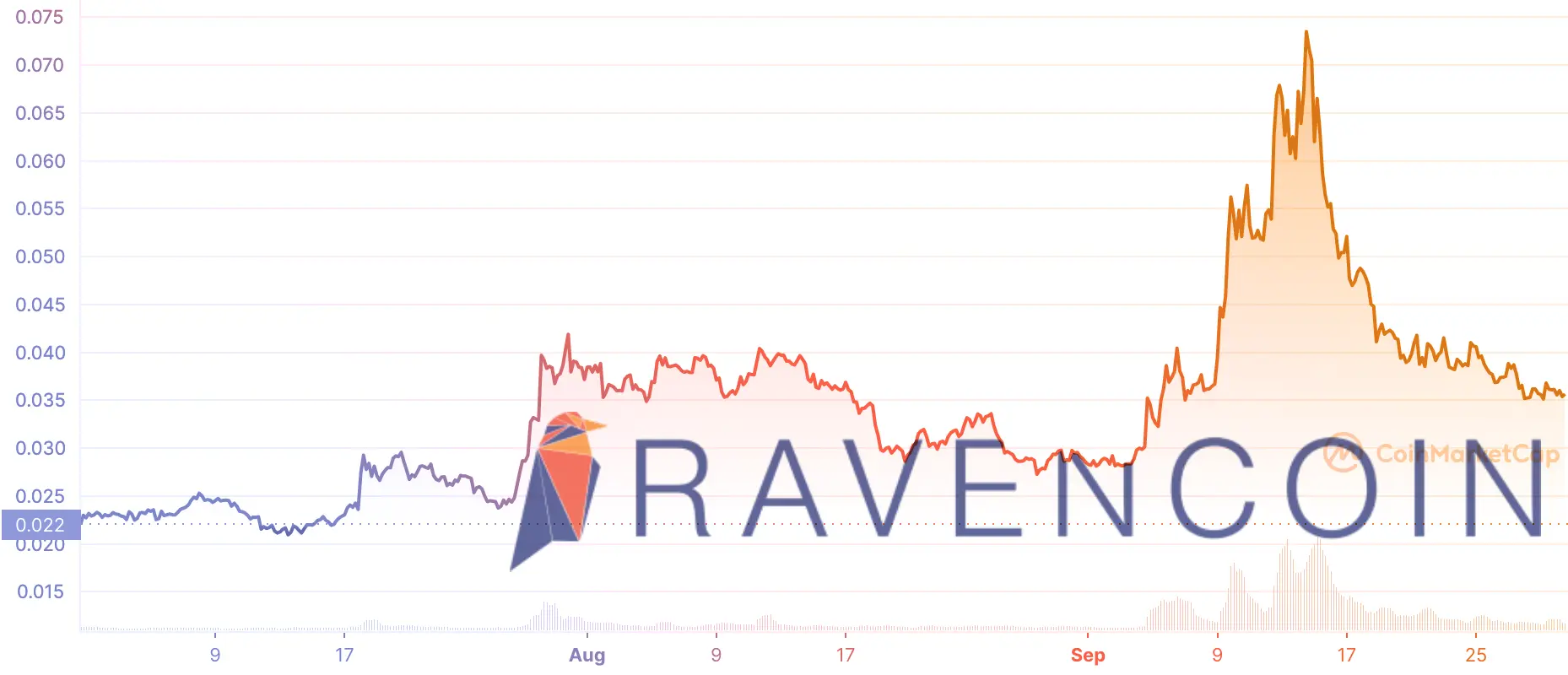 Second from the bottom of the rating but far ahead of RSR is Ravencoin, one of the two PoW coins on the list that rallied after Ethereum moving to PoS. On September 30th, RVN was trading for the price of $0.03545. In comparison to Q3's opening, $0.02302 it gained 53.99%.
Before the ETH merge, it was doing fine but RVN really exploded around September 15. This blockchain is functionally similar to Ethereum, as it supports tokenized assets and dApps as well. Judging from the pullback that followed, though, not a lot of buyers stuck around despite the similarities.
PancakeSwap (CAKE)
PancakeSwap's native token gained 55.74% over the course of Q3 2022. On September 30th, the CAKE price was $4.75 at closing.
Unlike some other entries, PancakeSwap's token sees a steady upward trend since mid-August. One of the possible reasons could be consistent development of the DEX. In more recent news, they announced changes to Initial Farm Offerings and more CAKE burns. Besides, PancakeSwap is a BSC-based project and is not tightly connected to the price of Ethereum.
Nexo (NEXO)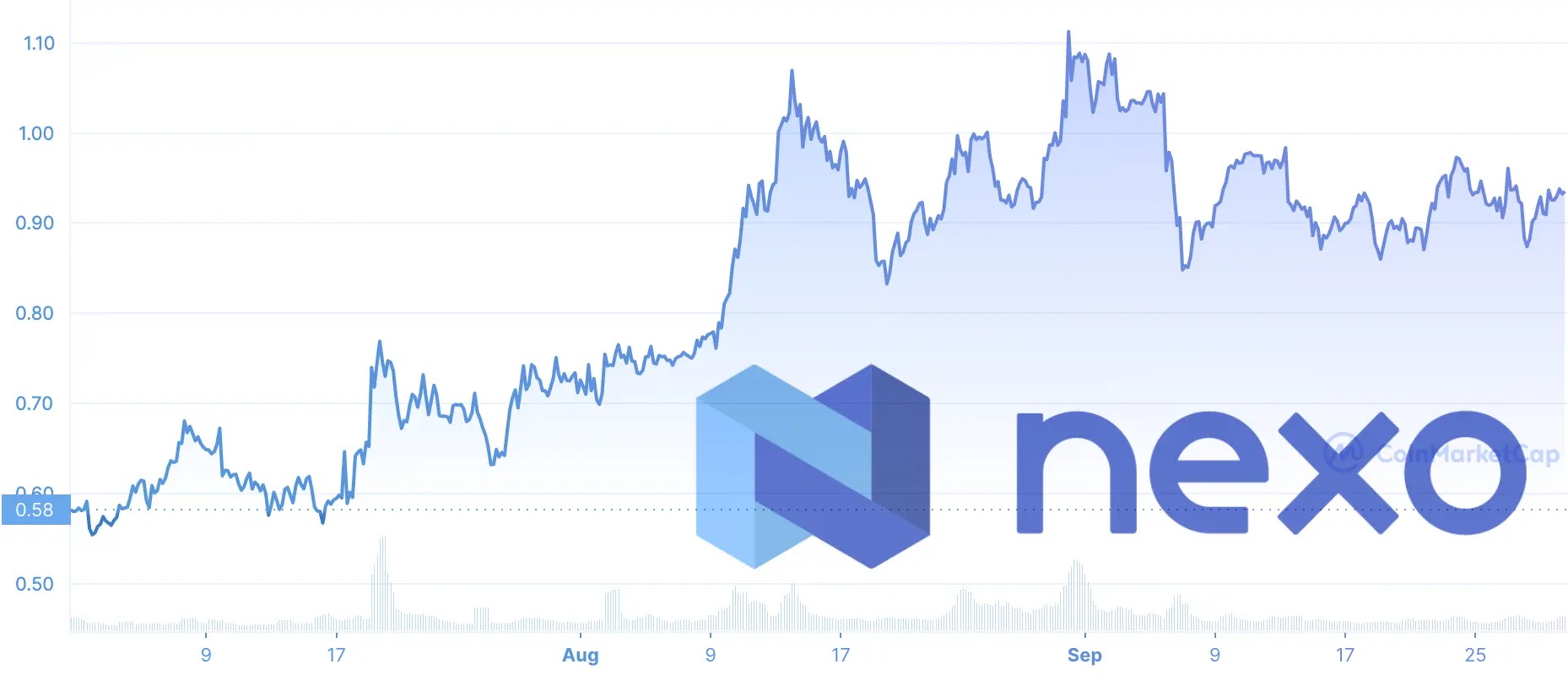 Nexo's token fared slightly better, with a 58.8% growth in Q3 2022. On September 30th, NEXO was trading for the price of $0.9225, up from $0.5809 at the opening of the quarter.
As an Ethereum-based project, Nexo has benefited from the news prior to the Merge. DeFi as a whole seems to be recovering after a disastrous Q2 2022.
However, while Q3 was rather successful for the crypto lender, Q4 may not be as bright. At the moment, Nexo is in the crosshairs of multiple US state regulators for alleged security laws violations.
Polygon (MATIC)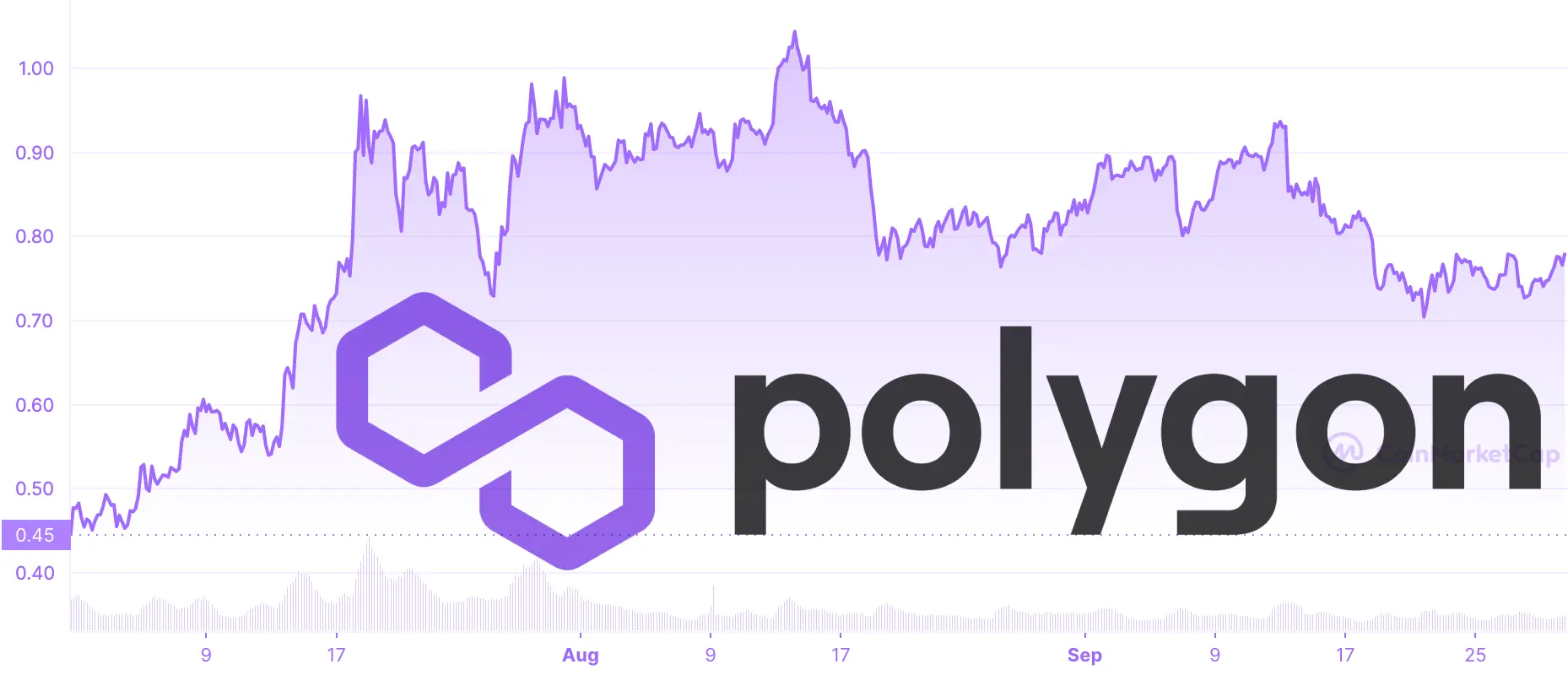 Another Ethereum ecosystem project, Polygon managed to close Q3 2022 with a 62.6% profit. On September 30th, MATIC had a price tag of $0.7774. In comparison, at the opening of July 1, its value was $0.4781.
The Ethereum merge changed the consensus protocol but did not affect transaction fees or scalability. So, layer-two solutions and sidechains like Polygon are still viable, and will be for the observable future. Meanwhile, Polygon is finding more use cases today, for example, a Web3 trading app by Robinhood will be powered by it.
Ethereum Classic (ETC)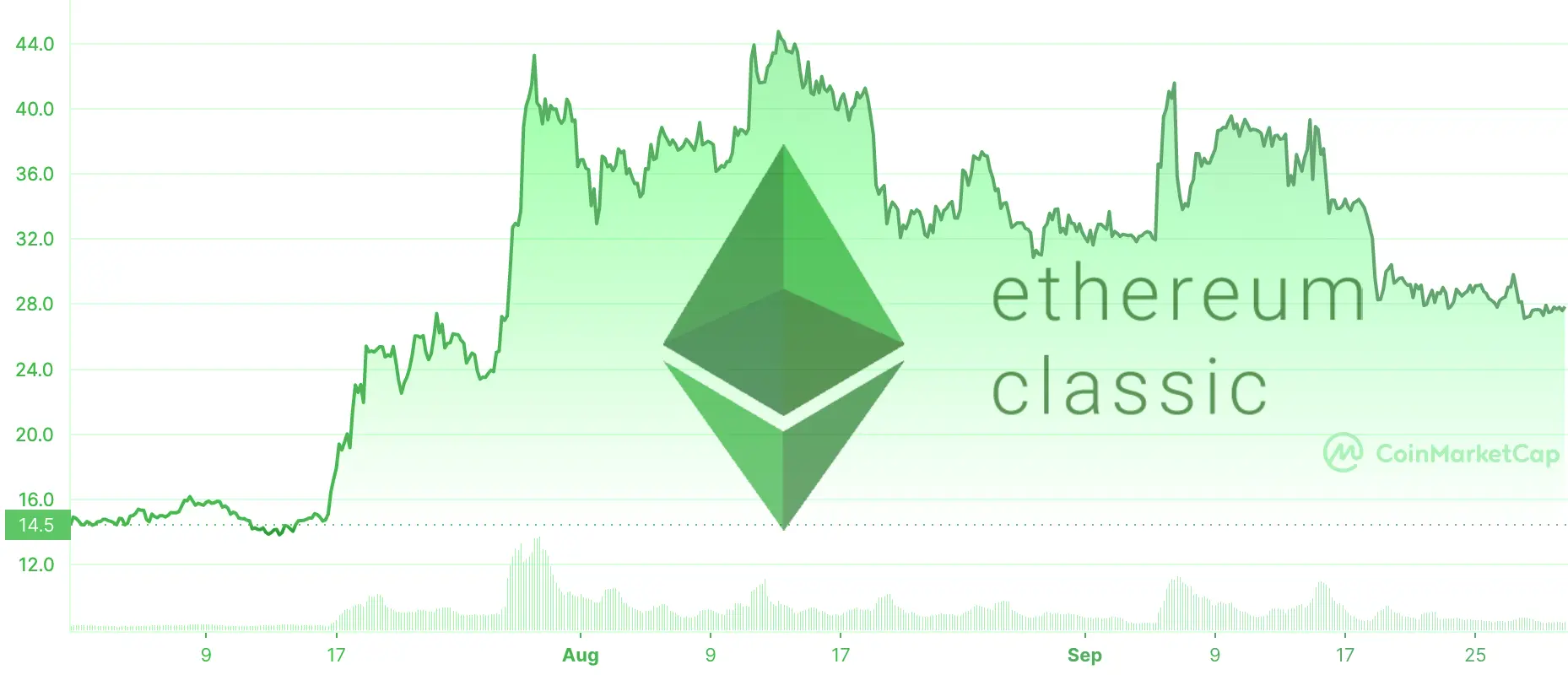 An even more impressive boost happened to Ethereum Classic, the original ETH blockchain which remains secured by Proof-of-Work. With a 85.73% gain in Q3 2022, it went from $14.93 to $27.73 over the 91 days.
Nevertheless, even the increase in popularity in the role of the established PoW alternative to ETH did not break the downtrend completely. Ethereum Classic goes into Q4 2022 locked in a bearish trend but over the past 90 days, it still scored some serious gains.
Chiliz (CHZ)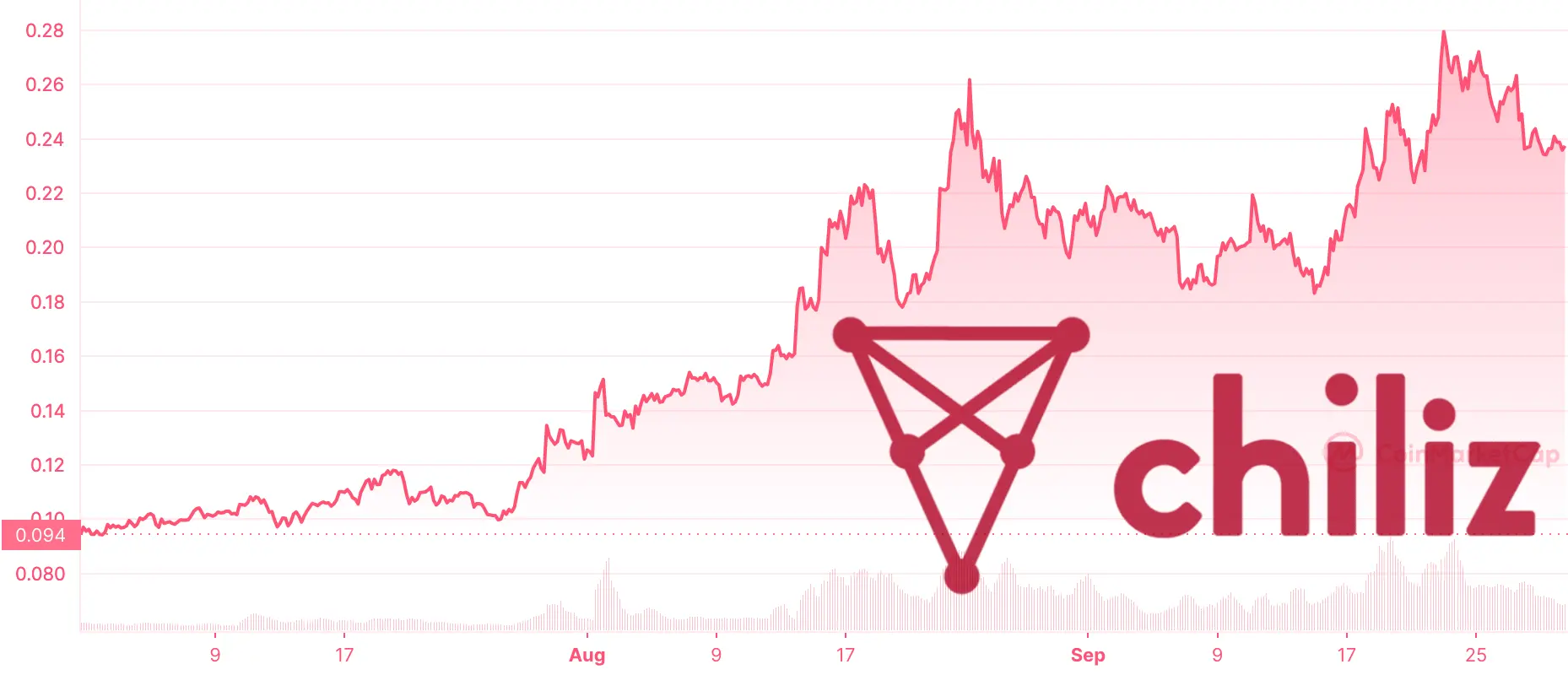 Once again, Chiliz is in the best-performing top 10 cryptocurrencies with a whopping 141.89% increase in value through Q3 2022, going up from $0.09715 to $0.235 by September 30.
Like PancakeSwap, Chiliz is reaping the fruit of their diligent development and expansion, which results in a noticeable uptrend. The social platform that runs on Chiliz blockchain, Socios, keeps scoring partnerships to increase their reach. For example, in August it extended its presence in Argentina with the ARG fan token, tapping into the market eager for digital assets.
Quant (QNT)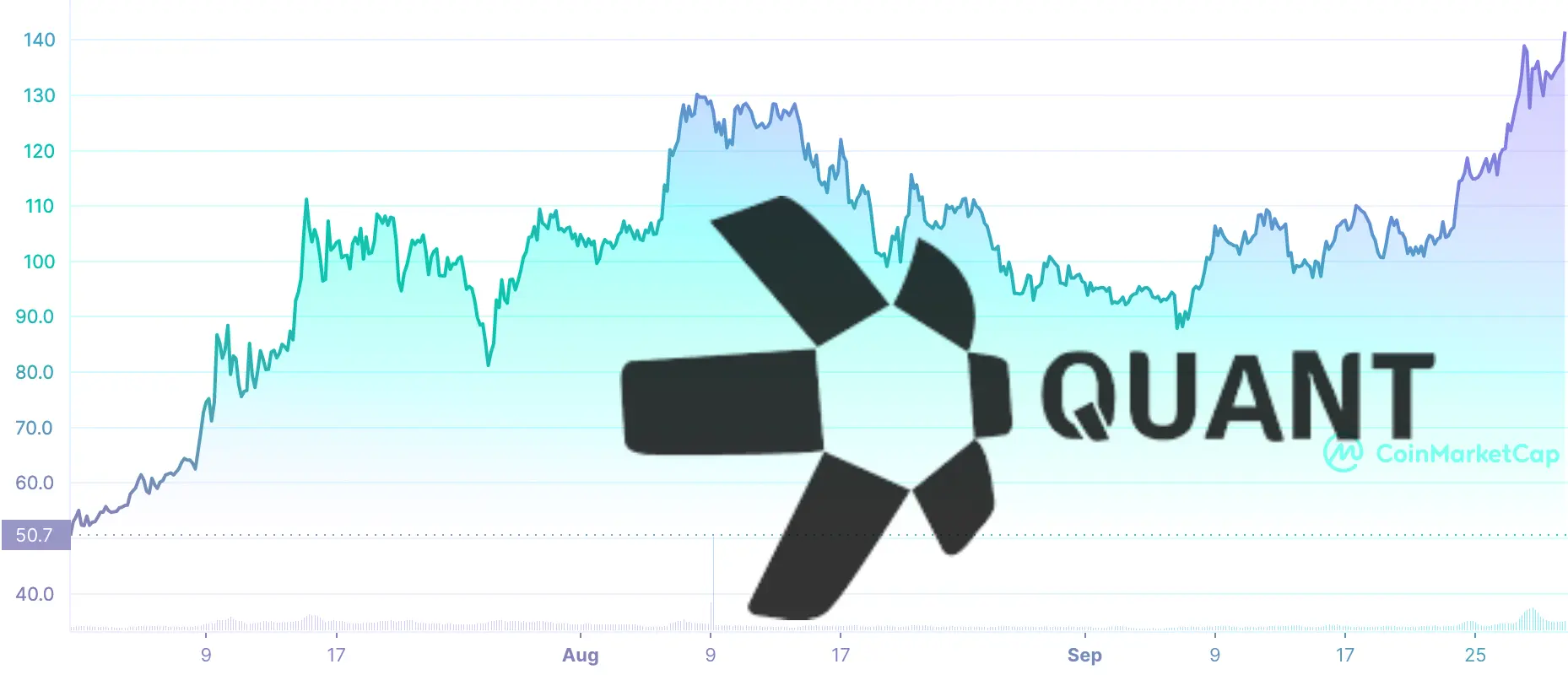 For the second quarter in a row, QNT is showing promising results and decent performance.
In comparison to $53.06 on July 1, the Quant price multiplied in value by 167.45% by September 30, reaching $141.91.
The most likely factors of influence are not a surprise: it is the growth of Overledger OS and technical indicators at play. The technicals in particular proved to be so healthy that even US inflation hikes did not stifle the growth in the long term.
Terra Classic (LUNC)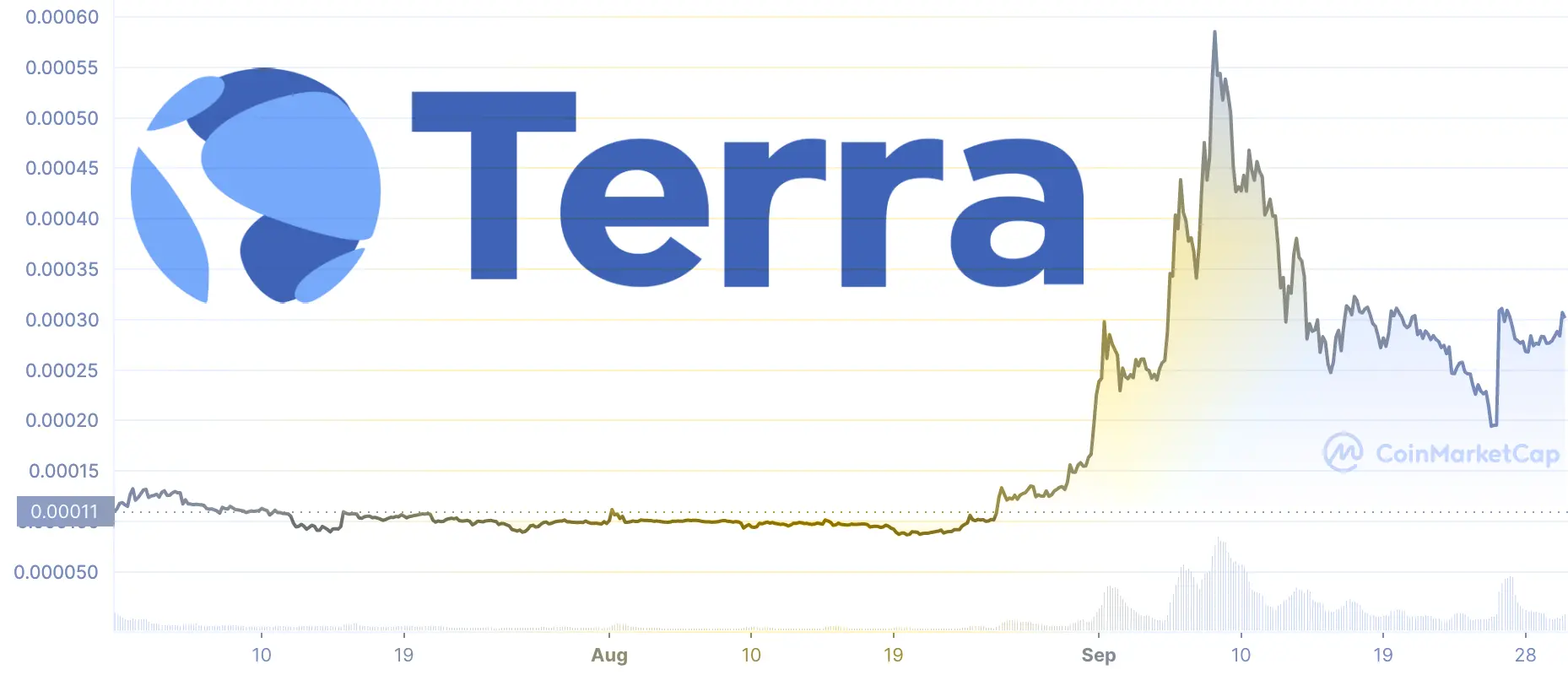 The comeback of Terra after a collapse in May is an impressive sight. While nowhere near the value before the fork, Terra Classic is still recovering well from the crash by the hands of the community. The difference between LUNC prices on July 1 ($0.0001129) and September 30 ($0.0003032) is 168.56% to the upside.
In this case as well correlation to other assets is not as significant as the work done by the community. The meteoric rise in August and September is due to a recent major update which reintroduced staking and a new fee burn mechanism. And as evidenced by a revival roadmap, more is yet to come.
Lido DAO (LDO)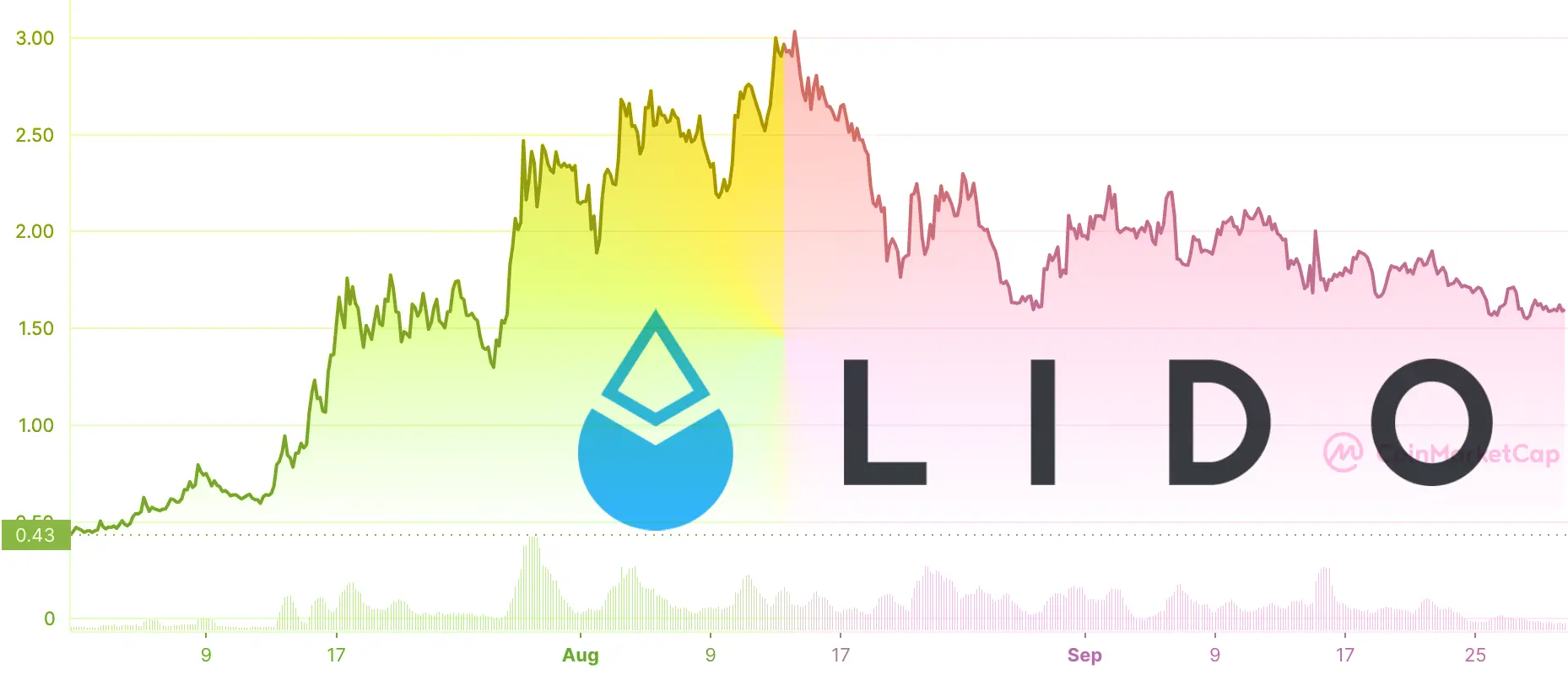 The best performing altcoin in Q3 2022, securing its place at the top 10 cryptocurrencies by performance with a 251.81% profit, is Lido DAO's token. If you already know what Lido is, it is a no-brainer. But if you don't, it will get obvious after a brief explanation.
Lido is a so-called "liquid staking" solution for Ethereum. When you stake ETH, they get locked in the protocol, and at the moment, the stake cannot be withdrawn. Those who stake with Lido receive stETH tokens in return, so they can continue using their ETH. The simplicity and convenience of this design even led to Lido amassing a critically large stake, about 30%, in the ETH validator network.
Therefore, the Ethereum merge made Lido popular but controversial. Even before the event, the trend in LDO reversed but it still ended up with massive gains. LDO was worth only $0.4491 on July 1, but by September 30, it is still up at $1.58.
How to Buy These Coins on ChangeHero?
Did any of these up-and-coming crypto coins catch your attention? You can already swap RVN, CAKE, MATIC, ETC, CHZ, and QNT on ChangeHero, and the rest are coming soon. The process is super easy:
Choose the currencies on the home page, amounts, and the type of exchange. Provide your wallet address in the next step and check the amounts;
Double-check the provided information, read and accept the Terms of Use and Privacy Policy;
Send in a single transaction the sum of the cryptocurrency you will be exchanging. Fixed Rate transactions have a 15-minute limit;
And now, relax! We are doing all the work: checking the incoming transaction and doing the exchange as soon as it arrives;
As soon as the exchange has been processed, your coins are on the way to your wallet. We'd be happy to hear your feedback if you enjoyed using ChangeHero.
The support team is available 24/7 in chat on our website, official Telegram group, or through the email: [email protected].
Conclusion
Crypto in Q3 2022 showed much better performance across the board than in the first half of the year. The ones at the top by performance got there thanks to various factors: Ethereum merge, consistent development and building, and even sheer investor confidence.
Learn more about these cryptocurrencies and other projects in our blog. For daily content and updates, subscribe to ChangeHero on Twitter, Facebook, Reddit, and Telegram.
Learn more:
Quick links: