Elrond's EGLD is one of the top 100 cryptocurrencies that is not talked about much in the crypto space. During the huge downturn of the crypto market in 2021, Elrond had shown impressive growth, reaching its highest price of above $500.
Will EGLD go back up by the end of the year? Does it show signs of being capable of skyrocketing any time soon? Continue reading to find out experts' opinions on the future price of EGLD coins and our price prediction.
Elrond EGLD Price Prediction 2022-2030
| | |
| --- | --- |
| Year | Price, USD |
| 2022 | $30–171 |
| 2023 | $119–200 |
| 2024 | $133–325 |
| 2025 | $115–1,200 |
| 2030 | $500–2,051 |
The minimum value of EGLD for 2022, in case the market shows the most bearish behavior, is predicted to be $30. However, the most optimistic price prediction states that EGLD may be traded at $171 as soon as November;
The average trading price of Elrond for 2025 will range between $300 and 1,000;
According to EGLD price predictions for 2026 and 2027, the expected maximum price for Elrond coin is $1,700;
2030 may take the EGLD price up to $2,000. Other predictions are careful to predict the $500 average price for EGLD.
What is Elrond (EGLD)?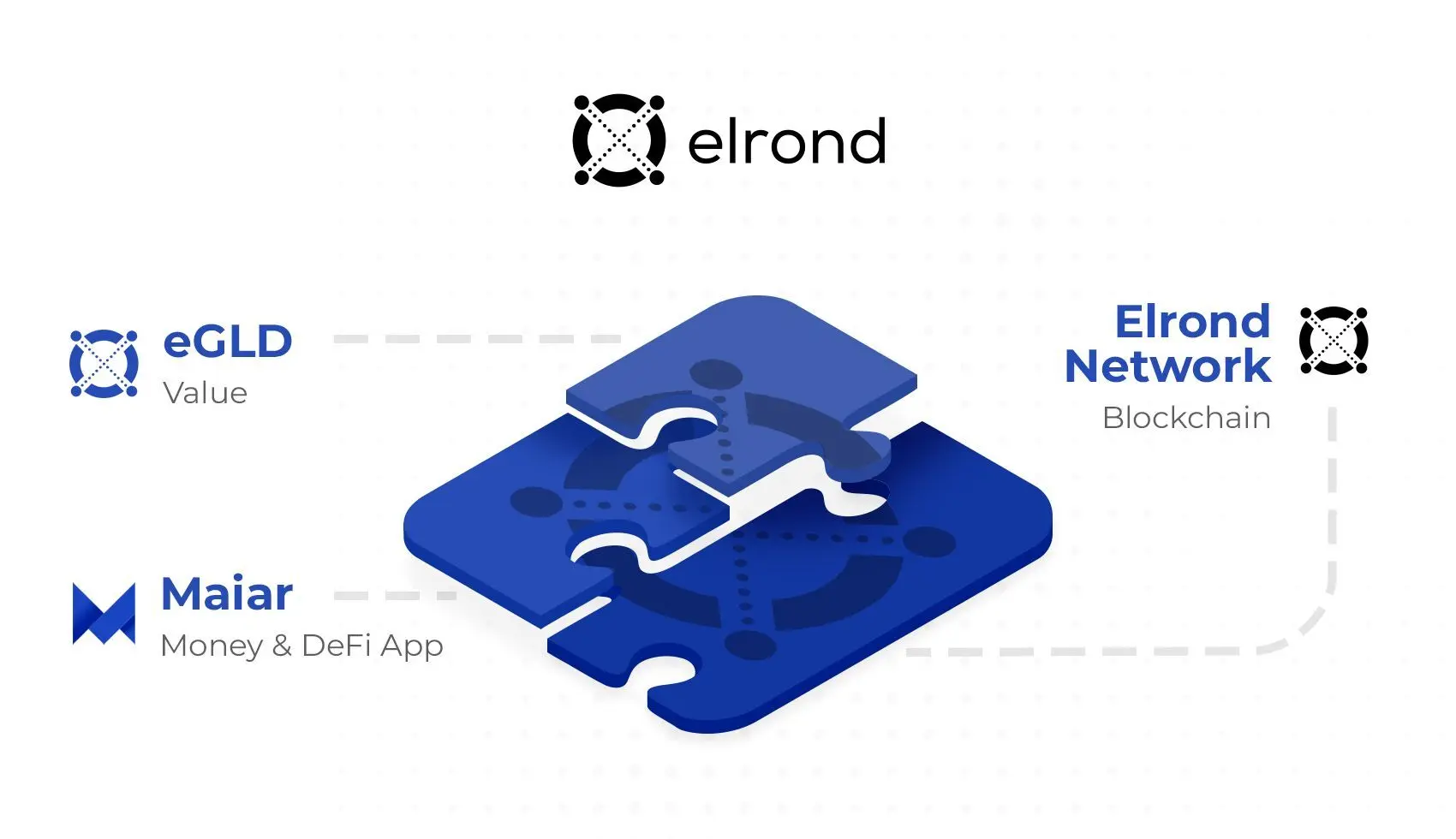 Bitcoin is considered to be "digital gold". But what if it had even more use cases? Then we got Elrond's eGold. While Bitcoin's sole purpose is a store of value, transaction fees make it hardly possible to reliably use BTC for payments. Elrond blockchain solves the issues of latency and carbon footprint by creating a scalable and sustainable Layer-1 blockchain.
The ecosystem includes Maiar DEX, Launchpad, Maiar Wallet, and Utrust Web3 payment app, and Elrond offers dApp creation on top of its chain. It is now developing its NFT standard and preparing to offer CBDC development solutions for European countries. The Elrond chain boasts a network capacity of 15,000 transactions per second (TPS), which makes it the fastest blockchain in the crypto world. What's more, the sharding system of Elrond is capable of expanding the bandwidth with the demand of the network.
What else makes Elrond unique? The blockchain operates under their novel Secure Proof-of-Stake consensus mechanism, allowing nodes with minimum system requirements to secure the network for solid returns. This way, developers get lower smart contract fees. Users, in turn, enjoy enhanced security, speedy transactions, and low transaction costs.
The platform is powered by the token eGold with the most scarce supply compared to all L1 ecosystem coins on the market. In total, EGLD will issue not more than 31 million coins, 75% of which is already in circulating supply.
Elrond (EGLD) Price History & Market Analysis
Elrond Price in 2020–2021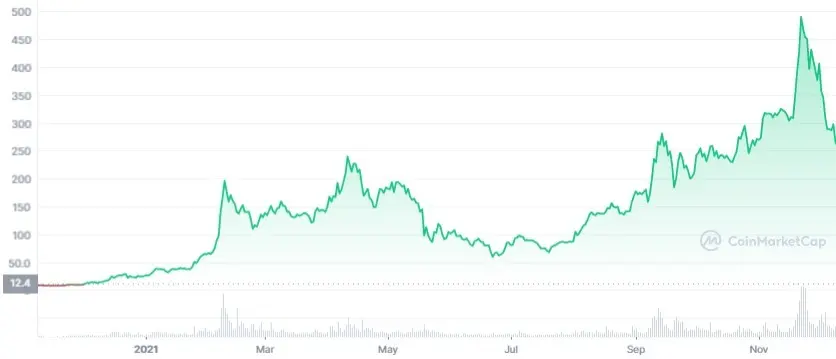 According to CoinMarketCap's historical data, EGLD was traded for around $14 per coin when it got first released in October 2020. Right after that, in December 2020, the price started effortlessly growing in light of the announcements of a new payment app launch. The Elrond coin grew massively since the actual launch of its Maiar Wallet in February 2021 to spike up from the $66 February opening price to $196 almost overnight.
After seeing a slight correction in March and April 2021, it hit a new price record of $260. In the summer of 2021, it followed the Bitcoin price movements, and the bearish markets sentiments dropped the price of EGLD to as low as $59, but only for it to moon in two months. Elrond reached its all-time high of $542.58 in November 2021.
EGLD Price in 2022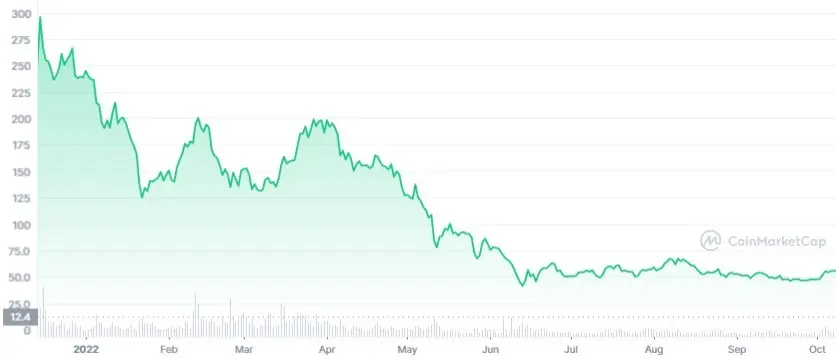 Elrond token opened the year at $244, having lost nearly half of its value. It continued to fall to hit $120 and met us at $44 in July 2022, after unsuccessful attempts to recover. The current price of EGLD is down 89% from its 2021 ATH and fluctuates around $50. Still, EGLD is 10$ up from the 2022 year-low and up over 20% since the end of September 2022.
The current market cap of EGLD at the time of writing equals $1.3M. EGLD ranks #40 among all cryptocurrency markets worldwide. Elrond's price today is sitting at $55.62 while maintaining moderate trading volumes.
What Influences the EGLD's Price?
Awareness
EGold can easily lead the charts of undervalued tokens as talks relating to Elrond aren't talked in the crypto world. Currently, Elrond faded out of view compared to more prominent L1 cryptos such as ETH and SOL, with a lot less visible action going on to stir up the media. Any network benefits from more users, so the community is expecting the Elrond team to make some moves in this field to prove to the whole crypto community that EGLD is far from boring.
Development Pace
As already mentioned above, there are not many things going on with the project right now. Yet, the team is working in the background preparing huge updates. Elrond is planning to bridge Ethereum and Elrond chains so ETH projects will be able to frictionlessly transfer to Elrond. They are upgrading the tools offered, which, along with the developer's conference X Day. Paris in November 2022, will potentially attract new devs and stimulate the ecosystem growth. Aside from that, the Elrond NFT Marketplace is on builds. The Elrond Testnet launched in 2021, showed a record 250k TPS, so Elrond has the capability to be even more scalable.
Adoption
Elrond is moving Romania toward crypto adoption in strides. The talks are underway with officials to launch stablecoins pegged to the European Union currencies to boost governmental adoption of crypto. What adds to that ambitious plan is that earlier, in 2021, the Lucian Blaga University of Sibiu became the first institution in the world to accept eGold payments from students. It is already possible to pay using EGLD on various mainstream platforms including Amazon, Walmart, and eBay.
Latest Twitter posts about Elrond (EGLD)
EVERYTHING YOU NEED TO KNOW ABOUT #ElrondNetwork ( $EGLD)

A thread🧵👇 pic.twitter.com/E8cWqksS8Y

— Victoria Kennedy (@VictoriaVk2022) October 5, 2022
All the cool features you need to know about the Elrond network in one place. Thanks, Victoria Kennedy!
$EGLD after breaking the resistance of the downtrend had a great move to the upside!

It's now looking like it's consolidating within this falling broadening wedge, and is getting ready for another leg up! 🚀 pic.twitter.com/eIiCsikiaV

— Alt Crypto Gems (@AltCryptoGems) October 6, 2022
@AltCryptoGems expecting bullish movements on the EGLD chart soon.
Just WOW !#BITCOIN #EGLD $EGLD pic.twitter.com/gBWSlCLdSO

— Monsieur grincheux (@ChrisCa93099037) October 5, 2022
Wow, #EGLD trending on Twitter last night! Will community initiatives move the prices up?
Elrond Price Prediction 2022
Ryan Matta analyzes technical indicators and concludes that Elrond's price may go down to $30 in the most bearish scenario. Yet, considering the significant market cap it has, it may go up to $87–98 dollars next month. According to Ryan, the Elrond ecosystem has a great chance to go even further under the condition that more dApps are developed on the Elrond network. Upcoming events planned by the Network can attract media attention and the whole crypto world will notice the project.
Elrond's price forecast for 2022 by various experts suggests a pretty positive scenario. GovCapital technical analysis shows that the EGLD price will peak at $171 in November 2022 and close the year at a less solid $75 after fluctuating between $69–134, depending on the market sentiment.
According to Bankless Times experts, EGLD may indeed keep growing if it manages to hit the $69.37 mark. Captain Altcoin is much more skeptical, though, concluding that the average price of eGold will go nowhere higher than $36–43, taking into account the lingering bear market.
EGLD Forecast 2023 & 2024
As per Cryptopolitan analysis, in 2023, EGLD will hit a $137 maximum value, with an average of $133, and has the potential to exceed $200 in 2024. The GovCapital analytics team sticks to optimistic vibes and concludes that EGLD can easily hit $325 by the end of 2023.
DigitalCoinPrice considers the Elrond price ranging between $119–129 to be more realistic for the year 2023, while 2024 will be marked with a $134.25 average trading price.
EGLD Price Prediction 2025
Such a distant future is extremely unpredictable due to market volatility and unforeseen factors that may influence the Elrond price. Thus, for 2025, CaptainAltcoin cautiously sets the lowest price among all the predictions, which is $115.66 per EGLD.
GovCapital assumes that the Elrond coin will open in 2025 at $615 and then exceed a $1,000 value in October 2025, with a maximum price of about $1,200.
CryptoNewsZ experts expect EGLD to be traded at the minimum price of $326.74 by 2025, considering the project's decent market cap and laid-out long-term plans.
EGLD Price Forecast 2026 & 2027
According to GovCapital, the average forecast price for Elrond in 2026 and 2027 is $1,600, as the price is seen to fluctuate between $1,500 and $1,700 price throughout these two years.
Elrond EGLD Price Prediction 2030
eGold will start the year 2030 with an average price of $553 and close it with a median of $700, the AMBCrypto prediction report states.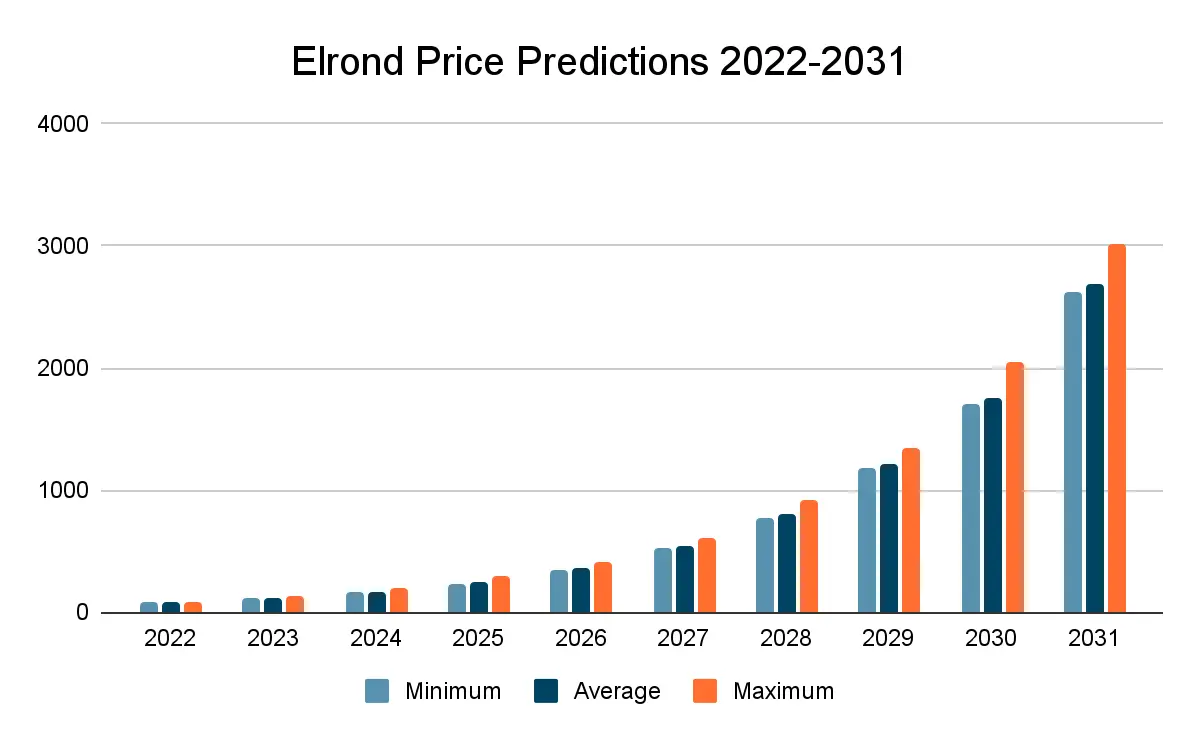 Cryptopolitan predicts the maximum value of Elrond to reach $2,051 in eight years.
DigitalCoinPrice's technical analysis indicates that in 2030 the EGLD's price will be stuck within the $700–800 range.
ChangeHero's Elrond Forecast
Bearish sentiments flooding the market do not leave hope for huge gains for any crypto today. Regardless, practically speaking, Elrond blockchain keeps developing and sticking to the plans they have for many years ahead. With such a pace and more visibility of its native token, Elrond (EGLD) may go as high as Ethereum, another Layer-1 coin.
How to purchase EGLD on ChangeHero?
You can exchange Elrond EGLD on ChangeHero within minutes. We have a wide choice of coins and tokens to exchange for EGLD on our website at the best or fixed rate. No authorization or logging in. Just follow these four steps:
Choose a cryptocurrency pair, the best or fixed rate, and the desired amount. Provide an EGLD address in the next step;
Read and accept the Terms of Use and KYC/AML Policy. Double-check the transaction details;
Send the cryptocurrency you will be exchanging for EGLD in a single transaction.
Sit back and wait for your EGLD! We are doing all the work and send you your crypto as soon as we receive the transaction.
Please remember that our Support Heroes team is online 24/7 and ready to help with any issue. Connect with the support through the chat on our website or drop us an email at [email protected].
Conclusion
The Elrond Network combines Solana speed with the value-storing capability of Bitcoin. High TPS, scarce supply, and considerable market cap can take the EGLD up the next bull rally. If the crypto world recognizes the true value behind the project, it will likely have tremendous success. That is why Elrond's EGLD definitely deserves to be on your watch list.
Impressed by Elrond's practical scalability and potential? Share your thoughts in replies and comments on our Twitter, Facebook, Reddit, and Telegram. Watch our socials and our blog for the news and updates on Elrond and other projects on the cryptocurrency market.
---
Frequently asked questions
Is Elrond coin a good investment?
The price of Elrond may definitely go higher than now, seeing to its ecosystem's potential to grow and scale. Still, research the project carefully before taking your investment decision.
How high will Elrond go?
Our price analysis research indicates that the highest price EGLD can go is $1,000–1,500. Elrond may be a profitable investment if we take all the potential it has as a factor in moving it forward. Invest money in EGLD after considering all the risks and deep project research.
Does EGLD have a future?
Elrond network is still very young. If it grabs momentum and keeps growing, the project will definitely shine.
Disclaimer
This article represents the results of our own research and does not constitute financial or investment advice. No price prediction or forecast is guaranteed to provide exact information on the future price.
When dealing with cryptocurrencies, remember that they are extremely volatile and, thus, a high-risk investment. Consider making investment decisions only after careful consideration and your own research and at your own risk.
---
Learn more:
Quick links: