The crypto market is pumping this week, and mostly because of the news! If you want to understand what actually happened, we've got you covered. Here is the newest weekly crypto news digest for the last week of July!
Key Takeaways
Bitcoin is in the green again, trading closer to $40k and attempting to overcome resistance at $41,000.
In large, this is thanks to rumors that Amazon will start accepting cryptocurrencies for payments. Even though it was officially debunked, the momentum stayed.
Crypto market overall sees gains even regardless of the concerning regulatory climate.
Latest Crypto News Digest
Bitcoin This Week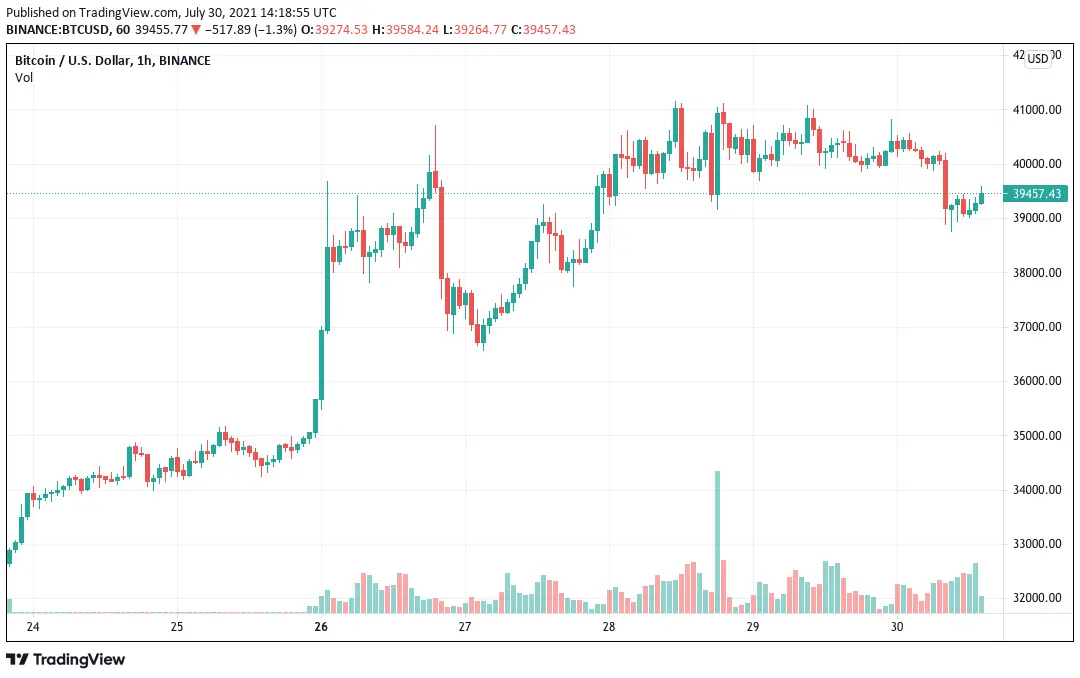 Bitcoin is back above $40,000 thanks to a weekend pump. The run was curbed by the news that Amazon is not going to introduce crypto payments yet.
Nevertheless, the momentum was there, and Bitcoin bounced from $37k up to $39k and then $41k. At the moment of writing, BTC is trading at $39,457.
Latest Bitcoin News
Is Bitcoin in danger of crashing again? Not really, as the Bitcoin Fear and Greed Index is back in the Neutral zone for the first time since May.
Another indicator that is back to May levels is Bitcoin held on exchanges. Depending on the interpretation, it can be a signal of accumulation or a decline in trading activity.
Altcoin News
Ethereum news is all about the 6-year anniversary: the genesis block was mined on July 30, 2015. Now the developers have their hands full of work with Ethereum 2.0 and London hard fork.
Solana is boosted this week by a sponsorship of the music festival Lollapalooza. The announcement momentarily added 7% to its value.
Business Crypto News
Mastercard is launching a new selection of Start Path program for cryptocurrency and blockchain startups. Seven projects from all across the world have already joined.
Crypto News on Adoption
Last weekend, a widely circulated news claimed an inside source from Amazon confirmed the company will soon accept cryptocurrency payments. On Monday, the company came forward debunking the rumors and affirming the crypto direction is being worked on.
Regulation & Politics Crypto News
Several sources report the US Department of Justice is probing Tether executives on the grounds of bank fraud. The stablecoins issuer pledged to cooperate and denied all accusations.
China may ban cryptocurrencies further, as far as owning and holding it, Bobby Lee says. Crypto companies keep withdrawing from the country, as Huobi, OKCoin and BTC China exchanges close China-based subsidiaries.
Binance continues to see regulatory pressure ramping up, too, and now introduces more limits for users. Earlier, the founder, Changpeng Zhao voiced readiness to step down in case a candidate with adequate legal skills is found.
Social Media Crypto News Digest
Video of the Week
Popular trader Tone Vays analyzes the price movements of Bitcoin after the weekend pump. The bulls did not act on news alone, it turns out.
Crypto News Digest from Twitter
As the demand for cryptocurrencies grow, I'm urging @SecYellen and the Financial Stability Oversight Council to address crypto's risks and regulate the market to ensure the safety of consumers and stability of our financial system. https://t.co/1bfW22KcJY

— Elizabeth Warren (@SenWarren) July 28, 2021
US Senator Elizabeth Warren continued to make news with her statements about regulating cryptocurrencies: this time, she's criticizing "snake oil sellers". As long as there are no rules, both scammers and big manipulators can exploit ordinary users, she says.
Are you ready for @influxo_NFT ? A pioneer of future digital collectibles 🤙🏾 https://t.co/9EYB3cCbG1 pic.twitter.com/onUDeqbxEn

— Ronaldinho Gaúcho (@10Ronaldinho) July 29, 2021
Soccer star Ronaldinho is one of the latest arrivals on the NFT scene.
Introducing the first-ever Coca-Cola NFTs! To celebrate International Friendship Day, we'll be donating all proceeds to our longtime friend and partner @SpecialOlympics. Check them out on @opensea. #NFTCommunity #OpenSeaNFThttps://t.co/SIJ0HnNfdu pic.twitter.com/Rusj2UJuE6

— Coca-Cola (@CocaCola) July 28, 2021
And speaking of NFTs, Coca-Cola has presented a thematic collection. Their proceeds will benefit Special Olympics, an initiative for promoting inclusion in sports, education and more.
A rather significant bug has been spotted in Monero's decoy selection algorithm that may impact your transaction's privacy. Please read this whole thread carefully. Thanks @justinberman95 for investigating this bug.

1/6 — Monero || #xmr (@monero) July 27, 2021
In case you use Monero frequently and missed the news, the developers identified a serious bug in decoy transactions. In short, if you don't want your details exposed, though the risk of it is low, spacing out transactions is recommended.
Influencer of the Week
$ETH/BTC ✅$BTC.D 📉 and $ETH/BTC 📈 about 5% pic.twitter.com/lKIDrBa4as

— AN₿ESSA (@Anbessa100) July 30, 2021
Today's trader recommendation is more fit for Twitter users who have some knowledge of technical analysis. However, in Anbessa's case, a higher entry threshold definitely pays off.
This Week on the Market
How is the crypto market this week? At the moment of writing the digest, the general stats are:
Total Market Cap: $1,533,266,523,527 (+15.06%);
BTC Dominance: 47.6%.
7d Change in Top Coins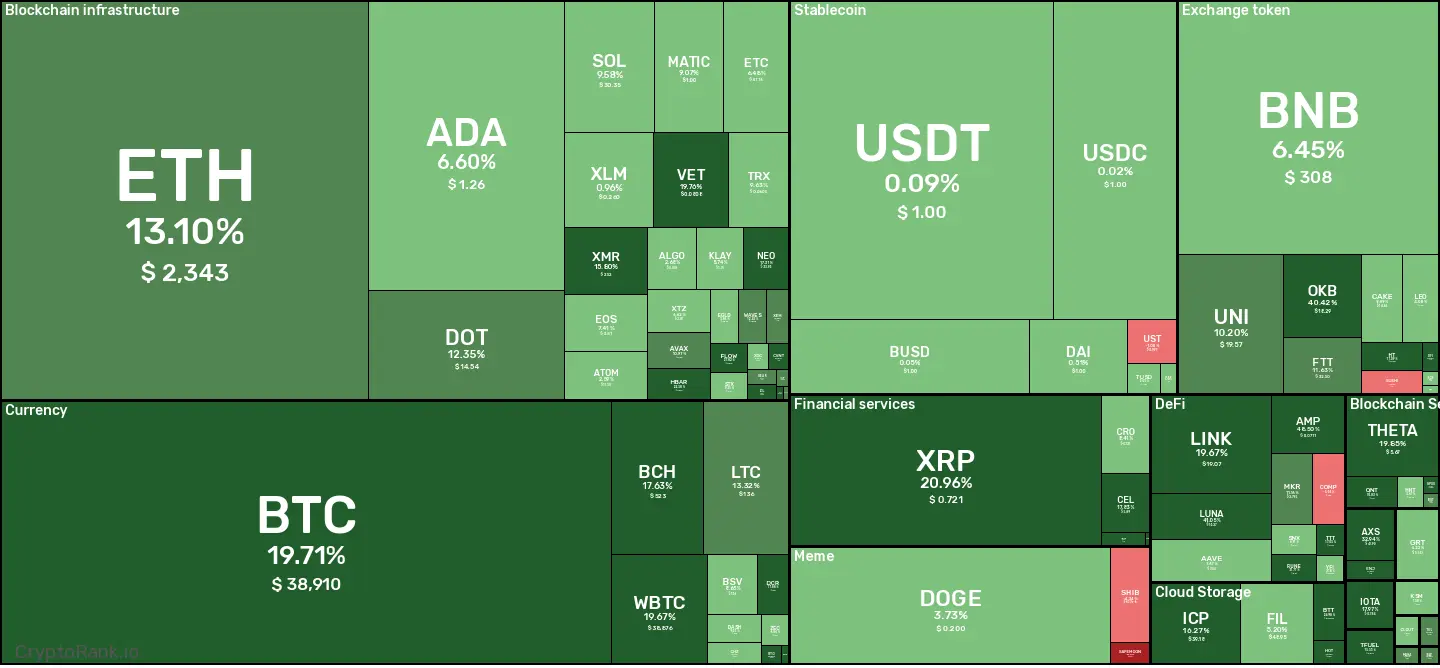 What is the cheapest cryptocurrency to buy right now? There are not a lot of coins in red this week, that is for sure. At the moment of writing, the weekly change of the top currencies is:
Gainers of the Week
What is the next big cryptocurrency to invest in 2021? You might want to see why these coins are growing:
Conclusion
All in all, this has been a productive week that decidedly shifted the initiative to bulls again. We will have to see whether it continues in the same way next week! You will surely find the crypto digest with the follow-up in our blog in a week. Follow ChangHero on Twitter, Facebook, Reddit and Telegram for daily updates.
---
Quick links: