Happy Lunar New Year to everyone celebrating! As the traditional greeting goes, we wish you prosperity. Tesla investment made sure the crypto market is already making this true. As for other news, read our weekly crypto digest to make sure you are caught up on everything that happened! We rounded up the market movements, latest events and Bitcoin digest for your convenience.
Latest Cryptocurrency News
Bitcoin Digest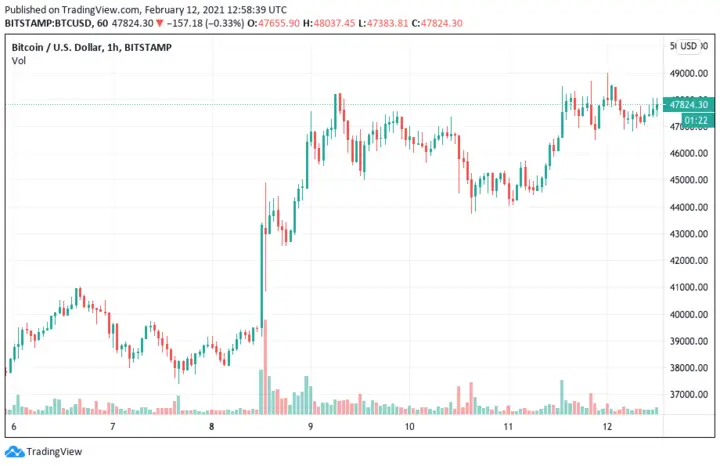 During the weekend, we saw Bitcoin in a $38–41k range that it occupied during the last few weeks. However, on Monday, upon disclosure of a $1.5B investment made by Tesla, the price jumped up by $4,000. Breaching upper resistance in a sweep, this move gave BTC the bullish momentum which led it to a new ATH. Last night, on February 11, it was trading for as high as $48,297.
Is now a good time to buy Bitcoin? The push above $50,000 is in plain sight but it is important to consider the full picture. The sentiment is favorable, but be ready for some short-term losses: currently Bitcoin volatility is very high.
Altcoin News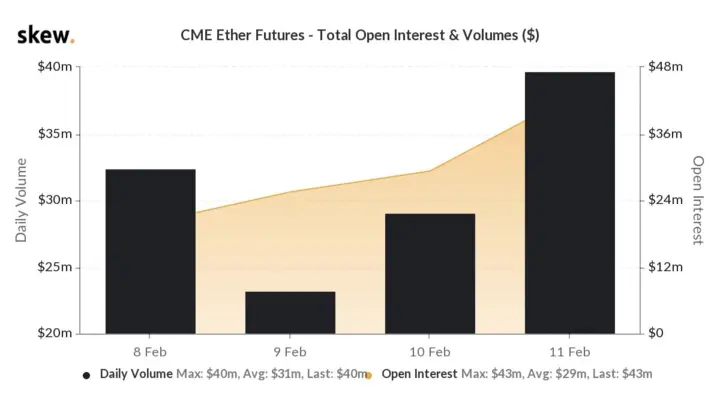 Ethereum futures are a big hit on CME! Yesterday, open interest reached $48 million and the trading volume neared $40 million. This Ethereum news coincides with it rallying to new all-time highs. On Wednesday, February 10, Ethereum traded for $1,826.70.
Is it safe to buy Ethereum now? Since the situation in ETH mirrors the one described in Bitcoin digest, the same advice applies to Ethereum.
Tech News
This week, Microsoft has launched Azure Space Mystery, a text-based adventure which rewards players with NFTs. These assets can be used in quest in MyMetaVerse Minecraft server. The collaboration was made possible by Microsoft Azure and Enjin's project MyMetaverse.
A week ago, yearn.finance protocol was attacked by a hacker. The bad actor abused flash loans which led to a loss of $11 million from the v1 yDAI pool. The $2.8 million of DAI was attempted to be sold on Uniswap and go on to an ETH mixer. The v1 yDAI pool was restored with the reserve YFI, but Andre Cronje warned this resolution was a one-off occasion.
Business Cryptocurrency News
Probably the most impactful Bitcoin news from the last seven days was the disclosure of Tesla investment in BTC. In the annual 2020 report to SEC, the company stated $1.5 billion was used to purchase Bitcoin in January. Moreover, they expressed a possibility that they might accept it as a means of payment in the future.
Cryptocurrency News on Adoption
MasterCard announced plans to start supporting crypto payments in 2021. Previously, the payment processor worked with Wirex and BitPay on crypto cards. This year they will include the option to pay with and accept cryptocurrencies on their own network. The exact range of supported cryptocurrencies is still not finalized.
Uber CEO commented that the company may look into accepting cryptocurrencies, too, if the customers express demand for it. The company is a part of Diem (Libra) Association, so it is another statement proving their pro-crypto stance.
Regulation & Politics Cryptocurrency News
America's oldest bank is planning to include Bitcoin into supported assets, reports the Wall Street Journal. BNY Mellon specializes in custody and will "hold, transfer and issue" Bitcoin on behalf of its asset-management clients.
Miami mayor Francis Suarez announced earlier this week to deliver on his promise to push for crypto adoption. His plan was to introduce salaries in cryptocurrency to city employees as soon as possible. However, Thursday night the city's committee postponed the change. Instead, the committee voted in favor of launching an educational program prior to taking any decisive steps;
In India, though, the fears over total cryptocurrency ban continue to take shape. Reports earlier this week pointed at gravitating towards China's approach: "no" to private cryptocurrencies, "yes" to blockchain and CBDC. The latest information, which is not yet official, confirms the direction.
Crypto Digest on Twitter
As mayor of NYC - the world's financial capital - I would invest in making the city a hub for BTC and other cryptocurrencies.

— Andrew Yang🧢🗽🇺🇸 (@AndrewYang) February 11, 2021
Following Miami's example, Andrew Yang, New York City mayor candidate pledged to make it a hub for cryptocurrency development.
IIRC the St. Louis Fed has been one of the most progressive and earliest institutions embracing Bitcoin. They're now exploring DeFi - "a paradigm shift in the financial industry."

You still think this is a fad/experiment on the fringes? Think again. https://t.co/MS2GM8zgUS — Santiago R Santos (@santiagoroel) February 8, 2021
Speaking about adoption on an institutional level, St.Louis Fed has published a research paper on DeFi. The Federal Reserve is positive about the potential and future of decentralized finance.
(Just wanted to follow up that the post was undeleted after a few hours, so, ¯\_(ツ)_/¯)

— Shibetoshi Nakamoto (@BillyM2k) February 9, 2021
Nature is healing and old community members return to Dogecoin. Billy Markus, the developer of the coin's codebase, published an open letter to the community on Reddit. In other news, lead repository maintainer and other four devs are now committed to renew working on Dogecoin code.
So … it's finally come to this … pic.twitter.com/Gf0Rg2QOaF

— Elon Musk (@elonmusk) February 7, 2021
Meanwhile, Twitter madness doesn't stop. It's not only Musk tweeting about DOGE, now Gene Simmons, Snoop Dogg and Kevin Jonas on the celebrity bandwagon.
Influencer of the Week
The current DOGE situation is quite funny. Don't think we've seen this amount of normie shilling in this space before and it's for our beloved silly DOGE coin of all things. Every other day another celeb comes out talking about DOGE. I see zero reason to counter trade that.

— DonAlt (@CryptoDonAlt) February 7, 2021
As if commenting on the previous post, our influencer of the week shares a veteran's outlook on the whole situation.
CryptoDonAlt is a trader who mostly analyzes large cap currencies. He makes emphasis on educating about crypto and would often share insights on the market situation. All this not without humor!
Top Crypto Digest
At the moment of writing the crypto digest, the general market stats are:
Total Market Cap: $1,443,742,358,304;
BTC Dominance: 61.85%.
7d Top Coin Digest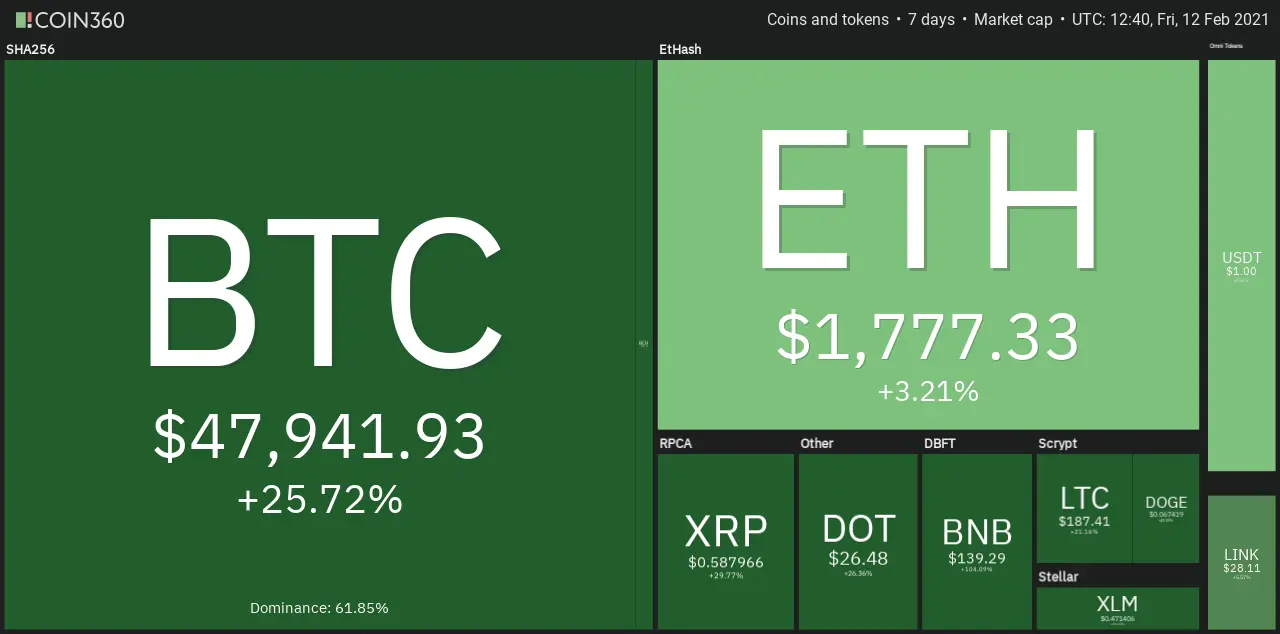 The record breaker this week is BNB, scoring a three-digit growth. Most other currencies, including Bitcoin, are double-digit net positive, too. At the moment of writing the crypto digest, the 7-day change of the top currencies is as follows:
ChangeHero Gainers of the Week
Here are the top-three that are blowing up at the time of writing the crypto digest:
Polygon (MATIC) $0.1204 (↑142.08%);
Binance Coin (BNB) $139.29 (↑104.01%);
Qtum (QTUM) $7.59 (↑101.54%).
Key Takeaways
Bitcoin has renewed its rally. This week it has been trading for as much as $48,297 (on February 11);
On February 10, Ethereum also renewed the highest price: $1,826.70;
Most of the cryptocurrency market is trading in the black in the 7-day time frame. The top gainers are Polygon, rebranded Matic Network, Binance Coin and Qtum;
Tesla has disclosed a $1.5 billion investment in Bitcoin, which is one of the largest public investments in BTC. This event was behind the movement of the entire market this week;
In the social networks, Dogecoin continues to be a red-hot topic. The coin is still in the top-15 by capitalization.
Conclusion
This week had one of the most impactful events shaking the crypto market to the core. After Tesla went public with their investment, others following suit is just a matter of time. And though we are witnessing history, there was plenty of other news to cover in the weekly crypto digest! We hope you enjoyed our market and Bitcoin digest, too.
Catch the next weekly crypto digest in our blog! And make sure to not miss it, subscribe to ChangeHero on Twitter, Facebook, Reddit and Telegram!